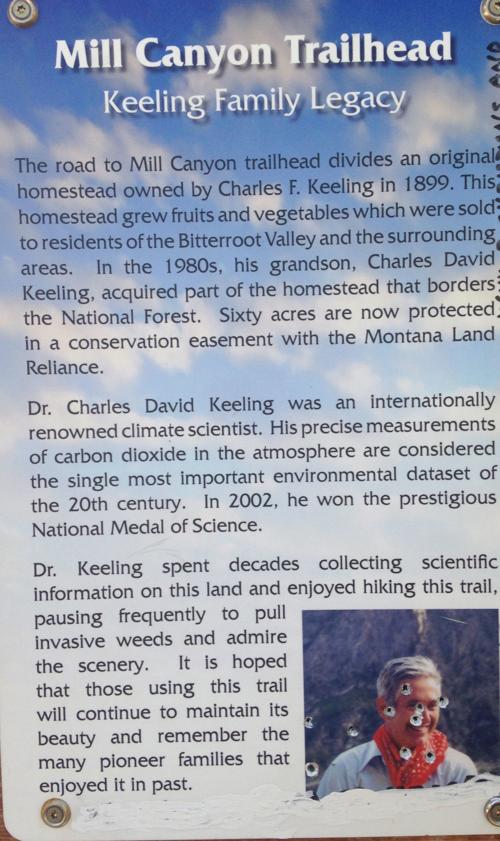 Charles David Keeling was a champion of science and of access to public lands in the Bitterroot Valley. His careful measurements have transformed the way we view our world.
Just because we may disagree about what to do with these measurements does not mean that we should attack the legacy of this great man by shooting up his image (see photo). Whether the gunshots were pure uninformed mischief, or an act of ire against a scientist who dared to learn about Earth's changing atmosphere, we don't know. I hope the former, but fear the latter.
In an era when information is often quickly refuted based on political ideology, we still have irrefutable scientific facts and we must have the courage to defend these scientific facts. Even though we as a society may not agree upon how or whether to act upon these scientific facts, the scientific facts still remain and should be considered when making important decisions affecting society.
One of these scientific facts that is irrefutable is that Earth's temperature is rising due primarily to increasing concentrations of CO2 in Earth's atmosphere. This fact is based on basic physical principles of how CO2 and other atmospheric gases absorb radiation. We know this fact to be true based on the long term temperature trends and the continuous measurements of atmospheric CO2 that were pioneered by Charles David Keeling.
The so-called 'Keeling Curve' that captures the exponential increase in atmospheric CO2 and the breathing of Earth's surface would not exist if it were not for the courage and perseverance of Charles David Keeling. To this day it remains the single most important time series of environmental data in the world. Keeling started his careful measurements on Mauna Loa, Hawaii in 1959 and continued these measurements until his death in 2005.
In the beginning, it was unclear whether concentrations of CO2 were actually changing, but Keeling persisted in his measurements and remarkably was able to expand his measurements to include additional sites, despite limited resources to support these important observations. Keeling also has deep roots in Montana, where his grandfather homesteaded in the Bitterroot Valley. Keeling also has extended branches of his family persevering in science, with his son Ralph an atmospheric chemist and his son Eric an ecologist who graduated from UM.
Instead of targeting his image, we should be celebrating his courage to pursue his passion and have a positive impact on our world. Keeling should serve as a hero to all of us when defending scientific facts in the face of ignorance or a political desire to squash them. But let us defend these facts gently, by engaging with our neighbors in conversation and not through conflict.
Ashley Ballantyne is an associate professor of bioclimatology at the University of Montana.