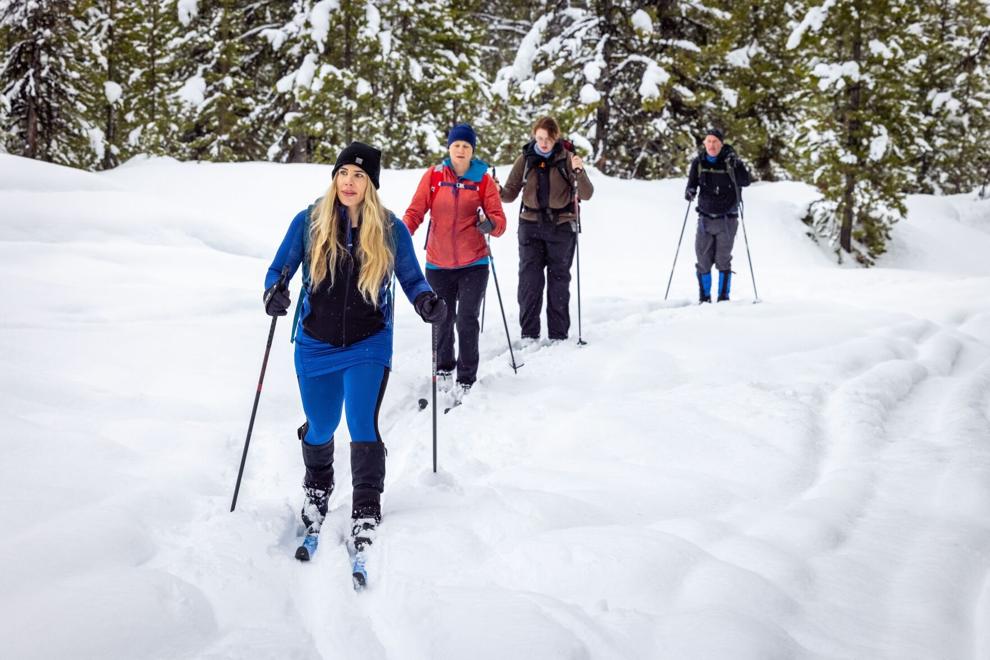 Through March, Wild Montana is offering 40 Winter Adventures across Montana.
Winter Adventures are free outings and educational experiences led by volunteers. 
Wildlife lovers can learn to track wildlife on winter landscapes near Yellowstone or seek lynx in the Seeley-Swan. Families can try ice fishing near Helena or learn about winter camping near Missoula. Nature lovers of all ages and abilities can try snowshoeing and cross-country skiing in wilderness and proposed wilderness areas across the state.
Wild Montana has offered free group outings since 1960 to connect people with the places we're working to protect. Like Wild Montana's flagship Wilderness Walks program, Winter Adventures are open to all ages and abilities. The complete schedule of 2023 Winter Adventures is available at wildmontana.org/winter-adventures. Registration is required. Each event opens for registration one month in advance.
Zoom for all
Wednesday, Feb. 8, How to build an igloo
ZOOM PRESENTATIONs: Join us online for an introduction to Igloo Building. Wild Montana volunteers Bert and Ed teach beginners how to build igloos near Lolo Pass as part of our Winter Adventures series. This year, they are supplementing their in-person event with a webinar. If you are planning to attend their in-person event, or simply want to learn more about building an igloo, join this webinar at 7 p.m.
Saturday, March 4, GPS for Adventure
ZOOM PRESENTATION: If you own a smartphone, then you own a GPS, and you should be using it for your adventures. This class will teach you how and why. Interactive training in the morning will be conducted in the comfort of your own home via Zoom. For people living in Bozeman, we will meet in the afternoon and find waypoints on our public lands.
Billings area
Saturday, Jan. 21, Hiker's haven loop
NEAREST TOWN: FRANNIE | DIFFICULTY: MODERATE
This 5-mile snowshoe or hike will traverse the open grasslands and rugged hills of the Pryor Mountains. We'll explore the Bear Canyon Recommended Wilderness Area in the Custer Gallatin National Forest and discover what a "recommended wilderness" designation means.
Saturday, Jan. 28, Red Lodge xc ski
NEAREST TOWN: RED LODGE | DIFFICULTY: MODERATE
Marvel at the snow-capped Beartooth Mountains while cross-country skiing through aspen groves near Red Lodge. Participants must arrive with past experience on Nordic skis and their own gear. Leaders will share skiing tips while the group completes a 3-mile loop on private land.
Saturday, Feb. 11, Yellowstone River snowshoe
NEAREST TOWN: BILLINGS | DIFFICULTY: EASY
Enjoy an easy, 3-mile hike on Norm's Island, part of Billings' Riverfront Park system and an excellent example of floodplain ecology. We'll learn about the Lower Yellowstone River Coalition, which is building community consensus to establish new recreation access and to protect wildlife habitat along 175 miles of the lower Yellowstone River, the longest free-flowing river in the continental United States.
Saturday, March 4, Mystic Lake snowshoe
NEAREST TOWN: COLUMBUS | DIFFICULTY: STRENUOUS
Snowshoe to Mystic Lake, one of the deepest lakes in the Beartooth Mountains. We'll discuss the watershed's importance to nearby communities while we explore the Absaroka-Beartooth Wilderness. We'll also learn about Leave No Trace principles, so we're ready to recreate responsibly all year long.
Helena region
Wednesday, Jan. 18, Family winter wildlife walk
NEAREST TOWN: HELENA | DIFFICULTY: EASY
Birds, scat, tracks and fun. Join us for this winter wildlife walk at the beautiful Upper Prickly Pear fishing access site to learn about winter animal adaptations and to see what winter wildlife signs we can find. Binoculars and field guides will be provided. This program is geared toward younger learners but great for the whole family.
Thursday, Jan. 26, Porphyry Peak Lookout snowshoe
NEAREST TOWN: NIEHART | DIFFICULTY: STRENUOUS
We'll snowshoe to the lookout tower on the top of Porphyry Peak in the Little Belt Mountains, take a break at the Top Rock cafe, then hike down the backside and traverse around the base along a snowmobile path until we reach our cars.
Sunday, Feb. 5, Full moon on Stemple Pass xc ski
NEAREST TOWN: HELENA | DIFFICULTY: MODERATE
Enjoy the full moon while cross-country skiing at Stemple Pass. Learn about nearby Nevada Mountain and the efforts of the Lincoln Prosperity Proposal to expand and protect these wildlands. This moderate, 7-mile loop includes a stretch of the Continental Divide Trail. Participants must bring their own ski equipment and headlamps, and skis need metal edges for these non-groomed trails.
Saturday, Feb. 11, Monture Creek snowshoe
NEAREST TOWN: OVANDO | DIFFICULTY: MODERATE
The Monture Creek Recommended Wilderness Area is one of the places we're working to protect with the passage of the Blackfoot Clearwater Stewardship Act. Recommended wilderness areas throughout the Lolo National Forest, like Monture Creek, will also be important places in the upcoming forest planning process that's slated to begin in 2023. Join Wild Montana's federal legislative director and public lands director on this snowshoe adventure to learn about recommended wilderness and what makes this place so special.
Thursday, Feb. 16, Kings Hill to Silver Crest snowshoe
NEAREST TOWN: NIEHART | DIFFICULTY: MODERATE
Join us for an adventure snowshoe from the top of Kings Hill Pass to Silver Crest Winter Recreation Area near Neihart. From Highway 89 we'll climb and then descend to O'Brien Creek Trail and then veer off to Silver Crest. Our route will combine groomed trails, ungroomed trails, and freehiking. We'll shuttle our cars before we begin hiking.
Friday, Feb. 17, Continental Divide xc ski
NEAREST TOWN: HELENA | DIFFICULTY: MODERATE
Cross-country ski along the Continental Divide Trail from Stemple Pass. The majority of the trail is on a rolling ridgeline with spectacular views of the Lincoln valley and the surrounding mountains. Learn about local efforts to protect these wildlands through the Lincoln Prosperity Proposal. This will be an out-and-back route of 4 to 5 miles.
Saturday, Feb. 18, Family ice fishing
Join Wild Montana and Montana Fish, Wildlife & Parks for a family friendly ice fishing event. The Helena area is full of ice fishing opportunities, and it's a great way for families to get out together all season. We'll provide poles and bait, but families are encouraged to bring their own gear if they have it. Ice conditions are variable, so we'll make a final decision about our destination the week of the trip.
Saturday, March 11, Elkhorn Ghost Town family snowshoe
NEAREST TOWN: BOULDER / DIFFICULTY: EASY
This family friendly snowshoe adventure will begin with a tour of Elkhorn, a 19th century mining town. We'll snowshoe from the town to the cemetery, and then up Tramway Road as far as the group wants to go. A current resident of the town will join us to share the town's history. If conditions allow, we'll end the day around a firepit with mugs of hot chocolate.
Saturday, March 11, Marias Pass adventure ski
NEAREST TOWN: EAST GLACIER | DIFFICULTY: STRENUOUS
Join the Glacier-Two Medicine Alliance and Wild Montana for a backcountry ski adventure. From the Marias Pass parking area, we'll ski up the Pike Creek Road and then leave the trail and ski down to the coulee. Snow conditions are at the mercy of chinooks, so we may need to snowshoe. Participants should be intermediate to advanced skiers and must provide their own gear. Backcountry skis with metal edges are recommended.
Sunday, March 26, Teton Pass snowshoe
NEAREST TOWN: CHOTEAU | DIFFICULTY: MODERATE
The Rocky Mountain Front Heritage Act was a big win for wilderness and wildlife in 2014. Let's explore this gorgeous country with a backcountry snowshoe in Teton Canyon. We'll start at Teton Pass Resort and then venture into the backcountry. Our loop will end at the lodge for a late lunch. Plan on deep snow and some trailbreaking.
Butte region
Friday, Jan. 20, Lost Creek xc ski
NEAREST TOWN: ANACONDA | DIFFICULTY: MODERATE
Join Montana Wildlife Federation and Wild Montana on a cross-country ski through Lost Creek State Park. We will ski up the canyon along the road and enjoy spectacular views of limestone cliffs and granite towers. After about 2 miles, we'll stop at the summer trailhead to eat lunch beside a frozen waterfall before returning by the same route. The 4-mile route is fairly flat, and suitable for all abilities. Participants must bring their own skis.
Sunday, Jan. 22, Cabin Creek snowshoe
NEAREST TOWN: WEST YELLOWSTONE | DIFFICULTY: MODERATE
We will snowshoe through dense woods along the steep banks of Cabin Creek in the heart of the Madison River Canyon Earthquake Area. Depending on conditions, we may enter the Cabin Creek Wildlife Management Area, an essential wildlife corridor between two units of the Lee Metcalf Wilderness. We'll learn about the Gallatin Forest Partnership, which proposes to expand the Lee Metcalf Wilderness and create new WMAs nearby.
Friday, Feb. 24, Big Hole Valley xc ski
NEAREST TOWN: WISDOM | DIFFICULTY: MODERATE
Join Montana Wildlife Federation and Wild Montana for a cross-country ski in the beautiful Big Hole Valley. We'll ski up Pintler Lake Road for about two miles. This is a remote area with expansive views of the Big Hole River, the Anaconda Pintler Wilderness in the East and West Pioneers, and the Beaverhead Mountains.
Sunday, March 12, Mount Haggin snowshoe
NEAREST TOWN: ANACONDA | DIFFICULTY: EASY
Join Montana Wildlife Federation and Wild Montana for a snowshoe adventure in Mount Haggin. Mount Haggin is  Montana's largest wildlife management area, and it provides year-round habitat to elk, moose and mule deer. We'll meet near Sugarloaf Lodge and hike through aspen groves and pine forests in the Pintler Mountains with views of the Big Hole Valley. There is a network of groomed cross country ski trails and a warming hut nearby as well.
Thursday, March 23, Storm Lake xc ski
NEAREST TOWN: ANACONDA | DIFFICULTY: EXTREMELY STRENUOUS
Enjoy a cross-country ski along Storm Lake Creek Road to Storm Lake, one of the most beautiful lakes in the Anaconda Pintler Wilderness. The route is 6.5 miles roundtrip. On the way to the lake it's a gentle climb until the last mile when it gets a bit more challenging. The lake is surrounded by designated and recommended wilderness. Learn more about the difference and the efforts of Wild Montana's Southwestern Wildlands Chapter to protect our public lands and waters.
Missoula region
Saturday, Jan. 21, Pattee Canyon xc ski
NEAREST TOWN: MISSOULA | DIFFICULTY: MODERATE
Join the American Conservation Coalition Missoula and Wild Montana for a cross-country skiing adventure at Pattee Canyon Recreation Area. The Nez Perce and Salish traveled Pattee Canyon on their way to the plains to hunt buffalo. It has been a homestead, a timber preserve and now it's a popular recreation spot. We'll explore the trail system and learn more about ACC Missoula who engages young conservatives in the environmental movement and builds bipartisan solutions to environmental challenges.
Saturday, Jan. 28, Wild Storytelling with PechaKucha
PechaKucha is a free global storytelling platform dedicated to connecting people and ideas. Created in Japan in 2003, "pechakucha" is Japanese for "chit chat." PechaKucha are short slideshows with 20 images. Each image displays for 10 or 20 seconds while the storyteller shares their passion. We'll gather to celebrate wilderness and wildlife with an hour of PechaKuchas and conversation.
Saturday, Feb. 4, Sqaylth-Kwum Creek snowshoe
NEAREST TOWN: THOMPSON FALLS | DIFFICULTY: EASY
Join the Cube Iron Cataract Coalition and Wild Montana on a family friendly snowshoe. We'll enjoy beautiful views of the Clark Fork Valley and learn about the wild backcountry of the Cube Iron-Cataract area. This roadless complex has abundant wildlife species and recreation opportunities. We'll share snowshoeing tips and have some snowshoes to loan to youth and adults.
Sunday, Feb. 12, Bobcat Creek snowshoe
NEAREST TOWN: LOLO | DIFFICULTY: MODERATE
Enjoy a short snowshoe hike for all ages and abilities in Lolo National Forest. We'll climb from the creek to an overlook with great views. After lunch, we'll return by the same route.
Saturday, Feb. 18, How to build an igloo
NEAREST TOWN: LOLO | DIFFICULTY: EASY
Learn how to build an igloo and connect with history on this tour along the Lewis and Clark Trail. We will ski or snowshoe from Lolo Pass to Lewis and Clark's 1805 Glade Creek campsite along established and off-trail routes. Along Glade Creek, we'll find a spot to build an igloo shelter together. After we've experimented with igloo techniques and design, we'll return to Lolo Pass. The leaders will offer a webinar in advance of the field class to introduce igloo design.
Saturday, Feb. 25, Winter camping demo on Rock Creek
NEAREST TOWN: CLINTON| DIFFICULTY: EASY
Explore winter camping – without having to winter camp. Snowshoe about 1 mile into our winter camp to learn about several options for winter camping, including hot-tenting, cold-camping and snow shelter camping. Ingrid and Chris have a wealth of winter camping experience and will share how to be safe and comfortable overnight in the coldest conditions. Try pulling a loaded toboggan and enjoy hot cocoa and stargazing.