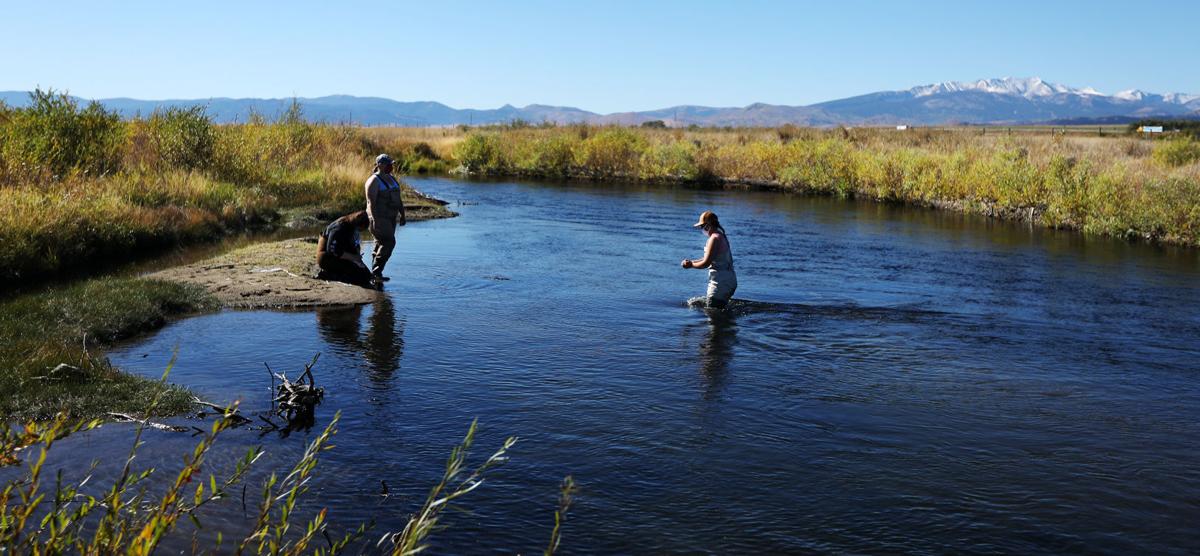 Strong feelings surfaced Tuesday night when people gathered in Deer Lodge to ponder the fate of the Clark Fork River.
Frustration. Bewilderment. Anger. Powerlessness. Grief.
Few at the meeting felt satisfied with the regional river cleanup work completed to date by the Montana Department of Environmental Quality of contamination along the Clark Fork — pollution tied to historic mining and smelting activities upstream.
The consensus seemed to be that there has been a dearth of transparency and accountability for DEQ and other agencies, including the U.S. Environmental Protection Agency, involved in the Superfund work. There was discussion about empowering residents of the rural counties of Anaconda-Deer Lodge and Powell to have more of a voice in cleanup design.
Among other things, people questioned the wisdom of removing mature willows and undercut banks favored by trout for cover. People also said plantings of new riparian vegetation were inadequate.
Portions of the upper Clark Fork once supported a brown trout fishery so cherished by anglers that they were tight-lipped about its existence.
"You didn't even want to tell your girlfriend or your mom," said John Wilcox, a fishing guide.
He suggested that the upper Clark Fork once held the state's best brown trout fishery and said he was deeply upset about its current status. Trout numbers have plummeted since Superfund remediation was initiated in recent years. The reasons aren't clear but many suspect loss of key habitat has played a role.
DEQ has said it understands the concerns about trout cover and plans to do more to construct or retain supporting habitat during the Phase 3 cleanup work now underway. The Phase 3 work addresses contamination between Perkins Lane and the Galen Road.
Joel Chavez, DEQ's project manager, has said removal of the tailings contaminated with heavy metals is the priority and if the fishery is diminished for a time it will likely be a short-term loss for a long-term gain.
Beau Downing, restoration coordinator for the state's Natural Resource Damage Program, addressed the streambank design question during a Zoom meeting last month.
"For Phase 3, we really looked for opportunities to go to streambanks that DEQ and NRDP both really like and add in some of the complexity," Downing said.
"There's always this balancing act, risk-reward, constructability, material availability," he said. "But it's important not to lose sight of the long-term goal, which is not to kill fish with metals."
On Tuesday night, the Deer Lodge meeting's 27 participants included anglers, a fishing guide and landowners along the river. There were citizen scientists and people fretting about the future of the abundant wildlife that has frequented the battered river's riparian zone.
There were staff and board members from the Clark Fork Coalition, which sponsored the meeting. There was Wayne Hadley, a retired fisheries biologist whose territory included the upper Clark Fork and Kathy Hadley, a past chairwoman of the National Wildlife Federation, a past president of the Montana Wildlife Federation and chairwoman of the Clark Fork River Technical Assistance Committee.
By design, no one in attendance worked for DEQ, EPA, the Natural Resource Damage Program or the Montana Department of Fish, Wildlife and Parks.
Two local government employees attended: Jordan Green, chief administrative officer for the city of Deer Lodge; and, Scott Hazelton, planning director and floodplain administrator for Powell County.
Brian Chaffin, a professor at the University of Montana, was the meeting's moderator.
Kathy Hadley said the cleanup work that has occurred since the release in 2004 of the EPA's Record of Decision for the Clark Fork River Operable Unit has discovered a greater quantity of tailings than was anticipated. The settlement money secured from the Atlantic Richfield Co., deemed responsible for cleanup because of its 1977 merger with the Anaconda Co., isn't adequate, she said.
"We don't get from where we are to where we want to be without a lot more money," Kathy Hadley said.
She said later the Clark Fork River Technical Assistance Committee received grant funding from the EPA from 1991 to 2015. Once DEQ became the lead agency the EPA withdrew funding, she said. For a time, the committee received some funding for DEQ but it wasn't enough to pay for even part-time staff, she said.
After the meeting, Kathy Hadley said she is not comforted by assertions from DEQ and NRDP that they will try to do more to preserve or create fish and wildlife habitat during cleanup.
"The important word here is 'try,'" she said. "The trout population has been declining since they started cleanup on the river. DEQ, FWP and NRDP haven't, in my opinion, seemed to pay much attention to declining trout numbers as cleanup activities occurred."
Kathy Hadley said staff from the Clark Fork Coalition floated a section of river near the Grant-Kohrs Ranch National Historic Site before cleanup there and pointed out key habitat to DEQ.
That habitat is gone, she said.
The target of Clark Fork River remedial action is removal of tailings in the streambanks and floodplain that are contaminated with heavy metals from historic mining, milling and smelting activities upstream by the Anaconda Co. The tailings and toxic sediments have accumulated along the river for more than 100 years.
During Tuesday night's gathering Chaffin summarized some of what he'd heard during the meeting. He said he'd heard from people who loved the river and had invested blood, sweat and tears in advocating for its recovery over decades.
Later, when prompted by Chaffin to weigh in about next steps, many participants indicated they are willing to commit time and energy toward amping up that advocacy.
"I want us to be able to influence the agencies," said Daniel Kiely, president of the Clark Fork Coalition's board of directors.
On Wednesday, DEQ responded to concerns expressed Tuesday with a statement that reviewed the site's history, past opportunities for public input and finite financial resources.
"The banks of the Clark Fork and the surrounding floodplain are heavily contaminated with mine waste deposited during massive flooding in 1908," DEQ said. "For more than a hundred years this contamination has been leaching heavy metals that are harmful to aquatic life and DEQ's responsibility is to remediate that contamination by removing it."
DEQ added, "While existing bank structures may provide fish habitat in the present the contaminated materials that they contain pose long-term negative impacts to the Clark Fork ecosystem. Removing that contamination is a critical step to ensuring a sustainably healthy river."
The agency said big picture documents associated with the 2004 Record of Decision and a 2008 Consent Decree, along with work with a Design Review Team, help develop plans for river remediation. The process allows the public to weigh in, the agency said.
"DEQ encourages this public involvement in helping to ensure the best cleanup possible with the finite financial resources available. The public involvement process for Phase 3 took place in 2016," the agency said.
DEQ said it intends to begin the planning process for the next cleanup phase by the end of this year. It said the agency focuses on remediation while the National Resource Damage Program and others tackle restoration.
Alex Leone, restoration project manager for the Clark Fork Coalition, helped organize Tuesday's meeting. One goal of the gathering was to allow people to vent about how the river has changed in the wake of remediation, he said. He said there was not an intent to bash DEQ.
Leone said he recognizes financial constraints might affect how often DEQ holds a design review process but said he would like to see such reviews happen more often than once every five years.