Montana is one of three states that has no laws relating to dyslexia, a disability that makes reading and sometimes writing difficult.
For state Sen. Cary Smith, R-Billings, who has a granddaughter diagnosed with dyslexia, the issue "is very close to me."
Smith plans to introduce a bill or bills pertaining to dyslexia in the 2019 legislative session.
"We're still working out the details on what we want to cover," Smith said. "One thing we want to do is a better job of screening children for dyslexia, and we're still talking about things we'll do for intervention."
Smith said a second bill might address the best way for colleges to train teachers to work with students with dyslexia.
"We're looking at other states and what they're doing," he said.
It's been a long time coming, says Kelly Fedge DuBose, Bozeman founder and leader of Decoding Dyslexia Montana. The organization offers support to parents of dyslexic children and seeks to raise awareness of the learning disability among policy-makers in education and government.
"I've been going to Helena for a decade and talking to them and they're not listening," said DuBose, who lives in Bozeman. "We've done multiple things, trying to get their attention, including a rally outside the capitol last year."
Decoding Dyslexia Montana has offered workshops for teachers, administrators and the public. DuBose frequently gets calls from parents who are struggling to get their children the help they need.
One problem, she said, is some teachers may not recognize what dyslexia looks like. She related an incident in which a teacher told a parent she hadn't had a dyslexic student in her classroom for more than 20 years.
"One person in five is dyslexic, so that's impossible," DuBose said. "They don't have training."
Disability affects generations
Dr. Kathryn Lysinger still remembers her first parent-teacher conference when her son Jacob, now 10, was in kindergarten.
"The teacher said, 'As you know, Jacob is a little behind in his reading,' " said Lysinger, a pediatrician at Billings Clinic. "I was a first-time parent and I didn't know kids were supposed to read by then."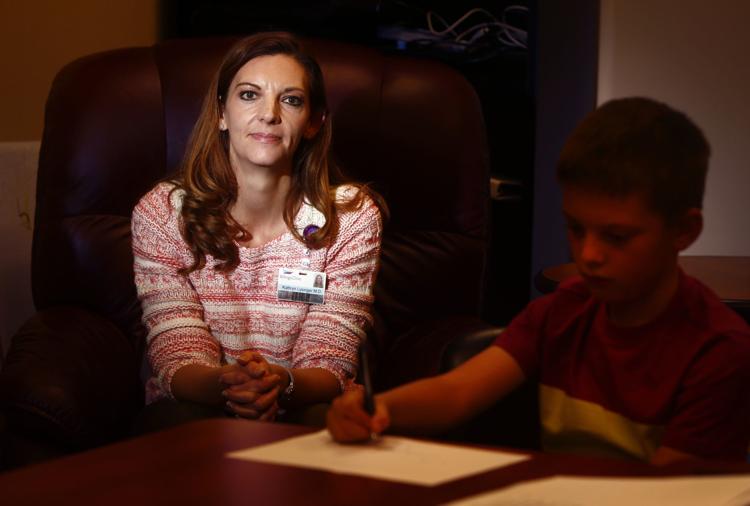 In first and second grade, he struggled with writing. Lysinger attributed the problem to the staff upheaval at a private school he previously attended, which she thought disrupted Jacob's learning.
By third grade, the staff at Arrowhead Elementary came to suspect Jacob might have a learning disability linked to reading, and they alerted his mother. Lysinger called Kelly Haggerty, a dyslexia specialist in Billings, who did a three-hour evaluation that determined Jacob, indeed, suffered from dyslexia.
"It's always such a relief to know there's something we can do and to know there's help," Lysinger said.
Interestingly, when her son was diagnosed, the pediatrician realized that she, too, is dyslexic. It often runs in families.
As a child, she did well in school and on standardized tests, but Lysinger consistently tested below grade-level on spelling.
"I say thankfully there was no spelling test to get into med school," she said. "With spell check I could get by."
Jacob exhibited other symptoms typical of dyslexia. He had trouble tying his shoes. And every time he spelled his name, he had to consciously write the last letter as "b" and not "d."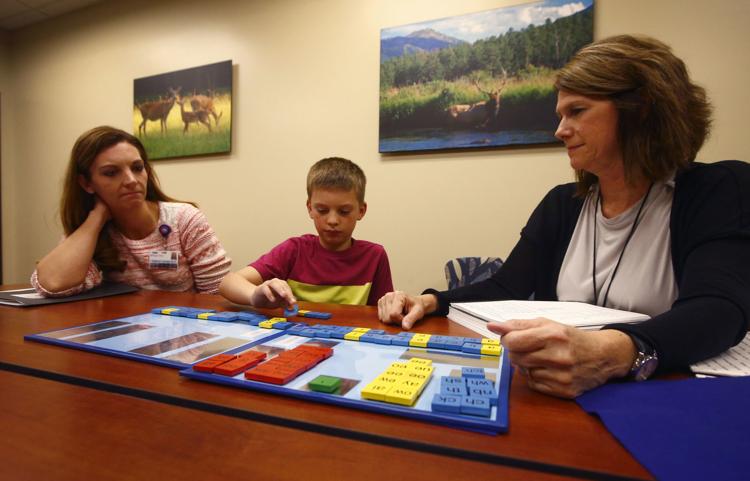 He also struggled with dysgraphia, common in people with dyslexia, which involves weak fine-motor skills that makes writing difficult and hard to read.
On the other hand, "problem-solving is his strength, and he loves math," his mother said. He also has an incredible auditory memory.
Lysinger is grateful the school picked up on Jacob's problem. His diagnosis has encouraged her to be alert to the problem in her own patients, so they can get the help they need early.
Study gives insight
Lysinger and her son are by no means unique. Dr. Sally Shaywitz, co-director of the Yale Center for Dyslexia & Creativity at Yale University, helped conduct the longitudinal study involving 455 boys and girls that, in part, determined that one in five people are dyslexic.
The long-term study, which began in the 1980s, also revealed that dyslexia doesn't go away.
"Your symptoms can improve, but you'll always be dyslexic," Shaywitz said in a telephone interview.
On the other hand, as the center's name indicates, dyslexics are often bright, creative people. At a conference the center organized, speakers included writer John Irving, cardiac surgeon Dr. Delos Cosgrove, Academy Award-winning producer Brian Grazer and top economic forecaster Diane Swonk, all dyslexics.
"They're the ones who succeeded," Shaywitz said. "Probably many, many more could succeed if they had been identified."
Typically, bright people are excellent readers, Shaywitz said. But there's a disconnect in bright people with dyslexia: They're smart but they read at a lower level, and may struggle with writing.
That gap can create an ongoing source of frustration and pain. And that can have a long-term impact on children.
"They begin to think school is not for them, and they begin to think they're not very smart," Shaywitz said. "So they may misbehave, skip classes, drop out. And many have low self-esteem, anxiety and depression, and they don't know why, so they lose confidence in themselves."
Detecting dyslexia
Dyslexia can be detected as early as first grade. In her book "Overcoming Dyslexia," Shaywitz talks about brain imaging studies that "provide the neurobiological — the physical — evidence of the difficulties that dyslexic readers have" in transcribing written letters into sound.
To put it another way, language can be broken down into its most basic elements. It starts with the phenome, "the essential building block of all spoken and written words," Shaywitz said in her book.
For instance, the word cat contains three phonemes: k, aaaa, and t. Because phenomes aren't as well developed in children with dyslexia, they find it harder to come up with the ones they need.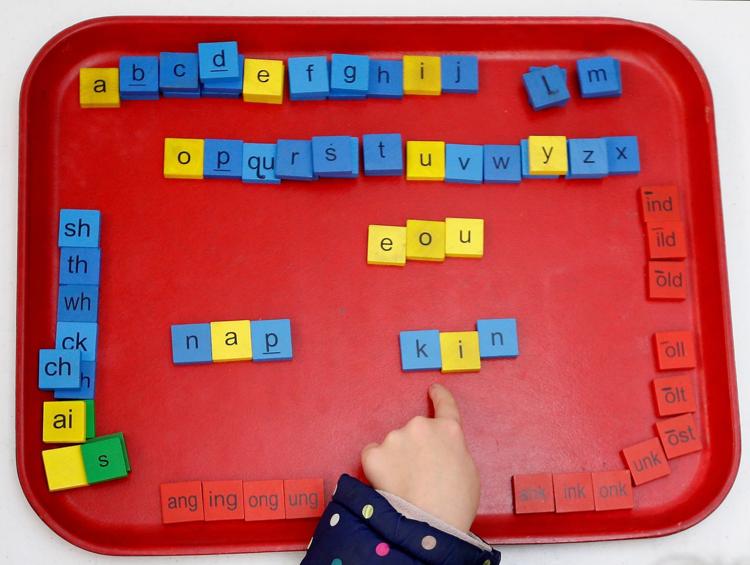 Or they put word parts in the wrong order — "emeny" instead of enemy — or they guess at the word, coming up with a similar one that maybe shares the same first and last letter.
However dyslexia affects a child, he or she should be evaluated. The Yale Center for Dyslexia & Creativity has developed a screening tool, individualized by grade, which can be administered by teachers, Shaywitz said, and costs 99 cents per child.
In the schools
Parents can also take their child to a dyslexia specialist outside the school, at their own expense. To obtain formal intervention in Billings Public Schools, the school must conduct an evaluation, as well, said Tamra Covington, special education coordinator for the district.
"Because dyslexia is a clinical diagnosis, we don't diagnose it," she said. "We evaluate and determine if there is a specific disability in reading."
The evaluation will help determine if the student is in need of specially designed instruction, which involves the use of an individualized education program (IEP) or accommodations to help them function in the classroom.
The district has made a concerted effort to create assistance teams of teachers and administrators who meet to discuss what the teacher is seeing in the classroom, looking at data and seeing what tools are available to help a struggling student.
"They implement those things and track the progress of those interventions before they look at making a referral for 504 or an evaluation for special education," Covington said.
Two federal laws specifically pertain to dyslexia. The Individuals with Disabilities Education Act (IDEA) is intended to make sure students with disabilities get a free appropriate public education shaped to fit their need.
One mechanism to help students with disabilities, under IDEA, is the use of the individualized education program. Within the law are 14 categories, and dyslexia falls under No. 11, specific learning disabilities.
Section 504 of the Rehabilitation Act of 1973 is the law that permits use of classroom accommodations when a child isn't deemed eligible for an IEP.
About 25 percent of the population would meet the criteria for Section 504, and historically about 10 to 12 percent would qualify for an IEP under IDEA, Covington said.
Shaywitz, of Yale, thinks schools should offer students the tools and time they need to move forward. As part of the 504 accommodations a student with dyslexia may need, Shaywitz suggests what these "slow readers-fast thinkers" often need, in testing or assignments, is extra time.
"To decipher takes a long time, no matter how smart they are," she said. "If they don't have additional time it will appear they don't know. The test be a measure of a disability rather than ability."
Students like Jacob Lysinger use tools such as voice-to-text, using Google Docs. Accommodations help him both with school work and standardized testing.
Shaywitz also suggests programs that teach dyslexic students to read ought to contain certain criteria (see sidebar) to make them effective.
"You need a well-rounded program," Shaywitz said. "I'm not assuming there's only one way."
Up until now
Since Montana has no state law regarding dyslexia, the state has adopted the same definition as the federal IDEA law, said Frank Podobnik, administrator of the Divison of Special Education at the Office of Public Instruction.
It is possible for a child who exhibits characteristics of dyslexia not to qualify for special education as a child with a disability, Podobnik said in an email response. The determination is made by an evaluation team of parents and school personnel.
In August 2016, OPI published a document detailing dyslexia that it has posted on its website "to help parents and schools better understand dyslexia and the needs of children who have dyslexia," he said.
The state agency is focusing additional attention on the reading disability. OPI's goal is to bring together a diverse group of stakeholders to define the need for training and education regarding dyslexia for parents, school district staff and other professionals.
"Based on this information, OPI will work with the stakeholders to develop and implement a training plan to address the identified needs," Podobnik said.
One on one
Tutors connected with Decoding Dyslexia-Montana use an Orton-Gillingham approach to teaching dyslexic children. One of the tutors, TerraBeth Jochems, has been teaching reading in one form or another in Billings for more than 25 years and uses the Barton System with youngsters she works with now.
"Neurology is behind this particular curriculum," said Jochems, who also is a regional leader for the state organization. "They have designed it for how kids naturally process language. It's truly how you should teach reading."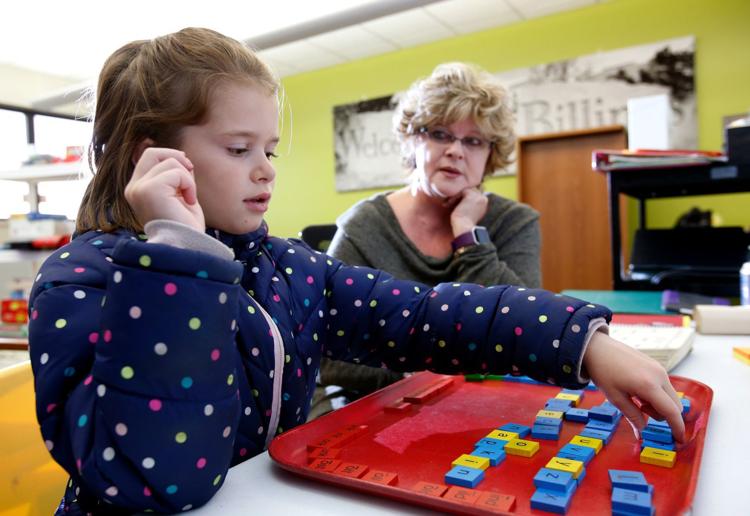 Phonemic awareness is the cornerstone of a reading program that works for all students, she said, as well as explicit instruction in spelling rules. Orton-Gillingham uses three different learning styles, auditory, visual and physical activities.
Jochems taught reading at the elementary and then high school levels in Billings Public Schools. For years she has also tutored students outside of school, helping them overcome their reading struggles.
These days, Jochems, who retired in 2016, partners with Harvest Church through the Better Billings Foundation to offer a low-cost tutoring program to children. She and four volunteers work individually with children of all ages.
Jochems doesn't diagnose dyslexia. She'll refer parents to a website to look at the warning signs, read the research and watch a video.
"They will send me back an email with the warning signs they see in the child," Jochems said. "Sometimes we will work together with the teacher, what they see in the classroom."
Then she'll sit down with the child.
"The first thing I do is check for phonemic awareness and how well they can manipulate sounds," she said. "The second thing is ask them to write the alphabet."
Jochems looks to see of the child can form letters, if they reverse letters or have poor handwriting. If they leave out words when they're talking, or mix them up.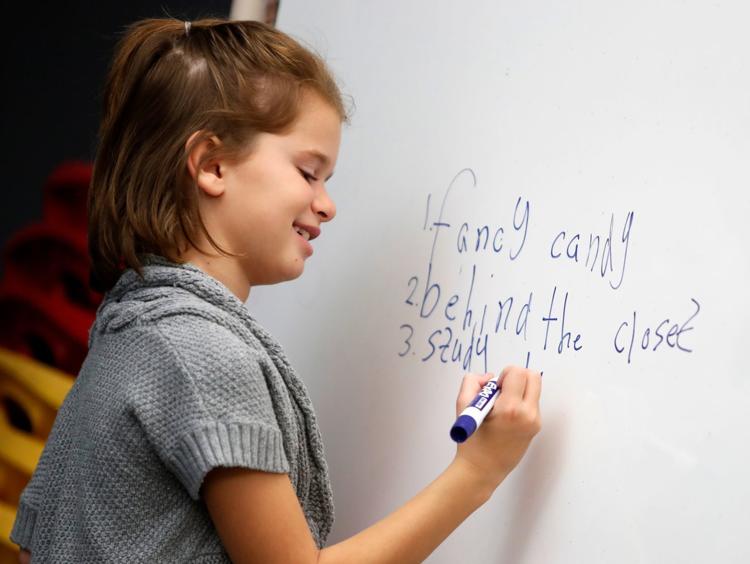 She works with them at least two hours a week. Jochems has been meeting with fourth-grader Elsie Schell for more than a year.
On a recent morning, the two sat side by side at a table at Harvest. They worked with "banana split" words.
In one case the word was "splendid."
"How many syllables?" Jochems asked the girl.
"Say it," Jochems said. "Tap it."
Elsie tapped her finger on the table as she spoke each syllable. Jochems had her put the word together using the tiles in front of her.
"You are splendid at that," Jochems said, and Elsie returned her smile.
In a morning, Elsie will practice putting real and nonsense words together. She'll write words on a white board, speak them, read sentences at the desk and answer Jochems' questions.
The many different exercises move Elsie one step closer to overcoming her reading disability. Jochems, who herself is dyslexic, identifies with the students.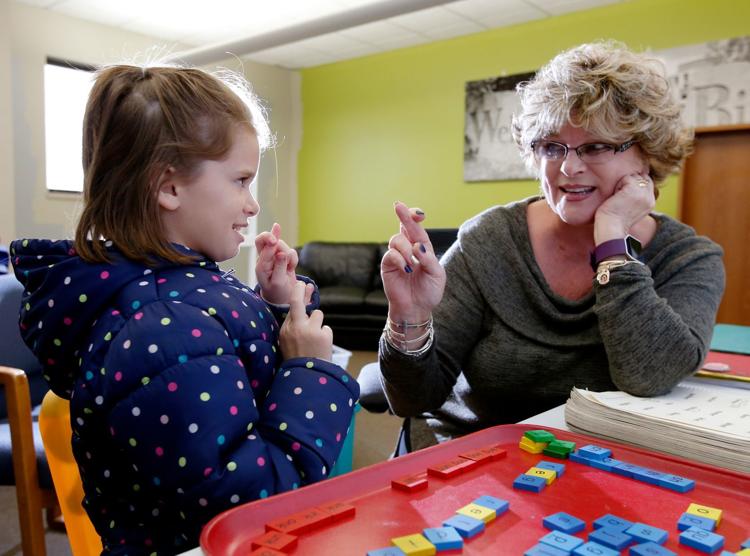 She was diagnosed as a young student in Seattle. Her special education teacher used an Orton-Gillingham approach to help her overcome her reading difficulties.
"By the time I moved to Billings I was an avid reader," Jochems said. "I was 10, I was in fourth grade and I didn't have any troubles. I was a straight-A student."
Jochems would like to see that for all the students she tutors. It's not always easy.
"I've had to struggle with some kids," she said. "A lot of times older kids are already angry. They think they're stupid, so it's a struggle. But we stick with it."
And eventually, they gain the skills they need to succeed, she said. She told of one girl she started tutoring in fourth grade who cried at each session.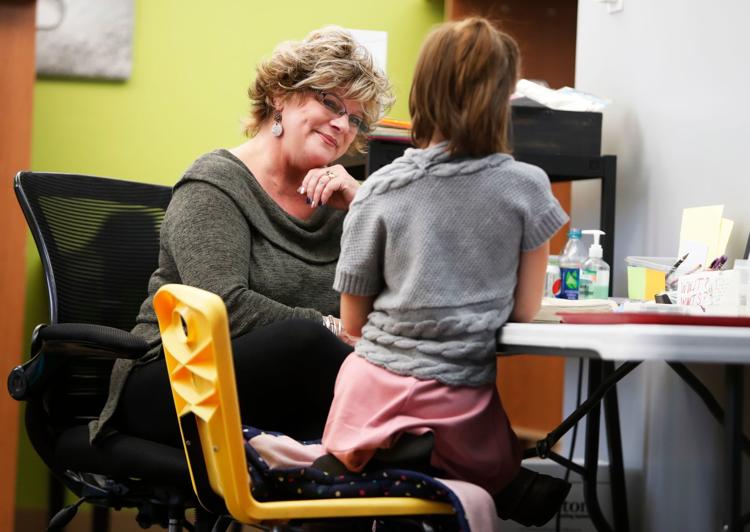 But eventually, the girl got to the point where she no longer needed special education services. Now graduated from high school, the two bumped into each other at a funeral.
"She told me 'you saved my life,' " Jochems said. " 'I hated it, but you saved my life.' "