Prior to the pandemic, Montana Tactical was selling boxes of 300 Winchester Magnum ammunition, a popular hunting caliber, for about $30 a box.
The last time it had boxes of those 300 Winchester Magnums, they were selling for $99 a box.
"I've never seen a shortage of ammunition like this, and at this cost," said Aaron Hagen, who has owned Montana Tactical on Gooch Hill Road in Bozeman for more than 20 years.
Now, Hagen spends about 20 hours a week just trying to find ammunition to order, he said. He's also had to limit how many boxes of ammo customers can buy so one person doesn't stockpile and leave the rest of the customers without. Shotgun ammunition, which was "always very plentiful" has been especially tricky to track down lately and more expensive than usual.
"The prices on some ammunition has normalized and improved, but most ammunitions are hovering at about double what it cost pre-pandemic," Hagen said. "As a dealer, we're paying anywhere from two to three times what we were paying for ammo 18 months ago."
Internationally, supply chains of all kinds have been disrupted by the pandemic. Toilet paper is a memorable one, but it's far from the only product that saw major supply chain impacts from the continuing pandemic. Some were directly related to COVID-19 — stores struggled to keep goods like gloves, masks and bleach on the shelves.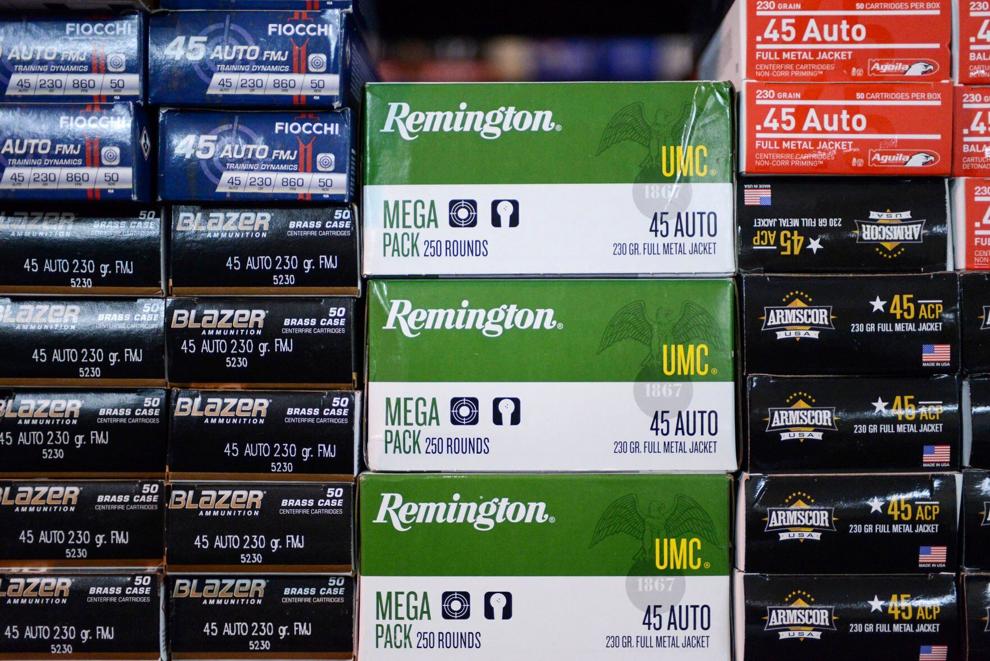 There's a few different reasons for why the supply chain for so many goods has been thrown into disarray, said Carly Urban, an economist and associate professor at Montana State University.
Early in the pandemic, economists and manufacturers were concerned that demand for all kinds of things was going to drop, and some manufacturers scaled back production or had factory shutdowns because of the pandemic. Raw materials — what economists call "inputs" — were in short supply, which meant the price of inputs was increasing as different industries, including the ammunition industry, fought over the raw goods.
But there wasn't actually a major decrease for many of the goods that were anticipated, and demand for some things skyrocketed. Shipping ports became backed up, and the previously smooth-running global supply chain suddenly had major hurdles to overcome.
"Easier than ammo, to me, is to think about a bicycle," Urban said. "The frames were actually on time and still doing fine, but they couldn't get chains … the materials for those chains were behind. So, you can't have a bicycle if you can't get a chain."
The global supply chain is complicated, and the disruptions during the pandemic show just how interconnected supply chains are and how seamlessly they worked before.
"We took for granted how smoothly everything worked before the pandemic, in my mind," she said. "All different countries are specialized in different inputs, different components of production, and were able to link those together to make products at the lowest possible cost … once they got behind, it's just kind of a continuous cycle."
Out of ammo, again?
The pandemic-fueled ammunition shortage is far from the first ammunition shortage in the United States, though there are more factors influencing the surge this time than there have been in the past, said MSU economist and professor Richard Ready.
Part of the reason gun and ammo sales increased so much over the past 18 months was fear, though Ready said more money in many peoples' pockets also drove the increase.
"Most of the time when we saw an ammunition shortage it was because of a concern over possible new legislation on firearm purchases," Ready said. "Every time we get a Democratic president, for example, there's concern that there's going to be new legislation restricting firearms."
"The most recent (ammunition shortage) doesn't seem to have been driven so much over concern about gun control legislation as much as concern over safety," Ready said. "The George Floyd killing, civil unrest in Portland and places like that, coupled with the pandemic, there was just this feeling that people didn't feel as safe."
In the same way that some people stock up on groceries before a big storm, some people who felt unsafe went to their local firearms store. Many of those people were first-time customers at stores like Montana Tactical.
"We saw anywhere from a 400% to an 800% increase in business during the pandemic," Hagen said. "We had people coming in every single day that had never owned a firearm … it was pretty unbelievable."
The big increase in firearm sales had another factor that makes it differ from past, politically driven purchase increases.
"A lot of people like to consider the firearms industry to be a fairly conservative industry, but we were seeing both liberal as well as conservative, people of all diversities, men and women," Hagen said.
And, while fear undoubtedly played a part in the shortage, Ready said people having extra money and wanting to get outdoors was a factor in the spike in gun and ammo sales, too.
"Guns are something you buy when you have extra money," Ready said. "Some of the new gun sales that occurred, I'm sure, were because people had money that they normally would have spent on things like restaurant meals or airplane tickets."
Law enforcement
Nationwide, the ammunition shortage paired with public tension over policing has worried some law enforcement agencies. But local law enforcement say they've got what they need, though not without paying more for it.
For the Bozeman Police Department, paying increased costs for ammunition has been the biggest hit from the shortage. BPD uses two different kinds of ammunition — one for training and one for on-duty weapons.
"We have sufficient supplies of both," said Patrol Capt. Joseph Swanson. "While there may be some difficulty in locating it, especially as price fluctuations have gone, we've been able to procure what we need to continue to have operations ongoing without any issue."
While the shortage hasn't had any major impact on police training in Bozeman, the department is waiting longer for deliveries of ammunition than in the past.
"We have been able to procure the ammunition, it's not been necessarily in the same quantities, and the price is approximately doubled," Swanson said.
The Gallatin County Sheriff's Office definitely isn't running out of ammo, said Sheriff Dan Springer, though it has still been "significantly" impacted by the shortage. Even after a larger-than-normal order at the beginning of the pandemic, the department has run into trouble getting ammunition in stock in a timely manner and has pivoted some of its training away from using live rounds.
"The delivery time has gotten much worse," Springer said. "Now, it's 6 to 8 months."
The trouble with that isn't necessarily running out of ammunition, Springer said. To pay for something with a fiscal year budget, the item needs to be bought and received during that fiscal year. The major delay on ammunition deliveries means the sheriff's office may be forced to pay for ammunition bought in 2021 with 2022's budget, which would decrease the amount of money it has for next year.
Like the police department, the sheriff's office uses two different kinds of ammunition — one for on-duty weapons and one for training weapons. It cut back on its training ammunition by pivoting some training to a virtual system, called MILO Range, that came with its purchase of a Four Corners shooting range last year.
The MILO system is a 270-degree screen with a computerized system that, for sheriff's deputies, plays training videos for them to practice de-escalation and assess how much force to use in different scenarios. (It also has a zombie feature, Springer said, though, barring the onset of a zombie apocalypse, that setting won't be used for law enforcement training.)
The system uses compressed air guns, so while it saves on ammunition, it doesn't quite replicate using a loaded firearm with active rounds. The department has worked to balance the virtual training with live-round training so deputies can still feel the real thing.
"(Shooting) is something that is a necessity for training, and obviously it's something you hope you never have to use," Springer said. "But when you do use it, you want to make sure you're using it in the right situation."
While the sheriff's office isn't running out of bullets anytime soon while they're on the clock, they just might be on their days off. Springer, who hunts, said he's had a tough time finding ammo for himself, and that he's heard the same sentiments from all of his employees who are hunters.
Ready, the MSU economist, target shoots in some of his spare time. He hasn't run into any major issues getting ammunition for his .22-caliber, but that's because he did something that he says contributed to the shortage — he stocked up.
Early in the pandemic, Ready went to Murdoch's to buy a box of ammunition. (Murdoch's declined to comment on the impact of the shortage on its stock). The store was sold out, so Ready went online and found somewhere he could buy not just a box, but a full case.
"I bought probably 100 times as much as I normally would," Ready said. "So, I don't have to worry about the rest of the shortage, and I'm part of the reason there is a shortage. That's how these shortages happen."