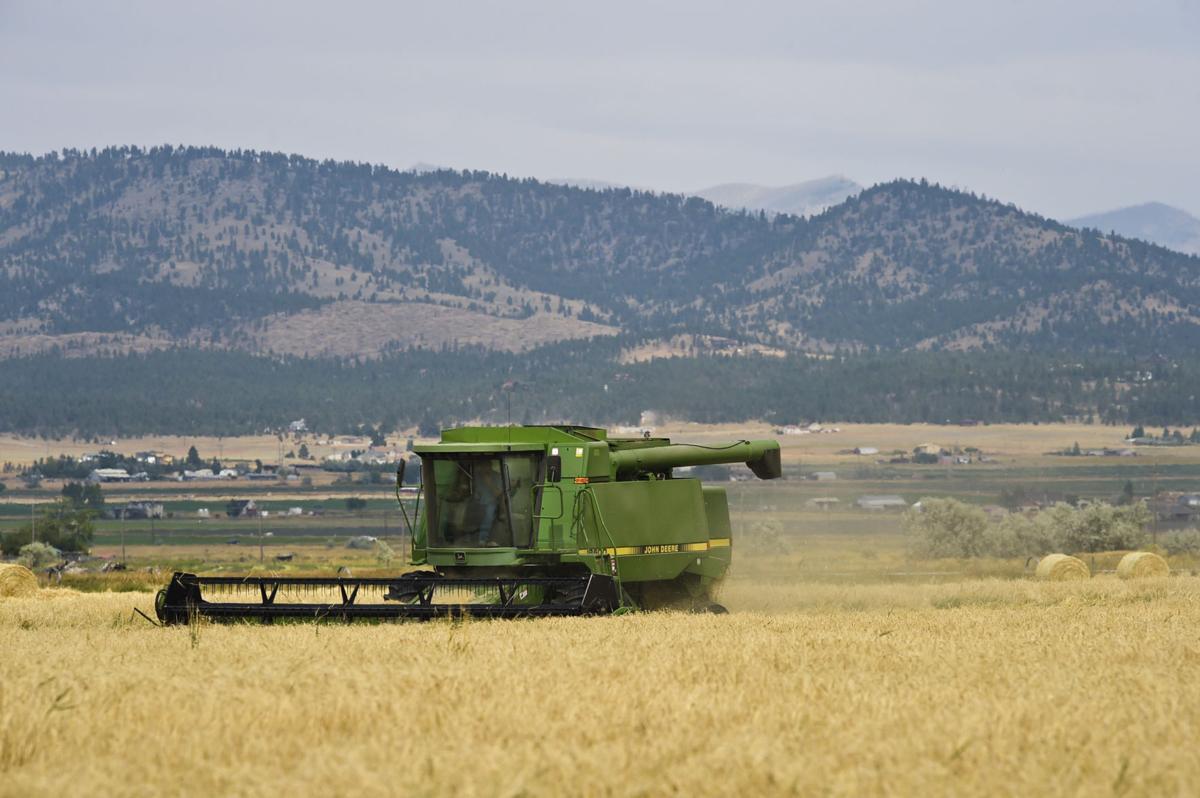 Among the dozens of directives included in a sweeping executive order recently signed by President Joe Biden, language backing the so-called "right to repair" agricultural equipment has local advocates of the movement hoping the federal government will address an issue that the Montana Legislature passed on during the recent session.
Biden's order directs the Federal Trade Commission to consider using its rulemaking authority to address "unfair anticompetitive restrictions on third-party repair or self-repair of items, such as the restrictions imposed by powerful manufacturers that prevent farmers from repairing their own equipment."
Groups on both sides of the issue concede that leaves a lot to be worked out.
"It's a great start. We were totally thrilled to see it, because we never expected any help from any presidential administration," said Gay Gordon-Byrne, the executive director of the Repair Association. Her trade group has lobbied in favor of proposals in Montana and other states to prevent equipment manufacturers from designing their products to be difficult or impossible for individuals or independent repair businesses to fix.
"But it does seem to be a policy goal, which is fantastic, and the devil is in the details."
Brad Griffin, the executive director of the Montana Equipment Dealers Association, said he expects it will be months or years before any final rules from the FTC become effective. His organization represents authorized dealers of the three top agricultural heavy equipment manufacturers: John Deere, Case IH and AGCO.
Like others representing manufacturers or their authorized dealerships, he dismissed right-to-repair proposals as "a solution in search of a problem," saying that the manufacturers already provide all the tools that are needed for do-it-yourself repairs.
"What farmers and ranchers want, we have," Griffin said in an interview last week. "There's been a huge disconnect, and that is our dealers need to be educated about our tools and software. So do the end users."
That's simply not true, according to Ron Harmon, a long-time farm machinery mechanic and manufacturer. Harmon owns Big Equipment in Havre, an independent agricultural and construction equipment dealer. In the past decade, as independent mechanics and farmers have increasingly pushed the issue, he said the industry has repeatedly fallen short of its promises to provide access to the tools needed to repair those farm machines and get them running again.
"Let me tell you what that really meant — it did absolutely nothing. Zero," Harmon said. "All they would allow that diagnostic kit to do is tell you what's wrong."
He's referring to the diagnostic tools that the companies sell, which work similar to the code readers that diagnose a problem when the "check engine" light comes on in your car. But with the technological complexity of modern ag equipment, he said there are additional tools needed to communicate with the tractor's computer in order to actually perform and finalize the repair.
Many of those repairs can be performed on the spot by a farmer whose tractor breaks down in the field. Others might take a mechanic with special training. But Harmon said even some of the simplest fixes, like swapping out a sensor or replacing a gauge, ultimately require specialized software that interacts with the tractor's computer and tells it that the problem has been fixed. Until that happens, the machine won't start back up.
"The wrong time of year, that can cost thousands of dollars that you've got to wait, or if it's going to rain on you," said Sarah Rachor, a Sidney farmer who sits on the Montana Farmers Union's board of directors.
As a sugar beet farmer, she said having equipment break down during harvest could mean losing a significant portion of her crop. Needing a technician from an authorized dealership to come out, diagnose the problem, then go get the parts to repair it — or have to haul the machine into town — can eat through precious time and money. And echoing other farmers, she noted that wait times for those technicians can be a week or longer during peak seasons, when everyone is in the field and everyone's equipment is breaking down at the same time.
"What this is all about is the total control of the parts service business, not allowing anybody on these newer tractors to buy anything from anybody else," he said. "Except maybe a light bulb."
Other right-to-repair advocates, including farmers, mechanics and groups that have supported the issue, echoed Harmon's complaints of anticompetitive practices when contacted by the Montana State News Bureau.
But Adam Gilbertson, president of the Montana Equipment Dealers Association, said that's simply untrue. With few exceptions, he said, the publicly available diagnostic tools allow anyone with sufficient training to fix anything on their equipment.
"That tool exists. It's in the marketplace, (but) there's very little take rate and very little awareness that you can do it," Gilbertson said. He added," The key for all of us is that the machines are working like they're supposed to."
Failed legislation
The recent Montana legislative session saw the introduction of three bills seeking to require companies to sell the tools needed for repairing ag equipment. The issue has slowly been gaining traction over the past decade, and while several Republican lawmakers had submitted draft requests for right-to-repair legislation in recent sessions, none were ultimately introduced as bills until this year.
Even those who voted against the proposals acknowledged that the dealers and manufacturers fought hard against the bills once they appeared. Rep. Scot Kerns, a Great Falls Republican, withdrew his right-to-repair bill shortly after it was introduced in January.
"I sat down with a few people in the industry and I kind of heard … that they absolutely do give diagnostic equipment, provide that to the public," Kerns said in an interview last week. "I realized at that point in the session, that was not something that could go forward."
A pair of Democrat-sponsored bills made it a bit further. After one, introduced by Rep. Katie Sullivan, D-Missoula, was shot down by a House panel, Sen. Mark Sweeney, D-Philipsburg, reintroduced essentially the same legislation in his chamber. It sailed out of the Republican-dominated Senate Business, Labor and Economic Affairs Committee with a 10-1 vote.
Sweeney said that got the industry's attention, and within a week the bill was voted down on a nearly party-line vote on the Senate floor.
"It just became a firestorm of lobbying by manufacturers against this," he said. "You could just see the heat being turned up."
State lobbying reports don't require groups to disclose how much money they spent on each bill they supported or opposed, making it impossible to measure the amount of attention the right-to-repair legislation actually garnered. Most of the bills listed by the Montana Equipment Dealers Association were related to right-to-repair, and that group reported a total of $17,400 spent during the session. The Montana Automobile Dealers Association, which testified against both Democrat-sponsored bills, spent $30,545 during the session, but listed only a single bill that it worked on, which was unrelated to the issue.
The Montana Farmers Union and the Montana Grain Growers Association — both of which supported right-to-repair legislation — spent a combined $65,855, but both groups listed dozens of other bills that they worked on throughout the session. The Repair Association did not disclose any lobbying.
Mixed reactions to Biden's order
While some right-to-repair advocates, like Harmon, were dismissive of the likelihood of any real change originating from the federal government, others saw Biden's executive order as a substantial victory.
"If they're being told by the FTC that they have to provide access to the farmer and rancher to the right to repair their own equipment, they can't get around that," Walter Schweitzer, president of the Montana Farmers Union, said.
But other advocates, as well as some Montana Republicans who have expressed support for right-to-repair initiatives, would prefer to see action at the state level. And many expect to see similar legislation resurface during the next legislative session in 2023.
The issue's appeal across party lines was evident for a moment in late February, when Sullivan's bill came up in the House Judiciary Committee in the midst of a marathon of pre-transmittal bill hearings. During a break, Republican Rep. Jennifer Carlson, of Manhattan, approached the committee chair, Rep. Barry Usher to let him know she would be voting to pass the measure to the full House floor.
In the garbled, hot-mic exchange, Carlson can be heard telling Usher, a Republican representing parts of Yellowstone and Musselshell counties, that "everyone in my district is a farmer. I have to."
"It's the stupidest thing," Usher said.
"No it isn't," Carlson responded. "People can't even get their machinery fixed."
Carlson was the only committee member to break party ranks, with the rest of the Republicans on the panel voting "no" on the bill. When Sweeney's bill reached the Senate floor, several Republicans argued that by pushing the manufacturers to increase repair access for those outside the dealerships, the measure had already done its job. Others expressed discomfort with language mandating that repair tools be offered at a "fair and reasonable" cost.
In an interview last week, Carlson stood by her committee vote and said the issue remains on the minds of people in her district.
"If the implement dealer can't make it, or if his machine is broke down in the middle of a field 100 miles from town, there needs to be an opportunity to get the work done. That's what I heard from farmers," she said. "Unfortunately, in my opinion, some of these bills get labeled Republican or Democrat when it's a philosophical difference, but it's not necessarily a political difference."