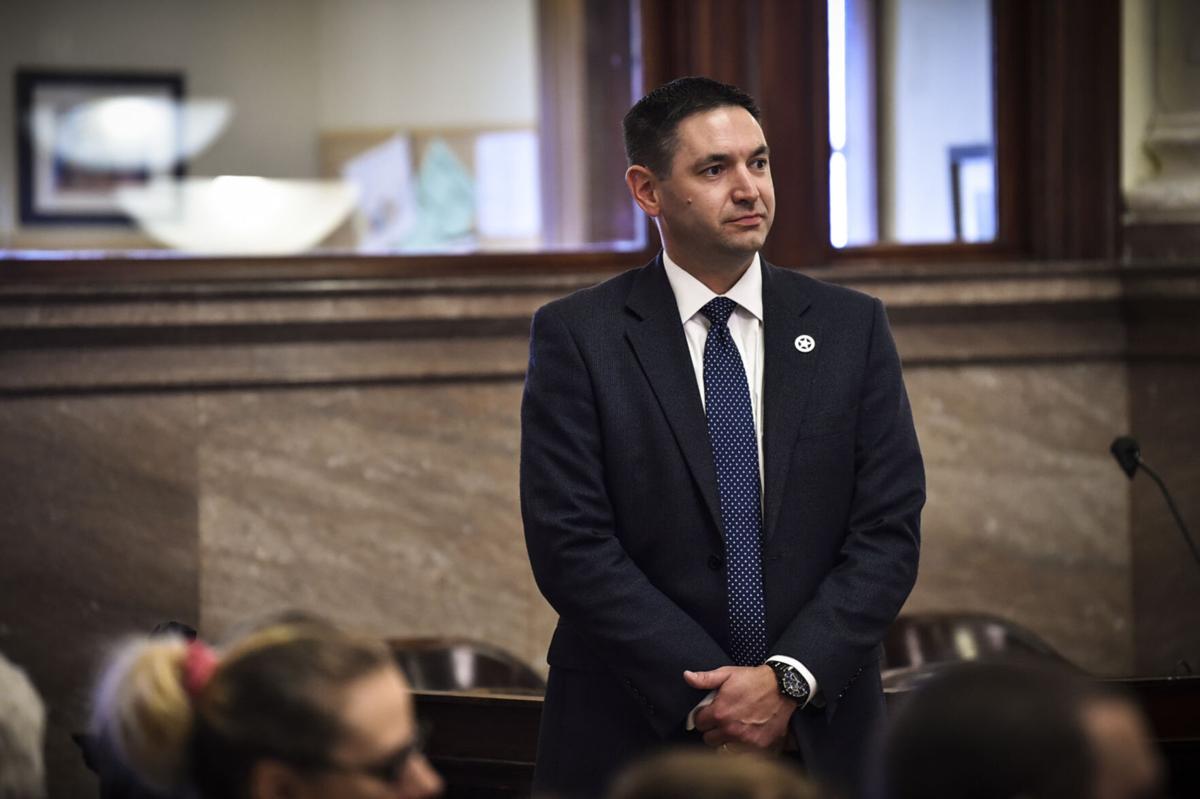 Montana Attorney General Austin Knudsen signed onto a letter sent Thursday by 24 Republican attorneys general to the Biden Administration threatening a lawsuit over vaccine requirements for some employees or weekly testing for those who do not get vaccinated.
Knudsen last week vowed to challenge the requirement the day after Biden announced it. Democratic President Joe Biden earlier this month said he'd direct the Occupational Health and Safety Administration with writing a rule that would require employers with 100 or more workers to either have them get vaccinated to be tested weekly. The rule would go through an emergency process to be put into place.
Earlier this year Montana's Republican-majority Legislature passed a law that Republican Gov. Greg Gianforte signed barring vaccine mandates issued by employers.
It made the state the only one in the country to ban vaccine requirements, a law that extends to places like hospitals and nursing homes. However, a carve-out in the law says long-term care facilities could require vaccination if it became a condition of getting federal funding, and about a month ago the Biden administration said it would issue a rule in September requiring those vaccinations as a condition of receiving federal money.
One of the doctors and medical ethicists who helped develop those standards of care said in an interview Wednesday increasing vaccination rates is the best way to stave off the need to make dire medical decisions. Gianforte has encouraged Montanans to talk with their doctors about vaccination and cited vaccination as a way to protect people. He also tweeted about Biden's proposed vaccines-or-testing requirement, calling it "unlawful and un-American" and saying his administration is "committed to protecting Montana's freedoms and liberties against this gross federal overreach."
In the letter, Knudsen and the other attorneys general call the vaccines-or-testing requirement "disastrous and counterproductive" and say it is "unlikely to win hearts and minds — it will simply drive further skepticism."
The letter argues a vaccine requirement would make people skeptical of vaccine efficacy.
"The mandate ... suggests that the vaccinated need protection from those who, for whatever personal reason, choose to or cannot receive a COVID-19 shot. That is hardly a statement of the confidence in the efficacy of vaccines."
The letter also says the policy "inexplicably fails to recognize natural immunity" and argues that OSHA should only address "work-related hazards, not all hazards one might encounter anywhere in the world."
"Indeed, the CDC estimated that by late May 2021, over 120 million Americans had already been infected, and that number is likely tens of millions higher today," the letter reads.
Anthony Johnstone, a constitutional law professor at the University of Montana Alexander Blewett III School of Law, said that if federal mandates are authorized, any state laws that conflict with them would be preempted.
The arguments made by the GOP attorneys focus on if Biden's proposal meets the threshold of the emergency standards process established by Congress and if a vaccine requirement is the kind of safety and health standard Congress contemplated when it created the process.
The other states that signed on include Alabama, Alaska, Arizona, Arkansas, Florida, Georgia, Indiana, Kansas, Kentucky, Louisiana, Mississippi, Missouri, Nebraska, New Hampshire, North Dakota, Ohio, Oklahoma, South Carolina, South Dakota, Texas, Utah, Wyoming and West Virginia.