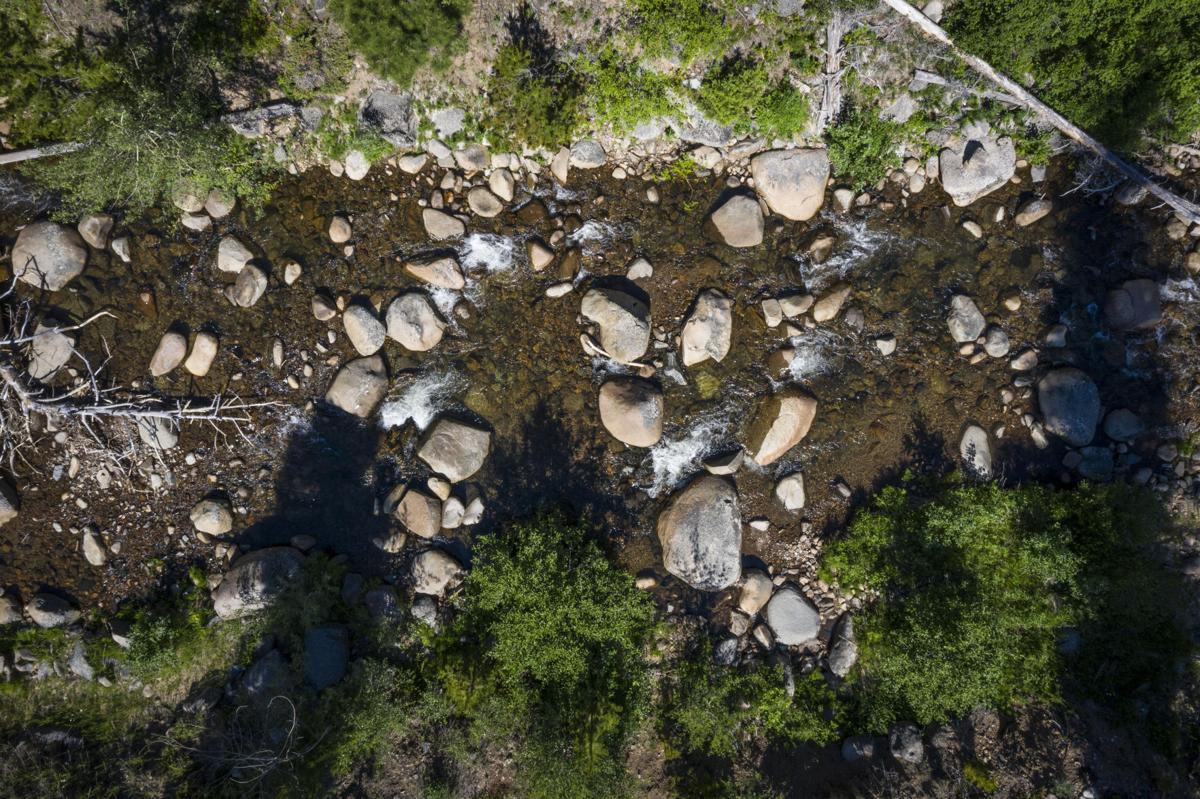 Polson City Manager Ed Meece on Thursday tagged the word "historic" onto the list of conditions that led the city to shut off water to 77 homes earlier this week, a measure not taken in recent memory. 
That's "historic" temperatures along with "historic" visitation to the area encircling the mouth of Flathead Lake in Western Montana. Troubling conditions persisted through June and early July, Meece said, prompting Polson's first round of mitigation efforts July 6, right after the "largest Fourth of July attendance we've ever seen."
"All of this started to play against us and once (the city's water reserves) were down, we just couldn't get them back up," Meece said in a phone interview Thursday.
Polson, which operates primarily on seven wells, issued every-other-day water use restrictions in early July. After little relief on its water reserves, by July 24 the city put a prohibition on any lawn watering for commercial and residential properties. Desperate to feed the reserves, the city took the drastic step Monday to shut off one of the main booster pump stations on Skyline Drive, the tallest point of town. 
"We had to shut that booster station off to prevent the pumps from just burning off; they didn't have enough water," Meece said Thursday.
Seventy-seven residences went without water for about 12 hours. Meece said city officials were thinking of fire protection resources, adequate drinking water and household usage that would dry up if the pumps had been left running. In the meantime, officials made bottled water and facilities at a local gym available to those residents effected until their water returned. 
Roughly 2% of Montana is in "abnormally dry" territory, according to the U.S. Drought Monitor, a collaborative effort by federal agencies. The rest of the state is in worse condition: moderate, severe, extreme or exceptional drought levels.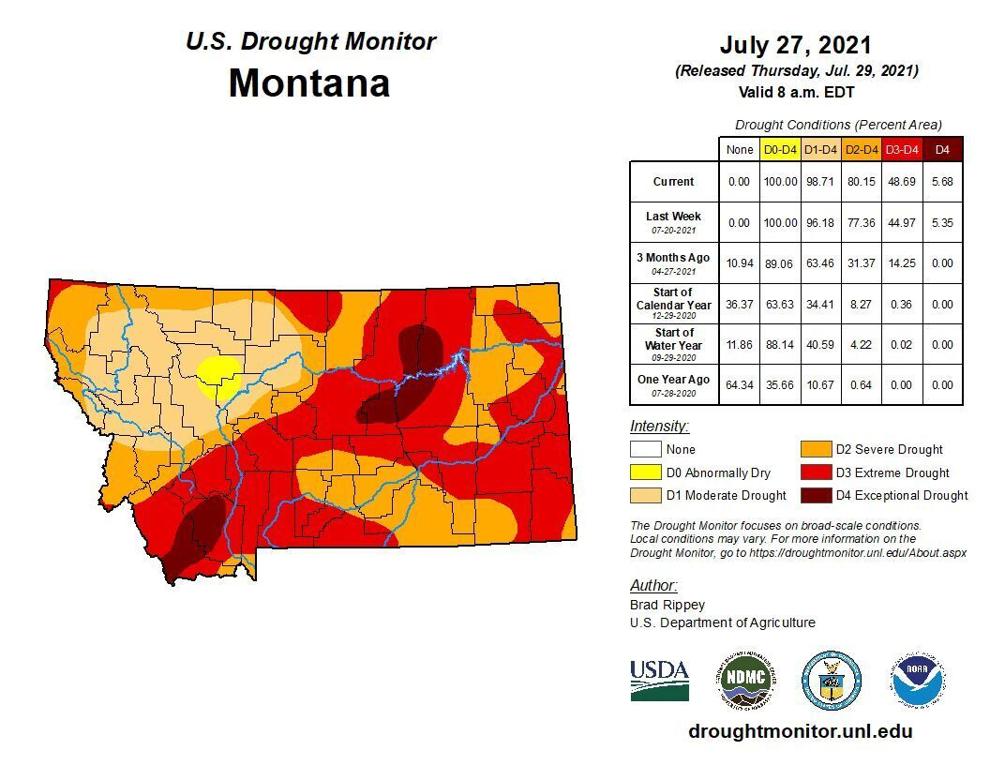 "What's keeping me up at night is that right now 100% of the state is anywhere from abnormally dry to a state of exceptional drought," said Michael Downey, water planning section supervisor with the Montana Department of Natural Resources and Conservation. "There's not much of the state that's even in an abnormal drought, everything is moderate to extreme."
Downey said dry conditions last fall and limited snowpack over the winter teed Montana up for the cookoff that has put city officials statewide on their toes over the last month. Current temperatures — last time Helena had this many days above 90 degrees was 2007 — has Downey concerned about the months to come. The state is in "substantially worse" drought conditions than 2017, but those 2017 conditions didn't arrive until the end of August.
"If you look at where we are now, right now we're about where we were at the end of August, early September," Downey said. "And we still have six weeks to go."
Cities have deployed mitigation plans as needed. Bozeman declared a Stage 2 drought July 13, which put in place time-of-day and day-of-week water restrictions. Bozeman Water Conservation Specialist Jessica Ahlstrom said the city has been tracking the restrictions effect on the water supply to keep resources in balance with water usage needs. Since the restrictions went into place, the city's water usage has reduced 18%, a bit shy of the city's 22% reduction goal in Stage 2 drought conditions. 
"All of the stages in our drought plan have a system-wide water use reduction target," Ahlstrom said. "We're hovering around that, which is great."
To help bring that usage down, the city set up a system so residents could notify the water conservation department of any compliance issues. Ahlstrom said most people who weren't in compliance simply weren't aware of the restrictions. 
"People want to be in compliance and seem to recognize the issue," she said. 
But, as Downey notes, the forecast for months ahead show signs of little relief. Cities who have drought mitigation plans, such as Bozeman, are better equipped to handle such extreme conditions, "a longer term issue," Downey said.
Rural governments, meanwhile, have less power to respond to the drought. Conditions have already borne out total crop failures, dried out stock ponds and a grasshopper population that's chomping down the hopes some producers had of eking out a crop this year. Blaine County Commissioner Frank DePriest said the most their board can do is issue letters of support to the Farm Services Agency office on behalf of local producers.
Due to the drastic conditions, producers who get their water from the Fresno Reservoir will see their access shut off early next week, DePriest said. The Havre Daily News reported Thursday the outflow from the Fresno and Nelson Reservoirs will be shut off Aug. 3 in order to fill the reserves.
In one stroke of good news this week, Meece, back in Polson, said the city received state approval Wednesday to tap an eighth well on an expedited, emergency timeline. Construction is already underway.
"We hope to get on that system in two weeks," Meece said. "We will be able to source that thank and that part of the community from that single well, so that just finds us a new water capacity."