The 1999 state Supreme Court decision that found the Montana Constitution's right to privacy ensures access to abortions is in the sights of some Republican lawmakers, along with a package of other bills to limit access to the procedure.
Democrats have their own slate of legislation that will attempt to put the right to abortion in state law, along with a series of other bills focused on elevating the discussion around reproductive health. They're optimistic, but also realistic, about how the bills might fare given a GOP supermajority that has in the past aimed to curtail access to the procedure in Montana.
Abortion up until the point of viability of a fetus is legal in Montana, as clarified by the Armstrong decision nearly a quarter century ago. When the federal protections for abortion fell last summer when the U.S. Supreme Court reversed the Roe v. Wade decision with its Dobbs order, Armstrong is what ensured continued access in Montana. That's made reversing the ruling a key target for those opposed to abortion.
On Tuesday there was a hearing for Republican Sen. Keith Regier's Senate Bill 154 to define to state law that the individual right to privacy in the state Constitution does not include the right to access an abortion. If the hour-and-a-half long and at-times contentious proceeding was any indication, the debate over abortion will again be a major issue this session.
When lawmakers gathered in Helena two years ago they had a GOP majority along with the first Republican in the governor's office in 16 years and passed a group of bills that would have banned abortions after 20 weeks gestational age; required a woman to be informed of the option to view an ultrasound before an abortion; and required informed consent before a drug-induced abortion. Those bills are on hold as a legal challenge plays out, but lawmakers will attempt to codify at least one of them again this session.
In presenting his bill Tuesday, Regier said he believed the Supreme Court erred nearly a quarter of a century ago when they "mistakenly left out the word 'individual'" in deciding the right to privacy ensured the access to a pre-viability abortion. His bill would not change access to abortion or the Constitution, but would aim to get at the Armstrong roadblock through state law. Several who testified against it anticipated litigation.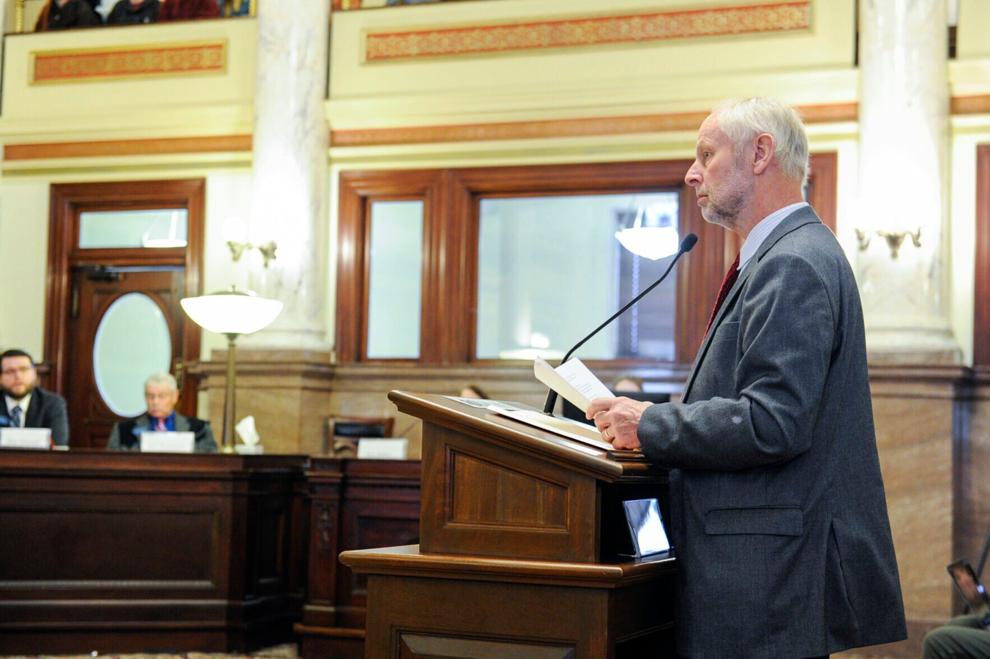 "An abortion is not an individual act," Regier said. "It involves different DNA. It involves another set of fingerprints. It involves another individual. A right to privacy should not apply to an abortion any more than a right to privacy applying to child abuse or abusing a spouse. Those acts include another person and are not acts of individual privacy."
But opponents to Regier's bill said it doesn't fall to the Legislature to decide how the state Constitution should be interpreted and that the document itself gives that job to the judiciary.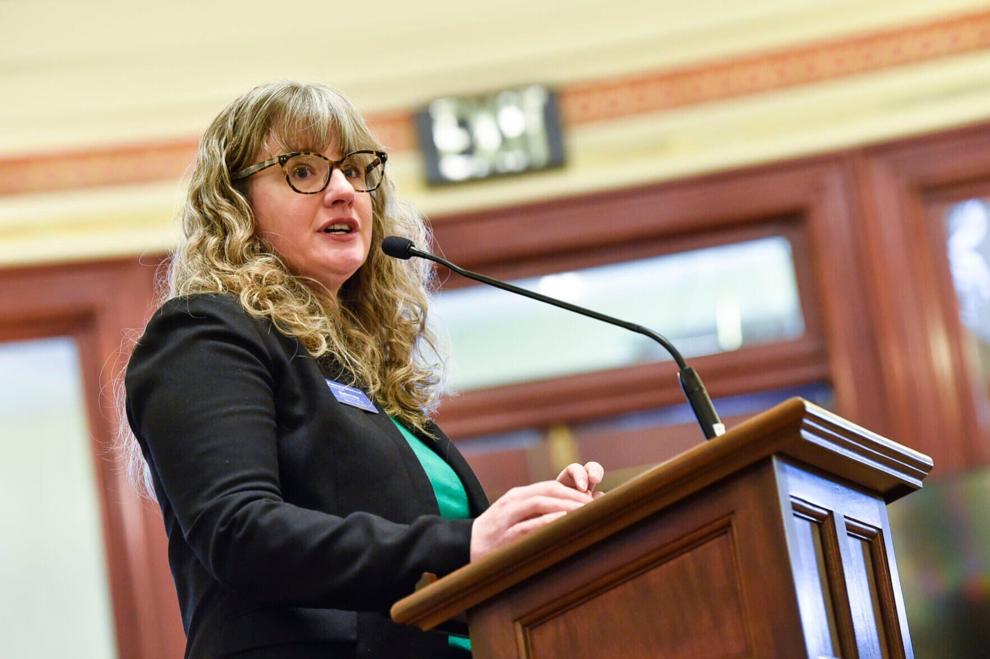 "This language in the bill is likely unconstitutional. It's not for the Legislature to say what is or not meant by the Constitution. That is the role of the judicial branch in our state government," said Martha Fuller, the head of Planned Parenthood of Montana. "Ultimately, if this bill were to become law, that is likely where a decision would be made. Litigating bills like these is a waste of both time and the taxpayer money."
Regier in his opening statement acknowledged the court's ruling, but said that both medical technology has changed since then and that the state Supreme Court should take into account the Dobbs decision and re-consider Armstrong.
"I know that some courts have determined that a right to privacy means a right to abortion and you may hear from opponents today that the Armstrong decision settles this issue and this bill is unnecessary. Courts have made wrong decisions in the past," Regier said.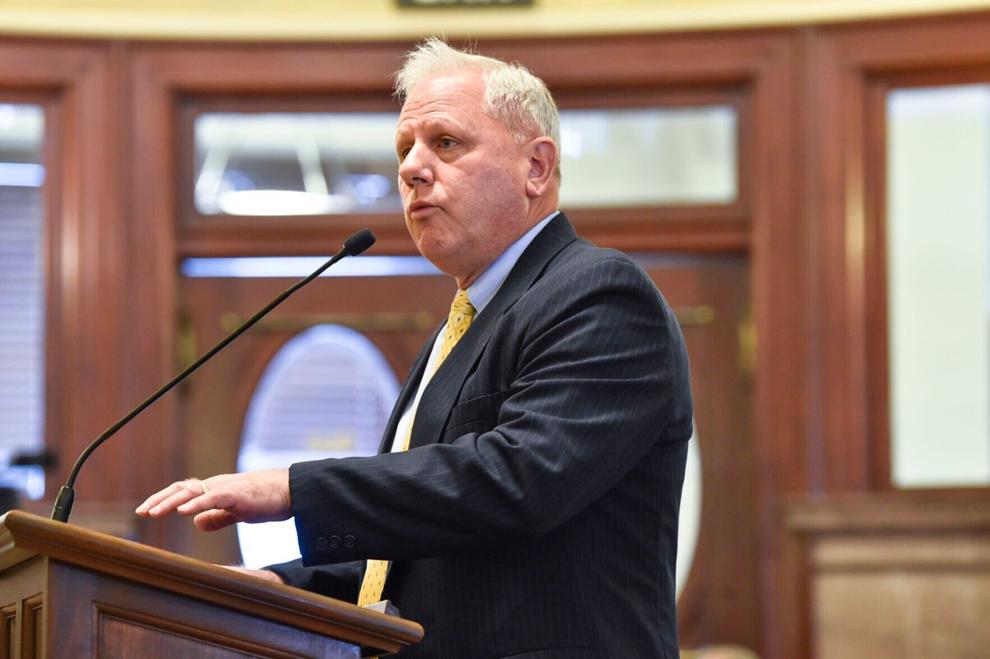 Jeff Laszloffy, the head of the Montana Family Foundation, a group that works to oppose access to abortion, told lawmakers that it was "entirely appropriate and within your purview" to decide about access to abortion, following the framework Dobbs gave to state Legislatures.
Mike Meloy, a longtime lawyer in Helena who told the committee he has taught constitutional law, disputed that.
"It doesn't take an expert in constitutional law to know that this bill is patently unconstitutional," Meloy said. "A high school civics student could tell you that."
Meloy continued by saying the Legislature "does not have the authority to construe the Constitution."
The committee did not take immediate action on Regier's bill. Those who spoke for and against it made arguments about constitutionality, as well as raised concerns on either side of the debate more broadly about access to abortion.
The hearing was marked by sharp exchanges between Sen. Barry Usher, who chaired the committee while the usual chair Regier presented his bill, and Meloy, who served as a lawyer on a lawsuit against Usher from last session. It also included disputes between Usher and several people who testified over Usher's interpretation of the focus of the bill. Usher said he wanted to limit testimony to only discussion about the right to privacy, but several of those testifying both for and against the bill veered into the morality or necessity of abortions.
Usher said he was equal in how he limited testimony from both proponents and opponents, but after the hearing Sen. Jen Gross said she disagreed.
Other GOP bills this session
One of the laws still under litigation that passed last session would require pregnant women be given the opportunity to view an active ultrasound and listen to a fetal heart tone before having an abortion. This session Rep. Amy Regier, R-Kalispell, is bringing the same bill.
"The bill last time was great health care policy," Rep. Amy Regier said. "Informed consent is good health care policy."
Regier reiterated the bill does not require a person to view an abortion or hear a heartbeat, only that they're given the opportunity.
The courts, Regier said, "have proved they're taking an activist" position on laws like abortion legislation.
"They say that they are independent but each branch is intertwined a little bit, and I would say we have that purview within the Legislature to act upon the constitutional duties we've been given," Regier said.
There are several other GOP bills in draft form that don't have much detail yet, including several on hold. Most are coming from the House.
Speaker Matt Regier, a Kalispell Republican, said in an interview last week that the caucus has broad ideas about abortion legislation.
"There's a lot of Republicans in our caucus that are pro-life. It does change a little bit on where exactly you draw that line (for things like) rape and incest (and the) life of a mother," Regier said. Matt and Amy Regier are Keith Regier's children.
Regier also said he expected a resolution from the House to define that the Constitutional right to privacy does not mean the right to an abortion.
While resolutions do not have much teeth, Regier said sometimes courts take into consideration is legislative intent and he said a resolution would clarify that.
Regier said while the supermajority could bring a bill to put before voters a constitutional change to address the Armstrong decision, he hasn't seen one yet and doesn't know if one is coming.
"We could," Regier said, adding that Republicans have varying views on how far limits on abortion should go.
"No matter what we do in the Legislature, it's going to go back to the people especially in a constitutional amendment. It's going to be the people of Montana (that) are going to weigh in," Regier said. He added that Republicans are currently deciding if now is the time to ask Montanans to weigh in or if they look at making other changes in state law instead.
Democratic priorities
On the other side of the aisle, Democrats in the House and Senate are also bringing a slate of bills focused on abortion and reproductive health care. They said in recent interviews that they intend to introduce a spectrum of proposals all the way from trying to codify Armstrong to making menstrual products more accessible in an effort to generate a lot of conversation around reproductive health care.
Sen. Ryan Lynch, D-Butte, is carrying a bill that intends to put Armstrong into state law.
"(The) status quo has been working for Montana and Montanans expect a right to privacy," Lynch said earlier this month.
Given the political landscape with a Republican supermajority and how abortion legislation has fared in the Legislature before, Lynch said he would plan to make an appeal to fellow lawmakers and the public on his bills focused on the protection of rights.
"One of the things Republicans ran on was not drastically changing personal lives. And here we are, in this day and time, and the status quo is working for Montana. It's well defined in the Constitution. People expect the right to privacy and so we don't need to be responsive to national politics," Lynch said.
Rep. Marilyn Marler, D-Missoula, will bring a bill to prevent people from being attacked on their way into a reproductive clinic, where oftentimes other types of care besides abortion are provided. Her primary care physician works at a location that also provides abortion care and was firebombed in the '90s.
"People have a right to privacy in their medical care and they shouldn't feel afraid to go to their doctor's office," Marler said earlier this month. "Even if people do not believe in reproductive freedom, I think everybody should be able to get on board with not harassing people on their way to the doctor's office."
Marler said she felt "cautiously optimistic" about the bill's fate.
Rep. Alice Buckley is taking another attempt at a bill that failed previously to allow for dispensing 12 months of birth control, up from the six-month limit.
"When we talk about allowing people to have the autonomy and freedom to make decisions about their own body, birth control is one of the components of that," Buckley said, adding that the bill meets a "real, practical need."
She said after conversations with Republicans about the idea, she feels optimistic.
"They've been like, 'Yeah, we should allow people to get access to adequate long-term birth control.' No one wants an abortion. I think we're all trying to mitigate that as as an option. To give people the tools and the ability and the autonomy they need to to prevent that seems like a bipartisan issue," Buckley said.
With a "bit of an outlier" bill, Rep. Emma Kerr-Carpenter, D-Billings, has legislation to make menstrual products freely available in at schools, shelters and other places.
"I'm cautiously optimistic as well," Kerr-Carpenter said. "This is one of those pretty common-sense things. … This is about addressing the full spectrum of health care for folks, starting with periods and then all the way to disease and preventing pregnancy."
Recently when trying to buy menstrual products, Kerr-Carpenter was carded.
"Apparently this is a conversation we need to be having. I was shocked. I had no idea what was going on," Kerr-Carpenter said. " … I would hate to be that kid who just got their first period and got carded buying menstrual products and how embarrassing that would be."
Finally, a bill from Rep. Laurie Bishop, D-Livingston, would allow for patients with sexually transmitted infections to get medication for themselves and their partner in one visit.
Democrats see the results from Legislative Referendum 131, which would have created a born-alive act, as an encouraging sign of where Montanans stand on the issue of abortion. Though the ballot measure was not about abortion access, much of the messaging was frequently associated with it.
"Republicans keep talking about the mandate that they have with the supermajority; I guess they need to be reminded on the same day, that on the very same ballot, the voters upheld democratic values with regards to LR-131," Lynch said.
Rep. Matt Regier last week said he didn't think LR-131, which he carried in the 2021 session, was a clean measure of where people are on the issue.
"It was about (protecting) infants born alive from the procedure of abortion, but it was not the abortion debate. It was about what do we do with babies that are alive and viable," Regier said.
He said when considering where Montanans are on the issue in light of a lack of quality public polling, he asks what his caucus hears from their constituents.
"What is the temperature of the legislators here on the House floor? Because they are the ones that are at the doors and they're the ones that are hearing the issues directly from the people," Regier said.