President Joe Biden will meet with Montana Gov. Greg Gianforte and other Western governors Friday to discuss the 2021 wildfire season in the West.
The White House confirmed the meeting will take place as part of the president's discussion with the Western state governors about wildfire response and prevention. Gianforte will speak specifically about the wildfire situation in Montana, where more than 268,594 acres have burned and 36 fires are currently active. Gov. Mark Gordon, of Wyoming, will also speak, as will governors from Idaho, Oregon, Washington and California. Both Biden and Vice President Kamala Harris plan to attend.
"In addition to providing an update on Montana's wildland fire emergency and extreme drought conditions faced by Montana producers, the governor will use tomorrow's meeting as an opportunity to honor our heroic firefighters, emphasize the continued importance of aggressive initial attack, and highlight the critical need for meaningful forest management to prevent catastrophic wildfire," said Brooke Stroyke, Gianforte's communications director.
Extreme drought and wildfires have devastated the West this summer. Friday's meeting follows a midweek briefing between Western lawmakers and members of Biden's Cabinet. U.S. Sen. Steve Daines met with Agriculture Secretary Tom Vilsack and Interior Secretary Deb Haaland on Wednesday.
Haaland and Vilsack are to co-chair a wildfire resilience group that looks at reducing fire risk and intensity through things like prescribed burns and tree thinning. There are also new working groups to address climate change and the impacts of extreme heat on vulnerable communities. 
Afterward, Daines, a Republican, said in a press release that he was glad for the invite and focused on loosening regulations on logging as a forest management tool.
"I'm glad to have been invited to the briefing, which included an update on wildfires and drought in the West, and to have taken part in this important discussion, however, it's time for action," Daines said. "We need to increase active forest management and support timber jobs or we're going to continue facing catastrophic wildfires."
Discussing the drought Thursday morning, U.S. Sen. Jon Tester said an increased federal response was in the works and that farm and ranch families should keep in contact with their regional federal Farm Service Agencies for information.
"The summer has been one of the hottest, one of the driest, certainly in my memory. Sharla and I see it on our farm. I've heard it from farmers all over the state. And, I understand vividly how hard folks have been hit by this drought," Tester said. "I've been monitoring the situation closely and pushing the U.S. Department of Agriculture to make sure Montana's farmers, ranchers have access to the technical assistance and relief they need to make to keep themselves whole and stay in business. There are a host of programs available to producers suffering from the drought. I would just recommend, stay tuned into your FSA agency. Stay tuned into my website. And you'll know what those programs are."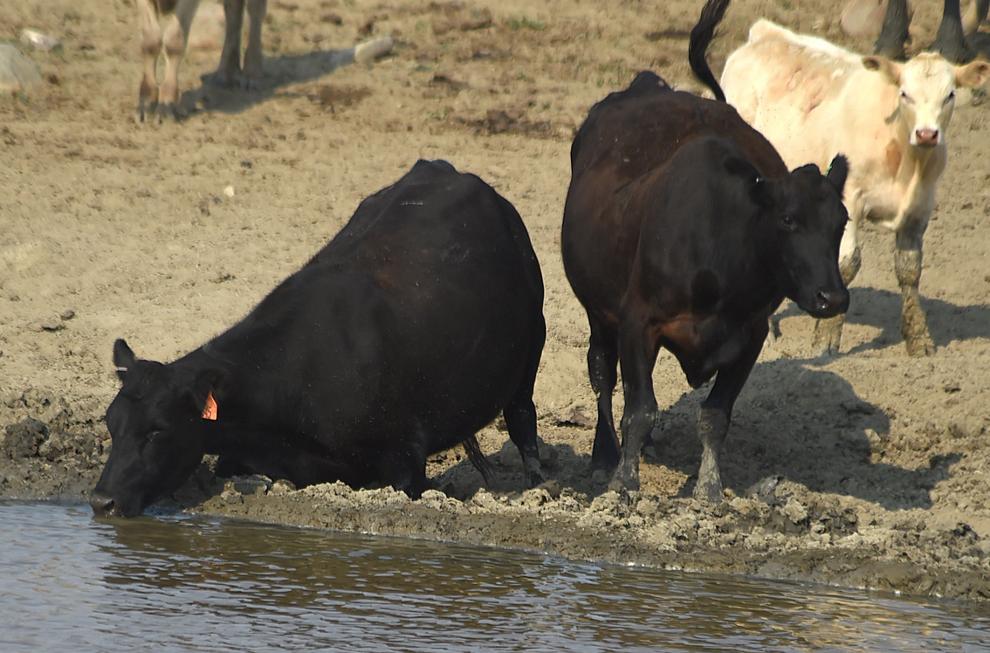 In the northeastern corner of the state where durum is king, 95% of the crop is rated poor to very poor by farmers reporting to the USDA. Only 13% of the state's entire spring wheat crop is rated better than poor. The July 12th Crop Production report from USDA has Montana harvesting 1.7 million acres of wheat, which is 200,000 fewer acres than farmers planted. The numbers say nothing about yield.
Nearly all of the state's pasture land is rated in poor or very poor condition. Earlier this season ranchers sold off thousands of cattle they couldn't feed or water because of the drought.
In late June, Gianforte and Idaho Gov. Brad Little expressed disappointment after Biden met with eight Western governors about wildfires, but didn't meet with the governors from Montana and Idaho. They called on the president to be an active partner in managing wildfires and demanded a seat at the table.