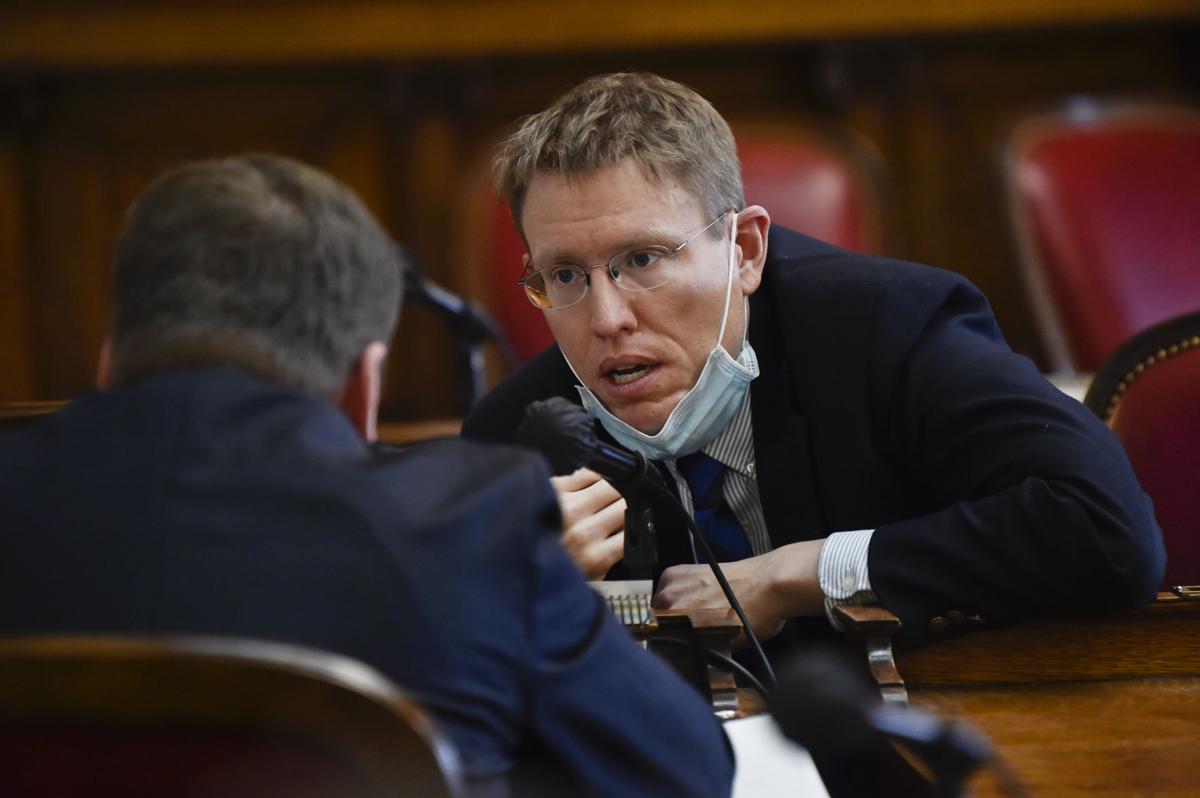 A bill that would eliminate limits on political committee donations to candidates for the Montana Legislature was criticized Friday for also containing language that the Commissioner of Political Practices' office said would limit its ability to investigate violations of other campaign finance laws.
Sen. Steve Fitzpatrick, R-Great Falls, is sponsoring several campaign-related bills before the Senate State Administration Committee, including Senate Bill 224. He argued that the measure was inspired by the "never-ending paperwork requirements" for candidates seeking office in the state.
"While I think the spirit is right with a lot of these, I think in practicality they're just unworkable, and I think we're getting to the point that we're nitpicking too much," Fitzpatrick said, adding that his bill proposes "taking away traps for the unwary people who are going to get hit with fines for no reason."
Fitzpatrick's bill would raise the minimum threshold for a reportable campaign contribution from $35 to $50, and would specifically exclude the use of "real property" and other venues for fundraisers from the definitions of contributions and expenditures.
But what raised particular concerns in the COPP office was the elimination of language requiring candidates to turn over "information that may be required by the commissioner to fully disclose the sources of funds used to support or oppose candidates or issues."
"This is really to get rid of the commissioner's power to keep adding more disclosure limits time after time," Fitzpatrick said. "I remember when I first started, we would say what the purpose of the expenditure was, now we're reporting quantities of stamps, the numbers of signposts … I mean, this is just getting out of control."
Jaime MacNaughton, the chief legal counsel for the COPP office, contended that the effect of the change would be to eliminate the office's ability to demand information relevant to possible campaign law violations.
"This would require us to go to court, file a lawsuit, in order to engage in discovery in order to get the documents which would either support or oppose it," MacNaughton said. She added that it would add a major financial burden on both her office and the candidates and political committees involved.
No one testified in favor of the legislation. 
Notably, Fitzpatrick's bill would also repeal Montana's limits on how much money political committees can give to individual legislative candidates. That amount, which adjusts with inflation, is currently capped at $3,050 for senate candidates and $1,850 for House candidates, according to the COPP website.
The law was approved by the state's voters as a ballot initiative in 1994, noted Margaret Bentwood, representing the Montana League of Women Voters.
"Senate Bill 224 will allow our legislators to raise unlimited money from PACs, instead of from people," Bentwood said, using the acronym for political action committees. "This will have the harmful effect of injecting big money, big spending in legislative campaigns, and reduce the importance of individual donations."
Fitzpatrick argued that a 2014 U.S. Supreme Court decision has rendered that law unconstitutional, and leaving it on the books would only open the state up to a potentially costly lawsuit if it gets challenged.
Helena Sen. Janet Ellis, a Democrat on the committee, indicated that the ruling, McCutcheon v. FEC, may not necessarily apply. The case dealt with aggregate limits that individuals could contribute to all federal candidates, parties and political committees, rather than committee contributions to individuals.
Also included in the bill is the repeal of a law that was struck down by a federal judge last year. That law, a requirement that political committees have names that reflect a majority of the donors to the committee, was ruled unconstitutional by U.S. District Judge Dana Christensen in August.
Separately, Fitzpatrick is sponsoring legislation to allow candidates who lend money to their primary campaigns to begin fundraising for the general election before they retire their primary debt. The senator noted that he was inspired to bring the bill after that law got Gov. Greg Gianforte in trouble during his gubernatorial campaign last year.
If passed, Senate  Bill 226 would apply retroactively.