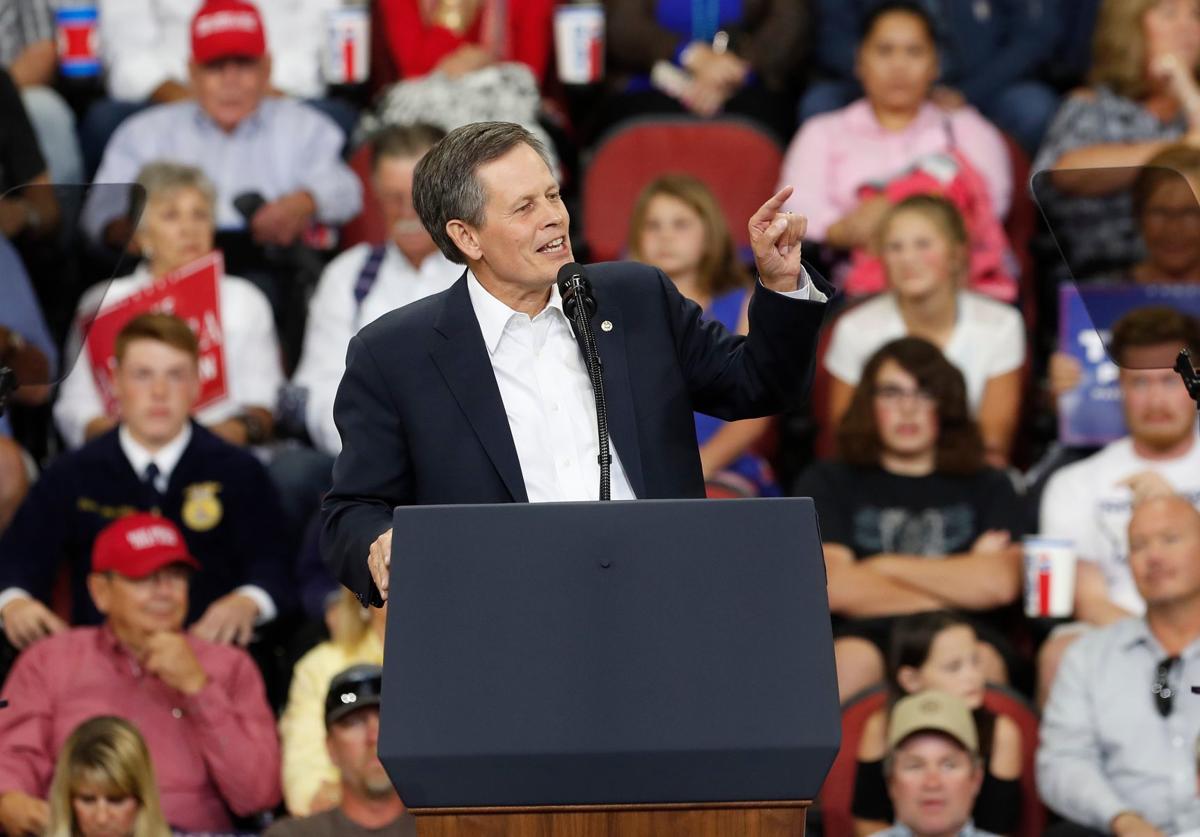 U.S. Sen. Steve Daines has nearly 14 times as much cash on hand as his would-be challengers combined.
Friday's campaign finance disclosures offered the last look at the shape of Montana's congressional campaigns before the March 9 filing deadline. And for Daines, the reports show the Montana Republican girded for battle with a higher-profile opponent than he currently has. The $5.03 million cash on hand he reported Friday tells only half the story. The number of joint fundraising committees linked to his campaign tell the rest.
"We've got the momentum, resources and proven record we need to win re-election in November — regardless of who we're up against," said Julia Doyle, a Daines campaign spokesperson. "Sen. Daines is proud to be one of the most bipartisan and effective members in Congress who actually gets things done and delivers results for Montanans. He remains committed to working with President Trump and fighting for more jobs, less government and protecting our Montana way of life."
There are 14 committees, other than Daines' official principal campaign committee, authorized to raise money for the campaign. There's nothing nefarious about the structure, but there are significant advantages over his Democratic challengers. Joint campaign committees combine principal committees for several different candidates, with leadership funds and party committees to raise the total amount a single donor can give. Mega donors can contribute hundreds of thousands of dollars to a joint committee, which can then be divvied up the participating campaigns.
Mega donors giving directly to the Daines campaign were reported by The Gazette in an article published earlier in the election cycle. Joint financing committees are used by both Republican and Democratic campaigns to raise large amounts of cash for multiple candidates. They've been around for a while, but use of joint fundraising committees as donor plumbing spread after the U.S. Supreme Court struck down federal limits on the total amount of money a single donor could give to candidates, committees and parties. The old limit was $123,200. There is no limit for combined donations now.
That 2014 court ruling in Shaun McCutcheon v. Federal Elections Commission was met with a range of responses, including ambivalence, from Montana congressional candidates that year, though some saw the issue the same way as the court, that donations were a form of political expression and shouldn't be restricted. Campaign finance reports before and after the ruling show the High Court decision changed American campaign spending.
In 2006, Sen. Jon Tester, a Democrat, was making his first congressional run, challenging incumbent Republican Sen. Conrad Burns. There were a half dozen joint committees associated with Tester's campaign. In 2018, Tester had 18 such committees. Similarly, Daines had one joint committee when he ran for U.S. House in 2012 and eight in 2014 when he first ran for Senate.
This year, as Republicans protect their Senate majority, joint fundraising committees are a big part of that defense, said Brendan Quinn, of the Center for Responsive Politics, a nonprofit, nonpartisan political watchdog best known for its website Opensecrets.org.
"We're going to see a lot of groups like that particularly aimed at helping Republicans defend the Senate," Quinn said.
CRP reports that 17 of the largest joint fundraising committees this election cycle are Republican. But currently Montana's U.S. Senate race doesn't look like a high-dollar battle. Daines appears prepared for a fight that hasn't materialized. Two of his would-be general election opponents, John Mues and Cora Neumann, are first-time candidates. A third, Helena Mayor Wilmot Collins, has never been a statewide candidate. Combined, the three Democrats have $362,356 cash on hand, 80% of which belongs to Neumann. More than one candidate told The Gazette in fall 2019 that national money in the Montana race wasn't likely unless Montana's Democratic Gov. Steve Bullock became a Senate candidate.
Bullock has repeatedly said he won't be a 2020 U.S. Senate candidate. The governor was a presidential candidate for six months before withdrawing Dec. 2. He told The Gazette editorial board Thursday that he wouldn't be a Senate candidate, but said he thought Daines was vulnerable.
Republicans campaigned against Bullock as if he were a Senate candidate, even before the governor's presidential bid ended. Four days before Bullock pulled out of the Democratic presidential primary, the Republican's Senate Leadership fund was running ads against Bullock in Montana, accusing him of being an absentee governor and targeting presidential campaign comments by Bullock that suggested he supported gun control, wasn't a coal defender, and supported impeaching President Donald Trump.
There hasn't been an ad since Bullock suspended his presidential campaign, but Jack Pandol, of Senate Leadership Fund, was still on the offensive about a potential Bullock Senate campaign.
"Steve Bullock's hard left turn unsuccessfully chasing the Democratic nomination has rendered him unrecognizable to Montana voters. Bullock is damaged goods in his home state, and it'd be better if he stuck to his pledge not to run for office — unless he wants to suffer another humiliating defeat," Pandol said.
Bullock's performance with Montana voters has been strong, having won two races for governor and a race for attorney general. Bullock's 2016 re-election with 50% of the vote came as 56% of Montana voters elected Trump. He was the only Democrat elected to statewide office that year.
Donations of all amounts from individuals for Daines were about $3.3 million. Donations from Political Action Committees were $1.6 million. 
In the Democratic primary, the donations didn't come from PACS. Neumann has the best showing after three months with $463,089 raised, including $2,000 from the candidate. The Bozeman resident had $291,626 cash on hand.
Collins finished 2019 having raised $237,495. In the last three months of year, he raised $59,707. He had $38,819 cash on hand.
Total receipts for Mues in 2019 were $130,923. He raised $29,528 in the last quarter and had $31,891 cash on hand.
Get Election 2020 & Politics updates in your inbox!
Keep up on the latest in national and local politics as Election 2020 comes into focus.