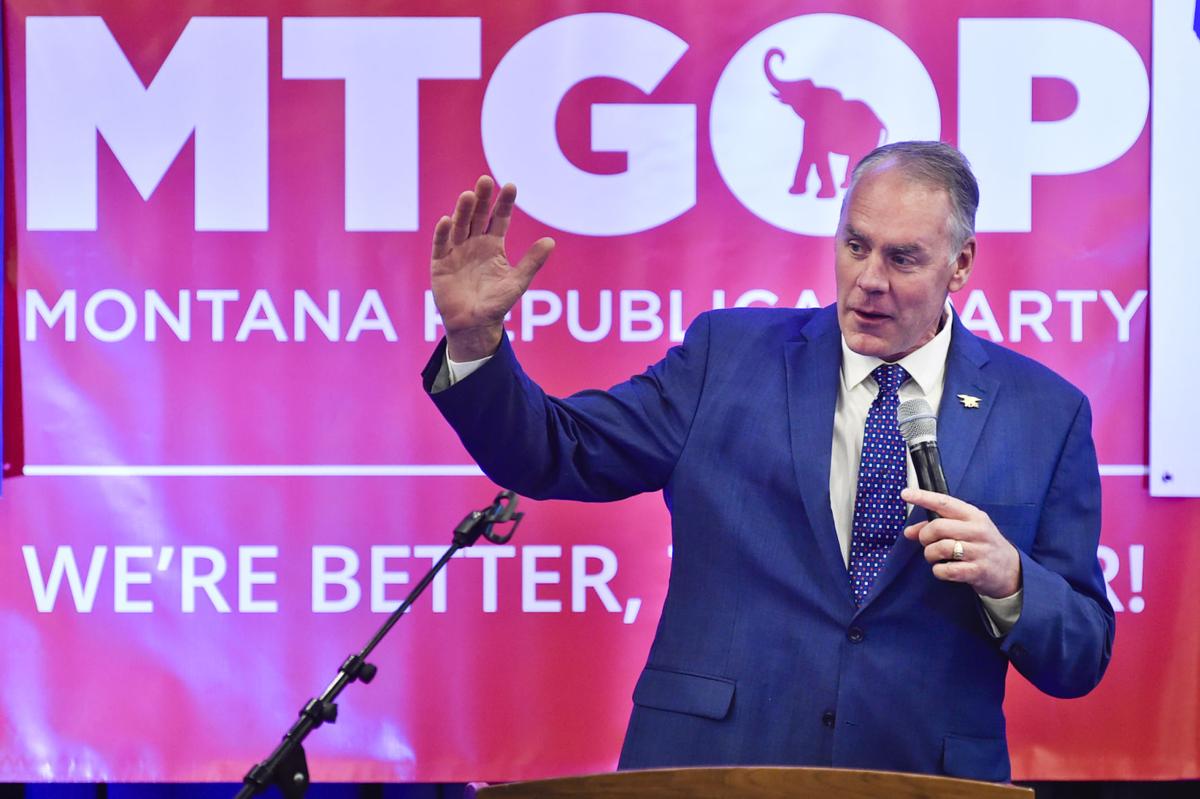 After fielding a question about the National Bison Range at a state Republican Party event in Helena on Friday, former Secretary of the Interior Ryan Zinke later in the day said he supports the federal bill from Montana U.S. Sens. Steve Daines and Jon Tester to ratify a water compact with the Confederated Salish and Kootenai Tribes. 
Zinke, a Republican, was asked at the MT GOP Winter Kickoff event if he supported the transfer of the ownership of the the bison range, a national wildlife refuge within the Flathead Indian Reservation, to the tribes. He said he did not support transfer and spoke about his history on the issue.
Later when asked by a reporter if he supported the bill from Daines, a Republican, and Tester, a Democrat, he said he hadn't seen it yet and couldn't speak to its specifics.
Later Friday evening, Zinke, who was Montana's lone representative in the U.S. House for two years, praised the act and called the act "the right move."
The Montana Water Rights Protection Act calls for the range to be held by the federal government in trust for the tribes and to transfer management and control of its operations to the Confederated Salish and Kootenai Tribes. The issue is a tense one for Republicans, with those who support it saying it avoids costly and risky litigation of water rights while those who oppose it arguing it's unfair for irrigators and those who live in the Flathead.
"This is my position: I think that Daines' bill is a good starting point and what it really did was it prevented a judge from making a decision that is better to be negotiated between Interior, the tribes and land owners. But to have a judge make the decision because time was running out, Montana has a long history of judges making what I would say are radical decisions," Zinke said Friday night.
When he made that decision, Zinke said at the time: "As secretary, my job is to look 100 years forward at all of Interior's resources. I recognize the Bison Range is a critical part of our past, present and future, which is why I have changed course."
But while Zinke emphasized Friday he didn't want the land to change ownership, which doesn't happen under the Act, he said he supported the tribes managing the bison and believes they will do that job well.
"I have never had a problem with the Salish-Kootenai managing the buffalo. I think they're great at managing," Zinke said. "The transfer of title is a different discussion."
Zinke has moved back to Whitefish after resigning from the Interior Department in December 2018 as he faced several investigations into his actions while in office.
"I'm trying to put D.C. behind me. I don't miss it," Zinke said.
Asked if he'd return to politics in the future, Zinke said "I'm enjoying where I'm at at the moment. We'll see. You never say never, but as long as good candidates are running then I'm pretty happy."
Get Government & Politics updates in your inbox!
Stay up-to-date on the latest in local and national government and political topics with our newsletter.