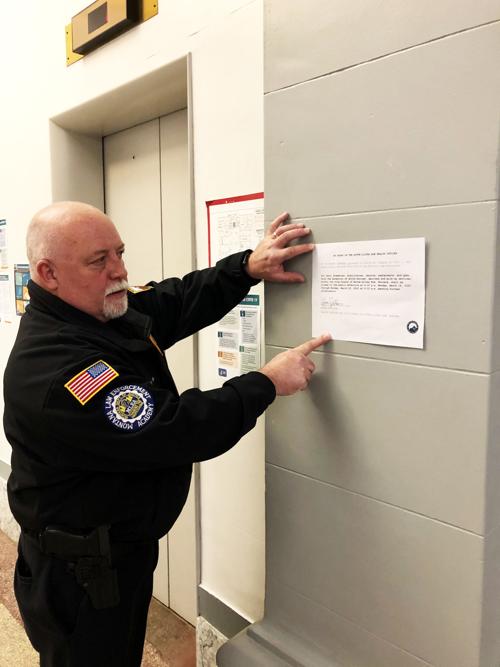 The state of Montana announced two new cases of coronavirus, in Missoula and Yellowstone counties, on Monday. That brings the total number of cases within the state to eight.
The Missoula patient — the county's third — is a man in his 20s and the Yellowstone patient is a woman also in her 20s, bringing the number of cases there to two. The tests were among 109 done at the state lab in Helena Monday, bringing the total tested in the state to 303. 
While previous tests at the lab have been considered presumptive positives and sent to the Centers for Disease Control for confirmation, the state is now able to able to consider tests positive without further testing. 
Local public health officials and the state Department of Public Health and Human Services are working to determine the two new patients' exposure risk and travel history, and to identify and communicate with anyone who has come into contact with the patients. The patients will be isolated and those who came into contact with them will be monitored for symptoms for 14 days.
Earlier Monday, Gov. Steve Bullock reiterated he "strongly" urged a limit on gatherings of 50 people or more in an effort to slow the spread of the new coronavirus but stopped short of ordering bars, restaurants or other businesses in the state closed, saying those decisions could be made at the local level — and shortly after he spoke to reporters Monday afternoon, some of the state's largest cities took that step.
By press time, Butte, Billings, Missoula, Helena and Bozeman all announced they would take actions to shut down businesses like bars and breweries and ban sit-down dining in restaurants. Some cities also said they'd close gyms.
Bullock commended those decisions in a press release after his call with reporters Monday, calling on the state as a whole to work together to slow the spread of the virus.
"I praise the leadership of local communities for temporarily closing or limiting gatherings at restaurants, bars and other establishments. These efforts are consistent with the public health guidance I issued yesterday," Bullock said. "This outbreak is serious, but we still have a chance to get ahead of it and flatten the curve in Montana. I urge all Montanans to practice social distancing, wherever they may live. The ability to slow new infections is in our hands, and our friends and neighbors are counting on us to do the right thing."
Montana's eight confirmed cases of the virus within the state are in Missoula, Yellowstone, Broadwater, Butte-Silver Bow and Gallatin counties. The governor said Monday he believed all six previously diagnosed patients were home and recovering and being monitored by local public health officials.
"The goal right now is to keep as many people healthy as possible, and these are difficult discussions by all means," Bullock said. "By taking the difficult steps now in the short run, we can stop the disease more quickly, we can reduce the strain on our health care providers and prevent even more long-term challenges."
The move by local counties to close down businesses will have severe financial repercussions, especially just before St. Patrick's Day. And local businesses in the state already took a major hit as the annual Made in Montana trade show earlier this month was closed to the public, and residents had backed away from some public gatherings before Monday's orders.
"Businesses have already stepped up to be role models by making the difficult decision to close or limit events, and I thank them," Bullock said. " … I think the economic impact is significant to Montanans and people across indeed our entire nation. It is a challenging time in that respect. I think we have to do everything we can to flatten the curve on this to try to make sure this virus is contained as well as we can."
Bullock said he understood closures might not be what some people wanted to hear, but that it was necessary for the greater good of the state's residents.
"I also recognize the hardships that this creates, particularly for young and healthy Montanans that want to get out as well, but it's also essential to protect our friends and neighbors," Bullock said. " … We have to recognize Montana also has a higher percentage of legacy Montanans or older adults, those that are most susceptible to COVID-19. … Social distancing is one of the primary protective measures we can all use to flatten the curve of new infection," he said, using the term that refers to slowing the spread of the virus.
Also on the call Monday, Bullock indicated that the two-week school closure could last longer if necessary.
"I cannot give an assurance that we will open them in two weeks, but I also know the more we do as Montanans to try to flatten the curve in Montana, the more likely then that we can take action to reopen things," Bullock said.
Bullock said state officials had not made a decision yet on whether schools would have to make up instructional time, saying it will depend on the effectiveness of measures to prevent the spread of the virus  and whether the closure would need to be extended.
The state could not provide a number of available hospital beds in Montana or a count of critical supplies such as ventilators or respirators, saying that it encourages hospitals to report their numbers but that some lag on reporting as they work to treat people or prepare for an influx of patients. The reporting is not mandatory. 
A survey done in 2018 by the American Hospital Association shows there are about 924,100 hospital beds in the country and about 97,800 intensive care beds. While most COVID-19 patients will not need hospitalization, states like Washington and New York have already raised concern over their bed capacity.
State Medical Officer Dr. Greg Holzman said the state keeps in contact with with hospitals around Montana who report their bed capacity and supply inventory and though they encourage reporting daily, "we know they are extremely busy to make sure they're keeping that data up to date."
Holzman said it's hard to share with the public and media what capacity and supply looks like because "it can change minute to minute."
Todd Harwell, administrator of Public Health and Safety Division of the state health department, said facilities taxed with preparations are also short on time.
"The other challenge is we want to have hospital staff focusing on caring for patients," Harwell said.
"This is something that I will count on the federal government to be a partner in and it's not just 'go find it on our own.' … We need that partnership so that we do have the supplies necessary," Bullock said.
Bullock did raise a red flag about testing ability Monday. The state laboratory is now testing seven days a week and Montana can test another 750 people with the capacity it has on hand. The state expects another thousand tests arriving from the Centers for Disease Control and Prevention on Wednesday.
"I do have concerns about ensuring that we will have enough in the near future and it's not just the test, it's the adjacent supply," Bullock said. "It's everything from the swabs and the vials to transport with the swabs."
Bullock said he was on a call with other governors who expressed concerns about the number of supplies and will continue to push the federal government to provide what's needed.
"We know that the more people are tested along the way the better indication we will have overall of where COVID-19 is," Bullock said.
The state has opened a phone line at 1-888-333-0461 for people with questions or concerns about the virus in Montana. There's also an email address, covid19info@mt.gov, and website at covid19.mt.gov.
Concerned about COVID-19?
Sign up now to get the most recent coronavirus headlines and other important local and national news sent to your email inbox daily.