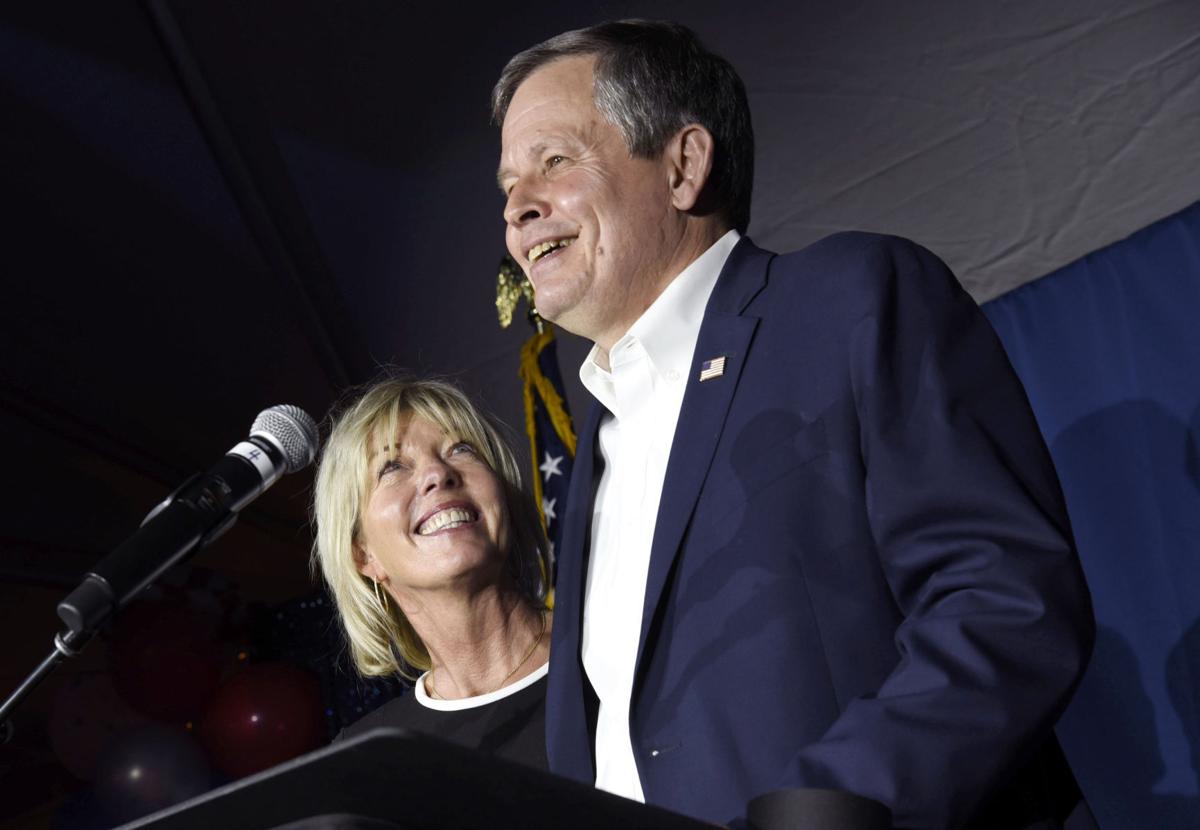 Many of the large corporate donors said to be reconsidering campaign contributions after false allegations of election fraud fomented an assault on Congress, had been contributors to Montana Sen. Steve Daines's election bid.
At least 16 businesses that have confirmed withholding or reconsidering who they give to had been contributors to Daines' successful campaign for a second term. The Montana lawmaker was among the Republicans who falsely suggested Democrats had stolen the 2020 presidential election, soliciting donations to help "stop the steal" as former President Donald Trump and allies attempted to overturn the results.
Daines has said his remarks about the election didn't contribute to the riot. He also said he didn't intend to overturn the election. For this article, Lee Montana Newspapers asked the senator's staff whether corporate donors contacted Daines at any time, after the election and leading up to the certification of electoral college results, to express displeasure about not recognizing the legitimacy of the election, or the caucus' plans to not recognize the outcomes of certain states on Jan. 6.
In response, Daines' staff said they wouldn't comment about campaign finances for the 2026 Senate race. 
On Jan. 6, as Congress met in joint session to certify the results of the Electoral College, thousands of Trump supporters who had gathered to intimidate Congress from certifying the election, rioted after once more hearing Trump and his supporters call the election stolen and urging the crowd to fight on.
Daines had planned to join a dozen Senate Republicans in challenging Arizona's election results. Taking up each state's electoral votes alphabetically, the Senate was to take up Arizona early, but then the deadly riot forced lawmakers and former Vice President Mike Pence to evacuate. After the riot, Daines reversed course, siding with a bipartisan majority in certifying the election. Montana's U.S. Rep. Matt Rosendale stayed on course voting to overturn the election results of two states.
Rosendale didn't receive contributions from the big businesses now reassessing who to support. As analyst Brendan Glavin of the Campaign Finance Institute confirmed Thursday, non-incumbent candidates, without as much as a committee assignment identifying where their focus will be, really don't receive contributions from big businesses.
What big donors say they're doing is unprecedented, Glavin said. But, it won't be known for months, most likely not until year's end with another election year on the horizon, whether those donors truly follow through.
The following donors have confirmed they will be reconsidering campaign donations based on the events of Jan. 6. Several were first identified by Popular Information, an independent journalism newsletter, which contacted 144 companies:
• Blue Cross Blue Shield, which donated $15,000 to Daines through a political action committee in the 2020 election cycle, announced Jan. 8 that it would "suspend contributions to those lawmakers who voted to undermine our democracy."
"While a contrast of ideas, ideological differences and partisanship are all part of our politics, weakening our political system and eroding public confidence in it must never be. We will continue to support lawmakers and candidates in both political parties who will work with us to build a stronger, healthier nation," CEO Kim Keck said in an announcement posted to the company's website.
• Marriott International, which donated $2,500 to the Daines campaign through a PAC, issued the following remarks from CEO Arne Sorenson to associates after the assault: "I recognize that we have associates who have very different views on the results of this election and the direction of the United States. We serve guests who also have a wide range of opinions and perspectives. In the U.S., we can use our voice and our vote to share our views. But what we can't do is trample the Constitution; we can't use violence and terror to force an agenda. It's not who we are — and I would offer, it's not what the vast majority of Americans want."
• Citigroup, which donated $1,500 to the senator through its PAC, paused all donations, not just contributions to lawmakers challenging election results. The Associated Press reported Candi Wolff, the bank's global government affairs director, saying in a memo, "we want you to be assured that we will not support candidates who do not respect the rule of law."
• AT&T contributed $2,000 in PAC donations
• Bank of America contributed $1,000 through a PAC
• Berkshire Hathaway made $7,000 in PAC donations
• Blackstone Group, via American Investment Council, contributed $10,000
• Charles Schwab contributed $8,000 through PACs
• Coca-Cola PAC contributed $2,000
• Comcast contributed $7,500 through a PAC
• Deloitte contributed $10,000 in PAC donations
• Ford Motors PAC contributed $5,000
• Goldman Sachs contributed $10,000 in PAC donations
• Marathon Petroleum contributed $7,500 in PAC donations
• Morgan Stanley contributed $7,500 in PAC money
• Northrop Grumman contributed $5,000 through PAC donations.