While an excavation crew may have been surprised to discover a coffin containing human remains underneath a Helena street Tuesday afternoon, this was not an unusual thing to find in the area. 
That's because they were digging on the site of a former cemetery, and most of the people buried there remain in the ground today. 
The excavation crew found the remains four to five feet beneath the street while digging a sewer line in the 1700 block of Livingston Avenue. The crew originally thought the bones belonged to an animal but called police after recognizing a human skull.  
Lewis and Clark County Coroner Bryan Backeberg said the body had "been there for quite some time," as it was in a late stage of decomposition. The wooden casket with a transparent cover is believed to date back to the 1920s or earlier, he said. 
"It's not uncommon" to find bodies while excavating, Backeberg said, especially in an area that once housed a cemetery. 
Backeberg said the remains will be sent to an anthropologist in Missoula. They will be re-interred, he said.
Though Backeberg said "this is a first" for him, this is not the first time human remains have been discovered in the area. 
In 2004, a construction crew unearthed portions of several caskets, personal items and bones while digging up asphalt to make room for new water and gas mains in the 1700 block of Townsend Avenue.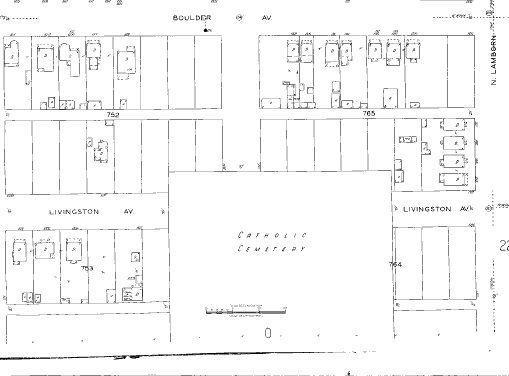 Ellen Baumler, interpretive historian with the Montana Historical Society, said nearby Robinson Park was once used as Helena's Catholic Cemetery, though "it's really hard to say what exactly those boundaries of the cemetery are." She said the land was used as a cemetery from the 1860s to the 1970s, and she is not aware of any burials there after 1905. 
Families were asked to move their loved ones from the cemetery when the city of Helena purchased the land from the Catholic church to build a park, Baumler said, but "not very many people responded." Of the roughly 1,600 people buried there, only about 200 were removed. 
"Those folks are still there," she said. "It's mostly underneath the park, but obviously it extends beyond what the map shows."
During an 1883 inventory of all Helena cemeteries, Baumler said, city officials discovered that only one-fourth of the graves in town were marked. 
"There are people buried where we really might not expect," she said.
Independent Record reporter Thomas Plank contributed to this story.