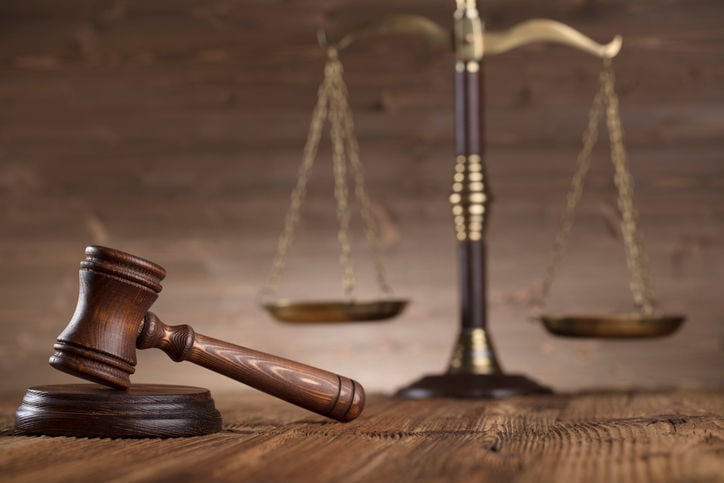 While trials have been delayed, hearings put on hold, and public fingerprinting suspended, the Ravalli County court and justice system remains up and running despite the ongoing challenges of the coronavirus pandemic.
Departments have been making changes to their services in order to protect staff and the public as the crisis unfolds.
"It's important for people to know that we are open for business and will continue to the necessary work to protect the community," Ravalli County Attorney Bill Fulbright said Monday.
Both law enforcement and court officials are asking the public to wait on some activities in order to minimize potential exposure of the coronavirus inside the courthouse.
All district court jury trials through April have been rescheduled, including two high-profile cases that were set to begin next month.
The trial of the 59-year-old Hamilton man charged in last summer's hit-and-run that killed 9-year-old Robert Anthony Leonardi is now set to start June 15. Joseph McNamara filed a motion last week asking to be released from jail because he was in the age group  most threatened by the virus. That request was denied.
No date has been set yet for the rescheduled trial of former Stevensville school resource officer Samuel Steven Fawcett, who was charged with a child sex crime. Fulbright said it appears the trial will occur sometime in July.
"While it's frustrating that the victims of the crimes have to continue to wait, everyone involved is understanding of the community issues related to the virus," Fulbright said.
Ravalli County Sheriff Steve Holton said his office adopted a series of best practices last week in an effort to keep his staff and the jail's inmates as safe as possible.
"We're fortunate that we have our own medical staff in the jail and can do screenings there," Holton said. "We're also lucky that we have a pretty good store of personal protective equipment for the staff and inmates."
Last week, Holton said 911 dispatchers received an influx of calls about the coronavirus.
"Our 911 dispatchers are not trained to answer those questions or have medical expertise," Holton said. "I strongly urge and request that if people have questions about coronavirus or the county's task force response, they call the state coronavirus hotline (888-333-0461). People can get their answers there and then they're not overloading our 911 lines that are dealing with real emergencies."
On Monday, Holton announced several temporary procedures that will begin Tuesday morning. They include:
• Suspension of public fingerprinting and twice-a-day breath tests for 24/7 program until further notice.
• Civil process, concealed weapons, offender registration and other paperwork handled by appointment only.
• Restricting sheriff's and detention lobby to four people at one time. The Jail Diversion Office is limited to two people.
• All non-emergency reports should be made by calling 363-3033. 
• Appointments are required to meet with Ravalli County sheriff's staff and jail diversion program. Appointments are also required for the detention center.
"The RCSO will continue to operate and provide public safety resources to the community," Holton said. "This pandemic is a new test and different than what we are used to … . That said, in every emergency or disaster that has happened in Ravalli County, we respond as a community. I have watched as people once again reach out to their friends, families, and neighbors and take care of each other. I am confident that will continue."
Following guidelines established by Montana Supreme Court Chief Justice Mike McGrath, the Ravalli County court system has made a number of adjustments to keep crowd size to a minimum.
Ravalli County Clerk of District Court Paige Trautwein is asking the public to postpone coming into that office for passports and marriage licenses. For those needing to pay fines, fees or child support, she suggests calling the office and paying over the phone with a debit or credit card.
Divorce or parenting plan tickets can be obtained at the county website, www.ravalli.us and downloaded at home.
Trautwein said all counsel can submit court pleadings via email at courtfilings@rc.mt.gov. Pro se litigants can submit pleading via the mail unless time-sensitive.
"For the safety of our dedicated staff and valued customers, we are limiting the number of people assembling in our office lobby," Trautwein said.
In Justice and District Courts, all appearances by inmates are being conducted via video.
All appointments, including addressing traffic citations, are being rescheduled in Justice Court.
Starting Monday, Ravalli County District Court Clerk Keri Muir said all hearings, except those done on law and motion day, have been continued for the next two weeks. If people have a question about whether their hearing has been rescheduled, Muir said they should call the clerk of court's office at 375-6710.
Muir said District Court remains open to the public, but they are asking anyone feeling ill to stay out of the courtroom.
"We do have signs on the door that say if you're not a party in the case, you enter at your own risk," Muir said. "Surely, everyone by now has received notification about this current health issue."
Concerned about COVID-19?
Sign up now to get the most recent coronavirus headlines and other important local and national news sent to your email inbox daily.