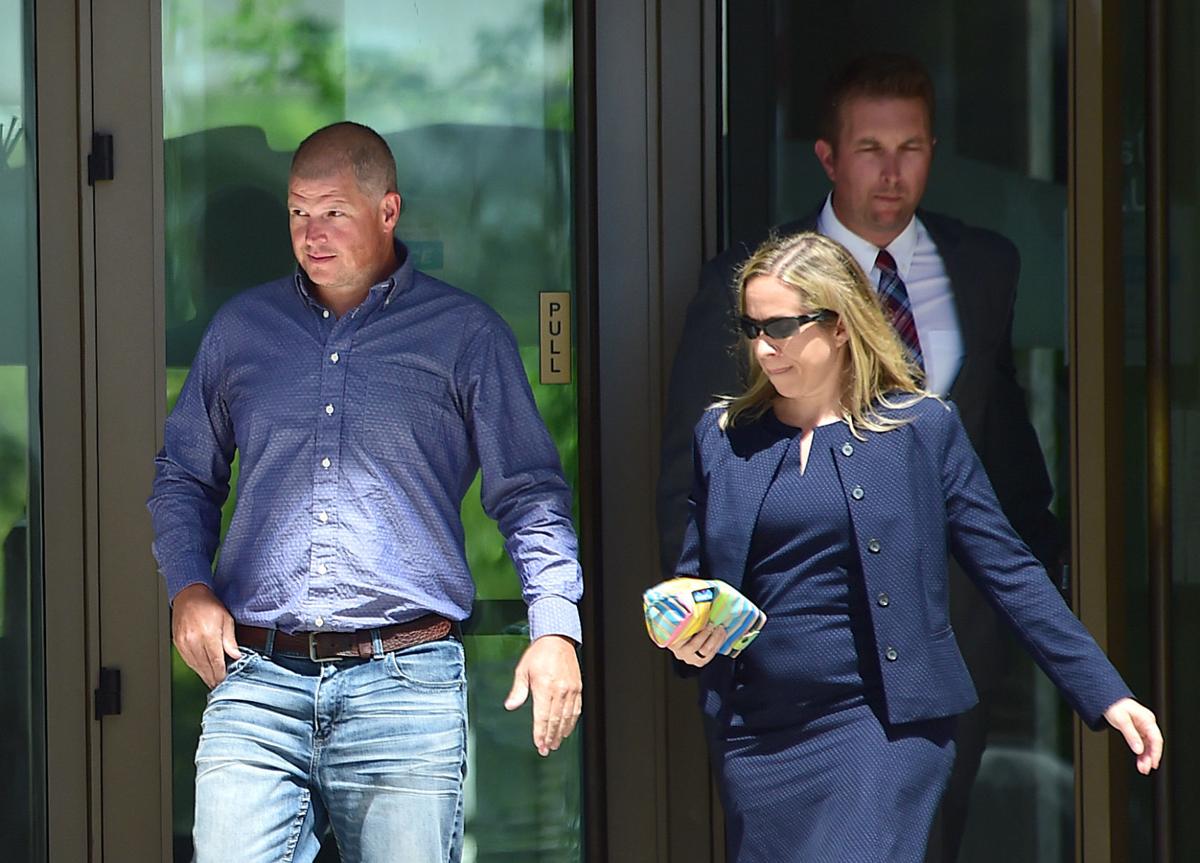 A former mine vice president who admitted to stealing tens of millions of dollars from his company and private investors was sentenced to prison on Friday, nearly two years after pleading guilty.
U.S. District Judge Dana Christensen sentenced Larry Wayne Price Jr. to five years in prison in a hearing in Missoula Friday afternoon. He'll have to serve three years of probation after prison. Restitution will be determined in a separate hearing.
Price, 40, embezzled millions from investors in his private business dealings, and at the Signal Peak coal mine helped his boss carry out a scheme of overbilling and fake equipment sales. He's admitted the full scope of his various thefts was closer to $40 million.
Assistant U.S. Attorney Colin Rubich asked Price on Friday how much he and former Signal Peak CEO Brad Hanson had stolen from the mine.
"Twenty million, 30 million, I don't know the number," Price said.
Hanson died in February before he could be charged. 
Since then, others have been convicted in connection with Price, including the contractors who built his Billings mansion and dodged federal taxes in an under-the-table scheme with Price.
Price's attorney, Jennifer DeGraw, said Price had no criminal record and no debt when he moved from his home state of Virginia with his family to Montana in 2009 to work at the mine near Roundup. She said that soon, Price became concerned about his boss' work "because he was shady and engaged in questionable tactics," DeGraw wrote in her sentencing memo.
Price reported his concerns to Wayne Boich, the mine's controlling owner, he said in court Friday. Boich is one of the owners of the mine, along with FirstEnergy of Ohio and Gunvar Group, a commodities trading company based in Switzerland. A voicemail to Boich Companies in Ohio seeking comment was not immediately returned on Friday.
But afterward, Hanson himself called Price into his office to say he'd learned of Price's whistleblowing effort and used that as leverage against him, ensnaring Price in his fraud schemes.
If Price left the mine, he'd lose the lucrative contract he had secured with the mine for 3 Solutions, a chemical company he owned that brought in "a couple million dollars" annually, Price said.
Price said all the fraudulent activity at the mine went through Hanson, who had to approve any transaction above $10,000. 
Price is the man behind the West End mansion dubbed 'the castle.' It's a 26,000-square foot house with an assessed tax value is $10.7 million. Rubich, the prosecutor, called it "an obscene monument to wealth."
Price signed over the mansion deed and other properties to investors. Three Blind Mice had loaned him $7.5 million, while Price had solicited $10.4 million in fraudulent deals from Ninety M. Three Blind Mice is composed of Stephen Casher, the Rocky Mountain Bank officer who is awaiting sentencing, as well as two Wyoming doctors, Robert Schlidt and Raoul Jourbran. Casher was also an investor in Ninety M. 
The deeds were given in exchange for a promise the investors wouldn't report him to the FBI.
DeGraw characterized it as "extortion," saying the investors told Price law enforcement wouldn't get involved if he handed over the property. But the investors' attorney had already set up a meeting with the FBI, and after the deeds were handed over, emailed the FBI to cancel the meeting, saying they no longer considered themselves victims and would testify in Price's favor, according to court filings by the government.
It was roughly a month before the meeting in which he signed over the deeds that Price staged his own abduction. Price "decided he needed to find somewhere to hide" when he learned that representatives for the investors were sending someone out to Virginia to confront him, prosecutors wrote. 
He and his family had moved back to Virginia in May 2017 and he continued working for the mine remotely for part of 2017. 
The contractors who built the mansion were sentenced to probation in August for tax evasion in a scheme tied to the mansion's construction costs. James and Timilynn Kisling were also required to pay a $50,000 fine each, on top of joint restitution of $678,755.55 to the federal government.
Price has since gotten sober and become more involved with his church. He said he's tried to apologize to those impacted by his crimes. He is married and has six kids.
"I mean, there's nothing I can say that excuses what I've done," he said, when given the chance to address the court. He said he'd been working to live a better life. "And I'd like to continue to work and make things right.
Christensen, the judge, called the amount of money in the case "breathtaking" and the scheme "sophisticated." He said prison was necessary.
He also challenged the defense's emphasis on Hanson's role, saying it seemed Price was casting himself as a victim of his former boss and failing to take full responsibility.
"Easy to blame the dead guy," he said.
DeGraw had recommended no more than two years in prison, saying home confinement was an appropriate alternative. She noted her client had lung damage from coal mine work and was at an increased risk if he contracted COVID-19, which has spread in many Bureau of Prisons facilities.
Prosecutors had recommended 63-78 months in prison, or roughly between five and six-and-a-half years in prison. 
Price will self-report to prison.
This story will be updated. 
Sign up for our Crime & Courts newsletter
Get the latest in local public safety news with this weekly email.