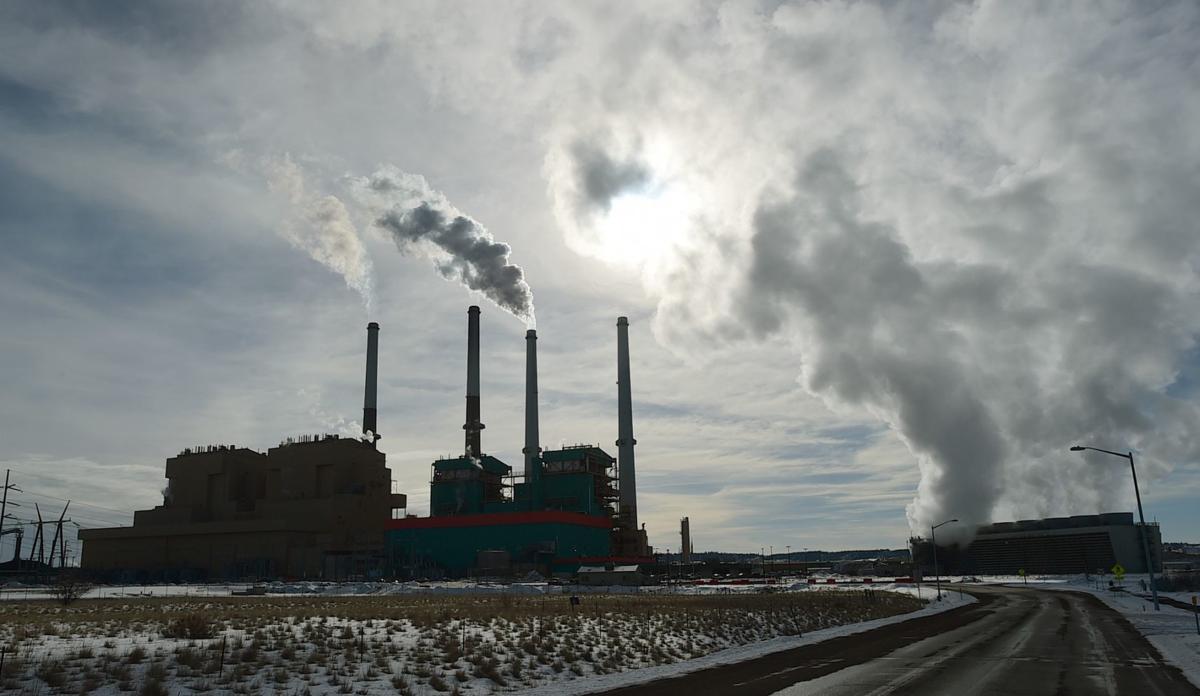 In February of 2018, hazardous air pollutants from Colstrip Power Plant were right at the legal limit.
Had the power plant's six owners, including NorthWestern Energy, taken the reading as a call to action, the power plant's summer shutdown could have been avoided, suggested Ronald Binz this week. The customers of those owners wouldn't have been asked to pay nearly $20 million in replacement power costs.
A former Colorado utility commissioner turned expert witness, Binz told the Montana Public Service Commission this week that he didn't think NorthWestern could justify billing customers for the replacement power related to Colstrip's 2018 problems. NorthWestern now puts those costs at $4.4 million, less than the $7 million it initially stated.
"As we all heard, they were sitting on the limit in February, rounded to the nearest thousandth, it was 30 thousandths and that was the max, but they all seemed to let it ride until it was no longer acceptable, which was in June," Binz testified. That June, Colstrip Units 3 and 4, the power plant's workhorse generators, blew past federal Mercury Air Toxics Standards, or MATS. For the 77 days that followed, the units operated only for testing as engineers tried to bring emissions back into compliance.
Whether the Colstrip costs should be billed to customers consumed most of a two-day hearing about NorthWestern's case for recovering $23.8 million in unanticipated replacement power costs incurred from July 1, 2018, to June 30, 2019. Most of those costs weren't associated with the MATS problems. The law allows for a true up of unforecasted expenses, but only if a monopoly utility can prove the costs were unavoidable. Three Colstrip owners had failed to do so in the months leading up to NorthWestern's hearing Wednesday and Thursday.
NorthWestern's staff testified that costs related to Colstrip's summer offline were unavoidable. The February numbers Binz called a warning sign, weren't out of the ordinary for the units, but rather a required quarterly test that while close to being over the limit, was in the limit nonetheless. A particulate matter test result no greater than 0.030 pounds per million British thermal units clears the bar.
"I know it was close, after the first quarter test, but it's been close a lot of times," testified Michael J. Barnes, NorthWestern's superintendent of joint-owned thermal operations. "So, being a 0.030 is right at the limit, but we spend a lot of time at 0.029 and a lot of time at 0.028 and those are just two one thousandths of a pound away and one thousandth of a pound away of the tests in the first quarter of '18. Second quarter of '18 it was a much different result. It was much higher and it resulted in an exceedance and I, the owners and operator, spent a lot of time together talking about what we're doing and where we've been."
NorthWestern doesn't have pollution scrubber or power plant boiler experts, Barnes said, but other owners did and those people were brought in once the units failed their emissions tests.
The utility told Montana's Public Service Commission the power plant's emissions might not have really exceeded pollution limits as the June tests, and subsequent tests taken during the 77 period, showed. Rather, Barnes said pollution was building up on the units' fiberglass air filters, which he said threw readings off. Replacing the fiberglass filters with quartz filters was one of the changes eventually made to bring the units back into compliance.
Binz, a witness for the Montana Environmental Information Center, pointed out that the February reading was higher than a previous one in the fall, which suggested the summer crisis might have been avoided if steps were taken in the spring to change filters and make other mechanical fixes to solve the issues while the units were still in compliance.
The discussion comes at a critical time for Colstrip Unit 4. Power plant co-owner Puget Sound Energy is selling its 25% share of the unit. Three of Colstrip's owners face a 2025 coal power ban in Washington. A 2030 Oregon coal power ban impacting Colstrip owners follows.
And, coal power is losing market share to cheaper electricity generated by renewables and natural gas. Colstrip Units 1 and 2 were shuttered in January after being declared uneconomical by owners Puget Sound Energy and Talen Energy.
NorthWestern would like to buy at least half of what Puget is selling, to go along with NorthWestern's current 30% share of the unit. NorthWestern is emphasizing the reliability of the Unit 4 as something it needs more of. "Firm power" the kind that can be fired up and shutdown at any time is something NorthWestern predicts will be in short supply as coal-fired power plants in the West are retired over the next decade.
Summer 2018 wasn't the first time Unit 4 was offline for more than a couple of months since NorthWestern became an owner in 2007. Mechanical problems shut down Unit 4 for six months in 2009 shortly after NorthWestern's customers were put on a $407 million, three-decade payment plan for the generator. In 2013, Unit 4 shutdown again for six months over mechanical problems. It the later case, Montana's Public Service Commission declined to pass replacement power costs on to customers.
Public service commissioners will decide later this year whether to grant pre-approval to NorthWestern's purchase of Puget's share. An affirmative decision would commit Montana customers to future costs associated with the Puget share. Those costs are not part of the conversation at this time, though PSC staff has indicated the cost to consumers could be as much as $100 million if the unit operated into the early 2040s.
During this week's hearing, commissioners described Unit 4 as reliable, while also thanking NorthWestern for keeping electricity flowing as the 2018 problems were worked through.
"Well thank you, and I appreciate that the lights didn't go out and all the people who might have been on life-sustaining equipment, at that point, that was pre-COVID, but any of those people didn't have life threatening situations there," said Commissioner Tony O'Donnell, of Billings. "We rely upon reliable power from the company and to me, reliable power means Colstrip. So, I appreciate your efforts in that regard."
O'Donnell's comments came as Kevin Markovich, NorthWestern Director of Energy Supply and Market Operations, talked about the challenges of dealing with the unpredictability of Units 3 and 4 in July, August and early September of 2018. NorthWestern needed replacement power.
Owned coal power, is 20% of NorthWestern's Montana electric generation portfolio, according to the utility.
There was some Colstrip electricity generated that summer as the units were fired up for testing, Markovich said, but about 76% of the normal generation was lost that July, and 66% in August. The uncertainty of when the units might clear pollution standards made it impossible to sign a long-term purchase power agreement.
"Come July, or June 29th, we didn't know if this issue going to last a day, a week, a month, 70 days or 770 days," Markovich said. "So, we each day, we made informed decisions, we used the best information we had at the time and we either on a day-ahead basis purchased energy, or we waited for the hourly markets, but we were not able to pinpoint the exact duration. So, therefore we couldn't enter into any long-term purchases."
Commissioners questioned how much control NorthWestern had over the summer 2018 situation. Colstrip co-owner Talen Energy also operates the power plant under contract with the other owners. Commissioner Randy Pinocci asked Binz who should shoulder the blame, Talen or NorthWestern.
Binz pointed out that the Public Service Commission regulates NorthWestern, not Talen, but Talen operates the power plant under contract with NorthWestern and the other power plant owners. The decision the PSC has to make is whether NorthWestern can pass 90% of the power purchase costs associated with Unit 4's summer 2018 problems onto customers.
Last fall, the commission allowed NorthWestern to begin collecting its $23.8 million cost recovery from customers, while its case proceeded. A residential customer's share of the $23.8 million bill, on average, is $37.08 a year according to NorthWestern. Any amount not approved by the commission will be credited back to customers over time. The commission is expected to rule on the costs in July.
Be the first to know
Get local news delivered to your inbox!