On Tuesday night at the Orphan Girl Children's Theatre, a unique blend of art and advocacy is set to take the stage during a free interactive comedy performance that's toured the entire state this summer.
The show, "Every Brilliant Thing," has made it to over 20 Montana communities so far and relies on audience participation, as it is centered on just one actor and builds on one item: a list of everything that's brilliant about the world and makes life worth living.
"First and foremost, it's a fabulous piece of theatre...it is very life affirming in the most encompassing way," said Kal Poole, managing director of Helena's Grandstreet Theatre, which first produced the show last September and is now taking it across the state.
But Poole said he and his colleagues didn't push to take this performance on tour just because they felt it was beautifully written and hilarious.
The show was crafted specifically to tackle mental health challenges and to break down the stigma surrounding mental illness by creating new ways to discuss it openly — and by encouraging laughter.
"It speaks to the issues related to mental health, but it's not a seminar, it's a piece of theater," Poole explained. "Mental illness is the single most important thing we should be talking about, but everyone is scared to show up and talk about it...so this is one of the most important things we can do; we can throw the right kind of party so people show up."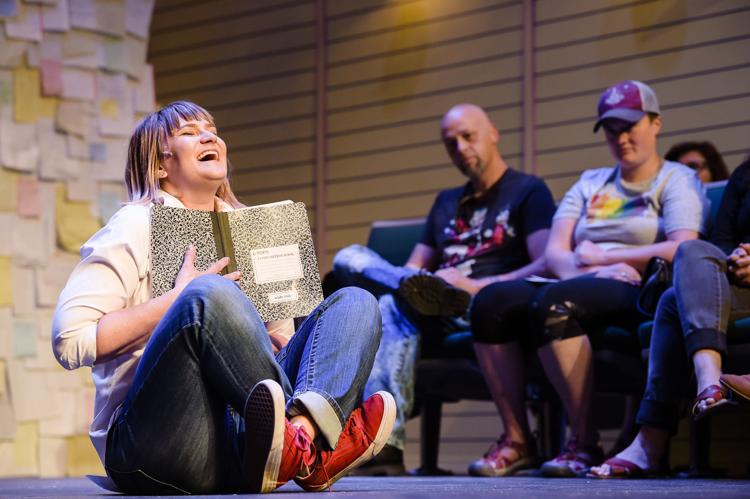 Poole and the Grandstreet Theatre felt "Every Brilliant Thing" was the right kind of party to throw because it reminds Montana audiences of all the things that make life worth living and creates a non-threatening space to look at difficult topics like mental health and the state's high suicide rates.
That's why the Helena theater applied for a $50,000 grant from Blue Cross Blue Shield of Montana to help it bring the comedy show across the state as a creative and unique way to raise suicide awareness.
You have free articles remaining.
Register for more free articles
Stay logged in to skip the surveys
Poole said the theater received the grant and will tour the state until Aug. 3 but may schedule a few extra shows for communities who express interest in having the comedy performed for students at the beginning of the school year.
"The show has rave reviews wherever it goes, and when people leave, they want to come back," Poole said. "It just makes you feel good about life."
Each "Every Brilliant Thing" show has featured one of two actors, Rosie Seitz Ayers of Missoula and Ryan Eggensperger of New York, along with an after-show discussion surrounding mental health with the audience, actors, and local mental health officials.
For Eggensperger, who will perform the free show in Butte Tuesday night, these open discussions have been the most eye-opening part of the tour so far.
Eggensperger said his dad's side of the family is from Thompson Falls, so he's had a relationship with the Big Sky for most of his life but never realized the extent of suicide and mental health challenges in Montana until this summer.
"Inevitably, someone in the audience or on the panel has lost a family member or close friend to suicide," Eggensperger said of the after-show discussions so far. "As these stories stack up, it's a real education in how much suicide is part of the life that is here."
This statewide connectedness to mental health challenges and suicide has been one of the key drivers for Eggensperger in approaching every tour performance in a fresh, positive way in hopes he can help communities become more open and comfortable with talking about solutions.
Overall, Eggensperger feels "Every Brilliant Thing" has had a positive impact on the Montana community members who have participated in the show and said he is honored to be a part of the tour.
"This show was expertly constructed, because it focuses on the opposite of despair and hopelessness and on the resiliency and optimism of the main character," Eggensperger said of the show. "It's a microcosm of what it takes to be willing to pull together, to challenge and to be open with each other to reach a larger goal."