The outcomes had already been decided for the two people who committed the grisliest murders in Missoula's recent history. Instead, Friday morning's sentencing hearing was more a reckoning between the defendants and those still afflicted by the killings.
"We didn't even get to say goodbye," said Kameo Pickett, one victim's sister who had attended every single hearing in the case. "That is the most painful thing anyone in this world could ever go through."
Augustus Standingrock and Tiffanie Pierce were sentenced Friday to two life terms each, to be served concurrently, in connection with the August 2017 slayings and dismemberment of two people in Pierce's Strand Avenue home. They can seek parole in 30 years.
They were charged in the killings of Jackson Wiles, 24, and Marilyn Pickett, 15; Pierce also was convicted of attempted homicide for breaking into a home and stabbing a woman weeks earlier. The sentences handed down in Missoula County District Court were the result of plea agreements.
Brutality has defined the 2017 case, from the crimes themselves to the levels of trauma inflicted on family and friends who testified in court Friday morning. Standingrock and Pierce fatally stabbed, dismembered and then tried to dissolve the victims' bodies in tubs of acid. It was weeks before authorities could positively identify the remains of Pickett and Wiles. 
Kameo Pickett spoke on her sister's life, recounting the times Marilyn told her she couldn't dance and their visit to Garnet Ghost Town outside Missoula. Standingrock kept his head low, while Pierce looked up at Kameo with big, tearful eyes and a trembling lip. 
"I see you crying, but I think those tears are for yourself," Kameo said to Pierce. "I really think you are a manipulative, narcissistic type of person." 
Although standing up for her final statement to the court, telling how her crimes haunted her each day and declaring herself accountable for her actions, Pierce did issue a dark criticism of Standingrock and others in the case. Kyle Belz, Pierce's roommate at the time of the slayings and a key witness in the case, took his own life March 4.
"I, myself, find it absolutely deplorable that others in this case refuse to take accountability," Pierce read from a written statement. "Instead they seek to shift the blame on anyone else in a feeble attempt to save themselves. Or instead of standing up to face the consequences, they commit suicide."
Belz was never charged with a crime related to the killings, and prosecutors rebutted that he would have been instrumental in securing a conviction against Pierce at trial.
"She stated on jail calls that she's glad Kyle was dead, your honor, and that is for the sole reason that he is the witness that would hold her accountable in the death of Marilyn Pickett,'' said Deputy County Attorney Selene Koepke.
The sentencing hearings were held in a smaller courtroom Friday morning than Standingrock and Pierce had been accustomed to. Law enforcement had a visible presence and those entering the gallery were checked with a metal detector. 
Over and over, those who read victim-impact statements made clear how the killings of Pickett and Wiles had rippled through their lives. 
"Jackson was my only brother," Jenny Tyler, 35, told the court, sobbing while holding a box carrying his ashes and decorated with his photographs. "He saved me and I didn't get a chance to save him, but I'm going to be his voice. I know he was a good man."
Prosecutors floated the idea earlier in the case that Standingrock had sought to kill Wiles for allegedly molesting someone close to Standingrock.
After the hearing, Tyler told the Missoulian that Wiles and Standingrock had been friends for many years. Her son even called Standingrock, "Uncle Augustus." Tyler denied the allegations on her late younger brother's behalf. 
"I know he didn't do what he is accused of doing," she said, cradling the box.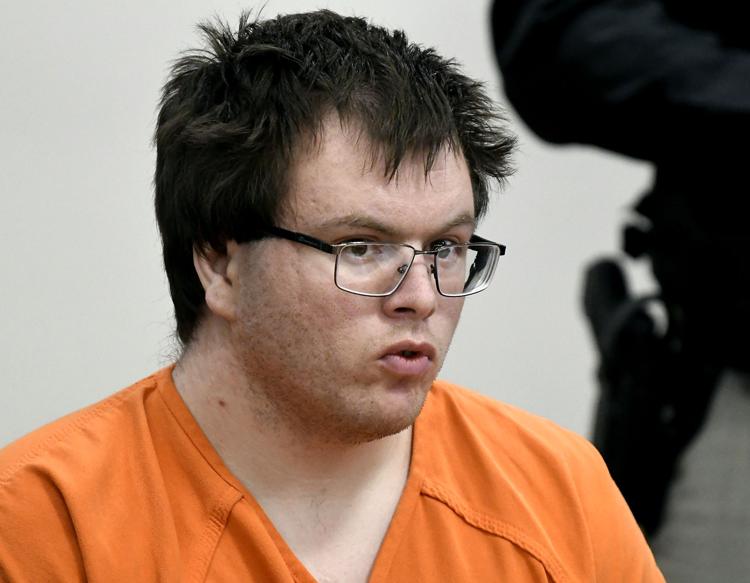 Standingrock appeared largely blank to the happenings around him in the courtroom on Friday. He did not come prepared with a written statement and did not appear to express an emotion as he spoke to Judge James Wheelis.
"I apologize," he said. "There's nothing I can say or do that will take anything back."
The dismemberment case largely overshadowed what's been called the "Montana Street case," in which Pierce broke into a home on July 23, 2017, and repeatedly stabbed a woman. Pierce said at the hearing that the woman was not her intended victim.
Rachel Ross was stabbed and slashed in the face, neck, chest and leg, each injury requiring surgery and a few resulting in nerve damage. 
"The actual assault itself was extremely fast and totally painless," Ross said in a written statement read by a crime victim advocate. "There was a point though, that I felt I was dying and it was OK, I wasn't scared."
Ross said in her statement that not knowing who attacked her or why ultimately developed into an obsession of checking the online jail roster, over-analyzing strangers and wondering if the person she just paid for gas was secretly her attacker. 
"Since that case was bigger than mine, my case was pushed to the backburner and I felt very much forgotten by pretty much everyone," she said. "People would say you're in a bad crowd or you need better friends. In reality, though, this wasn't even supposed to be me. 
"I am a person and you tried to kill me even after you realized I was the wrong person. … I am going to live with this the rest of my life and I believe you should pay for it for the rest of yours."
No restrictions on their eligibility to seek parole means Standingrock and Pierce can do so in approximately 30 years. Steve Sherman, whose grandchildren were friends with Pickett and brought her into their family home, said the friends and family of the late 15-year-old would not forget. 
"I may not live long enough to protest your parole hearings, but there are generations that will," he said.