Donn Bruggeman grew up in Baker and Wolf Point, Montana. He served in the United States Army from 1951 to 1953 and served in a combat zone in Korea. His story is featured as part of our "Stories of Honor" series which tells about the experiences of soldiers. This is part of Bruggeman's story, in his own words. The full interview can be seen online. This is a lightly edited excerpt.
Gazette: Before the U.S. Army, where was home? Where were you born and raised?
Bruggeman: I was born and went through the seventh grade in Baker, a small town. Then my folks raised me in Wolf Point in 1941. That's where I went to high school. I eventually went to the University of Montana.
...At that time I as drafted and they gave me an exemption to finish college, which I thought was pretty nice. It really turned out to be quite a deal for me because when I was drafted, deferred, I missed the first bad year in Korea when all the Americans were overrun by the Chinese so I missed that winter, but I spent the next two winters there. That's kind of the history of Small Town Don getting drafted.
Bruggeman graduated from the University of Montana in 1951 and went right to basic training. His deferment ended upon graduation.
Bruggeman: At that time, people weren't really up on the war even though it was going on. It was kind of forgotten. People weren't excited about it. It was five or six years since World War II had ended, so it was no big deal. And I happened to be the only guy in my class who was drafted.
Gazette: Did you feel picked on? When you were coming up in high school, did you worry about being drafted?
Bruggeman: The draft was still on from World War II, but we never thought about it. I never did think about it until I got my classification, which was 1A, but I was in college then. In those days, they deferred married fellows, and they deferred farmers, mostly. It depended on the local draft board. As I said, I was the only guy out of our county that was drafted that year. My dad wasn't too happy about that. He went to the head of the draft board in Wolf Point and wanted to find out why, what was going on? That fellow, the head of the draft board, didn't agree with drafting either and he resigned.... So there was a few bad feelings at that time, but mostly people didn't know what was going on, really.
Gazette: How did you feel when you found out you were drafted?
Bruggeman: It didn't bother me at all. I was glad to go. I wanted to serve my country and didn't have a job lined up and I was ready to go.
(He did basic training at Fort Lee, Virginia, finished in December 1951, and reported to Seattle.)
You have free articles remaining.
Bruggeman: We were going to ship overseas. Everybody knew where they were going, but I had no hard feelings about this. For one thing, my girlfriend who is now my wife of 65 years, she said she'd wait for me. And, that made me happy. So, I was off to the war a happy guy, because I figured I was lucky to be where I was. I knew Korea, but I didn't know where I was going to end up over there.
Gazette: Were you aware of what was going on in Korea?
Bruggeman: Not really. There were a couple of guys who came back in that first winter of 1950 who had been there that had been overrun by the Chinese. They came to the fraternity house and man they kind of woke us up a little bit to what was really going on over there. I felt sorry for those guys and it kind of frightened me thinking I was going over there. But, you make the best of it. I think I had a good attitude to start with and that helped. That helped me get through everything. I think I was lucky or blessed. I think I was probably blessed. I had quite a few people praying for me and that helped.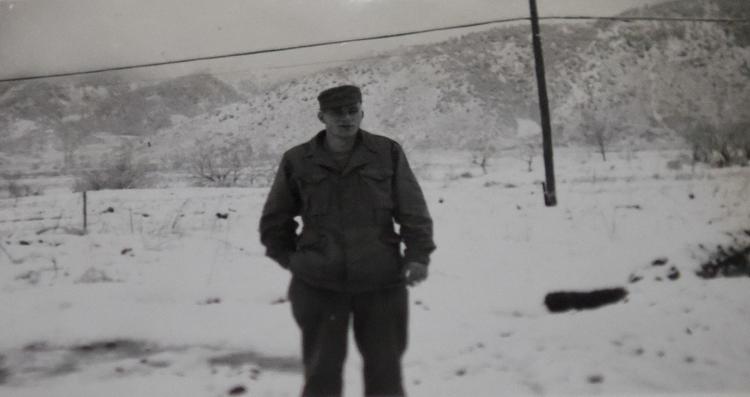 (Bruggeman left Seattle right after Christmas Day. A small transport ship took them across the Pacific, via Alaska and going through storms. They arrived in Japan 21 days later. Then, they went by train from Tokyo.)
Bruggeman: We went to a naval base called Sasebo. They had a naval replacement depot there, they called it — "a repo depot." Everyone knew that was not the place to be because everybody went there just waiting for orders to go to Korea. The train ride was interesting going through Japan. It was January, January 1952. We passed through Nagasaki, which had been bombed by the atom bomb. At that time, it was six years later, and it was still nothing but flat rubble. A whole big city was just nothing. I thought it was an eerie feeling to see it. Still, years later, there was nothing there. 
..I was [at the replacement depot] for a couple of days, and the name of Bruggeman is not all that easy to pronounce, and those guys would call out the names every morning and you're straining to hear, and that's a little nerve-wracking, too. After a couple of days, my name was called for the combat engineer — the 19th Engineer Combat group. I thought, "Boy Donn, you lucked out again. You didn't get infantry, even though the combat engineers." I was blessed again. Everything is still feeling good for me. Well, it's cold, but I am from Montana. Once you're name is called, you report to a ferry across to Pusan. It was just a ferry ride. The problem was when you get ready to get on, they issued us brand new rifles. That was scary because those rifles were full of grease... The only way you could get rid of that grease was, the instructions were, to boil in water. Well, we didn't even have paper. There was no way to clean the rifles. I thought, "Gee, they must know better than this to send us to a combat zone with a rifle that was useless."
So that worried us all the way over to Pusan and then they put us on a train and we headed north. We went through the capital, Seoul. It was nothing but rubble. It had been destroyed almost completely. They had captured it two or three times. It was still just nothing but rubble. Then I watched the summer (1988) Olympics in Seoul, and I couldn't believe it. I could not believe that they rebuilt that city beautifully. The train kept going farther north. The ferry had been all night. Then all day on the train. And it's getting later in the day, and the train made the stop and they said, "This is the end of the line for the train." A few people got off along the way for their assignments. There was still about a truckload of us who were going to go farther north. It's an uneasy feeling because you don't know where you're going to end up. We got in the trucks and we kept going and going and we were in the mountains — a very mountainous region. It's winter time and it's below zero all the time. We came to this 19th Engineer Combat group and they were in a valley. We stopped there. They said this is where I got off, and they said there are a few other companies down the road where guys are getting off. The warrant officer said the company commander and the first sergeant here at headquarters want me to clerk. I had a college degree. They need an assistant. I thought, "Boy, I am lucky again. I get headquarters company." So that was another break for me. They sent me down to the tent — we were camped out. We had to be ready to move at any time. The fellow that I was replacing was so happy to see a replacement so he could rotate, that he was so happy. I said, "The first thing I got to do is fix this gun." He said, "Don't worry, we'll go over to the supply sergeant and get us a clean rifle." He did and he could tell it was bothering me in a combat zone with a useless rifle. That was the first thing he did. I started out learning the job with him for a week — not long. Being headquarters company was a big deal because they have a lot of stuff for the group. We had a group and it consisted of different companies. They had a truck company, we had a Treadway bridge company and a searchlight company. They all reported in to us. All the orders and the personnel, all of the things that went on came through headquarters, which was through me potentially. So, I learned the job and it was cold. The tents were pretty ratty. At that time, they had a couple of wool blankets. The Army was still behind after this many years for cold-weather gear. So, I was in a tent with eight cooks, and they were all from the South. They were suffering miserably in the cold weather. Trying to cook and do their job, it was below zero and you're outdoors. They couldn't do much. So, there was another replacement who got there before I did. He became a friend and nobody was really friendly. Everybody had their own deal going and when they can rotate. Being in a combat zone like we were — they called it a zone — we found out later that headquarters was one ridge, maybe a mile, from the actual fighting. We could hear it all the time, but we all had foxholes to get in, because the artillery would come in once in awhile. The Chinese would send patrols out and we were still fighting the Chinese then. The North Koreans had been defeated then. The guard duty at night, even with a new rifle, was scary.
Bruggeman: Because you can't see very much and you have to be really alert. Two hours on, four off, at twenty below zero. I just hate to remember that.