As Dr. Adam Zelka battled with COVID-19 at St. Vincent Healthcare in November, his lungs' oxygen levels were high enough that he could finally stand up alongside his hospital bed.
It was such a momentous occasion, 38-year-old Zelka decided to take a selfie and send it to his wife.
He was able to stand after four or five days of laying still in bed. As the virus ravaged his lungs, even the slightest movements would cause Zelka's oxygen saturation levels to drop. He was happy to at least stand again.
"It's not exciting to anybody, but at the moment it was really exciting for me," Zelka said.
Zelka, a family medicine doctor practicing in the Billings Heights SCL Health clinic, started showing symptoms on Nov. 9 and checked himself into a hotel room to quarantine from his wife and four daughters.
It was part of a plan he and his wife put together as COVID-19 cases starting rising in the state. If either of them got sick, they'd stay at a hotel until they knew their test results. From there, they'd stay in the family camper outside the home if either of them tested positive.
He received a call while staying at the hotel that he had tested positive, all while experiencing fevers around 103 degrees Fahrenheit.
Zelka moved into the camper and on Nov. 18, he went into a walk-in clinic with labored breathing. An X-ray revealed that his lungs looked "messy," however, nothing seemed concerning. He was given some fluids and felt better.
The next day on Nov. 19, he woke up and couldn't catch his breath. He was admitted into St. Vincent Healthcare where his oxygen saturation levels sat at around 80%. An X-ray of his chest showed pneumonia had formed in both of his lungs.
Three days later, his oxygen levels dropped to 67%, resulting in Zelka having to use about 60 liters of heated high-flow oxygen. Zelka likened the oxygen's flow to the air pressure of a tire air compressor.
His oxygen levels hovered around 90%, but only if Zelka stayed very still. Nurses helped him lay flat on his stomach, which helps with air and blood flow through the body.
"I spent the next four or five days on that high flow," Zelka said. "I was pretty much a prisoner in a bed."
As time passed he was finally able to stand and walk. Now months later, he's able to exercise.
As a physician, he anticipated needing the heated high-flow oxygen. He also knew that if the high-flow oxygen didn't help, he'd be put on a Bilevel Positive Airway Pressure, or BiPAP, machine. This machine delivers pressurized air that helps open the lungs. If that didn't work, a ventilator would've been next.
"I was this close," Zelka said.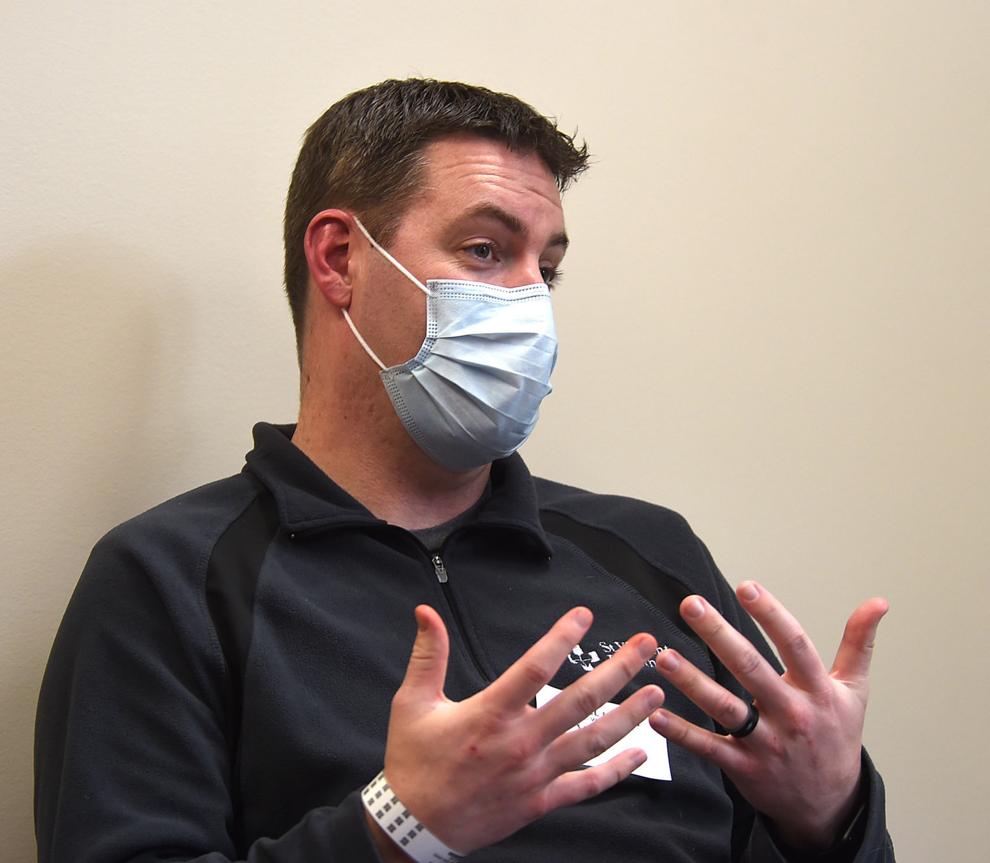 This week, he was able to run a mile with little difficulty and only uses oxygen at night while he sleeps. He's come a long way, but must now go through a series of tests to determine if there is any permanent damage to his lungs.
On Wednesday, Zelka visited St. Vincent Healthcare for a Pulmonary Function Test using a plethysmograph machine that measures how much air in an individual's lungs after taking a deep breath and can show if someone has lung damage.
Using a mouthpiece, Zelka took deep breaths and performed shallow, panting breaths. Soon, he'll be able to learn more about the longer-term effects of how the virus impacted his lungs.
Many people who contract COVID-19 experience long-term effects, known as "long COVID," or what experts are calling Post-Acute Sequelae of COVID-19, or PASC. CNBC reported last week that the University of Washington recently found that 30 percent of patients reported symptoms like fatigue and shortness of breath lasting for months, according to Dr. Anthony Fauci, the nation's top infectious disease expert. Some people may feel symptoms nearly nine months after infection.
In November, a few Billings residents continued to get medical treatment for their post-COVID-19 symptoms months after being sick. They reported hair loss, fatigue and difficulty breathing.
Multi-year studies are underway to learn more about PASC, according to the Centers for Disease Control and Prevention.
Luckily, Zelka is back to work after being gone for two months. He tells his patients about his experience with COVID-19, and they often ask if it's worth it to even wear a mask if Zelka, who wore personal protective equipment and was being safe, became sick.
"I explain to them, a mask is not perfect. It's not 100% and there's a lot of shades of gray in this," Zelka said. "If you can do anything to reduce your risk, you're better off doing it."
Having had COVID-19, Zelka has had to wait 90 days to get vaccinated. He plans to get his series of shots soon, and encourages others to do the same.
"Most people don't have two or three months-worth of cash in the bank to pay their bills while they're sick and recovering," Zelka said. "So if you can get a vaccine that prevents you from ever getting that bad and you can live your life just as well as everybody else, then why wouldn't you do it?"