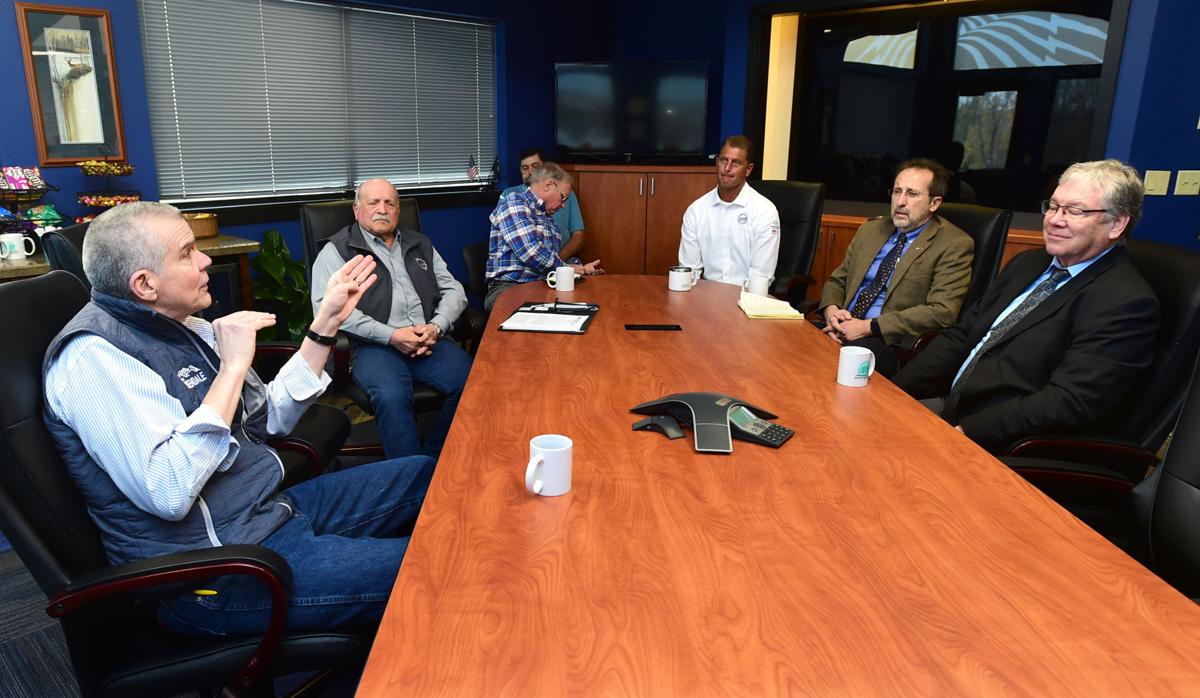 Republican U.S. Rep. Matt Rosendale said Tuesday he will oppose the electors from some states because he believes allegations of voter fraud are credible, despite those claims being repeatedly disproven.
The remarks from Montana's only representative in the U.S. House were issued in a press release that never stated which states' electors Rosendale would refuse to recognize. He also never mentioned President Donald Trump's repeated spreading of fraud conspiracies. Trump is relying heavily on disproven election conspiracy theories while attempting to overturn his election loss to President-elect Joe Biden.
Rosendale will join Montana U.S. Sen. Steve Daines in calling for a 10-day audit of election returns. While giving credence to disproven voter fraud claims, the newly-sworn congressmen said he's actually restoring confidence in the process by calling for an investigation.
"All Americans have the right to a fair, secure election, and should be confident that the process ensures all legitimate ballots are counted, and all fraudulent ballots are rejected," Rosendale said in his press release. "It's sad that Democrats and their lackeys in the media are so blinded by partisan hatred for President Trump that they're unable to live up to the precedent they have set and take appropriate action to safeguard our elections."
Not all Republicans are so eager to back Trump's effort. In joining Trump's attempt to delegitimize the election, Republicans have put power over country, said Reed Galen, co-founder of the Lincoln Project, a group of prominent Republicans who opposed re-electing both Trump and those who support him, including Daines. Galen previously worked for President George W. Bush, Sen. John McCain and former Gov. Arnold Schwarzenegger. 
"They have shown themselves to be who they really are. And who they really are, are people who are not faithful to the Constitution and our traditions, but to their own advancement and their own ambition," Galen said. "And that is a very dangerous place for the country to be in.
"I believe we're not in a Republican-versus-Democrat dynamic anymore. I think were in an authoritarian-versus-democratic, small 'd' democratic, place."
In Georgia, where Trump requested a recount in November, ballots have been counted three times with Trump losing each time. Every state has canvassed and certified its election results. The electoral college on Dec. 14 confirmed President-elect Joe Biden's win 306 votes to Trump's 232. Four years earlier, when electors confirmed Trump by the same margin, the president declared the win a landslide.
Rosendale did not name a single voter fraud claim he found credible, but rather said that "it is clear that there are widespread, credible allegations of fraud and irregularities in many states, and that these allegations have endangered the American people's faith in our electoral process."
Downing, who invited the reverend to speak, later said he didn't agree with all of the reverend's remarks.
Additionally, Rosendale suggested that refusing to certify electors was nothing new, that Democrats since 2000 have done the same all three times a Republican has won the presidential election. It's a bit of an apples-to-apple-pie comparison.
Never before, however, have members of the House and Senate refused to certify electors while a losing incumbent president attempted to stay in power by overturning the popular vote.
In 2000, there were House Democrats who refused to certify the electoral college in favor of George W. Bush, but there was no opposition by anyone in the Senate, said John Fortier, resident scholar at the American Enterprise Institute.
Overseeing the certification in 2001 was Vice President Al Gore, the losing Democratic presidential candidate. As Senate president, Gore gaveled down the Democratic House dissenters as out of order, then proceeded to make his loss to Bush official. Gore had officially conceded Dec. 13, 2000, when U.S. Supreme Court ruled against the Democrat's attempt at a Florida recount. Fortier wrote a book about the process of the 2001 certification titled "After the People Vote, a Guide to the Electoral College."
"The one case, that was similar to today, it was the same process I just think the number of votes is going to be much greater this time, was 2004," Fortier said. "The election I don't think was really in doubt. It was divided by one state, Ohio was very important. Ohio was won by 125,000 votes for Bush, but Democrats raised objections and they did find an objection from Sen. Barbara Boxer."
Boxer, obliging House Democrats, resulted in a vote on whether to certify Ohio electors. If the electors were rejected, it could have changed the election. But Boxer was the only senator in support. Others abstained, but the outcome was certified for Bush.
In 2017, there were objections by House Democrats, but none from the Senate.
In all likelihood, Wednesday will look like 2004 amplified with not one challenge, but multiple challenges, and a drawn-out process after which Biden's win will be certified in the end.