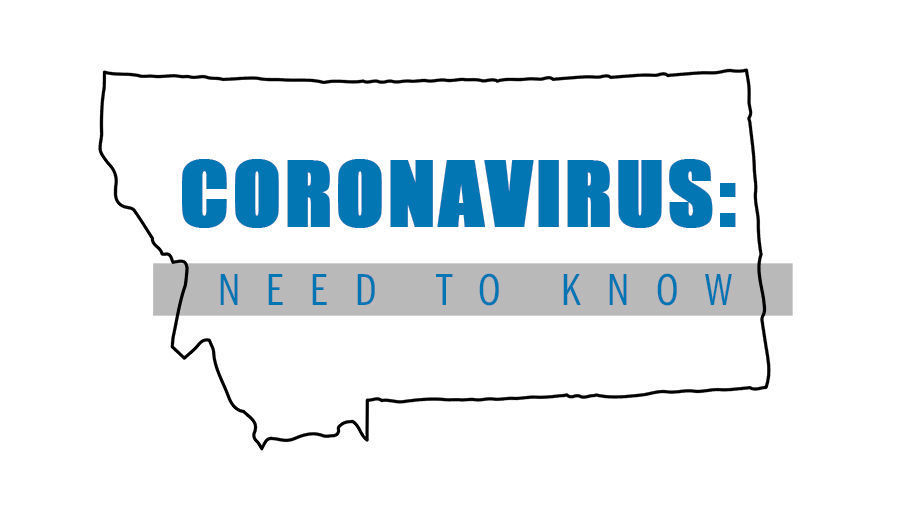 One of America's most widely cited coronavirus models shows the number of cases in Montana peaking next week. But officials here are taking that with some grains of salt.
In recent months, scientists have used mathematical models to predict how coronavirus will spread. One often-cited model, prepared by the University of Washington's Institute for Health Metrics and Education, breaks out predictions for every state.
As of midafternoon Tuesday, the graph of Montana's cases peaks on April 15 and 16, and begins to drop off. At the high point, it shows the state's COVID-19 patients needing somewhere between 12 and 107 hospital beds, three and 19 intensive care unit beds, and two to 16 ventilators — all safely within the system's capacity.
Cindy Farr, incident commander for the Missoula City-County Health Department, is skeptical.
"I definitely do not want people to rely too heavily on these models," she told Lee Montana Newspapers Tuesday.
"All of these models are based on unpredictable human behavior. … I've seen half a dozen different models, and they're all predicting that we are going to peak at a different time."
While the University of Washington's model predicts that Montana will peak next week, another one, available on the website covidactnow.org, doesn't show a peak until mid- to late June, and projects hospitals becoming overloaded early that month. And both show wide ranges of total cases.
The University of Washington model, which gives lower numbers of overall cases, assumes that governments impose rigorous social distancing measures, and that they're fully enforced and adhered to through early August.
Farr doesn't see that happening on the ground in Missoula. "What I'm hearing anecdotally is that people are voicing their complaints at the department" about gatherings on trails and in parks and backyards. "That tells me that we definitely do not have 100% full compliance."
"I think it's wise to be skeptical of models," said Curtis Noonan, a professor of epidemiology at the University of Montana. To illustrate their limits, he pointed to the inputs for the University of Washington's model. "That's a model that is heavily based on observations of deaths, coronavirus deaths, and Montana has only had six" as of Tuesday, he said.
"Having small numbers, and having a model that's based on those numbers, it's just going to make for a really unstable model early in the outbreak," he said. The model itself is revised regularly as more information becomes available.
But "as flawed as models can be, it might be the only tool we have to prepare for any kind of surge medical needs," Noonan said. "We can't wait for it to happen and then react." He's currently working with other scientists on a Montana-specific model.
Meanwhile, the Washington Post reported Tuesday that other states are relying on multiple models to guide their next steps. Yellowstone County's health officer John Felton had used the Washington model to suggest that a peak might be close Monday, but Barbara Schneeman, a spokesperson for RiverStone Health there, said the county is also looking at multiple data points.
"Right now we're looking at a variety of different models and paying attention to not only what's happening to our state and specifically in our county, and then also in other states," she said.
Also on Tuesday, Montana Gov. Steve Bullock said he and other state officials are looking at the UW model and others as well.
"(We're) trying to get as much information as possible, recognizing that models are just that. And probably the greatest thing to impact a model isn't going to be a statistician, it's going to be what each and every one of us do, in our homes, in our communities, to try to ensure that transmission is not occurring," Bullock said. "Do I think that we've hit the peak at this point? No, I do not. I think we'll continue to see growth in cases."
Bullock said he hasn't reached a determination about the metrics he'd need to see, in terms of reduced case growth in the state or other data points, that would lead him to lift things like the stay-at-home order or directives that have closed places where people gather, such as bars, gyms and theaters.
Lee Montana Capitol reporter Holly Michels contributed to this story.
Concerned about COVID-19?
Sign up now to get the most recent coronavirus headlines and other important local and national news sent to your email inbox daily.