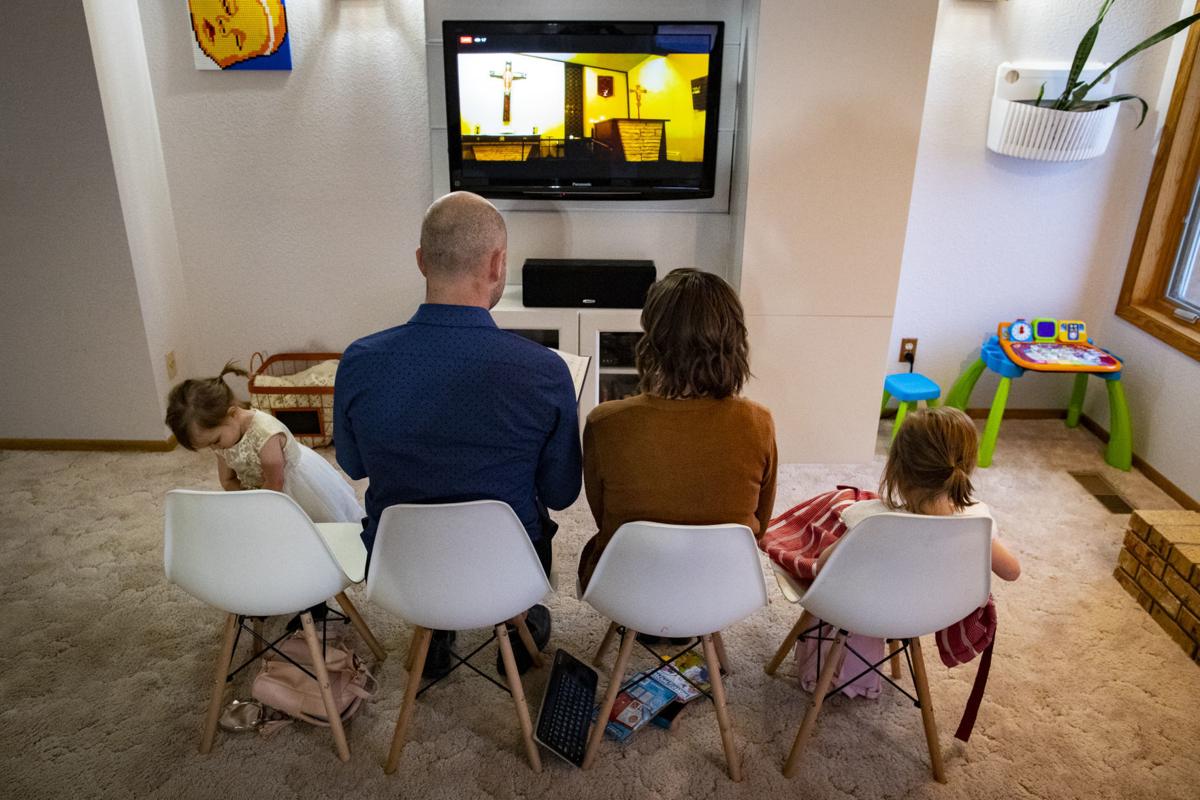 Michael and Megan Verseman sit in their living room with their two young daughters and watch a Wednesday night church service on their TV.
They dress in their Sunday best, with Michael Verseman wearing a blue button-up and black slacks. His daughters, Chloe, 3, and Eve, 5, are wearing sparkly dresses as they play with toys during the service.
The family sit in a row, similar to a church pew, as they sing hymns and read out of a prayer book.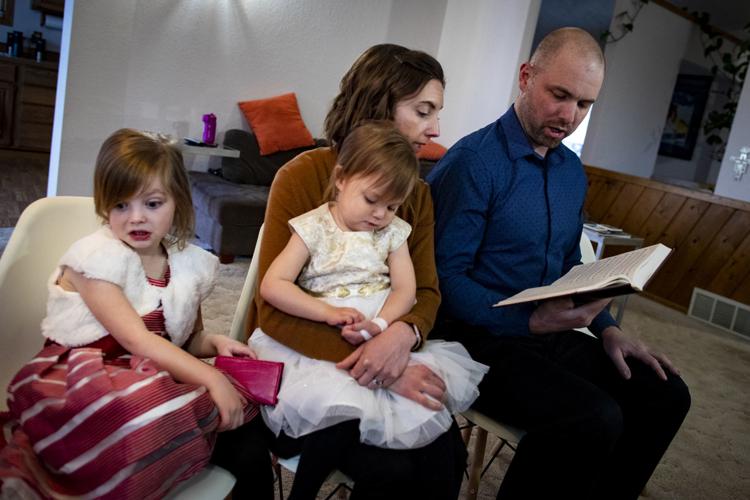 Livestreaming from Facebook is just one way that churches, like Christ the King Lutheran Church in Billings, are keeping in contact with members like the Verseman family.
Because of the novel coronavirus, public health officials have encouraged Yellowstone County residents to stay home since mid-March, followed by an order issued by Gov. Steve Bullock mandating that all Montana residents stay home and only essential businesses remain operational.
Gatherings are restricted to fewer than 10 people, which makes it difficult for church members to meet for weekly services.
But many are finding ways to make it work, including Christ the King Lutheran Church.
Pastor Ryan Wendt said that not only are the services streamed online, older members, or those who don't have internet access, are given a copy of the service on a CD with a CD player.
"This is just simply not ideal at all. It's not a good replacement for gathering together," Wendt said. "But, for our neighbors' sake, this is the best thing to do until we can all be together again."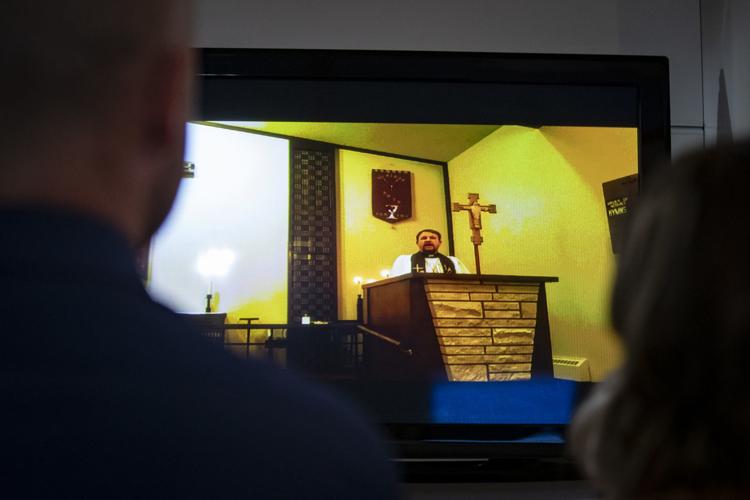 For Easter, the church holds communion, which is typically done in person. But with social distancing restrictions in place, that won't happen, Wendt said. The church's annual Easter egg hunt and Easter breakfast fundraiser for youth activities will also be postponed.
Services Monday, Thursday, and for Good Friday and Easter Sunday will also be streamed on the church's Facebook page, Wendt said. Religious artwork colored by children will be shown during services.
The groundbreaking for the church's new building located at the corner of Calhoun Lane and King Avenue East has also been postponed due to the coronavirus, Wendt said.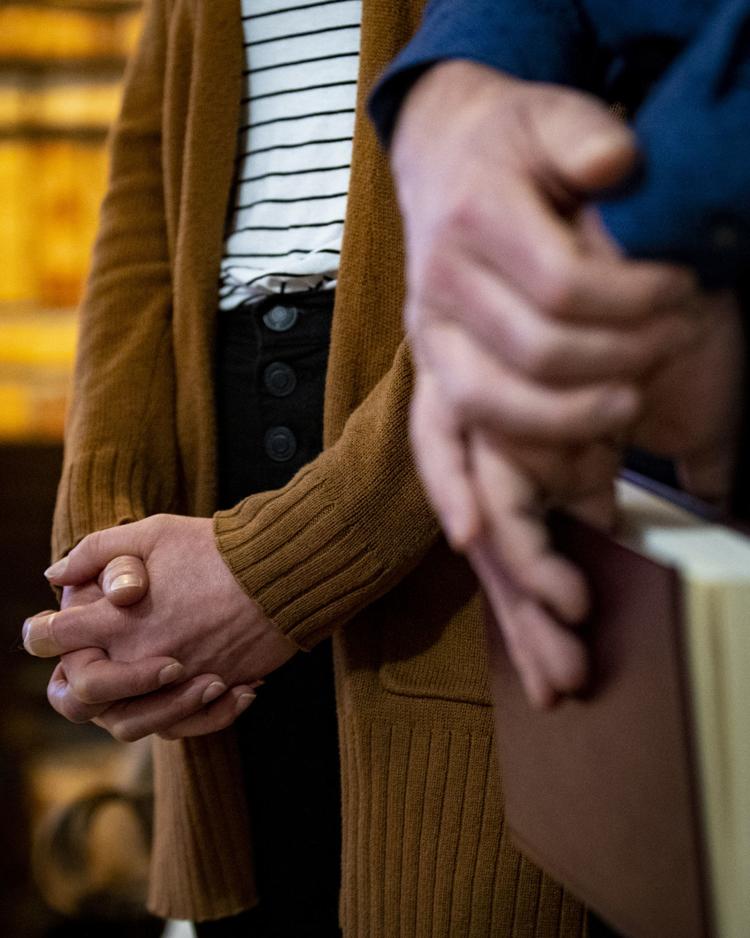 "I can only speak certainly for the almost 15 years I've been here. We have never closed the church for anything. Snow storm, power outage — our heater broke once — (but) we've never not held services," Wendt said.
The Ballantine Congregational United Church of Christ is also taking steps to ensure its small congregation is getting access to services.
Pastor John Dyce said that he's still figuring out how he should communicate Easter services with members; he may end up sending flyers with service times conducted over a conference call format. Some members don't have internet access, Dyce said.
It's very different from the 112-year history of the church, where groups used to gather at Cross Hill just south of Ballantine at sunrise, Dyce said. In the recent past, the church, along with others in Huntley, Worden and Shepherd, would work together to provide services for different days during the Easter holiday.
"We're almost getting back to the way Christianity started out. Families meeting in their homes and small groups, and remembering the church is people, not the building," Dyce said. "It's a way that we can turn this awful pandemic into remembering and reconciling with the distant past of what Christianity was to start with."
The church started providing free boxes full of non-perishable food items to community members in Ballantine before the pandemic started, and today, that service is needed now more than ever, according to church member Rita Oltrogge.
More than 20 families in Ballantine request food boxes every month, after Bullock's order led many businesses to lay off their employees.
Drinking water in the area is another issue residents in the area continue to face along with the pandemic. Last summer, residents received notices after the Montana Department of Environmental Quality and the Worden Ballantine Yellowstone County Water and Sewer District found high amounts of nitrates in the groundwater.
Cases of bottled water are hard to come by in supermarkets at this time, Oltrogge said, and many stores are limiting the number of cases that are purchased.
But Oltrogge said that the town is trying to make it work with the help of other churches.
"People are generous to us, and people are generous to us in this community," Oltrogge said.
St. Patrick Co-Cathedral Pastor Robert Grosch is conducting services over livestream on the church's Facebook page. Holy Week services, including Palm Sunday, Good Friday and Easter Sunday, will be livestreamed, as well.
Three other members of the church help him with the services, including for filming and readings, while keeping adequate distance between each other. Normally during the holiday, processions, baptisms, mass and others usually take place, but now the services must be abbreviated, according to the Vatican, Grosch said.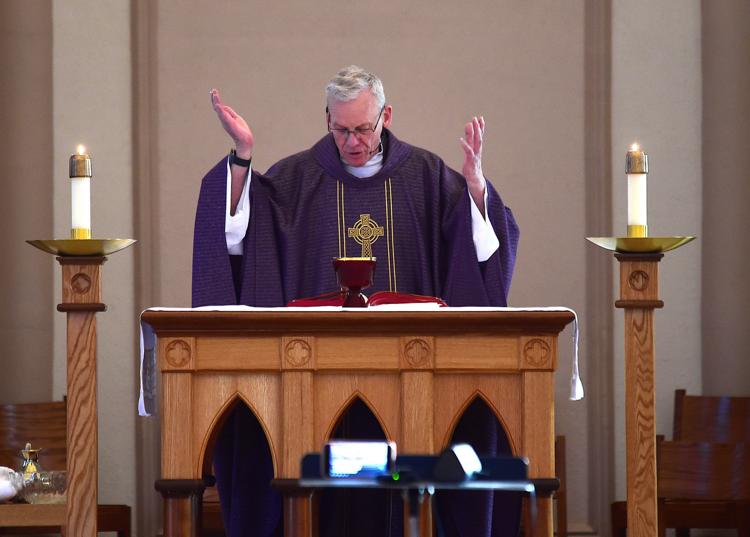 About 420 families attend the cathedral.
"It's part of what makes the service special, but we can't do it," Grosch said.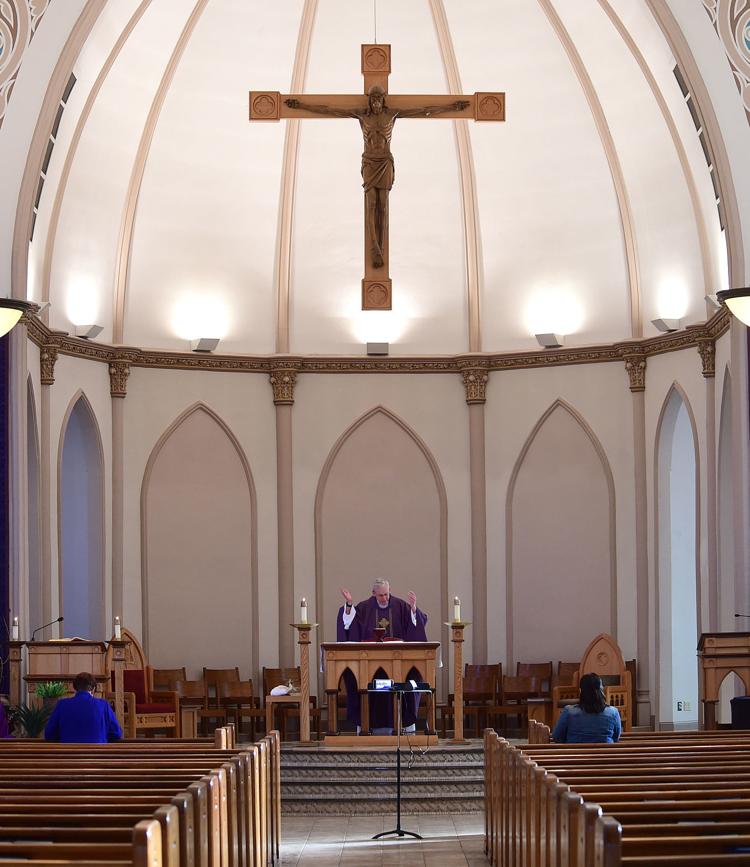 Members of Trinity Lutheran Church in Cody, Wyoming, found a way to attend services by using the American Dream Drive-In in Powell. Each family sits in their car and tunes their radio to the drive-in theater's radio station to hear Pastor Kay Wittman speak from her pickup. A small band plays music for hymns out of the bed of a truck through the radio as well.
Church members conduct the "passing of peace" at the conclusion of a service by honking their horns.
It's a creative way to continue worship, church secretary Dawn Jolovich said. This strategy has been used every Sunday since March 15.
"We got tired of social distancing," Jolovich said. "We wanted to see each other."
While the church also holds services online and over the phone, gathering together and maintaining 6-foot distancing among members is important. For Palm Sunday, palms will be handed out to drivers using barbecue tongs, Jolovich said.
Because of the new coronavirus, the church has also donated money and goods to a few different food pantry organizations in Cody and Powell. About 10% of the church's offerings are regularly donated to the organizations, as well.
And while Easter festivities may be canceled this year for many church communities, there are other ways to celebrate.
Some families are also partaking in Easter egg hunts with social distancing in mind. A Facebook group is encouraging families from all over the country to hang Easter crafts in front doors and windows and walk around neighborhoods. Families take photos of the crafts they see and try to find as many as they can.
While current health restrictions have forced many churches to change the way members worship, church-goers are trying to make the most of it while also keeping others safe, like the Verseman family.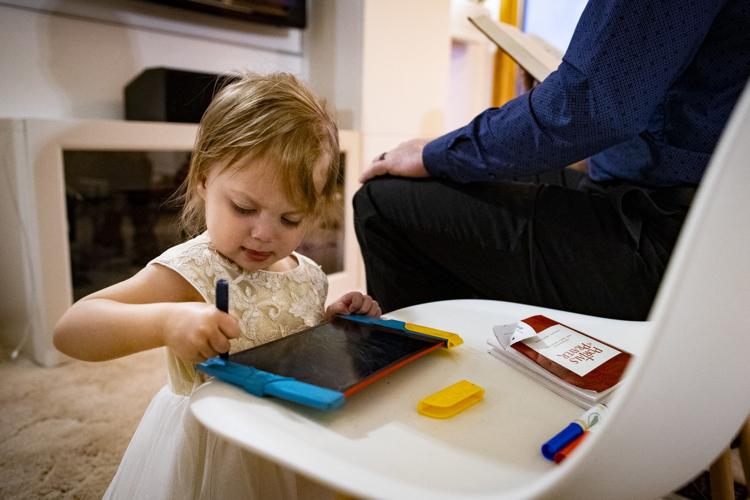 "It's kind of a loss, but it's something we need to do for the sake of everyone right now," Michael Verseman said.
---
Photos: Montana churches turn to internet, video, phones for holding worship
Christ the King Lutheran Church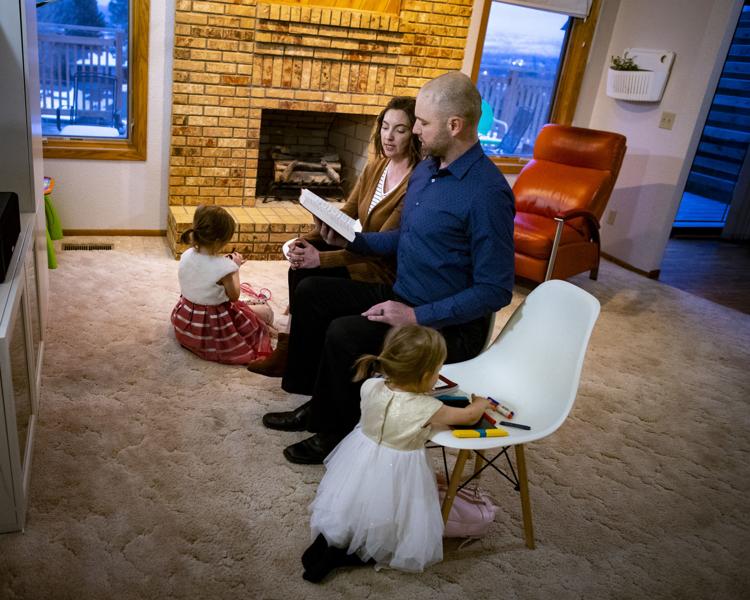 St. Patrick Mass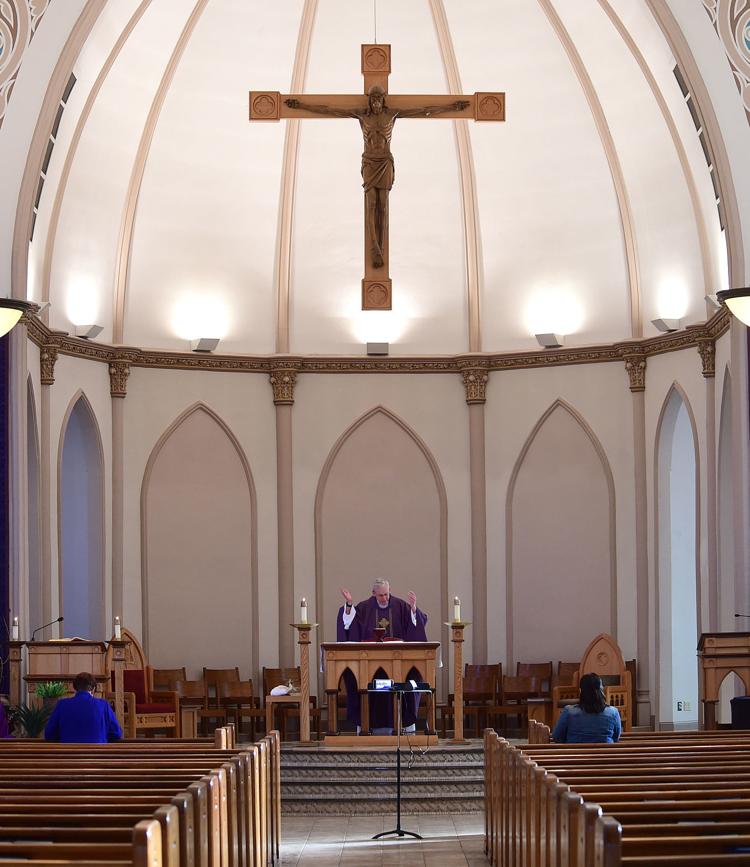 Christ the King Lutheran Church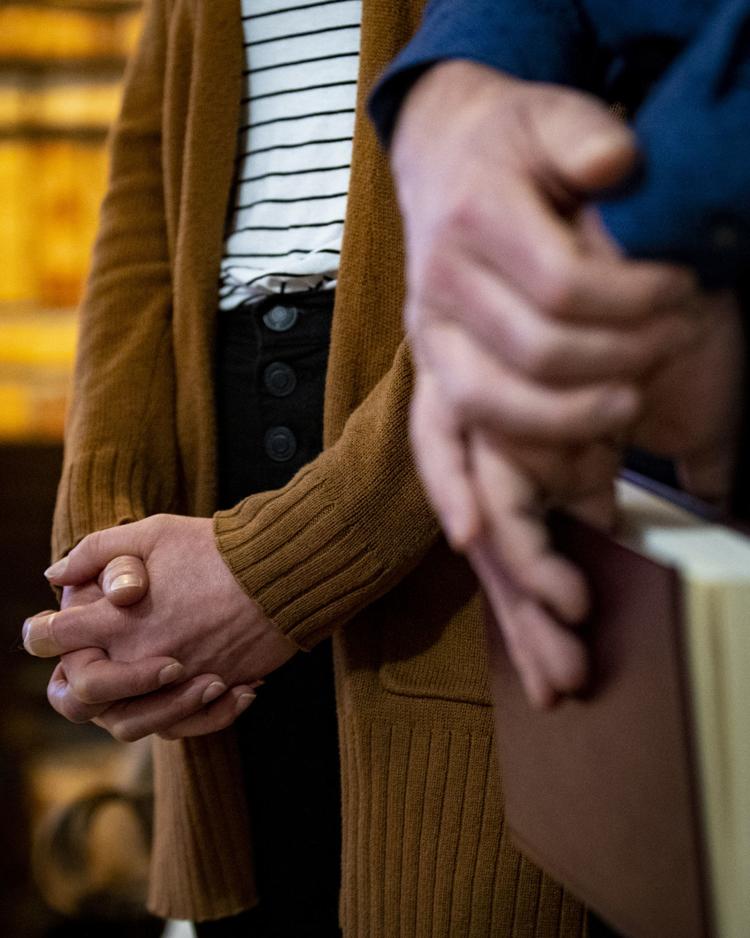 St. Patrick Mass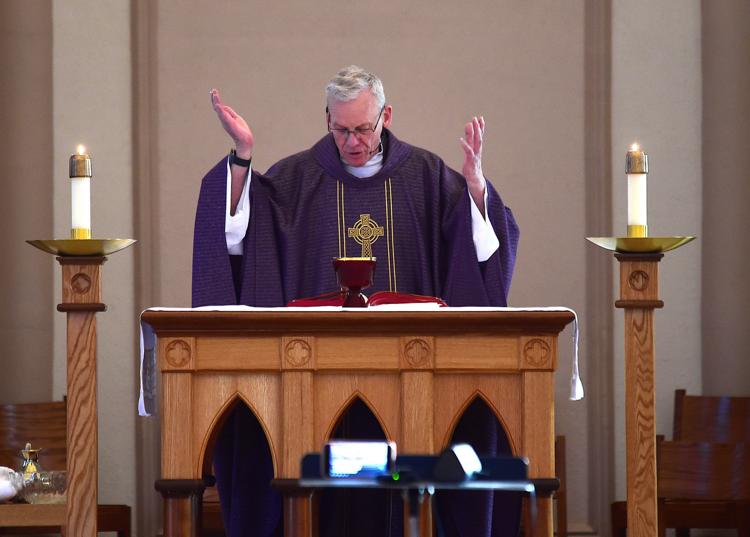 Christ the King Lutheran Church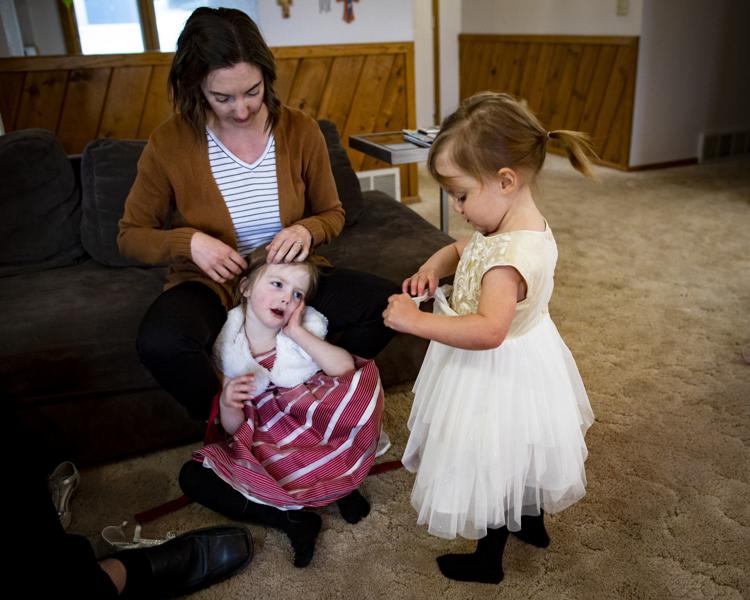 St. Patrick Mass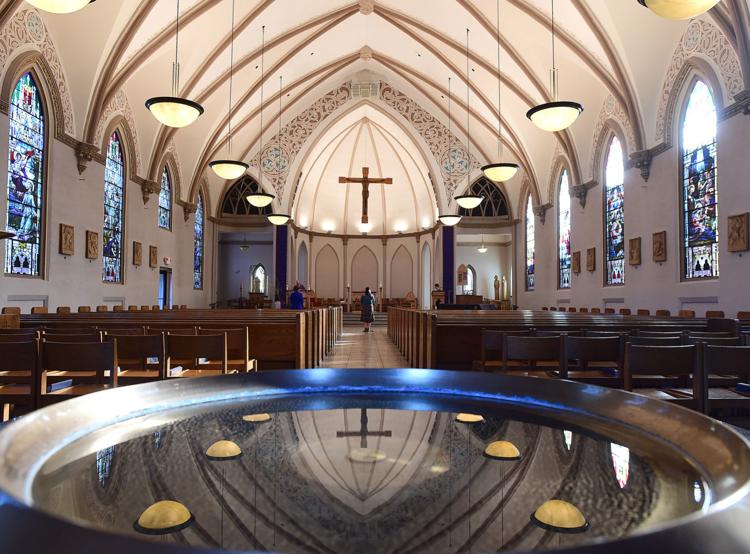 Christ the King Lutheran Church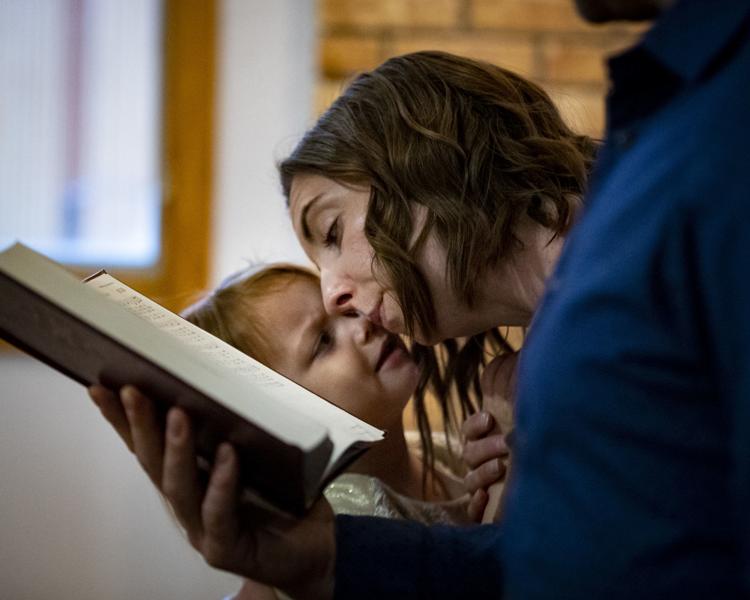 St. Patrick Mass
Christ the King Lutheran Church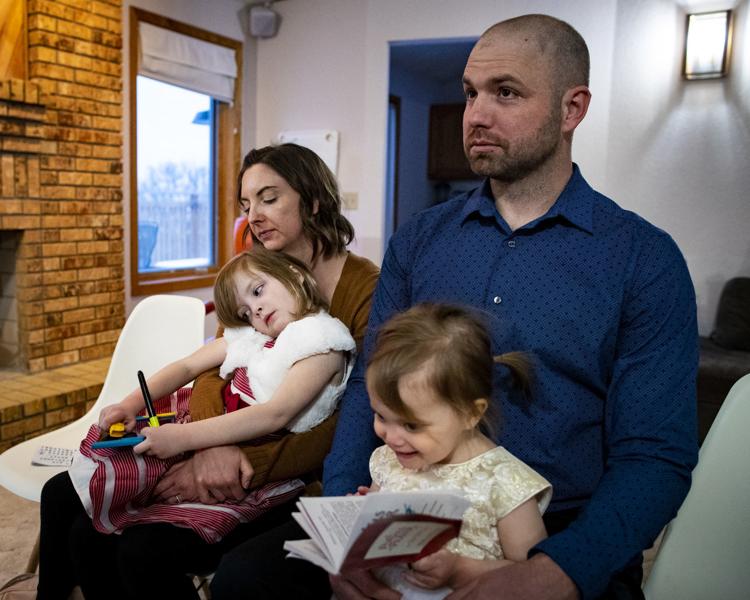 Christ the King Lutheran Church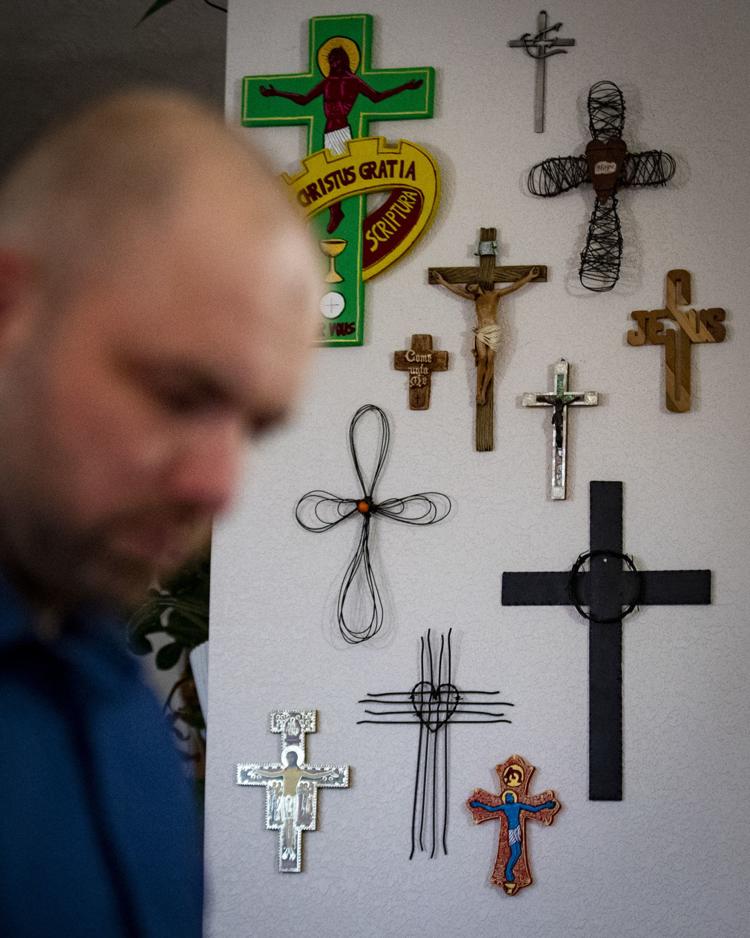 Christ the King Lutheran Church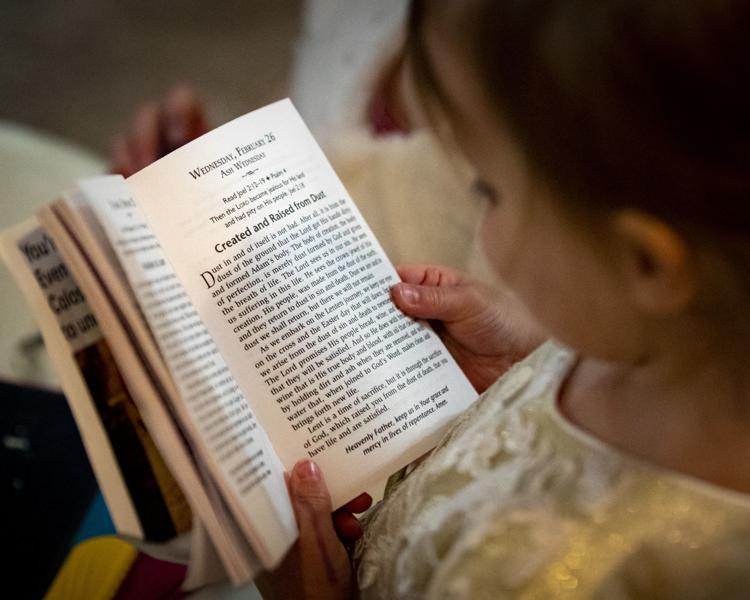 Christ the King Lutheran Church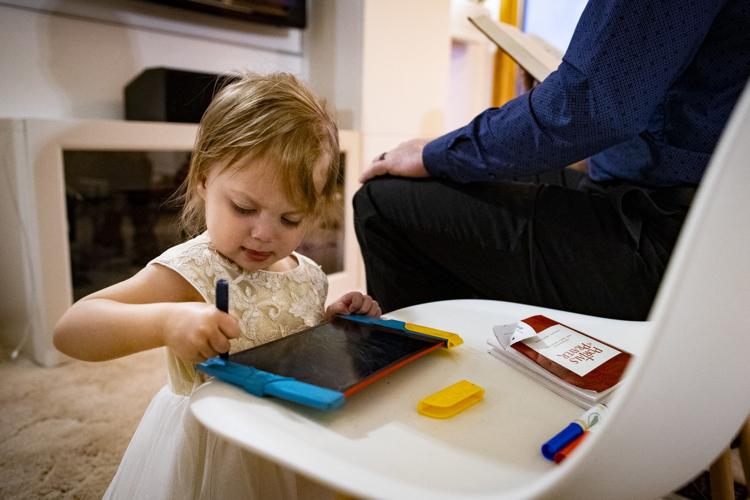 Christ the King Lutheran Church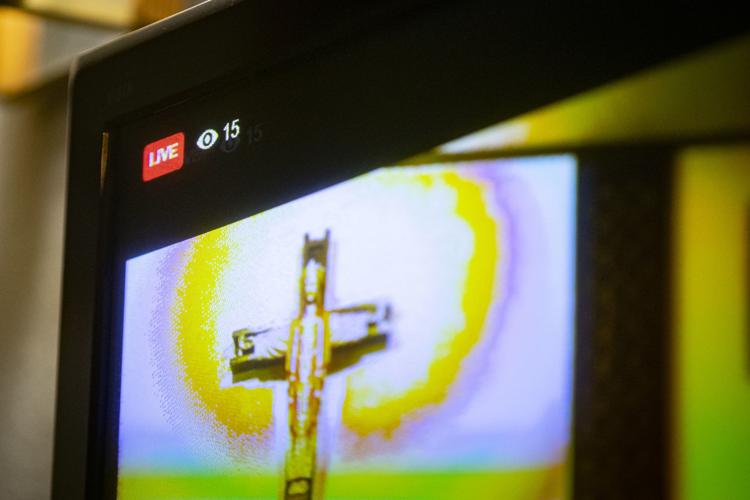 Christ the King Lutheran Church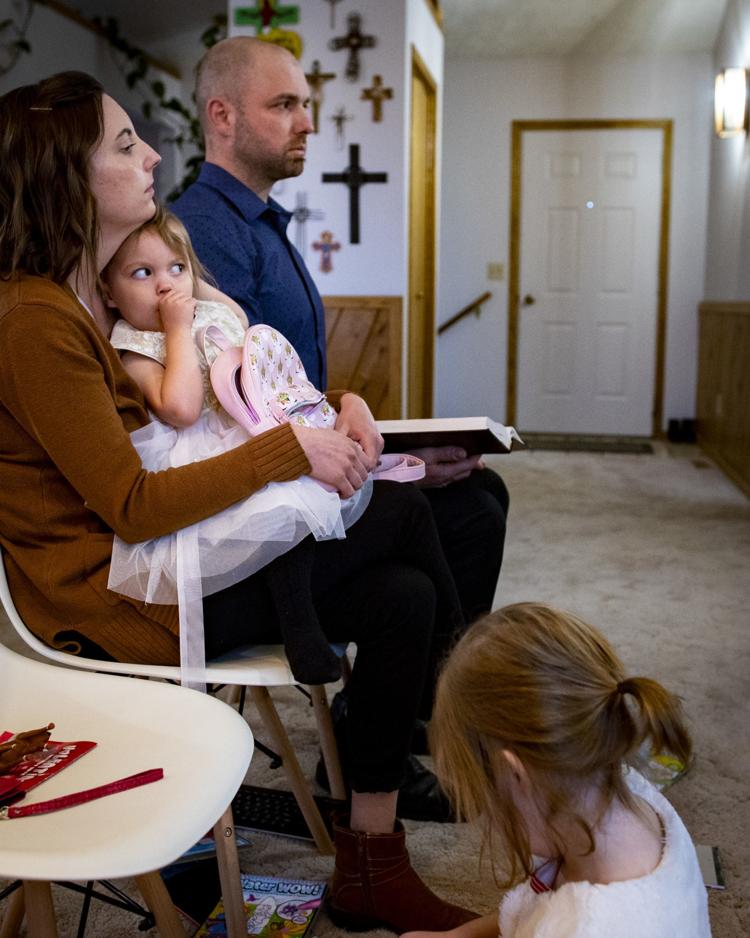 Christ the King Lutheran Church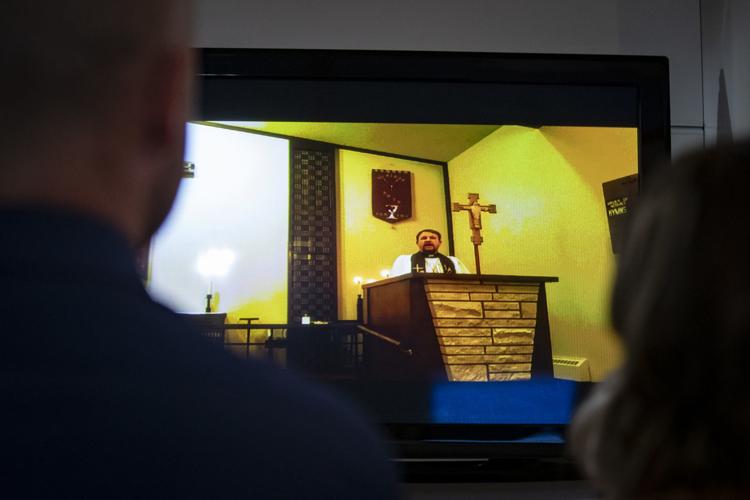 Christ the King Lutheran Church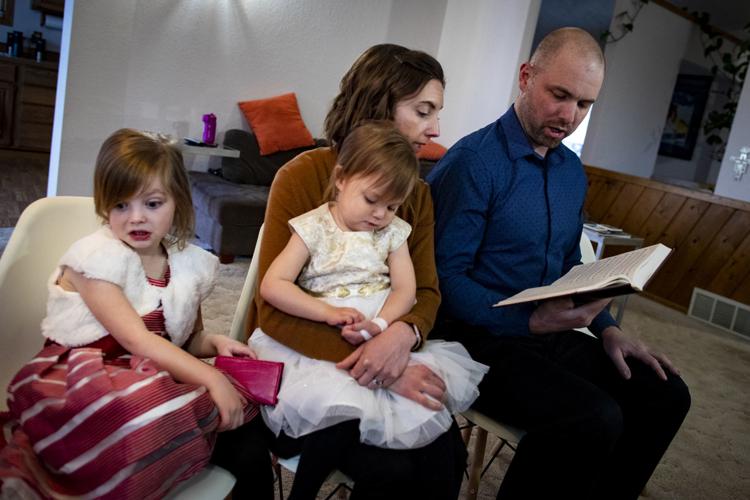 Christ the King Lutheran Church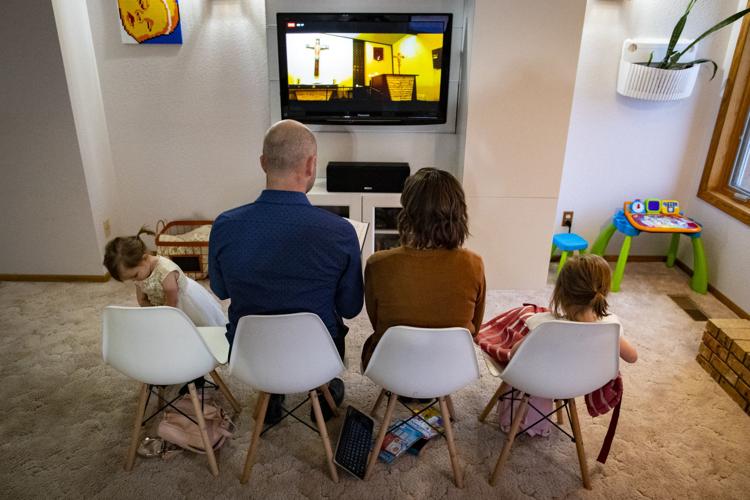 Concerned about COVID-19?
Sign up now to get the most recent coronavirus headlines and other important local and national news sent to your email inbox daily.