The tale Avital Barnea tells is a love story, a mystery, a tragedy and a family history all wrapped up into one.
It's how the Billings native helped her family honor the memory of her great uncle, who died in the gas chamber at Auschwitz in 1944, and his wife, who survived the German concentration camp.
Barnea's story is tied to a memorial project in Europe called Stolpersteine (German for "stumbling stones.") Through it, families or friends of Holocaust victims can place four-inch square brass plates on sidewalks in front of the homes their loved ones last inhabited by choice.
"They can be laid down for anyone who experienced Nazi persecution, who was killed, fled, committed suicide," Barnea, 32, said in a telephone interview last week from Washington, D.C., where she lives and works. "Anyone who was affected."
The memorial project, for Jews and non-Jews alike, was initiated 20 years ago by German artist Gunter Demnig. On Tuesday, the 70,000th Stolpersteine was placed in a small town near Frankfurt, Germany.
The project has spread to include 22 countries across Europe, Barnea said. She traveled with her parents, Uri and Liz Barnea of Billings, and brother Jonathan Barnea, to Europe in August to see two commemorative brass plates embedded in the sidewalk outside a residence in Prague.
One was for her great uncle, Manfred "Fredi" Bach, who lived there before he was deported in 1943 to Theresienstadt, a concentration camp in what is now the Czech Republic, and then to Auschwitz in 1944. The other was in honor his wife, Susi, who was taken to Auschwitz and eventually liberated.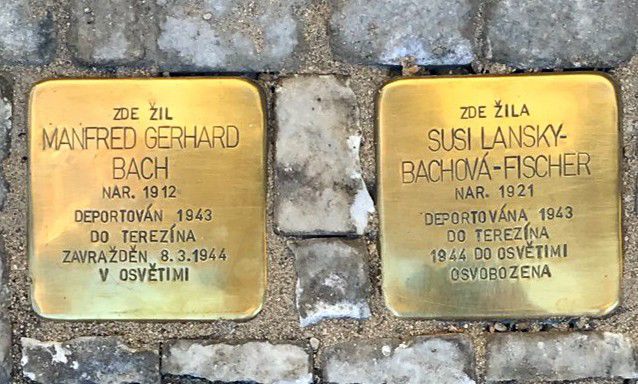 Uncovering history
A little background is helpful, Barnea said. Nathan and Gertrud Bach, her great-grandparents, lived in Berlin when Adolf Hitler came into power.
In 1940, their daughter, Marianne Bach, then 29, fled Germany for Palestine (now Israel) by ship. She met Shimon Burstein, who also had left Germany, and the two eventually married and had a son, Uri.
"Fredi had moved to Prague in his early 20s to study at the academy of music," Barnea said. "He played oboe — I also play oboe. He played sax, organ and he sang."
That's where he met Susi Fischer, a pianist who was also studying music. The couple married in 1942, when she was 20.
Susi wrote Fredi a series of 59 love letters. Before he was deported, he gave the letters and an oboe to one of his professors for safekeeping.
"After the war, Susi came back to Prague and met up with the professor," Barnea said. "He said, 'I have all these things your husband gave me.' She had no idea he kept the letters."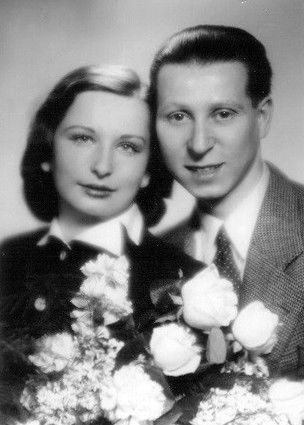 Barnea only found all this out in the course of her research. It began last winter, when Liz Barnea told her daughter about the Stolpersteine project.
Avital Barnea started taking steps in February to participate in the project, sending an email to the organizers.
"They wrote back and said the time frame for Germany is quite long, two or three years," Barnea said. "But they had a date for Prague, they were going to install Stolpersteine on Aug. 17. I was like, 'OK, great, what does that mean?' "
What it meant was a lot of complicated paperwork for Barnea to do in a short period of time. She learned she would need to secure permission from the mayor of Prague; the Czech Technical Administration of Roadways; the Czech Bureau of Monuments, which is administered by the Minister of Culture; and UNESCO, because Prague is a world heritage site. She'd also have to hire a construction crew to dig the hole and install the stones.
Barnea was on a list of 20 people who received the email. The others had also expressed an interest in laying stones in Prague, and some of the group had been working on laying the stones for up to five years.
Barnea wrote to the others, telling them she was new and wondering if any of them could help her navigate process.
"I had the most amazing outpouring in the next 24 hours from people all over the world," she said. "They came from England, the Netherlands, the Czech Republic, Israel, the U.S., Austria and Germany, and a woman who lives a half-mile away from me."
Many wrote back and told Barnea they had been unable so far to secure permission. But one of them said he worked for Dentons, a global law firm with an office in Prague, that was willing to help the group pro bono.
The law firm teamed up with a man, Frantisek Banyai, a retiree in his 70s, "a miracle worker," she said, who got permission for everyone, completing dozens of forms and going to dozens of meetings with government agencies.
But there was still work for Barnea to do. She had to quickly verify the exact address where her great-uncle lived and the precise date of his death.
"So I started doing a lot of research," Barnea said. "One of the things I found was an identity document in German from a year before he was deported that had an address for him."
Liz and Uri Barnea got some help from a friend to translate the words into English. But the address, written in small cursive letters, was nearly impossible to read.
Avital Barnea had been corresponding with one of the others in the Prague group, a man who lives in England but speaks German. She forwarded a copy of the form to him.
He didn't just decipher the address. He found a map of Prague from the 1930s and, though the city had changed much since World War II, he located the address on the street that was a mere block long.
"I was almost in tears, I was so impressed and happy," she said, when she got the news.
The internet proved useful to Barnea as she tracked down information about Fredi, including the exact date of his death. She checked the websites of three Holocaust museums, in the United States, Jerusalem and Prague.
From Yad Vashem, in Jerusalem, Barnea discovered a form completed by a woman named Susi Lansky that shed light on Fredi's fate, including his death at Auschwitz.
The family knew that after Susi Bach had been liberated from Auschwitz, she moved to Israel and remarried, Barnea said. Uri Barnea had met Susi once when he was 8, but the family lost track of her when she left Israel for Vienna.
Avital Barnea turned detective. Looking up "Susi Lansky" online, Barnea found the table of contents for a German scholarly journal. A description of one of the articles told how the resilience of female friendship helped a woman named Susi Lansky survive the Holocaust.
Barnea managed to contact one of the article's co-authors  who told her that Susi had passed away in 2010. But the author offered to connect Barnea with Susi's son, Gabriel Lansky, a prominent attorney in Vienna.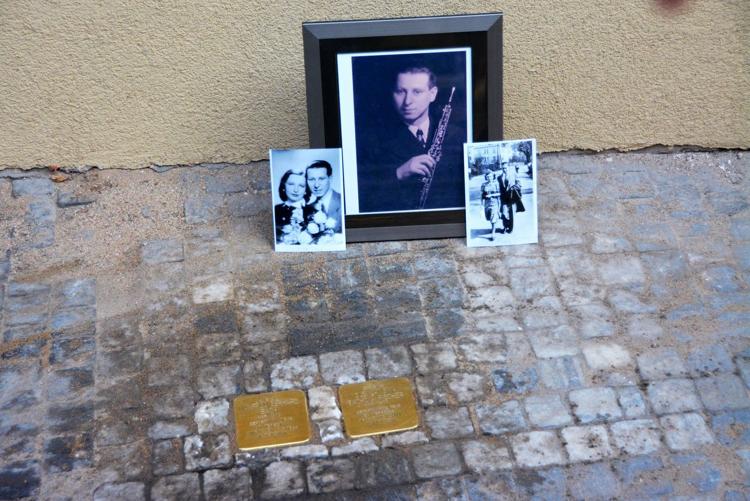 Meeting Gabriel Lansky not only provided Barnea with a link to Susi's family, but it shed more light on Fredi. Gabriel Lansky had paid the author to conduct five interviews with Susi and write a 200-page memoir, which included the love letters, photos and details of her life.
Barnea shared a paragraph from Susi's memoir: "My first husband was called Manfred Gerhard Bach and was born in February 1912 in Leipzig. He had studied in Berlin before coming to Prague as an already accomplished musician and singer. He was a musical genius."
She also wrote: "I only had a very short youth, because I already met Manfred when I was 15, and when I was 20, we married in the middle of the war. My mother tried to talk me out of it, she said 'wait until the war is over, it won't be long.' But I did not wait and I was a widow at age 22." 
Barnea told Gabriel Lansky that her family planned to install a Stolperstein for her great uncle and asked if he would like to do one for his mother. Lansky quickly agreed.
Traveling and connecting
The Barneas traveled to Vienna in August to meet Gabriel Lansky and his two sons, David and Levi. Uri Barnea, in an interview with Liz, called the moment "a tremendous revelation."
"We're not connected by blood, but (Gabriel) is the son of the lady who married my uncle," Barnea said. "He's kind of like my brother now."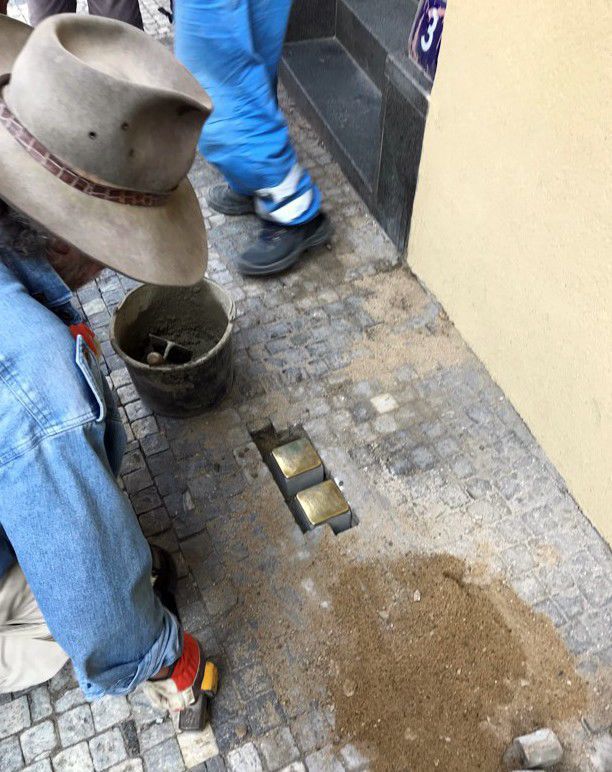 The families joined 11 families from the original email group in Prague on Aug. 17 to watch the memorial plates be placed at the various sites. Barnea, a rabbi, presided over the ceremony for his family and at some of the other sites. They also all gathered for dinner.
He admits when his daughter first started pursuing the project, he was reluctant to take part.
"In the beginning I didn't want to do it at all," Barnea said. "I did not think I could handle it."
After the ceremony, the family visited the Pinkas Synagogue in Prague, one of the first places Susi saw Fredi. It serves as a memorial for the 80,000 Czech Jews who were victims of the Holocaust, with all of their names inscribed on the walls. One of those names was Manfred Bach.
They toured Theresienstadt and Auschwitz. Barnea's grandfather, Nathan Bach, died of illness at Theresienstadt and his grandmother, Gertrud Bach, was killed in the gas chamber at Auschwitz.
Barnea has photos on his cellphone from the tours — of the room filled with suitcases of Jews who thought they'd someday go home; of the pots and pans they brought with them; of the canisters of Zyklon B, used in the gas chambers.
He pointed out a small lake near a memorial plaque placed by the crematorium the Nazis dynamited a week before the war's end to hide the the death camp's true purpose. The memorial serves as a grave marker where the ashes of more than one million bodies were dumped, including perhaps those of his grandmother and uncle.
"That was very, very difficult," Barnea said.
For Avital Barnea, the experience, too, has been bittersweet. She has found a link to family, forged new friendships and seen up close the tragedy her family endured.
"It hits me in waves," she said. "All I've learned about the Holocaust, and still to this day I'm finding out more atrocities. It makes me upset all over again. It's tough."
But she hasn't given up. Barnea is in contact with her father's second cousin who has done a lot of genealogy work. She hopes to discover her great-grandparents' address in Berlin, one of many steps required so more brass plates of remembrance can be laid.
"There's more work to be done," she said.