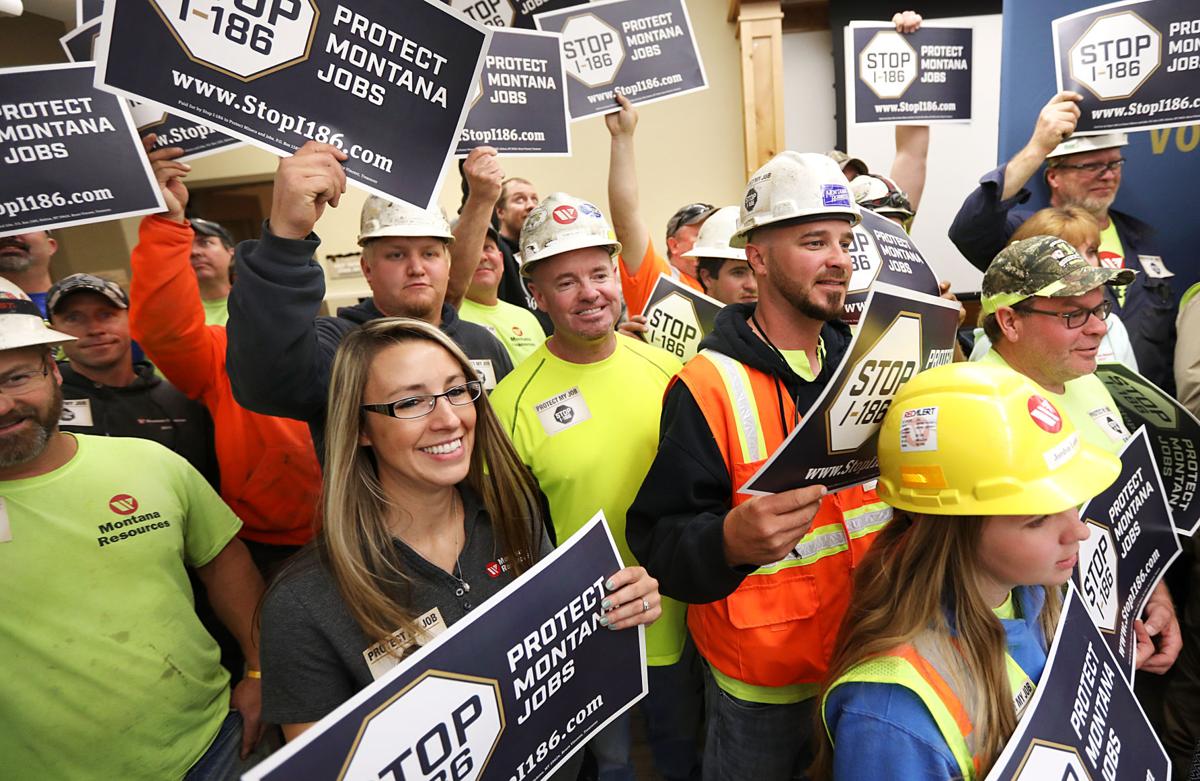 The fight over an environmental initiative that would affect how new mines are permitted is heating up.
The group Stop I-186 to Protect Miners and Jobs launched its statewide campaign Wednesday at Montana Tech, leading the mining industry's fight against the proposed initiative. A succession of speakers, including Butte's State Rep. Jim Keane and several from Lincoln County where two hard rock mines are trying to get permitted, spoke to a crowd of approximately 100 people. Many in the crowd were visibly from Montana Resources as they wore their mining protective gear and other clothing with MR's labeling.
Also present were miners from nearby Golden Sunlight, the Toronto, Canada-based Barrick Gold Corp. gold mine north of Whitehall. 
The new measure, if it passes, would mean that in order to be permitted, mines would have to provide "clear and convincing evidence" that they will not require perpetual water treatment.
The launch came the same week that the measure's proponent, a group called Yes for Responsible Mining, expects to turn in approximately 45,000 signatures to county clerks across the state for verification. The group needs around 25,000 valid signatures to place the measure on the ballot.
The Secretary of State will have to verify the signatures after the counties certify the signatures match voters' rolls. The state has until late August to validate the signatures. Yes for Responsible Mining has to get five percent of registered voters from every county in order to qualify.
Approximately 1,500 came from Butte-Silver Bow County, according to Tom Reed, Northern Rockies director of Trout Unlimited. Butte began as a mining camp close to 150 years ago. The Mining City has had perpetual mining since, with two short-lived exceptions.
Yes for Responsible Mining, a consortium of environmental groups including Trout Unlimited, has been working for months to get the measure on November's ballot. Although the members of the group argue that I-186 won't affect current hard rock mining operations such as MR and Golden Sunlight, those in the industry say they don't feel as certain.
Industry leaders have argued all along that the language in the initiative is ambiguous. Despite Yes for Responsible Mining's efforts to insulate MR and Golden Sunlight earlier this year, the mining experts say the measure could still impact current industry if it becomes law and the Department of Environmental Quality changes its permitting processes.
Tammy Johnson, Montana Mining Association executive director, told The Montana Standard after the launch that there hasn't been a new mine in Montana in 20 years because the process to get permitted can take decades.
Reed told The Standard that while he can't speak to the exact process of getting a new mine permitted, "there is plenty of evidence that modern mines can be a problem still."
Keane, a Democrat from Butte's House District 73, spoke Wednesday about the importance of mining and keeping jobs that pay a middle-class wage in Montana.
He also criticized the measure.
Keene said the state's bonding has changed since Pegasus Gold Corp. mines,  went belly up around 20 years ago and left behind problems at different sites around the state, including nearby Beal Mountain. He argued that legislators responded to that disaster by implementing new laws that now ensure mines in Montana can no longer pollute water.
DEQ confirmed a law does exist that dictates that DEQ can't approve a reclamation plan unless it provides sufficient measures to prevent water pollution. The law is applicable to mining operations and state bonds are now configured to include costs of that compliance.
Dave Galt, Stop I-186 executive director, called the measure "duplicative" and said Montana already "has some of the most stringent mining regulations in the world." 
Reed said his group believes the measure, if it becomes law, "would give DEQ some more tools."
"DEQ does not have the authority to stop a mine," he said. 
Be the first to know
Get local news delivered to your inbox!