ARLEE — Culture and color twisted together to the beat of drums and calls from members of the Salish and Pend d'Oreille tribes Thursday at the Arlee Powwow Grounds.
Dozens of dancers formed a long, twisting chain as part of the Snake Dance, and hundreds gathered to watch as part of the 121st annual Arlee Esyapqeyni, sponsored by the Confederated Salish and Kootenai Tribal Nation.
"It's certainly the biggest event for Arlee, and probably for the whole reservation," said David Durgeloh Jr., the chairman of the Arlee Celebration Committee.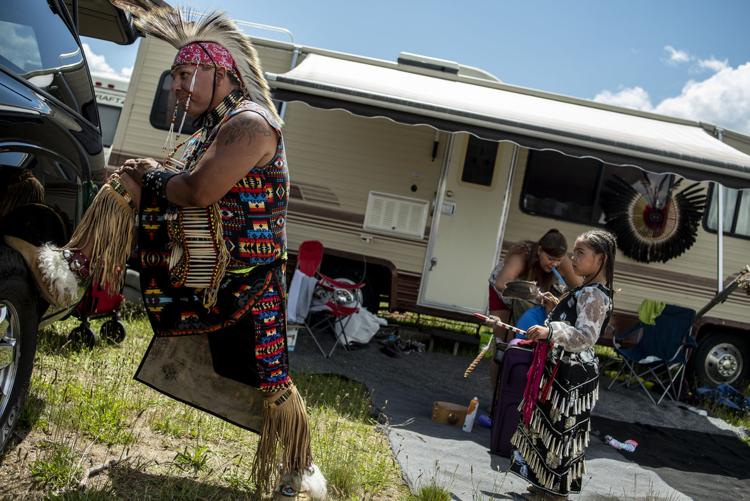 "This is a strengthening of our pride, especially with the push for bringing missing and murdered Native women to light lately. It's an incredibly positive environment for everyone. There's no drugs or alcohol allowed, and it's free to attend. Going back to welcoming Lewis and Clark, we've always been a hospitable tribe," he said.
The celebration brings together tribes of the Northwest. Last year drew over 700 dancers, a record for the ceremony. Durgeloh Jr. expects that record to be broken this year. The event also brought in over 40 vendors, nearly twice as many as last year.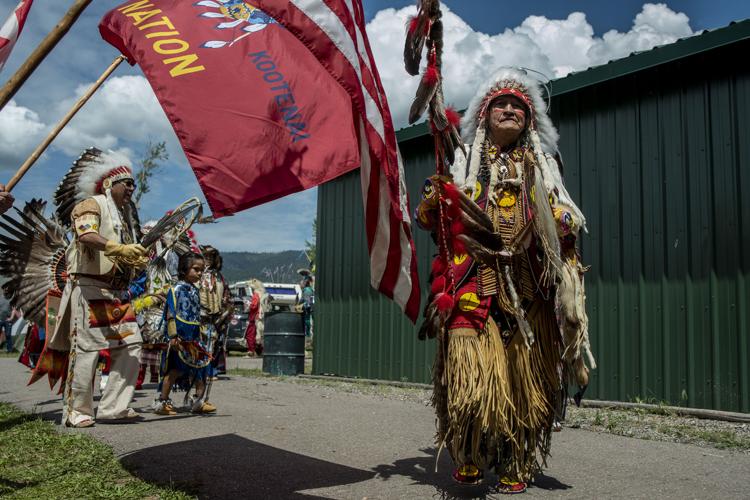 Festivities began Wednesday and will continue through the weekend. Other ceremonies include dancing and drumming contests and grand entries Friday, Saturday and Sunday. Following Thursday's Snake Dance, Pend d'Oreille tribal member Stephen Small Salmon gave an invocation that led to a tribute for CSKT veterans and their descendants.
Although the Snake Dance goes back thousands of years, the ceremony planners had to deal with 21st century problems. Issues with the power delayed the Snake Dance. It didn't delay the dance for long, and a little after 2 p.m., the sound of a drum began to thunder.
The dancers, ranging from children to elders, filed into the ceremony's center, some dressed in traditional regalia and others in denim.
"It's a traditional warrior's welcome," said Durgeloh Jr.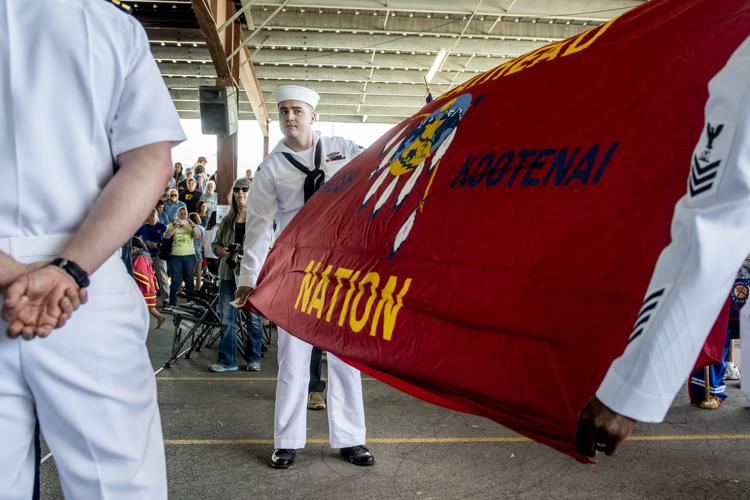 You have free articles remaining.
Register for more free articles
Stay logged in to skip the surveys
Durgeloh Jr. credited Dolly Linsenbigler, who he saw as his grandmother, and his uncle Johnny Arlee for instilling in him the pride of being chairman of the committee organizing the celebration and "how to do it right."
According to Johnny Arlee, who has been to every Esyapqeyni since his birth in 1940, the Snake Dance has its origins in a return from a raid on a fort.
"They were pretty wore out, and they returned staggering from side to side," he said.
Arlee can remember when, instead of an MC and sound system, a camp crier notified those in surrounding tepees that the ceremony was beginning. As one of the last fluent speakers of Salish on the reservation, he said he keeps the traditions of the tribe alive by passing them on to the next generation in the same way that his great-grandparents passed them on to him.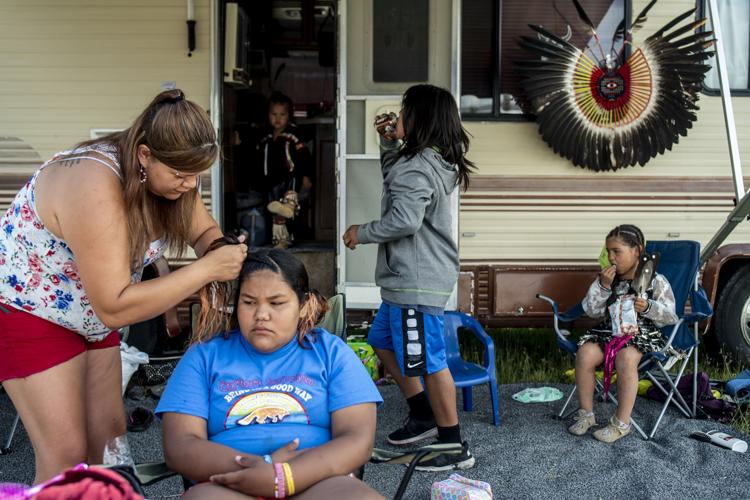 "When the old songs die out, their meaning dies with them. Culture has been my life, and there's meaning behind everything," he said.
For Marie Torosian, reuniting with family is the most valuable part of the Esyapqeyni. This year, she and her husband will be introducing aunts, uncles and cousins to her 21-month-old granddaughter.
"It's incorrect to call this a powwow. It's definitely a celebration, and it brings together families of the Salish, Blackfeet, Crow and Canadian tribes," she said.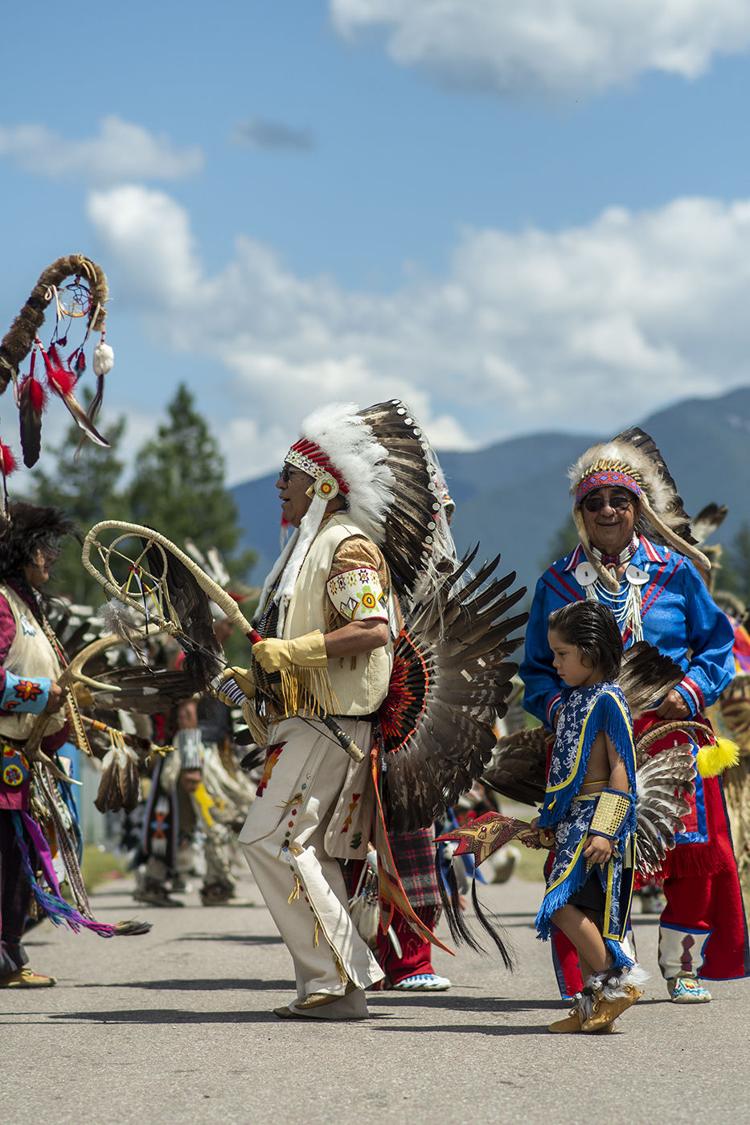 More than a century ago, the Salish people referred to their annual celebration of the end of winter as a Fourth of July event, allowing them to continue their traditions without the threat of persecution.
"The Jesuits outlawed dancing and celebrating for us. Now we can do it out in the open," said Torosian, who is Salish Pend d'Oreille.
"It's part of our life. Part of our spirit," she said.