CODY, Wyo. — Abercrombie & Fitch, Ford and the maker of the Louisville Slugger baseball bat all have something in common: ties to the gun industry.
Abercrombie & Fitch made high-end gun accessories like holsters. Ford's assembly line work was an adaptation of what he learned from the gun industry about interchangeable parts. And the maker of the Louisville Slugger crafted M1 carbine rifle stocks during World War II.
Those are some of the facts visitors to the newly remodeled Cody Firearms Museum will learn as they make their way through the 40,000-square-foot, $12 million renovation. The grand opening is set for July 6, with free admittance from 4 to 7 p.m.
Curated
Making the museum's vast collection of 10,000 artifacts accessible to a larger audience was the goal of curator Ashley Hlebinsky and assistant curator Danny Michael as they redesigned the exhibits with the help of about 100 other people.
Hlebinsky has been at the museum for eight years. After celebrating her 30th birthday a few weeks ago she joked that she gave her 20s to the museum. Judging by the displays, it's been a youth well spent.
Based on visitor surveys, the museum staff discovered it needed to focus more on educating the roughly half of visitors with little or no knowledge about firearms, including on something as basic as firearms safety.
"The (old) arcade shooting gallery drove me nuts for two reasons," she explained. "I never thought I would have to say the words: 'Sir, please don't point the rifle at your girlfriend's butt.' But I have. A lot of people didn't know about sighting and proper stance, which is frustrating. Safety is huge for us. For a lot of people this is their only encounter with that."
So the whole front of the new space is dedicated to education and safety. Visitors can practice on four simulators in the museum: one for the handgun, M2 machine gun, long-range rifle and shotgun.
"One thing we've noticed since we've opened these galleries is there are so many more families, couples and groups of people talking than we'd ever had before," Hlebinsky said. "It's really nice to see."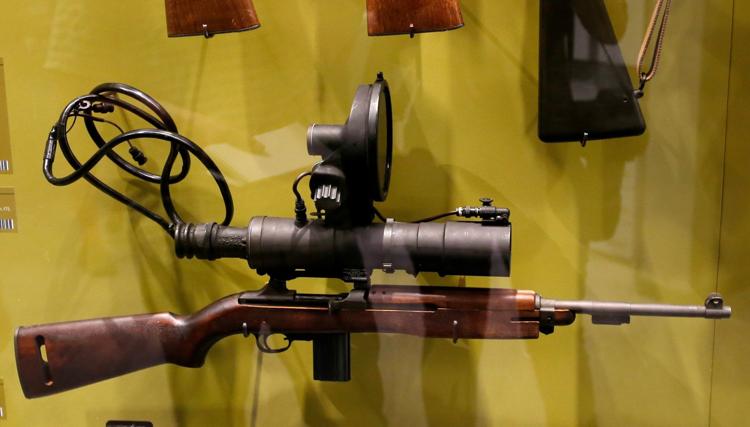 Audience
Hlebinsky sees the new displays — which include video, hands-on items and touch-screen interactive panels — as helping to bring a wider audience to the museum, one of five in the expansive Buffalo Bill Center of the West.
"We interpret the entirety of gun history and all of the ways guns have been used in human endeavor," she said. "That does include good and bad things.
"It's not comprehensive, but it is a foundation for research and to spark dialogue."
Construction work started in August, with the final touches still being applied at the end of June. Designs were finalized in 2015.
The gun fan near the entryway is an homage to the old museum. Each handgun-long gun pairing represents a different gallery in the new museum, which are: Firearms Basics and Orientation (aka the primer); Evolution of the Firearm, Modern Shooting Sports, Firearms of the West, Military History, Science of Firearms and Ammunition, Art of Firearms (aka Ashley's closet), and the Gun Library and Research Level in the basement.
Hands on
The new more interactive parts of the museum, where visitors can work a bolt action on a rifle or slide action on a handgun, are some of the ways Hlebinsky and her assistants have tried to provide a variety of entry points for those with little to no knowledge of firearms while still appealing to the gun geeks interested in firearms minutiae.
"We have strategically placed videos and interactives throughout the museum without sacrificing displaying the stuff," she said. "Because people come here to see our encyclopedic collection. And we are showing a lot more. For firearms, at least a thousand more guns."
The Science of Firearms and Ammunition gallery is 100 percent hands-on, Hlebinsky said, with displays on rifling, cross sections of barrels, different sights, and a ballistics section where visitors can try to line up the rifling marks on the images of fired bullets like a ballistics expert.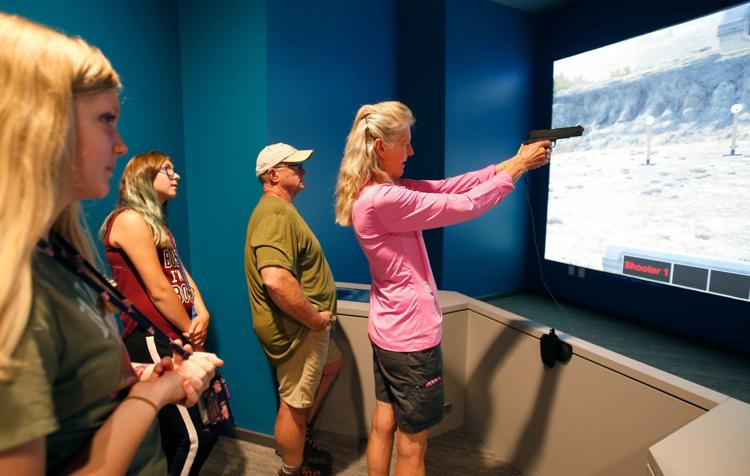 History
Hlebinsky said one of her favorite additions to the museum is the Military History gallery "because it balances traditional display, visible storage and kind of that social history."
You have free articles remaining.
Register for more free articles
Stay logged in to skip the surveys
The gallery features a video on the cost of war that examines the harm of armed conflicts — from amputations to post-traumatic distress order and financial and global impacts.
Also inside the gallery is a canvas tent with two touch-screen monitors. Viewers can read soldier's firsthand accounts from the battlefield while learning more about different wars.
"Some of them are pretty tough to read," Hlebinsky said.
From World War II and onward visitors can add their own military stories. On July 5, during a veteran VIP event, visitors will be able to write in their accounts that will be available to the public the following day for the grand opening.
"That gallery really showcases what we were trying to do here in the new museum," Hlebinsky said, "but I'm quite partial to a lot of the museum at this point."
Odd ends
The museum still has its fair share of unusual facts and items, as well. In the Military History gallery is a prototype of a Korean War-era night vision scope with a long, noodling cord to a scope that almost looks larger than the rifle.
In the Evolution of Firearms gallery visitors will learn that the earliest evidence of a crossbow dates back to 650 BC, that in 1498 barrel rifling was first invented, as early as 1625 flintlocks were invented to be magazine fed.
That feeds into Hlebinsky's rapid-fire spiel on the fact that so-called modern guns actually have inventions that date back to the 1880s, things like semi-automatic and automatic gun actions.
Initial review
Firearms Museum curator emeritus Herbert Houze heaped praise on the new museum and the work of Hlebinsky, who has had her detractors because of her youth and gender in a male-dominated profession.
"I think Ashley did a damn good job, and I'm amazed she's still standing up," he said.
"Certainly some collectors will positively hate it, others will positively love it," he added. "But the general public will probably like it because the presentation is neutral."
Houze became curator in 1991 and oversaw the first layout of the museum in its new wing. His role in the current process was being the "go-to guy for what is this," since sometimes the collection's records were incomplete.
"The old museum was good but it catered to the collector," he said.
Prior to the remodel, Houze said he would watch as a husband would wander into the wing while the wife and child would walk away. The new design will suck those previously uninterested visitors in, he predicted.
"It really is a 20th century institution now." 
All sides
The museum's "modern approach" covers the pros, cons and neutral sides of guns, Houze added.
For example, Hlebinsky pointed out a display on Iver Johnson revolvers. The affordable gun could be ordered from a catalog, was marketed to women and was used in the 1901 assassination of President William McKinley, as well as many other commissions of crime, she said.
In the United States today, discussion of gun crimes, school and mass shootings and gun rights can lead to heated debates. In part to address that topic the museum is displaying a mural with a link to Time magazine's November 2018 issue that contains the unedited accounts of 245 people on both sides of the gun debate.
"That's what we are about," Hlebinsky said. "We are a nonjudgmental institution. We are trying to help people make their own conclusions from an informed place."