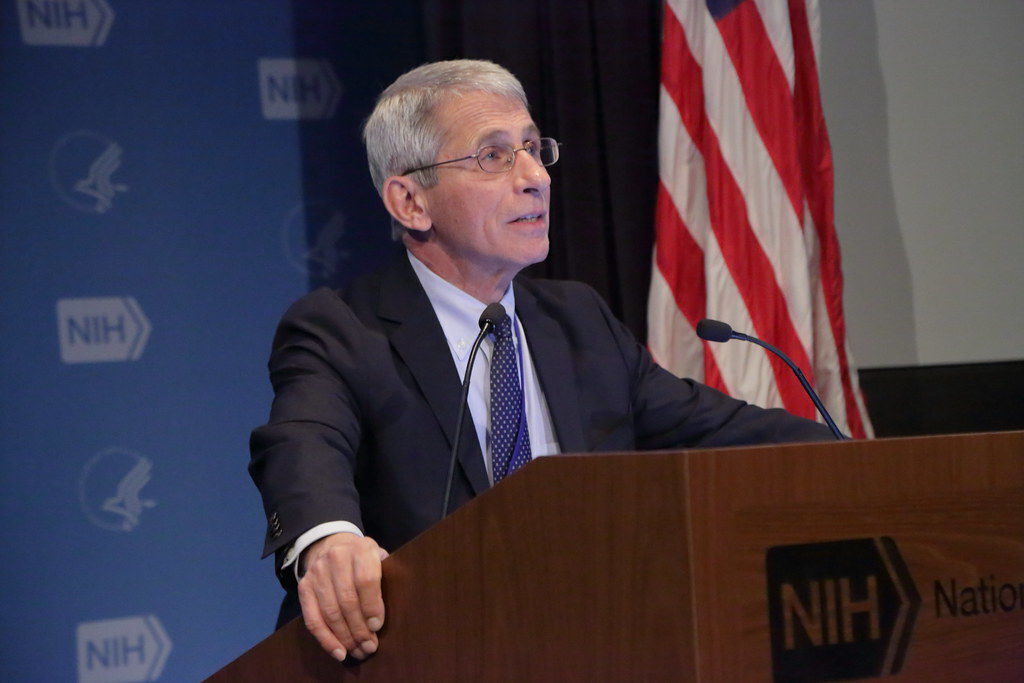 Although he won't be personally in Missoula for his lecture on Wednesday, Dr. Anthony Fauci's Montana ties run much thicker than a Zoom call.
The nation's top adviser on the COVID-19 pandemic response and director of the National Institute of Allergy and Infectious Diseases since 1984 was also close friends with one of the pioneers in vaccine research at Hamilton's Rocky Mountain Laboratory, Maurice Hilleman.
Fauci's wife, Dr. Chris Grady, had Hilleman for her thesis advisor, according to RML spokesman Ken Pekoc.
Hilleman helped develop about 40 vaccines from the 1940s until the early 2000s, and is credited with saving more lives than any other single person — an estimated 8 million a year through vaccination. Those include measles, mumps, hepatitis A and B, chickenpox and meningitis.
"He's one of the most underappreciated scientific assets this country ever had," Fauci said in a Tuesday interview with the Missoulian. "He's responsible for most of the vaccines we take in childhood. Of the 18 vaccines you give to kids, 12 or 13 of them were developed by Maurice."
That long track record of scientific investigation helps Fauci feel confident about the extraordinarily fast development of COVID-19 vaccines now reaching the public.
"The effort to get the right conformation of SARS coronavirus spike proteins, put it in the right form, and get the right mutations to keep it stabilized in the right form," Fauci said, "those are beautiful examples of how fundamental science ultimately leads to important interventions like a vaccine."
Unfortunately, scientific competence doesn't have the same social license as law enforcement. While American governments can pass laws requiring wearing of seat belts, for example, leaders have lacked the willingness to take such strong measures with public health.
Fauci called it "a constant battle of persuasion" to press the value of mask-wearing or vaccine participation on the general public. He noted that because he still sees patients himself, he has to keep his own flu vaccine status current or he's not allowed to enter some clinical settings.
"But when you have a degree of vaccine hesitancy in the general community — people who are vaccine denialists or skeptical or hesitant — we don't have any good mechanism to get the general public vaccinated," Fauci said. "You can do that in schools or hospitals. Elsewhere that's really a problem."
The argument he makes is that vaccination offers the fastest and most reliable path back toward something like normal life.
"The only way we're going to get our arms around this outbreak — the only way to get enough people vaccinated to establish herd immunity — is if 75 to 80 percent of the country gets vaccinated," he said. "If you have a degree of vaccine hesitancy, that's not going to happen."
While we regularly watch the charts of new infections and latest COVID deaths, Fauci said his attention every day first goes to how the vaccines are working and how fast the virus is mutating. New variants of the disease have greater ability to infect new victims, although so far they don't appear more damaging or resistant to vaccines. That could make the ability to control the worldwide pandemic that much harder.
"The number of cases is diminishing on a rather steep downward trajectory right now," Fauci said. "That can turn around and go the wrong direction if we have a predominance of a virus that has a better degree of transmissibility. This variant situation is dominating the picture a bit."
This past year has put the nation's health care system through a giant stress test. Fauci said the experience has revealed some important weaknesses that should be addressed.
"We have let our local public health capacity really deteriorate a bit because we've been a victim of our own success," Fauci said. "Decades and decades ago, when we didn't have so many vaccines and antibiotics, we needed a good public health system. We kept it up and vibrant.
"But we found out during the COVID outbreak, when we're trying to do identification and isolation and contact tracing, that we're not very good at it anymore. We found out our local health systems were very weak when we should have been supporting them vigorously."
The pandemic has also spotlighted the unequal access Americans have to their own health care resources. Fauci said the lack of health insurance has aggravated the problem for many people, especially compared with the performance of other nations with more robust public health coverage.
Fauci said health care experts understand the difficulty pandemic restrictions have put on people's lives in the effort to keep the outbreak from getting worse than it already is. He asked for continued diligence to basic measures like mask-wearing, avoiding close contact (especially indoors) and regular hand-washing.
"All those things need to be continued, but we're not going to have to do them forever," Fauci said. "We're fortunate from a scientific standpoint that we have very good vaccines. When they become available to people, people should absolutely take it. That's going to be the ultimate end-game of all this. When we get enough people vaccinated, we're going to get good control of this outbreak."