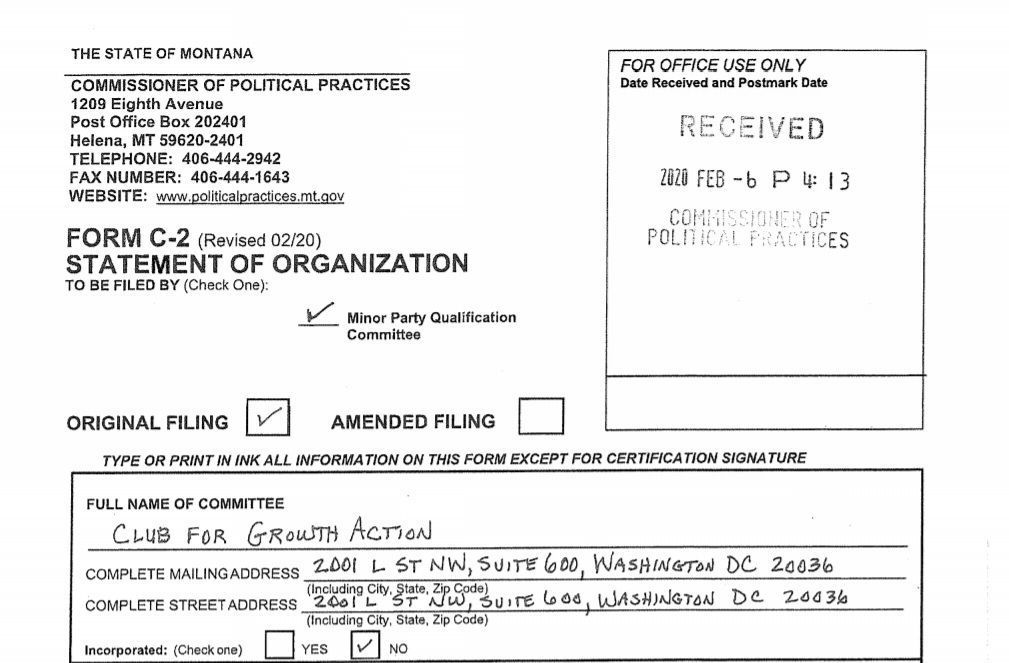 Green Party candidates are seen as a threat to Democrats running for office because of their ability to siphon off votes. Earlier this week people were gathering signatures in Helena to get that party on the ballot, though the Montana Green Party said in a Facebook post it is not affiliated with that effort.
The Montana Democratic Party on Thursday issued a statement critical of the efforts.
"It's outrageous and unacceptable that a D.C. dark money group that has endorsed and spent millions to elect Maryland Matt Rosendale is tampering with Montana elections like this," said executive director Sandi Luckey. "Montanans won't stand for this."
On Thursday, a Club for Growth spokesman said the PAC will not engage in any effort to qualify the Green Party in Montana. He said the generally conservative and Republican-supporting PAC was interested in opening more choice to the electorate here.
"We believe voters are better served when they have choices. For a period of time, Club for Growth Action explored working to put the Green Party on the Montana ballot, but it is not an active project anymore," said vice president of communications Joe Kildea.
The bill passed a year ago requires anyone who spends money to qualify a minor party for the ballot must report its spending. Club for Growth must report anything it may have spent to get a third party on the ballot in Montana in a report due April 15. So would anyone who was paying signature-gatherers seen in Helena this week.
You have free articles remaining.
In a Facebook post Wednesday, the Montana Green Party said it is not collecting signatures this year and has not hired or asked volunteers to try to qualify it for the ballot. The party wrote that any person gathering signatures is not affiliated with them.
"Keep in mind that for the last few years there are individuals who seek nothing more than to smear our name and mission by using very rude and impractical methods, in these cases impersonation to degrade our case," the post reads. "This is an ongoing effort led by plants from the mainstream parties who wish for nothing more than to end any resistance to the two-party corporate duopoly that dares toe the line."
The Green Party said it does not plan any signature-gathering efforts to get on the ballot until possibly 2022 and does not have any candidates this cycle.
The phone number for the spokeswoman for the Montana Green Party in 2018 was not functioning this week. Another contact reached via a phone number listed on the party's Facebook page said they would have comment after Wednesday evening and had not contacted Lee Newspapers by Thursday afternoon.
By law, Club for Growth cannot coordinate its spending with any candidates for office.
In Montana, minority parties must gather enough signatures from enough counties to have their candidates appear on the ballot.
Advanced Micro Targeting was hired to collect signatures in 2018, though it never had to disclose who paid it. The Montana Democratic Party filed a political practices complaint trying to discern that information, and though the state commissioner of political practices determined a "significant amount of money" was spent by Advanced Micro Targeting, the person or group who financed the effort remains a mystery due to loopholes in state law that were tightened in the 2019 Legislature.
Third-party candidates playing a role in Montana elections is not a new concept: In the 2012 Senate race featuring Tester and former U.S. Rep. Denny Rehberg, a Libertarian candidate benefited from $500,000 worth of advertising from a group that also supported Tester.