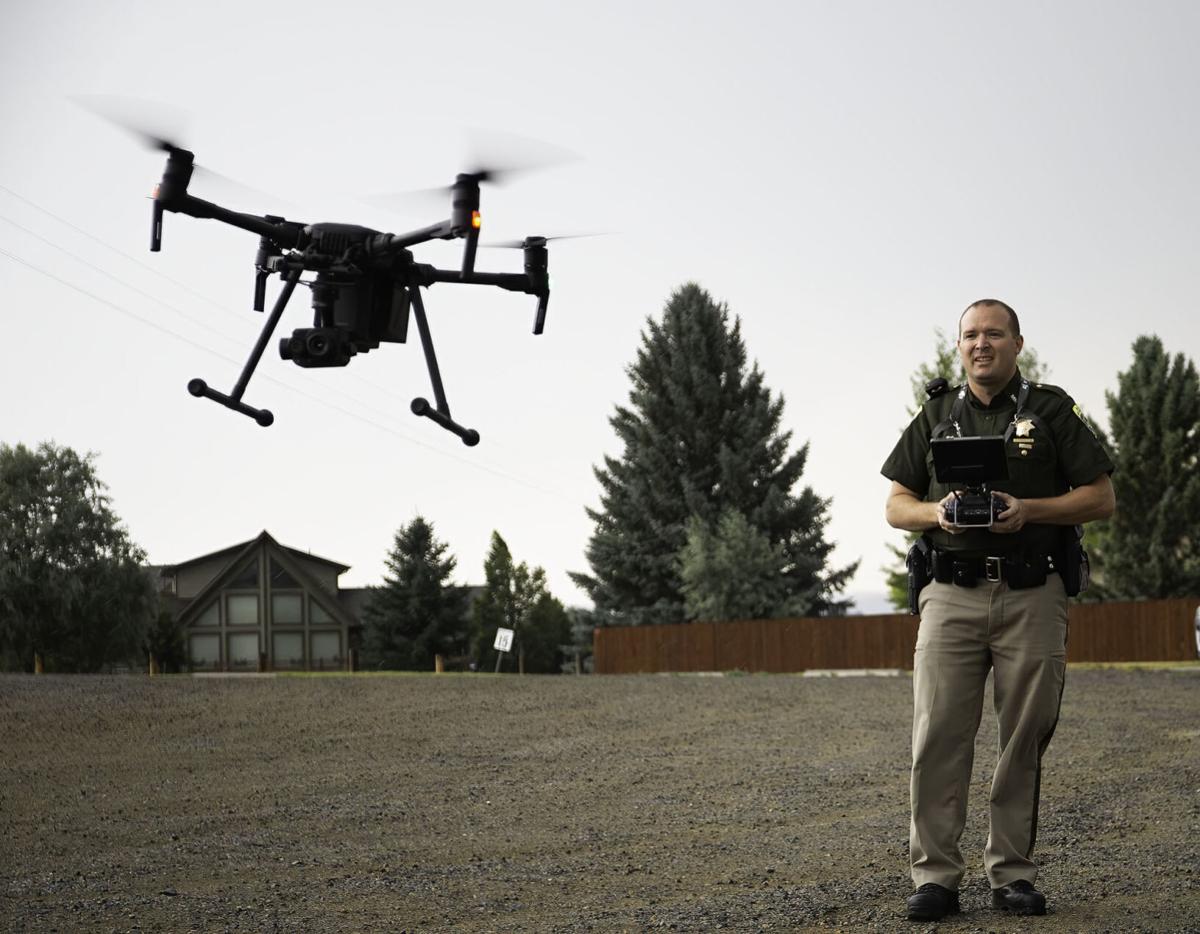 For the troopers of the Montana Highway Patrol, there is a single tool that is making their jobs easier, safer and more versatile than ever before.
Welcome to the world of drones.
According to MHP Sgt. Jay Nelson, MHP's first drone mission was flown in February 2018. Since that time, troopers have flown over 430 missions with 204 flight hours on record.
"We utilized our budget and looked at the technology that was out there," Nelson said, referring to the initial purchase of drones. Over the years that followed, MHP's drone fleet has grown and the model they use has been upgraded.
The unmanned aerial vehicles mounted with cameras are now helping troopers with everything from crash analysis to search and rescue and even manhunt situations.
"What we looked at was man hours and cost and how the drones could help us better serve the public," Nelson said. "What we found is that we are able to provide a better product (MHP services) at a better cost and produce better investigations as a result."
The MHP now has around 30 drone pilots and 15 drones. Nine drones are the DJI Phantom 4 model, which is the first model the MHP purchased. Six of the drones are an upgraded DJI Matrice 200, which provides troopers with thermal imaging, video and still images of any scene. All of the data collected by the drones are downloaded into a program that provide a scaled diagram of whatever the trooper is surveying.
This is a significant upgrade over the "Total Station" laser measuring system used previously for crash surveying. Nelson said that system often had to be shipped around the state to wherever it was needed at the time and was cumbersome to set up and survey. Trooper Amanda Villa, a drone pilot and patrol trooper for MHP, said that setup on the total station alone would take more than 30 minutes at times. It also required Villa to have a buddy with her for safety reasons as she tried to survey while traffic was being directed around an accident.
Villa said with the drone, a crash survey can be completed in as little as 10 minutes.
"It's safer for us and it's safer for traffic," Villa said. "I think the longest scene has been maybe a 20 minute survey."
According to Villa, the drone makes for a much quicker survey of a crash site and makes cleanup on the site go by much quicker. It also provides troopers with significantly more detail of what happened at a crash site, which can come in handy if that information is needed as courtroom evidence. Villa said it provides perfect measurements of everything on scene, even makes and models of vehicle. Additionally, the drone can pull information directly from airbag modules in newer vehicles to provide an exact recreation of how an accident happened.
However, making crash reporting easier is just one way drones have significantly impacted troopers' capabilities. On Feb. 10, a drone helped bring a manhunt in Clancy to a peaceful resolution.
Trooper Brandon Uhl is a member of the Capitol building security team and the drone pilot for MHP's special response team. It was the latter role which led to his participation in the manhunt of Steven Drury, who was wanted on a $50,000 warrant out of Idaho's Clark County for amphetamine trafficking.
"I knew they were getting a helicopter up and I knew that had some limitations," Uhl said. "Weather eventually made it unsafe to have a manned aircraft up so that justified the use of the drone."
Nelson said MHP knew the suspect was in the area with people nearby and they'd been told that he was armed and possibly had explosives. Suspecting a potential ambush, MHP used the drone's thermal camera to locate the suspect and his vehicle, which had become lodged in the snow. Uhl said he used the drone to gradually clear the area allowing MHP's response team to push up.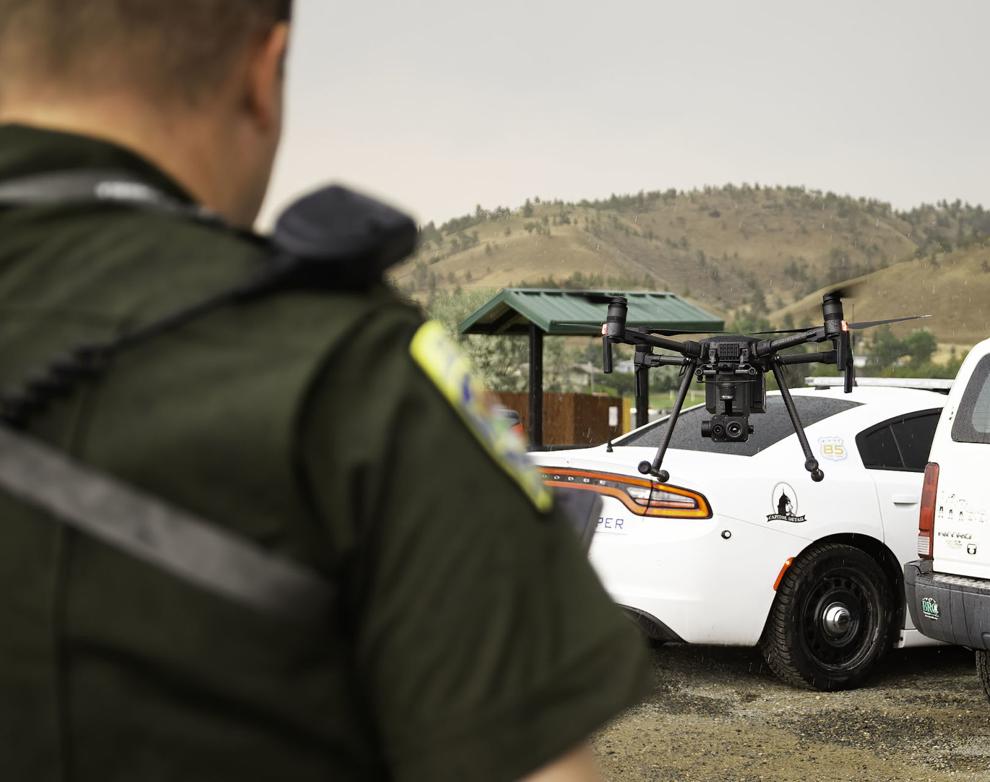 Eventually, they wanted the suspect to know they were coming and Uhl flew the drone to directly above his dashboard window and flashed a strobe light at the suspect. Drury was ultimately apprehended without incident.
"That real-time info gave our guys instant situational awareness," Uhl said. "I'd call that a major success."
Though the Clancy manhunt was by-and-large the most high-profile instance of drones being used to ensure the safety of troopers, the drones have been deployed in a number of other situations, displaying their versatility in the process. Nelson cited a search-and-rescue operation in Great Falls last year in which a drone's thermal optics were used to search an area to great effect. Additionally, Nelson cited a homicide in Fairfield where six hours of flight time were logged surveying the crime scene. According to Nelson, the drone allowed them to survey the entire scene with as few people as possible on site and minimized the potential for disturbing any evidence.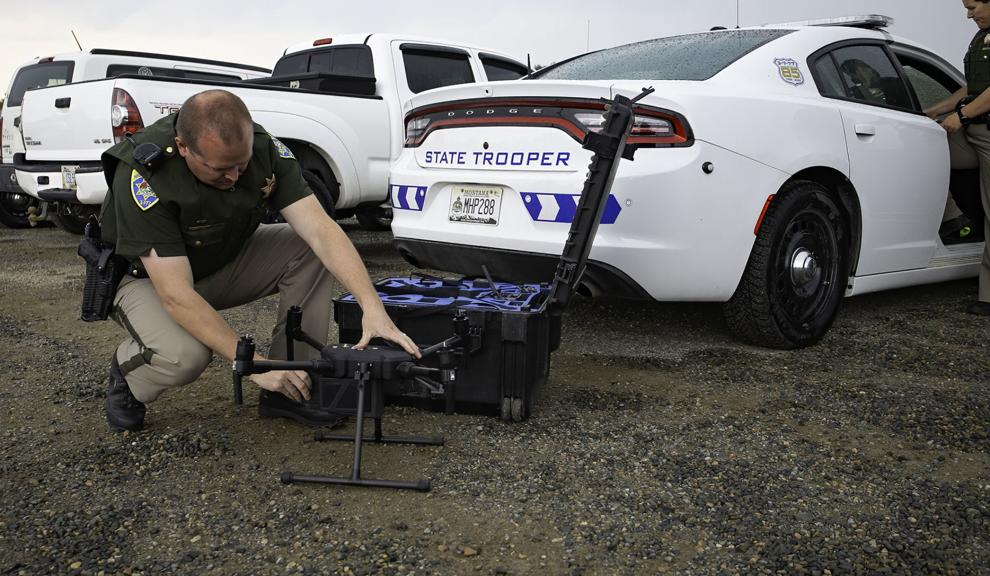 Uhl also cited a situation in which he was able to use the drone to quickly clear an area for safety reasons following a homicide in Choteau.
With 35 to 50 minutes of fight time, multiple batteries and a quick-charge kit, MHP is able to have eyes-in-the-sky at all times if needed. The drones are also able to operate flight and the camera independently of one another if need be. It's a feature MHP hasn't needed to use very often, but can allow a team of two to operate a single drone if the situation calls for it.
According to Nelson, the drones aren't deployed on a whim. They won't be deployed if weather is so bad that it could damage the equipment, but stated they could if it was an emergency situation.
"It has exponentially increased our versatility," Nelson said. "It has expanded our ability to assist other law enforcement agencies, it has expanded our safety in assessing situations and limiting the first factors to our troopers."
As time goes on, drones are likely to become more prevalent in the MHP roster. Nelson said he would like to get to a point where they have at least one person in each detachment across the state. However, increasing the drone fleet is costly. The Phantom costs approximately $2,500 and the Matrice around $25,000 due to the thermal optics on the drone, according to Nelson. Expansion of drones throughout the ranks of MHP is therefore tied heavily to the yearly budget of the statewide police force.