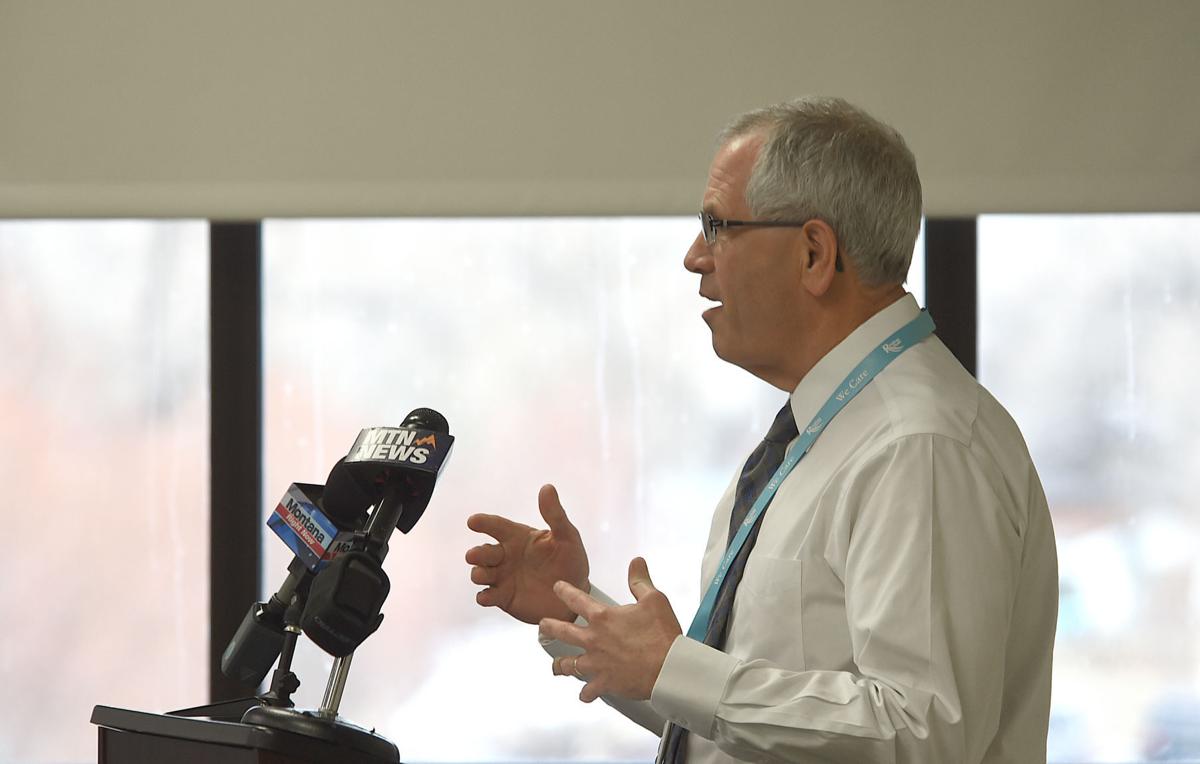 With COVID-19 cases steadily declining in Yellowstone County, Health Officer John Felton on Thursday rescinded all local public health orders, effective immediately. 
The county must still follow the existing governor's health order, enacted by former Gov. Steve Bullock in November, which currently limits restaurants, bars, breweries, distilleries and casinos to 50% capacity and require they close at 10 p.m., and applies a mask mandate to indoor public spaces and large outdoor gatherings to all of Montana's 56 counties.
"Some guidance and directives will be revised. Others will be removed entirely. Our goal is to make these new directives and guidance very clear," Gianforte said Tuesday.
Felton said he did not plan on implementing a local mask mandate, should the state mandate be lifted, and would follow Gianforte's policies for the time being "out of respect for Gov. Gianforte's authority to manage the pandemic according to his policies."
"This means the protocols in our county will depend on the changes made by Gov. Gianforte," said Felton, who is CEO of RiverStone Health, the county's public health agency.
Federal and state law grants county health officers the authority to issue health orders that are more restrictive than those given by the governor, but not less restrictive. 
Yellowstone County's local public health orders have largely followed what has been issued by the state and has rarely been stricter than state guidelines.
Businesses that fell under the county's order and were required to close at 10 p.m., but do not fall under the current statewide order, include: nail and hair salons, bowling alleys and similar businesses, gyms and fitness studios, places of worship and retail stores.
The current statewide order requires gatherings, indoor or outdoor, be limited to 25 people where social distancing is not possible.
The state directive does not apply to churches and places of worship, which had been restricted to 50% capacity under Felton's order.
Felton said Thursday's decision to follow Gianforte's policies did not mean he would permanently put a stay on enacting stricter local health orders.
"I certainly cannot say that there will never be local orders in Yellowstone County or elsewhere in the state. For now we will fully embrace and follow the governor's directives without local modifications to them," Felton said.
Local businesses and schools may choose to keep precautions that exceed the governor's directives, he said.
Cases
After a peak of COVID-19 cases in November, COVID-19 in the county began to decline in December and has continued to fall for the first of the month.
Health officials prepared for a post-Thanksgiving surge in cases, which has been seen in other parts of the country, but that didn't happen at a local level, Felton said.
The average daily number of new COVID-19 cases per 100,000 dropped to 32 cases for the week ending in Dec. 26 and 34 for the week ending in Jan. 2. 
That's compared to a peak of 106 cases per 100,000 in the week before Thanksgiving.
Yellowstone County added 120 new cases on Thursday and has 1,171 active cases. There are 64 people hospitalized for the disease. 
It's still too soon to know if there will be a surge in cases related  to Christmas and New Years.
"We'll start seeing a surge is in the next week or 10 days if it's going to happen," Felton said. 
The county has recorded 168 COVID-19 deaths since the beginning of the pandemic. Thirty of those deaths happened in December. January has already seen five deaths in just six days.
Vaccine
Yellowstone County has vaccinated about 5,500 health care workers and first responders under Phase 1A of the state's vaccine roll out plan. 
The county is still under Phase 1A, and will be for some time, even as Gianforte changed the next phase of the vaccine rollout, 1B, to focus on people ages 70 and older, as well as those ages 16-69 who have specific underlying health conditions, Felton said. 
"Unfortunately, COVID-19 vaccine supply has not caught up with demand," he said, adding that the supply from the state has been unpredictable making it difficult to know when the county will enter into Phase 1B.
Felton also provided an update on testing, contact tracing and the educational liaisons who help enforce health orders.
RiverStone is expanding free testing for people who are not close contacts and do not have symptoms, the site will test up to 210 people per day, and offers both rapid tests and lab tests, Felton said.
A computerized case investigation system, created by RiverStone Health staff, and fewer cases have made contact tracing more efficient after a backlog of several hundred cases developed during the fall peak. 
The four educational liaisons followed up on 22 complaints of noncompliance for the public health measures through the state and 199 complaints through RiverStone Health for the month of December.
The liaisons conducted 177 random spot checks to businesses, and 398 visits to businesses last month, and followed up on complaints for holiday parties and events.
All complaints are referred to the county attorney's office, who would pursue any further action, he said.