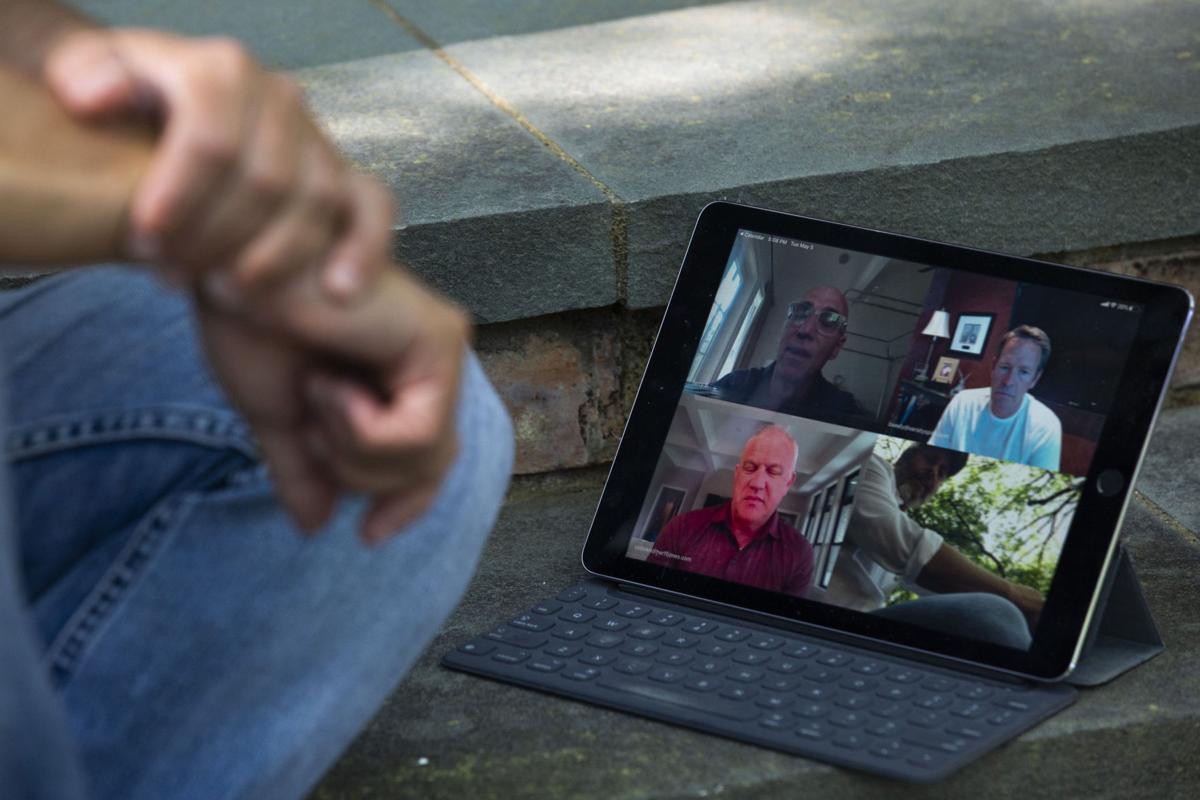 The pace of Montana's recovery from the COVID-19 recession slowed in October, according to the federal jobs figures released Friday.
Growth in non-farm payroll employment was 1,200 jobs, the lowest month of job recovery since May, according the U.S. Bureau of Labor and Statistics data on employment, hours and earnings, seasonally adjusted. There are 19,200 fewer payroll jobs in the Montana economy in October than there were in February, the last growth month before the start of the COVID-19 recession.
"If it wasn't for COVID and the election, this economic story would be the headline," said Paul Polzin, Bureau of Business and Economic Research director emeritus. "We had a good, strong recovery in May and June, but it has just faded since then."
The slow down in non-farm payroll job growth is significant because roughly 92% of Montana's jobs are non-farm payroll jobs, according to BLS data. There was better growth in the number of farm-related and self-employed workers, which increased by 2,500.
Roughly 64,300 non-farm payroll jobs were lost in Montana during the first two months of the recession, according to BLS. The state had 489,400 in February, but that number fell to 425,100 by April, primarily because the state shut down nonessential business for a month in an attempt to slow the pandemic.
Many of those jobs returned when businesses reopened with some restrictions in May. That month, 18,500 non-farm jobs returned. June experienced a similar recovery, with another 14,500 jobs added.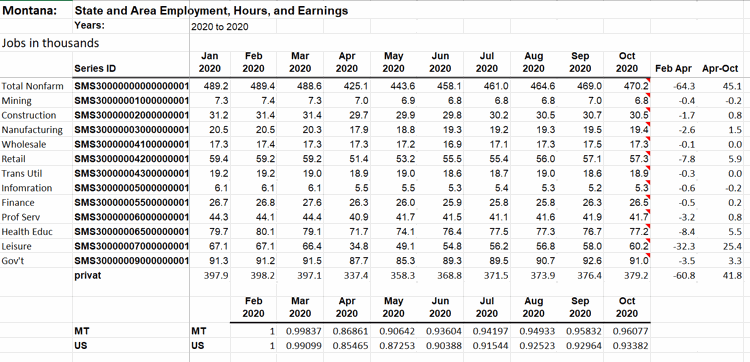 But gains in payroll jobs from June forward were more modest. From June to July, Montana added 2,900 payroll jobs, and another 3,600 from July to August. In September, the non-farm payroll employment gains numbered 4,400 jobs. October added 1,200 jobs.
In a press release, Gov. Steve Bullock recognized the state's unemployment rate had improved half a percent from September to October crediting the improvement to strong job growth.
"As Montana's economy continues to recover, the health of the economy depends on our ability to reduce the spread of the virus," said Bullock. "Montanans must take seriously public health measures in order to curb the spread of the virus, and to keep our businesses and schools open and workforce on the job."
The biggest gains in jobs continue to be in sectors that lost the most jobs at the start of the recession. The leisure and hospitality industry, which lost 32,300 jobs from February through April, has recovered all but 6,900.
Business sectors that remain in the negative include mining, down 200 jobs since April and information, which includes print and broadcast media, also down about 200 jobs.
Industries that often lead in recession job losses, like construction and manufacturing have done better than most. Polzin said the recovery could become more difficult if those industries begin to be more affected by the recession.
"This is certainly a nontraditional recession in that the big declines did not occur in our cyclic industries like construction, like manufacturing," Polzin said. "But if this recession continues and the hurt and the malaise transfers to some of our cyclic industries like construction, this recession might go on for a while."
The recovery will be more difficult if Congress doesn't pass another pandemic economic relief bill, he said.
Be the first to know
Get local news delivered to your inbox!