Twenty-four hours of flying to Delhi. A few more hours on a plain to Leh. Two days acclimating at 11,483 feet. And finally, a two-day Jeep ride over a road that is impassable seven to eight months out of the year to a little town called Zanskar, where a new hospital stands, unheated, without an X-ray machine or an operating room. 
This is where a few Helenans went to provide medical help to thousands of people in the last two years and even met the Dalai Lama.
Valerie Hellermann is the executive director for Hands On Global Inc., a nonprofit organization based in Montana. She helped plan the trips to Zanskar and worked with the Dalai Lama Fund to help construct a hospital to provide for the needs of the remote village.
Hellermann knew about Zanksar only because in one of her previous service trips to India, a Buddhist monk asked her to go to Zanksar and look at "their health delivery service," Hellermann remembered.
"We began discussions to bring medical camps and build a small hospital in 2014," she said. There are plans to transform the small hospital into a telemedical center, as transporting people is a difficult task in such a remote place. Hellermann said proving someone needs to be evacuated is extremely important, which means that video proof can literally save a life.
That hospital is where 14 Americans, 11 Brazilians and two Swiss came for a month, tending to the injured and sick and meeting the Dalai Lama.
But it's more of a "potential hospital than a functional one," Helena doctor Mark Ibsen said. Ibsen was one of eight Montanans to travel all the way to Zanskar this past year, and spent five weeks there in 2016.
When Ibsen first got to Zanskar in 2016, he said 50 people showed up at the hospital while they were unloading the half-ton of medical supplies they had hauled over the long mountain road.
"We provided primary care to locals," Ibsen said. "It's a poor agrarian society, so we treated sore muscles, backs, arthritis, respiratory complaints, cataracts from snowblindness, shortness of breath and burnt out tuberculosis."
Along with taking care of more minor injuries, Ibsen said that they also screened some 300 women each year for cervical cancer. "We found five we were glad we screened," Ibsen said.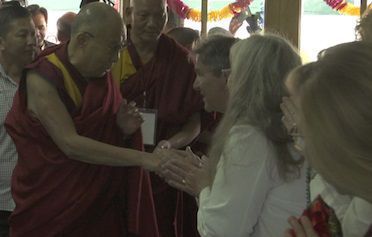 "It was a transformational for me," he said. Ibsen said that when the Dalai Lama toured the hospital, he stopped in his examination room which had a hopeful sign that said "X-ray" outside of it.
"The Dalai Lama pointed at it and said, 'oh, X-ray'" Ibsen remembers. "I said, no, there's no X-ray but there is a cat scan, and I pointed at a cat pillow that was on the wall."
"The Dalai Lama let out one of those big 'ho ho ho' laughs, and it was amazing."
When Ibsen was asked if he was planning to go again, he responded with an instant "Yes."
"It's some of the most rewarding stuff I've ever done."
Hellermann, Paula Thiede, Jeff VanTine, Charlie Atkins, Tara Atkins, Karen Cooper, Rosa Lincoln and Grace Ibsen are among the other Helena-area residents who have participated in Zanskar medical service trips, Hellermann said. 
Hands on Global will host a curry dinner fundraiser at 6:30 p.m. Saturday, Nov. 25, at Plymouth Congregational Church, 400 S. Oakes St. The event will include a presentation and film on the 2017 Zanskar medical trip, music by Judy Fjell, a holiday bazaar and a silent auction, all to benefit the 2018 Zanskar trip. The dinner will be free for children, and adults will be encouraged to donate $25 apiece.