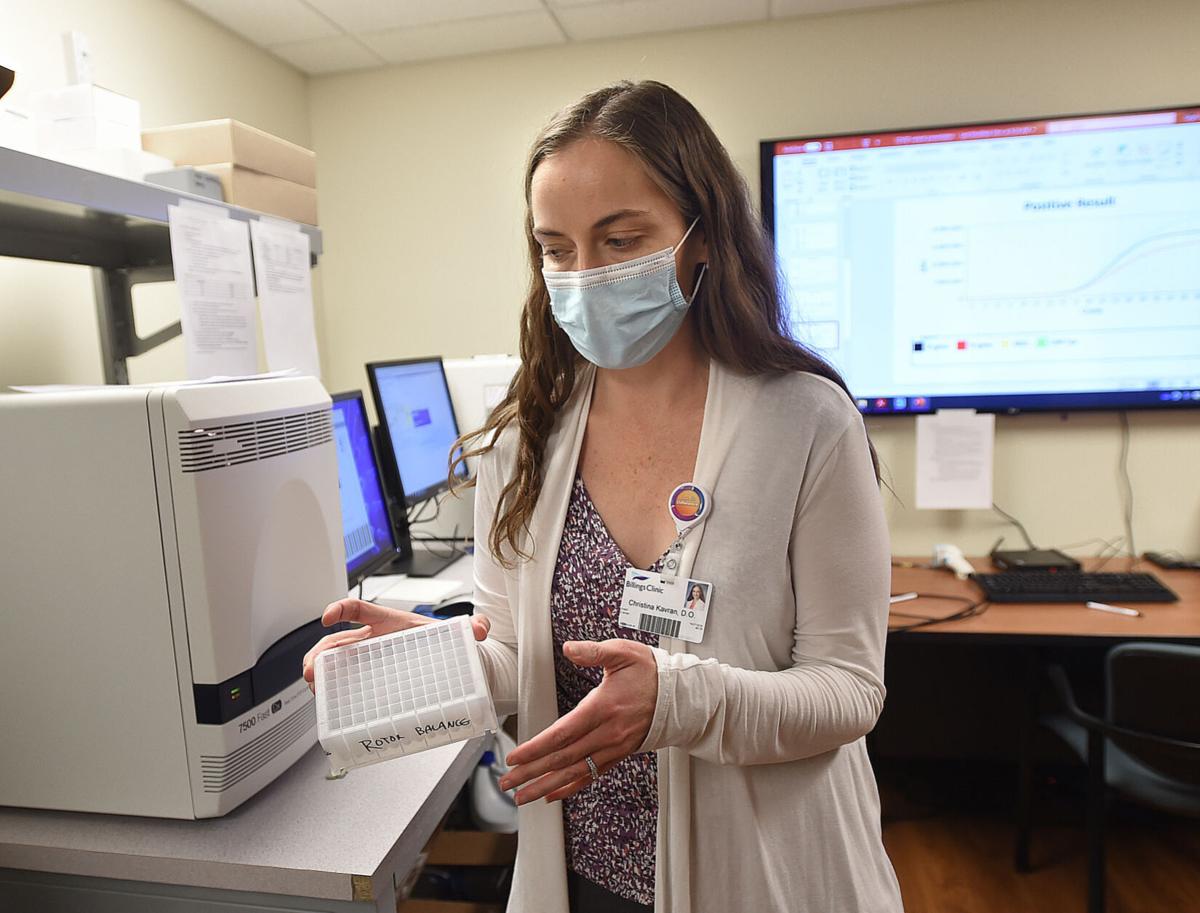 Some COVID-19 tests in Yellowstone County are being checked for signs of a variant strain of COVID-19 first identified in the United Kingdom that may be more transmissible than other more widely circulating strains.
The strain remained undetected in Montana as of Friday. It will probably reach Yellowstone County at some point, said Dr. Neil Ku, Billings Clinic infectious disease specialist.
"There's likely a very good chance that's going to happen, unfortunately," Ku said, pointing to early efforts to isolate COVID-19 only to later discover the virus had been circulating more widely than was initially known.
While it's completely normal for viruses to mutate, a more infectious variant of COVID-19 in Yellowstone County could have implications for how the virus is dealt with at the local level, although existing public health guidelines at this point remain the recommended means of reducing the risk of contracting and spreading COVID-19 even in the case of this new variant.
As of last Friday 63 confirmed cases of the variant had been detected in the United States with 32 in California, 22 in Florida, three in Colorado, one in Georgia, one in Pennsylvania, one in Texas and one in New York, according to the Centers for Disease Control and Prevention, which is tracking cases of the UK variant, which is also referred to as the B.1.1.7 lineage of the virus. 
The virus was first detected in the United States in December. 
The 63 cases the CDC reports only represent those that have been identified. In some cases people reported no travel history that could explain their infection, suggesting the strain could be circulating in some communities. Not all testing platforms can flag COVID-19 tests for the possibility of the UK variant, and when a test is flagged, further work has to be done to confirm if it is the UK variant.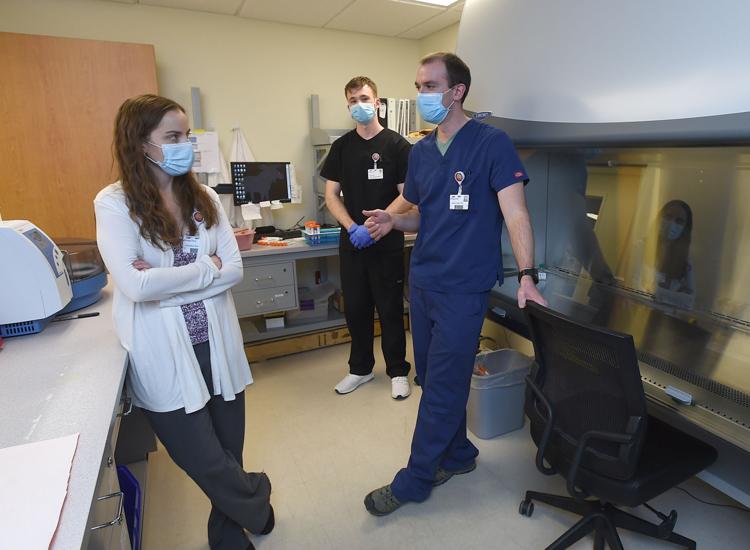 The work to help detect whether or not the strain is circulating in the county is ongoing at the Billings Clinic, where PCR tests are being processed through a testing system known as TaqPath that allows for test results to be reviewed for genetic flags that could indicate different COVID-19 strains.
The Billings Clinic announced by press release last week that it was now using TaqPath, which is a molecular testing system that has FDA emergency use authorization.  
Billings Clinic pathologist Dr. Christina Kavran explained that TaqPath has three targets — or genetic markers — that it identifies in COVID-19 tests. If two targets are detected but one particular spike protein target is missing, the lab can flag those samples as possible instances of the UK variant or other variants. Previous testing systems in use by the Billings Clinic indicated a positive or negative test, but did not provide genetic information.  
The testing, which involves manual processes including the use of pipettes, takes place in batches of 96 and can take close to four hours in total to complete, according to Kavran. The result is a plot displayed on a computer screen which can be reviewed for signs of a variant strain. The Clinic has the ability to analyze more than 400 tests using TaqPath every 24 to 48 hours.
Kavran works with medical technicians and a molecular biologist in the lab.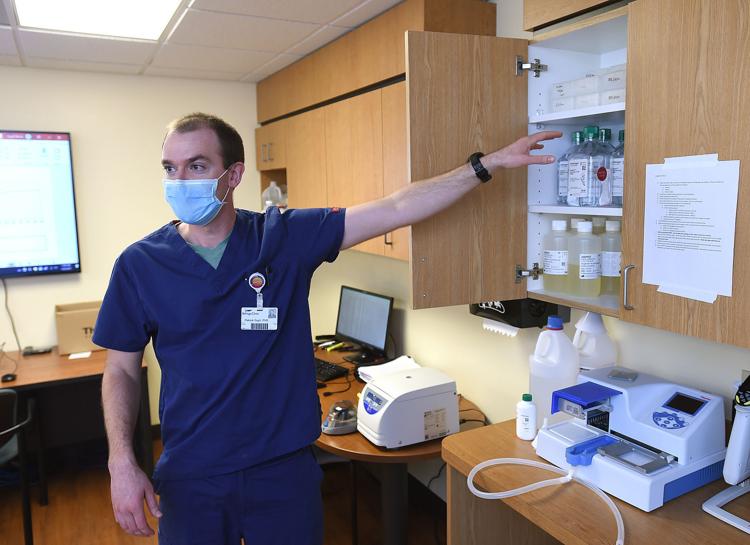 A flagged test would then be physically sent to the Montana Department of Public Health and Human Services, which is working with the CDC as part of the National SARS-CoV-2 Strain Surveillance Program. As of last Tuesday DPHHS had not sent any suspected UK variant test samples to the CDC, but the public health agency has been sending other samples as part of the ongoing effort to sequence and characterize COVID-19 samples.
Data from genomic sequencing of SARS-CoV-2 strains is being uploaded to public databases for use by researchers, public health agencies and others. The CDC program allows for each state to send at least 10 samples every two weeks for sequencing.   
The existence of a mutation to the virus isn't news. "Viruses, they mutate constantly. The genetic mutations, most of them, they don't do anything," Ku said. "Little changes over time likely could result in development of some structural changes, like in this case the actual spike protein."
SARS-CoV-2 relies on spike proteins to attach to host cells, which it then can enter and begin making copies of itself. The UK variant has a mutation which appears to allow for those spike proteins to more easily enter host cells. In layman's terms, Ku said the virus appears to be "stickier" than more widely circulating strains.
Effect on vaccines? 
There's the possibility that monoclonal antibody treatments being used for some patients could be less effective against the mutated strain, according to Ku. 
A more infectious strain of the virus also means more cases that could lead to more hospitalizations and deaths.  
One of the important questions is whether the variant causes more severe illness, according to Yellowstone County Health Officer John Felton. "The early indications are that it is not," he said.
That assessment is backed up by the CDC's current assessment.
Another major question is whether or not vaccines will lose some of their efficacy in dealing with this variant. That's a possibility, according to Ku. 
The vaccines in distribution are designed to invoke an immune response based on the SARS-COV-2 spike protein, according to Ku. SARS-COV-2 is the virus which causes the illness known as COVID-19.
"If there's a significant amount of change in the spike protein of the variant there is a theoretical possibility that the vaccine may not be as effective to the strain," Ku said.
Some encouraging news arrived late last week when the Associated Press reported that a study of the Pfizer vaccine found it was capable of protecting against both the UK variant and a variant that has emerged in South Africa. The study is preliminary and still needs to be reviewed by outside experts, according to the AP.   
Even if vaccines in distribution end up less effective against the UK variant, they will still be effective for the versions of the virus they were designed to protect against.
The CDC's position is that an effect on vaccines is unlikely "because of the nature of the immune response to the virus," and according to a Jan. 3 update on variants the CDC reported that currently "there is no evidence to suggest that the variant has any impact on the severity of disease or vaccine efficacy."
Ku emphasized that things are still early when it comes to understanding this particular strain and its greater implications. "We don't know much about this. This is just starting to pop up," he said.
In the view of Felton, the same fundamental measures that have been recommended for months now will remain the most effective means of reducing the spread of this particular variant. Wearing a mask, social distancing, washing one's hands, limiting large gatherings and avoiding close spaces with poor circulation will all remain recommended measures to avoid the virus. The UK variant aside, the county still remains at risk of cases peaking again like in the second half of November.
"There's absolutely nothing that stops that from going up again and peaking again, except the actions that we individually, collectively, take to slow the spread of the virus," Felton said.
As of Thursday, 5,500 health care workers and first-responders had received the first dose of a vaccine. The county would need to reach somewhere between 100,000 and 110,000 vaccinations to get widespread population immunity, according to Felton. In a typical year RiverStone Health, the Billings Clinic and St. Vincent Healthcare don't cumulatively administer the influenza vaccine to half that many people, and RiverStone is still encouraging people to get their flu vaccine for this season.
"The science is clear that until we get a broadly vaccinated population the best way to slow the spread of COVID, the novel coronavirus, is through the masking, the distancing, sanitation, hygiene, limiting your contact outside your household, limiting group size, all those kinds of things. That is the best thing, " Felton said.
"With a more easily transmissible virus that becomes even more important. Again, until we have a broadly vaccinated population people really do need to revisit those measures and be more vigilant with them because we have a virus now that more easily goes from person to person so we need to be more careful."