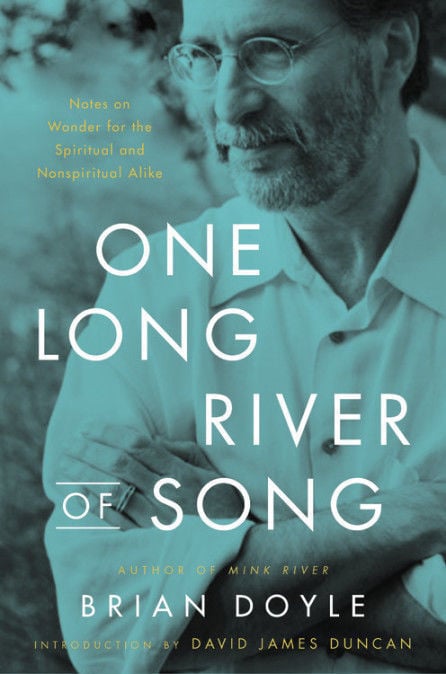 When brain cancer took Oregon writer Brian Doyle's life in 2017, he left behind an impressive body of work that is a testament to not only his passion for words, but to a relentless, joyful work ethic.
But there was also a vast collection of previously published essays — hilarious, gut-wrenching, gorgeous essays — that had never been collected before in a single volume. Until now, via the new book, "One Long River of Song."
The book is all Doyle's work, but its organization and subsequent path to publication was a project undertaken primarily by three people: Chip Blake (editor-in-chief of Orion Magazine), Montana writer Katie Yale, and writer David James Duncan ("The River Why"), who wrote the introduction to the book. Duncan, a close friend of Doyle's, recently discussed Doyle; their friendship, the beloved nature of Doyle's writing, and how "One Long River of Song" came to be born.
Q: How did you come to be acquainted with Brian Doyle?
A: Brian was the editor of the University of Portland's alumni magazine, also titled Portland. He ran a lecture series at the U and liked my writings and my company enough, as I did his, that he cheated many more worthy speakers over the 15 years he ran the series by inviting me to the U to speak three different times. It's safe to say the reason for this was that I didn't lecture at all. I did what Brian did: told stories I truly love, trusting that other people were likely to love them, too.
Q: When it comes to Doyle, it seems to me there are two camps: people who have never encountered his work, and people who absolutely adore his work. What is it about his writing that creates such adulation in his readers?
A: Allow me to quote a Goodreads reviewer who says it very well: "Doyle was not the least interested in avoiding words like humility and kindness and love, not at all afraid of eye-rolling and accusations of sentiment and sap; you will not get off the hook so easily. The moments preserved in Doyle's essays, like dragonflies in amber, give those words back their viscera, their solidity, and you will be made to look at them straight on. We all churn inside, Doyle writes. He will never allow you to forget it."
Q: How does a project like "One Long River of Song" come to fruition? What were the biggest challenges? Greatest joys?
A: Brian and I read together at his very last performance, on Bainbridge Island near Seattle, three days after the 2016 election. He was on fire that night, strolling the aisles of a packed Eagle Harbor Bookstore in the manner of a televangelist but spontaneously speaking like the Irish American bard that he was. An unforgettable riff was about our nation's need for an Imagination Corps. Three days after that great night and a wonderful long conversation with him on the way to my ferry the next morning — the last time I ever saw him — he received a fatal diagnosis for a brain tumor.
We were very close. I had no idea he was ailing. The diagnosis was so unacceptable that I enlisted in Brian's Imagination Corps and asked his permission, as he was dying, to undertake this book to share his incomparable short nonfiction and benefit his family with it.
His response: "Sweet Jesus, yes!"
The challenges were small. My writer friend Katie Yale of Columbia Falls, Montana, knew his work inside-out. We narrowed down the best of it. I then gave it themes I identified by stealing Brian's own wonderful phrases, such as, "I Walked Out So Full of Hope I'm Sure I Spilled Some By The Door."
Katie and I agree that creating this book might be the most healing, often joyful, literary work we've ever done.
Q: What do you miss the most about Brian?
A: The sound of his voice. Brian had a low warm voice that was exciting to listen to because he might say absolutely anything. You just never knew. He also had a nickname for me that I grew to love: "The Scottish." I'd pick up the phone in my Montana study and there would be that voice in Portland, saying, "Scottish!" followed by something totally moving, or hilariously off the wall.
I have vividly dreamed his voice twice since he flew, and have come to suspect that losing a body in one world doesn't mean we lose it in all worlds. Judging by the happiness of his posthumous voice, I suspect we all have a backup self that never dies. My feeling is that the backup Brian, after 60 years spent warming the bench, is elated to have finally gotten into the game.
Come listen to his voice in the voices of we who loved it on Wednesday at 7. You'll like it.
A celebration of Brian Doyle and "One Long River of Song" will be held at Fact and Fiction Books on Wednesday, Jan. 15, at 7 p.m. It will feature a selection of Doyle's essays read by David James Duncan, Katie Yale, Chris Dombrowski, Melissa Stephenson, Ana Maria Spagna and Chris La Tray.
Be the first to know
Get local news delivered to your inbox!