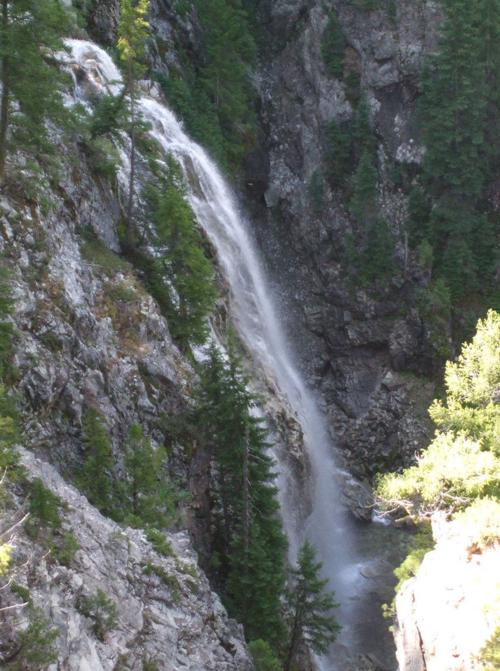 MISSOULA — Back in the days when trout were carried in milk cans to stock high mountain lakes, no one considered there might be a difference between the cutthroats that lived on either side of the Continental Divide.
Turns out they were wrong.
Since 1990, fisheries biologists in Montana and Wyoming have tried to turn back the clock 103 times by removing non-native trout from lakes and streams where they don't really belong.
Up until this summer, none of those projects has taken place on the Bitterroot National Forest.
Over the last decade or so, local fisheries biologists have discovered nearly 200 miles of streams filled with genetically pure westslope cutthroat in the Westfork Bitterroot drainage above Painted Rocks Dam.
"It's not that often you find large intact populations of pure westslope cutthroat trout that have a good chance of staying that way, with little threat from non-natives," said Montana Fish, Wildlife and Parks fisheries biologist Chris Clancy.
The main threat to that purebred population lives in a 15-mile stretch of creek just above a remote 100-foot-tall waterfall in southwest Bitterroot Valley.
The 15-mile stretch of Overwhich Creek above the falls has a population of Yellowstone cutthroat that are not native to this part of the world.
Some of those Yellowstone cutthroat trout have apparently washed over the falls in the last few years, and the resulting hybridization is a cause of concern.
"Right now, we have a real gold mine of native westslope cutthroat trout above Painted Rocks," Clancy said. "It amounts to very significant population of westslope trout that we would love to maintain for the long term if we can."
FWP proposes to remove all the fish above the falls this summer with the use of the fish toxin rotenone.
"Our goal is eliminate that source of hybridization," Clancy said.
No one is really sure how the Yellowstone cutthroat got there in the first place. With the falls as a barrier, Clancy guesses that upper reach of Overwhich was probably fishless before the cutthroat arrived.
"There are no real records of them being stocked up there," he said. "There are Yellowstone cutthroats in Capri Lake in the upper Warm Springs drainage. It's logical that whoever put those fish in that lake could have used the Overwhich trail."
Capri Lake was probably stocked in 1950s or '60s.
"There's a good chance that someone just threw some fish in the creek after they saw that it had none," he said. "In those days, no was thinking much about hybridization. They may not have even known there was a different species of cutthroat on the east and west side of the Divide. It was a different era."
If the proposal is approved, Clancy said the department will bring in experts to both apply the poison and the compound that neutralizes it.
The action would take place in August and last a day. It would probably be repeated the following year to ensure that all the fish are killed.
There are no plans to replant the stream with native cutthroat.
"We'll let it go back to its native state," Clancy said. "It will be a refuge for amphibians and invertebrates."
One of the challenges the biologists face is that there is a population of endangered bull trout just below the falls.
Clancy said the proposal calls for applying the neutralizing agent upstream of the falls in hopes that it won't affect bull trout living immediately downstream.
In addition to that precaution, biologists will use electro-fishing to capture bull trout and move them downstream. There will also be people on hand to net whatever fish that might pop to the surface and put them in a bucket of fresh water.
"They can be revived if they're netted early enough," he said. "Even with all that, there will probably be some loss of bull trout as part of this operation."
The trail will be closed on the day of the fish removal operation.
A draft Environmental Assessment (EA) has been prepared for this proposal. Find the EA online at fwp.mt.gov, under "News," and "Recent Public Notices;" by mail from Region 2 FWP, 3201 Spurgin Rd., Missoula 59804; phone 406-542-5540; or email shrose@mt.gov.
FWP will hold a public hearing in Hamilton on Tuesday, May 23, at 7 p.m. at the Bitterroot National Forest Headquarters, 1801 North First St., to discuss the proposal, answer questions, and take public comment.
Comments may also be submitted online or directed to Sharon Rose by mail to the address above, phone to 406-542-5540, or email to shrose@mt.gov by 5 p.m. on June 9.
Be the first to know
Get local news delivered to your inbox!