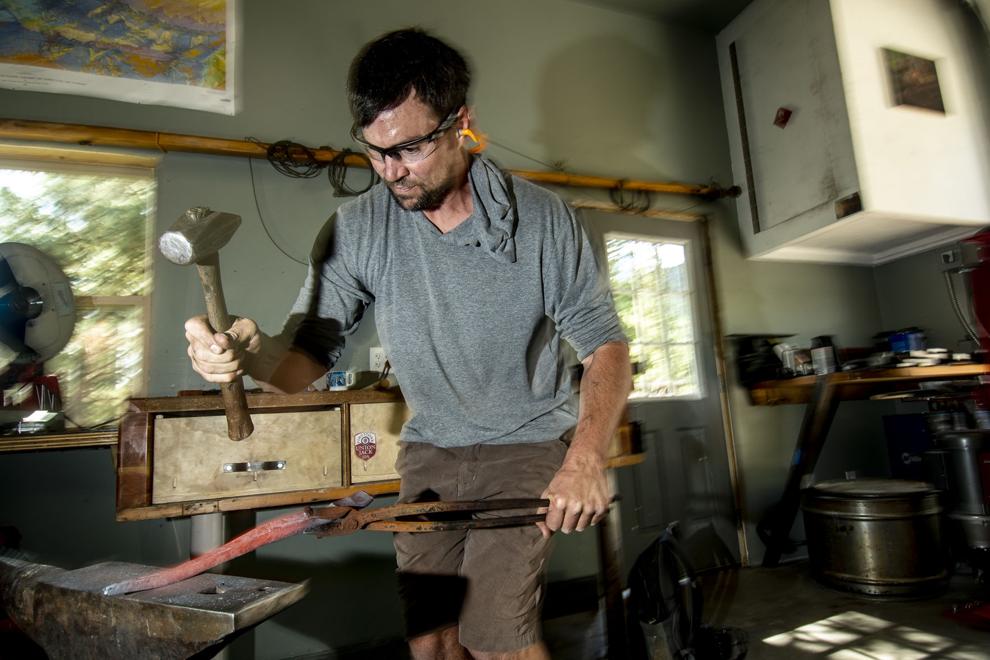 Mike Golins studied classical music composition at the University of Montana, and now he uses many of the concepts he learned there for his work as a metal artist.
"All the arts kind of parallel each other," he explained. "You could be into an art piece and think about it musically. So you have form, you have variation, you have improvisation. You have all these terms that you would talk about when you're talking about music."
At Golins Forge on the Blackfoot River corridor near Missoula, he makes high-end home décor, public art sculptures, furniture and custom metal works that are shipped around the country. His pieces sit in luxury furniture shops in Manhattan, in downtown Missoula near the Park Place parking garage and in trophy homes in Whitefish. Although his work is coveted in large part by people with means, Golins himself is grounded in the working class.
"I grew up on a horse ranch and had to fix things, so I learned metalcraft," he said. "The vocation programs where I grew up were very big-time subsidized by the oil fields, so I had amazing immaculate shops even in sixth grade."
Golins, 37, lives with his wife and infant and built a shop at his home four years ago. He buys iron, aluminum and bronze and, from scratch, creates pieces like custom chandeliers or traditional railings.
"It becomes interesting when I work the metal cause it's malleable like clay in a sense," he said. "I'm taking it from its straight, sort of robotic state and turning it into something that has life."
He likes to be challenged, he said, and is constantly learning new processes.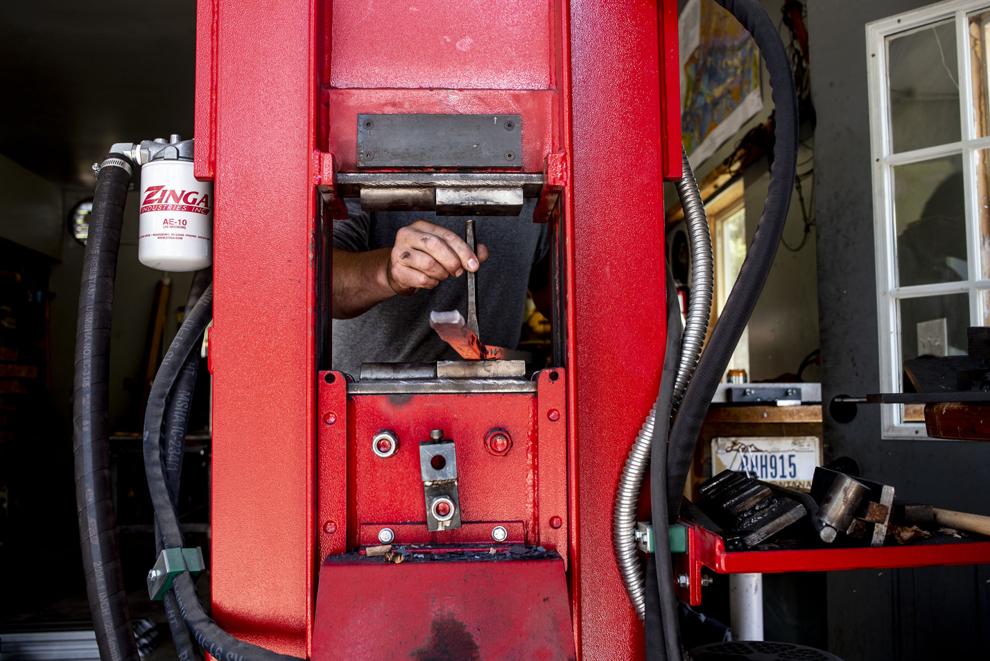 "With every job I'm tied to I'm kind of reinventing myself to some degree to keep the learning happening so it doesn't get stagnant," he said. "I enjoy learning new parts of my craft just to make my skill base broader."
And he's constantly trying to improve.
"It's very enriching in the sense that with every job you have a shot at doing your best work," he said. "Sometimes you don't get your goal, but sometimes you're blown away with how well everything came together with great preparation and good execution."
"If you get all those things to line up perfectly, it's pretty fulfilling, actually."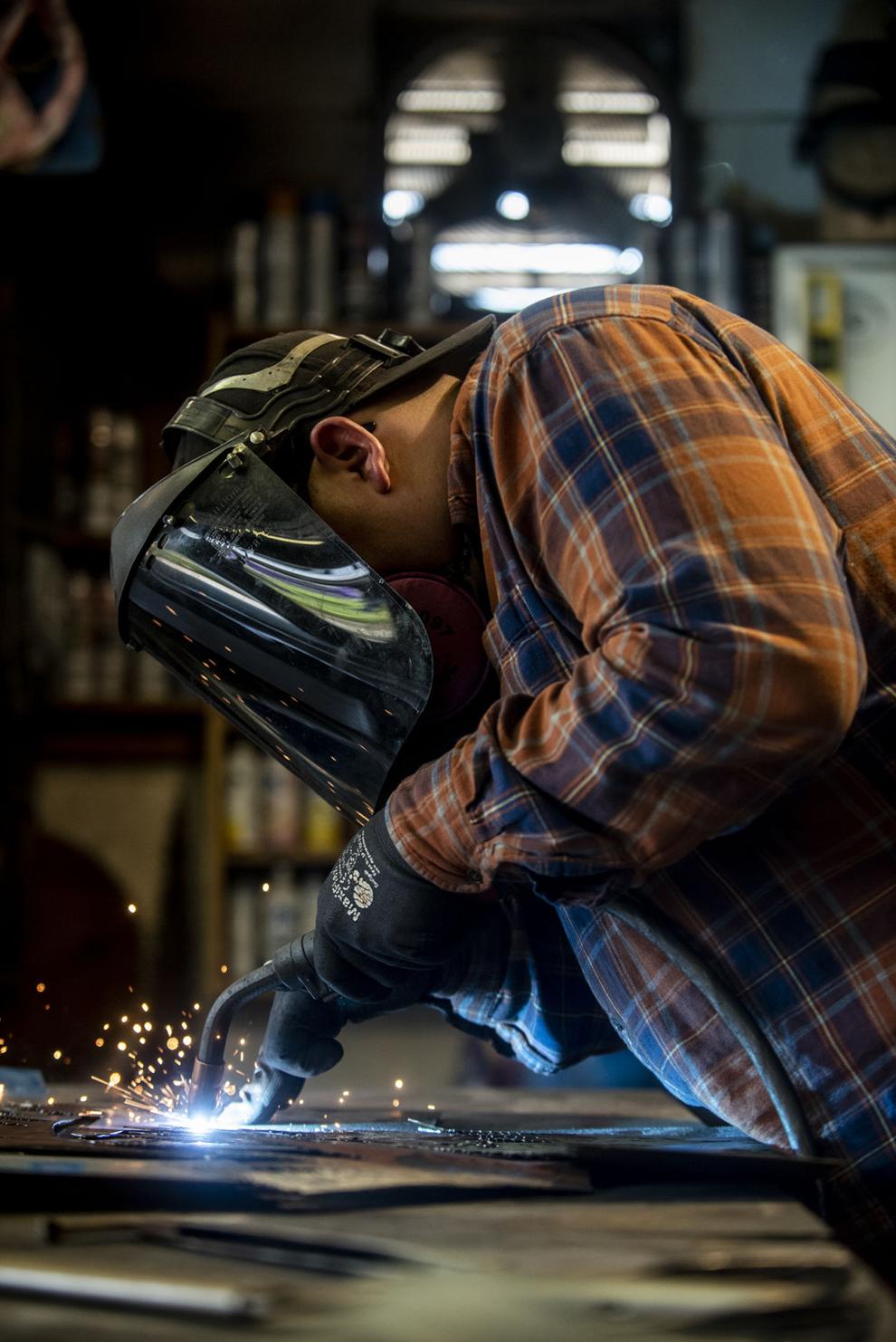 Joel Isaacs finds freedom in turning old 55-gallon metal barrels into intricate, colorful and eye-catching artwork featuring scenes of Montana's natural beauty.
Now he has a steady stream of customers, including custom home designers and large breweries.
"It's a hobby that has turned into not such a hobby," he joked recently. "I like it because it gives me freedom of the mind and freedom of time. I like to take my time. So I can work at midnight or I can work at 8 a.m."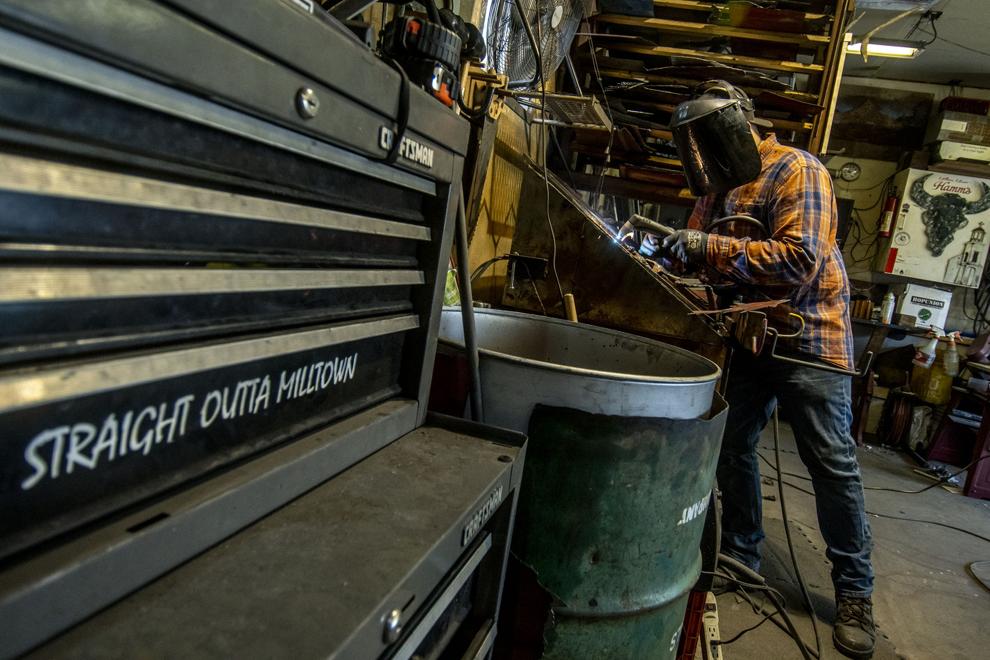 Isaacs, 30, grew up on the Bitterroot Valley and has been doing custom metalwork for five years. His business, Mantucky Metal Artwork, now is based out of Milltown, where he works from his shop.
"I'm self-taught," he said. "The biggest thing I can say is I got into this and I didn't even know it. I just started learning with tools. I started taking 55-gallon drums and making burn barrels for yard waste with just a welder and a cutter.
"It was, sort of for a lack of a better word, for beer money."
But he liked recycling the unused barrels, and he found that customers started "eating up" his artwork when he created layered wall art with river and mountain and fish scenes. He's proud that he doesn't use any machines or computers to cut his artwork.
"Everything's freehand-drawn and freehand-cut," he explained.
He's made about 600 bar signs for Big Sky Brewing Co., and they've been shipped all over the country.
"They just told me to get crazy with them," he recalled. "So every batch is different. I've been doing that upwards of three years now."
His work is also on display at burrito and coffee shops around Missoula. He uses a few different painting techniques with water and acrylic to get his vibrant colors, and recently completed a buffalo-shaped piece that commemorates the 1988 wildfires in Yellowstone National Park with a vivid red and blue layer.
"My biggest thing is I don't want things out the door I don't like," he explained. "I want to make sure people are happy."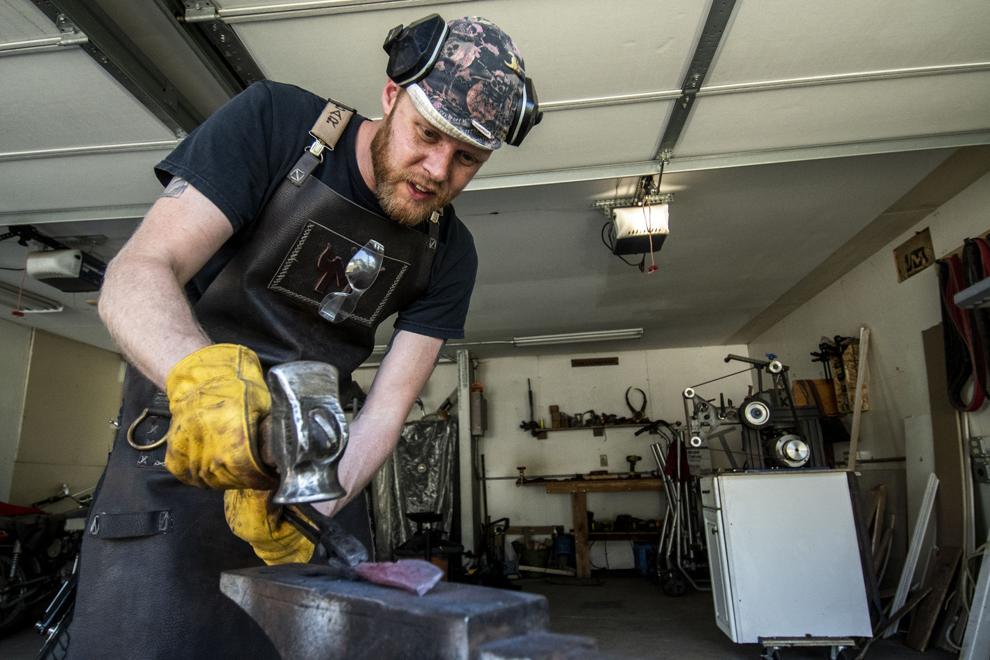 Ben Martin didn't think he'd be interested at all in metalwork when a friend suggested he try it in the winter of 2016.
"One of my friends had gone out to Steel Toe Distillery up the Blackfoot corridor," Martin recalled. "This guy Carl (Bock) runs the distillery and my friend was talking to him about blacksmithing. Carl has all the tools and was willing to let us try it out and learn. This was December in Missoula. I thought, 'No, it sounds terrible.' But he kept pestering me."
Martin eventually gave in, and went out and "hammered out a crappy knife out of rebar."
"And I thought, 'This is actually really fun,'" he recalled. "And I started to acquire my own forge and anvil and hammers. Now I'm sort of doing it as a backyard blacksmith."
It has turned into a full-blown hobby for Martin, who works at Hellgate High School as a counselor. Martin still goes out most Sunday afternoons to the distillery to show visitors how blacksmithing works. He has started a little business called Glass Eye Razors out of his garage, where he has a forge set up. He does everything by hand, with no power equipment.
"I put things in a hot box and heat it and beat it until it forms," he said. "It's kind of fun to just make something and do it in a way not a lot of people are doing it. I like learning the process and figuring it out."
Martin makes shaving razors, bush knives, hunting knives and chef's knives, along with other assorted works. He uses a Japanese whetstone kit and a leather strop for sharpening.
"It's translated to other things," he said. "Now, when I have random things that break, that's just this given me this confidence that I can fix metal things now. I had to tear apart a pellet grill to replace the motor and I was able to cobble metal together and fix it."
Metal work takes a knowledge of science along with a lot of patience, he said, but he said he believes anyone can find satisfaction in the craft.
"It's kind of fun shaping it and seeing things take one form or the other," he said. "You're giving it twists and curves and giving it an edge with different intricate designs. There's certainly way better people than me, like Josh Smith in Frenchtown. There's books and books about metallurgy and the science of different metals."
Martin, 35, grew up in Billings but has been in Montana his whole life. His Instagram page showcases some of his work.
"It's a hobby but it's fun because you can get into it as various levels," he said. "You can get into it as a beginner, but if you make a few friends who do it, you can really get in depth with it. It affords a lot of leeway."
---
Photos: Backyard blacksmiths create wall art, furniture, knives and more
Photos: Backyard blacksmiths create wall art, furniture, knives and more
Mike Golins shapes a handle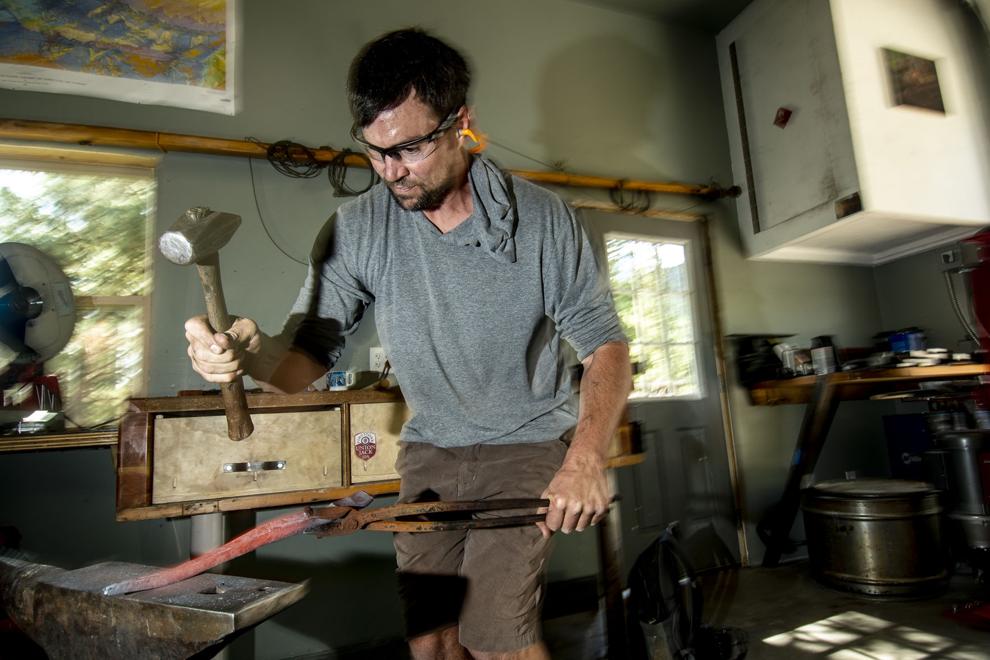 Joel Isaacs works on wall art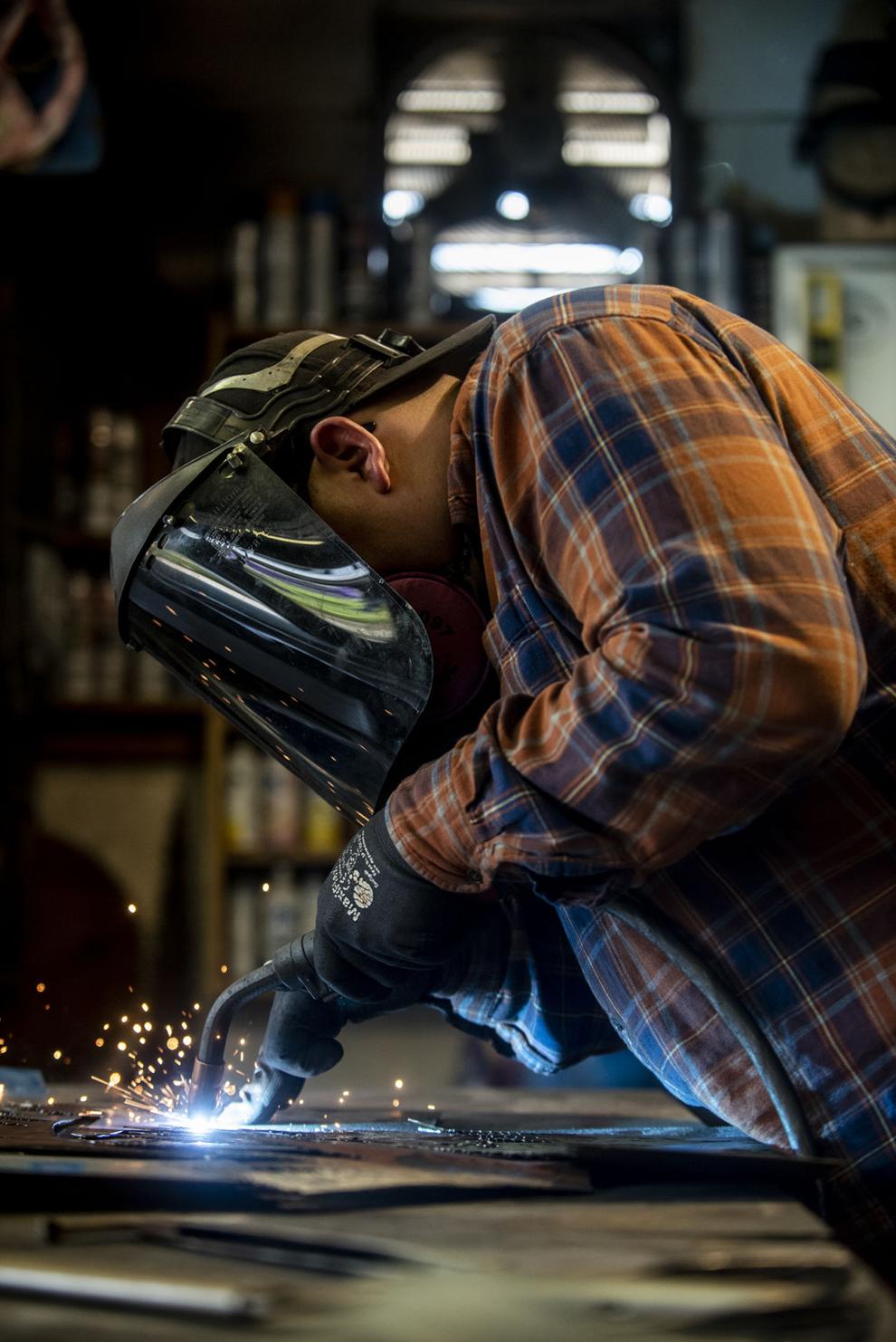 Ben Martin makes knives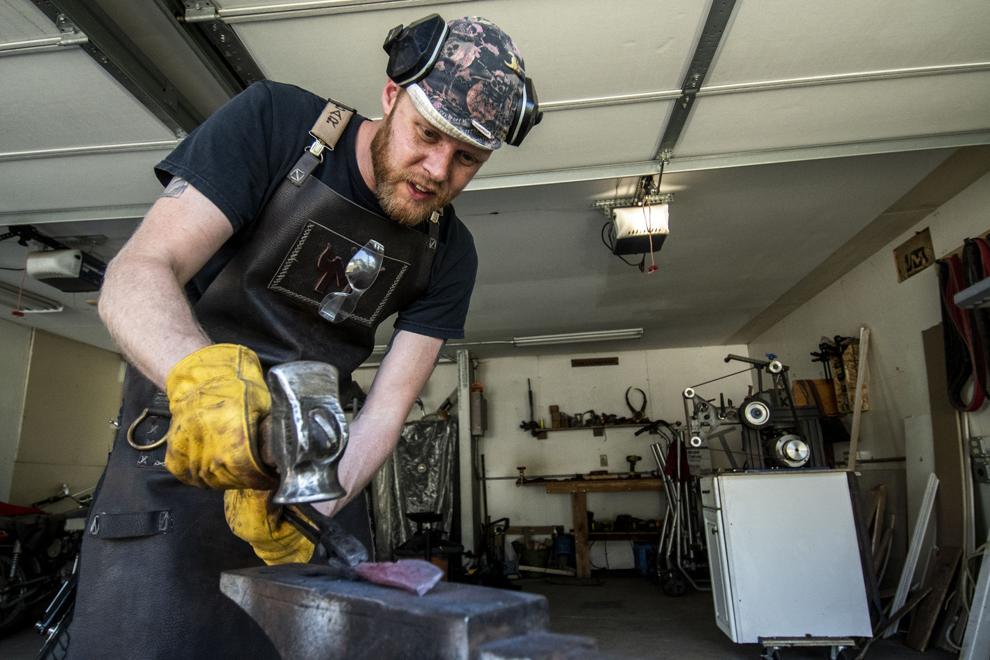 Wax on metal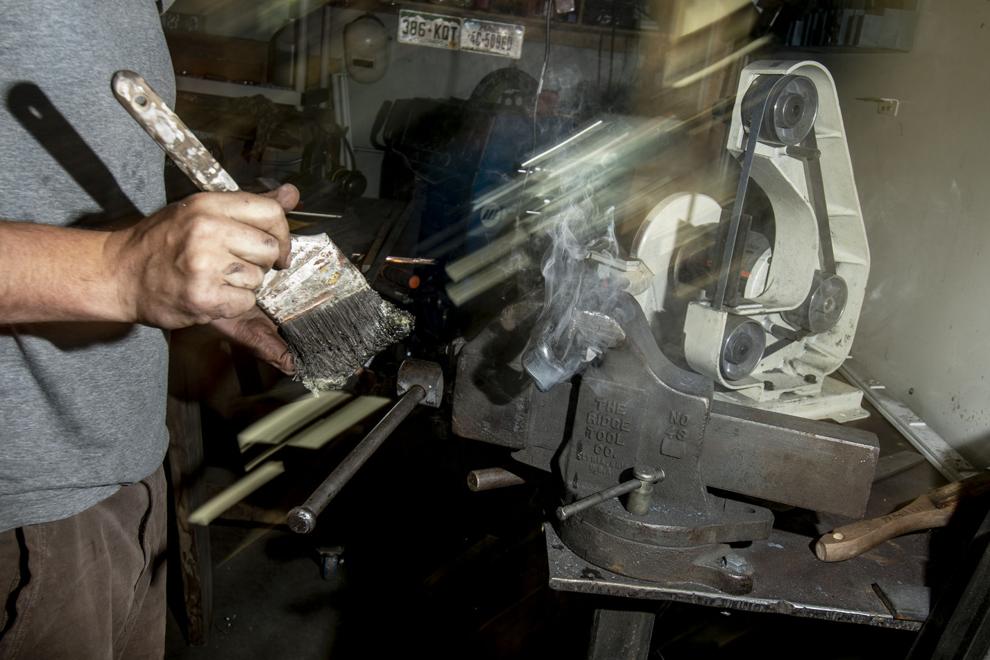 Trout wall art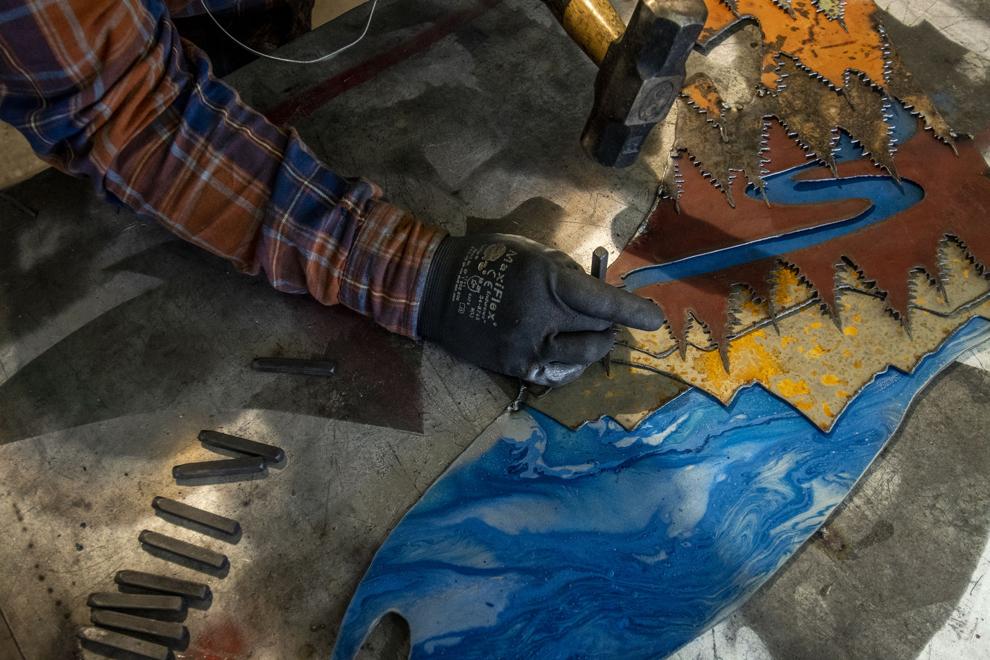 Martin's work on the forge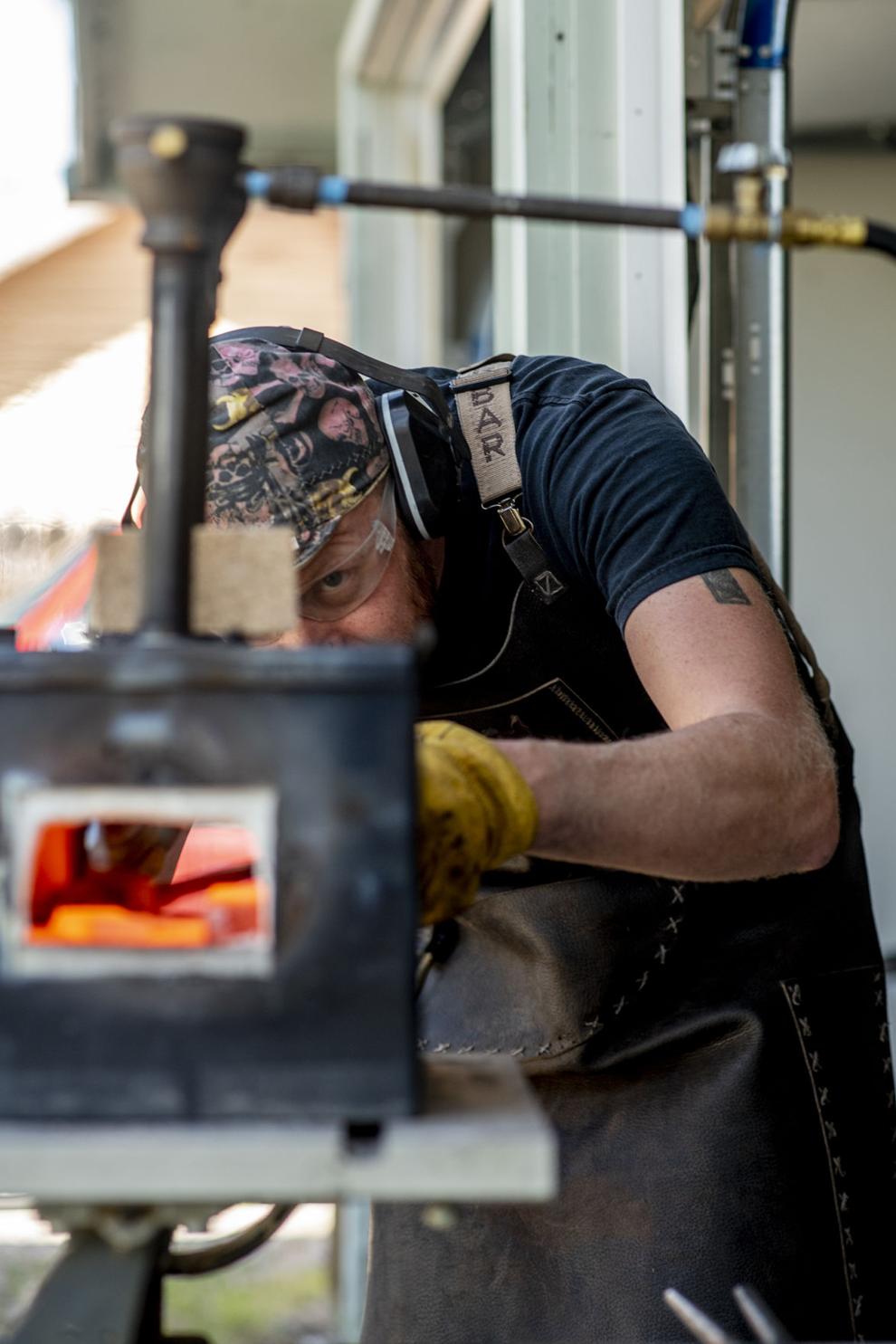 Glass Eye Razors namesake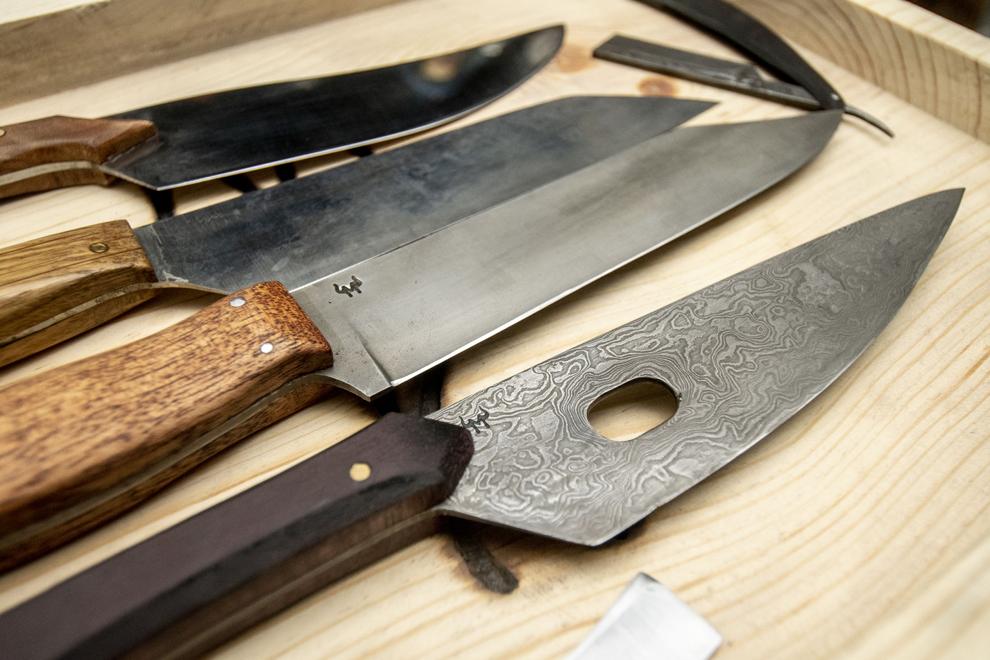 Commissioned work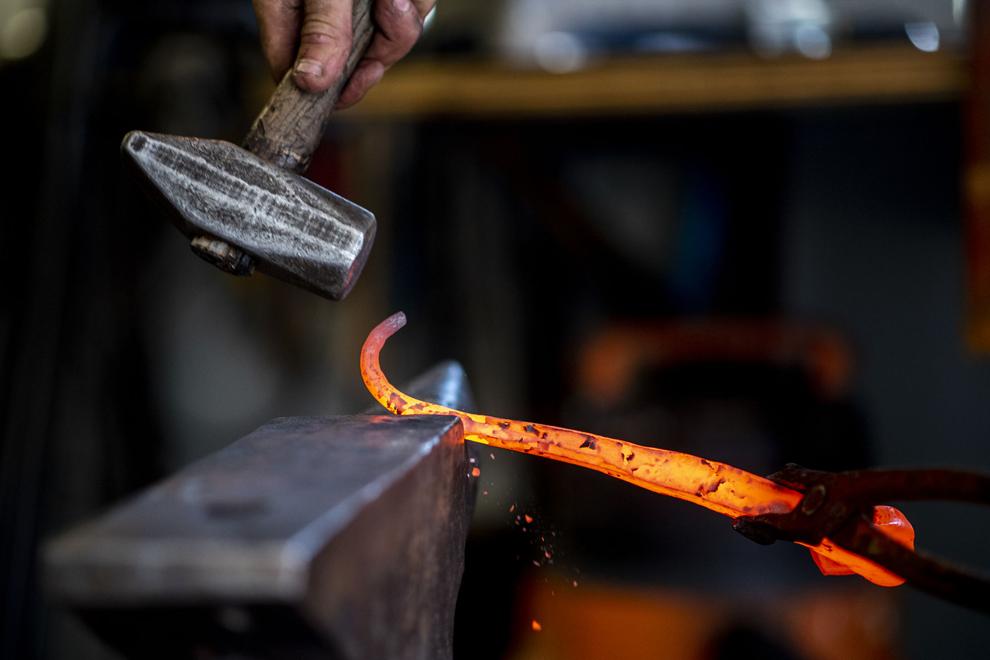 Martin pounds steel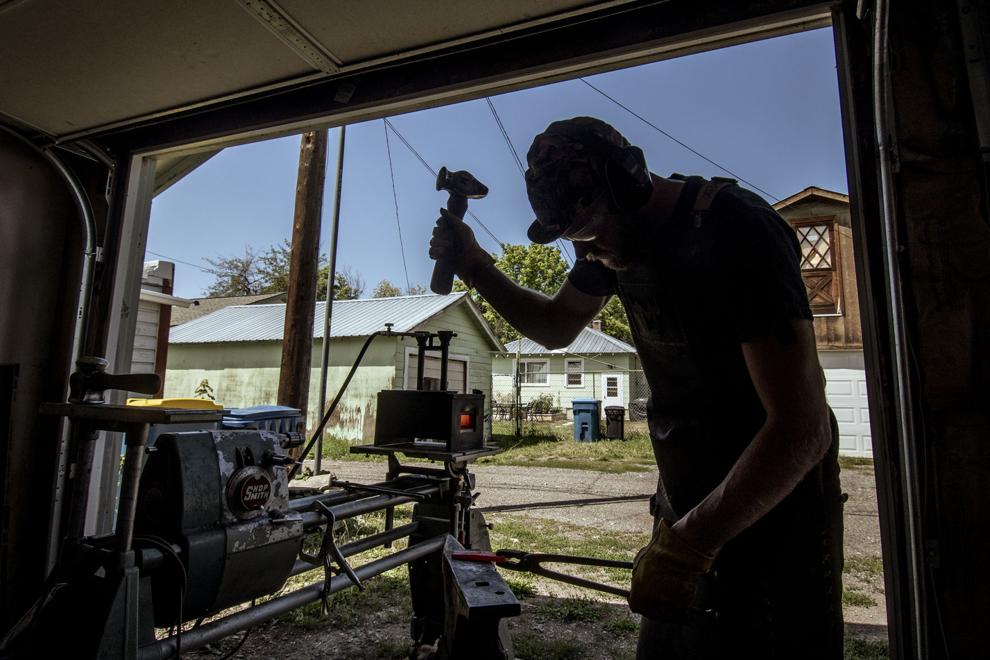 Natural inspiration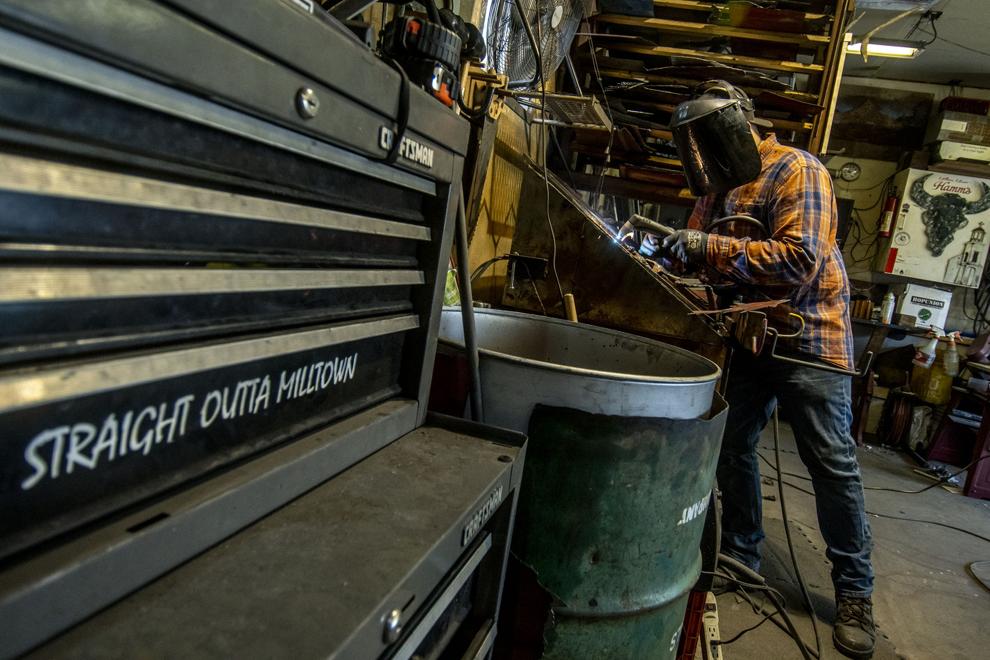 Plasma cutter shapes the river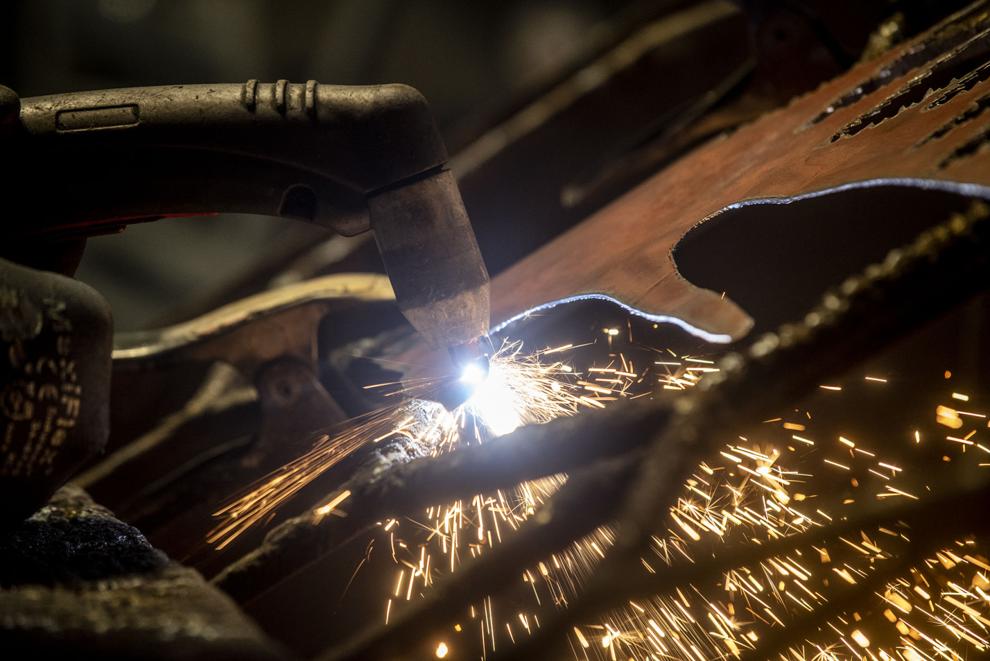 Loads of equipment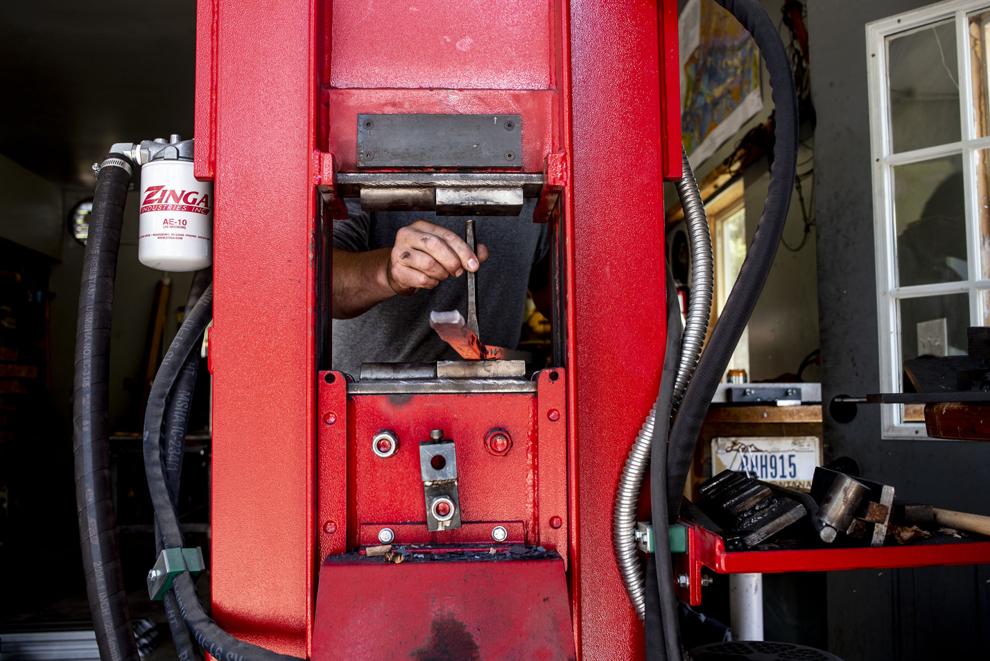 Firing up the forge