Helena residents are stepping up to help their neighbors after Lewis and Clark County announced it will no longer be providing sandbags to homeowners this year. 
Anyone who has lived in the Helena area for more than a year knows that with spring fast approaching comes a significant risk of flooding. Last year, the Helena Valley and neighboring communities, including Augusta, were devastated by flooding. 
Flooding in the Helena Valley has left several neighborhoods with flowing and standing water from Ten Mile Creek. Flood warnings will continue into at least late this week with rising temperatures expected to cause renewed melting of mountain snowpack, which remains above average.
One individual familiar with the devastation who didn't want to sit back and wait is Jimmy Mayer, owner of Cutting Edge Property Services. 
"I've lived here my whole life and I know how the community relies on these sandbags," Mayer said.
Mayer is holding a Facebook drive to help fill and distribute sandbags to Helena homeowners and their neighbors. Starting off with 2,000 sandbags, Mayer said he will donate a bag for every like and share his Facebook business page receives. Additionally, Mayer said he intends to donate 10 bags for each new customer he gets and will match every 100 bags raised via the promotion.
"After the county decided they wouldn't be giving sandbags, we knew we wanted to step up and help out where we could," Mayer said. "We also want to encourage other businesses to provide bags to the community and our neighbors."
It didn't take long before Mayer received more offers to help. Freedom Fabrication and Silvertip Sprinklers & Landscaping will assist with equipment and manpower.
"It's a young generation, but one with a lot of hope, stepping up to help," Mayer said.
John Burnett, coach of the Helena Senators American Legion baseball team, also jumped at the opportunity to get involved with Mayer's campaign. 
"Anything we can do to help out the community," Burnett said.
Burnett and his team will help make sandbags and aid in their delivery. He said he hasn't received the call yet, but he and his team are ready and waiting. 
"Whenever we are needed, we will round up the crew and help out," Burnett said. "We are always looking for ways to get the kids involved in the community and to lend a hand to people who need assistance."
This isn't the first time Legion teams have helped out; last year they worked alongside Lewis and Clark County officials filling and delivering sandbags.
The need for sandbags also has spawned several budding entrepreneurs. 
Ryan Yeske, a 14-year-old Capital High freshman, decided to make and sell inexpensive bags to the community on Facebook. Yeske sells bags for $3 a piece and will deliver up to 50 for $10.
"Last year I saw so many people affected by the flooding in the valley," Yeske said. "I had a feeling that with all the snow we've gotten that the flooding would be bad again this year."
Yeske's parents encouraged him to buy 800 sandbags with his own money and start filling them after school as a way to earn money. It started as a way for Yeske to earn money for feed for the 4-H pigs he will receive near the end of March, but demand was much higher than anticipated. 
"I can only fill about 50-60 sandbags with each load of sand in my truck, and so it's definitely time consuming and hard work," he said. "My mom helps me get sand after school and then in the evenings I work on filling the bags."
After getting about 50 bags filled, Yeske's mother, Jamie Sparing Bright, posts an ad on Helena Classifieds. Yeske said the bags sell out almost immediately every time they post.
"We did take the ad down until he gets more filled," Bright said. "It's crazy. As soon as he fills bags and posts the ad, they're sold. We even encouraged a friend to have her kids do it too." 
Unfortunately, with rugby and track starting soon, Yeske will have less time to fill bags in the near future. He said he thinks the community needs more young people who are willing to start fillings bags. 
Yeske said he advised a few others to try and make bags, and those who listened and acted also have been swamped.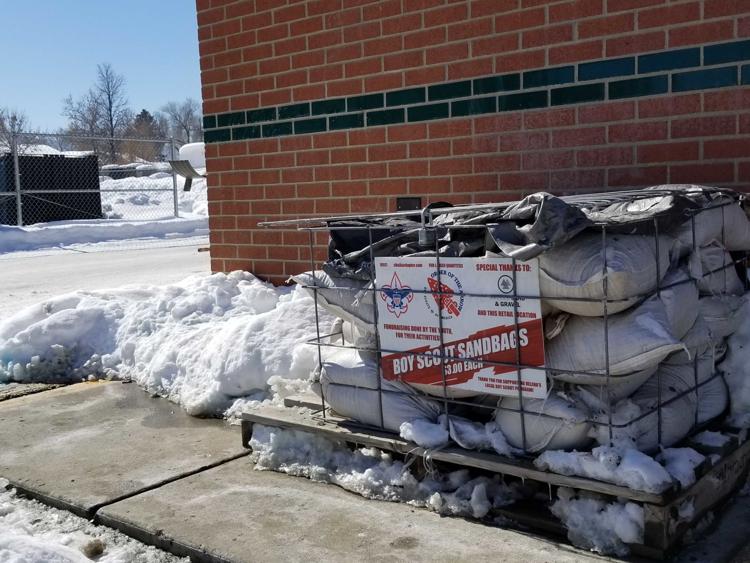 The local Boy Scout troops are selling bags at several locations across town. They sell sandbags every year, according to Troop 214 leader Doug Wheeler. 
"It's not necessarily a response to the county, but something we do every year," Wheeler said. "It's a fundraiser for the Order of the Arrow, which is like an honor society within area Scout troops."
Wheeler said the troops make sandbags for the fundraiser regardless of any flooding, but in years with heavy flooding they will make more if they receive multiple requests. Many Scout sandbags are used to distribute weight in vehicles, Wheeler said.
"Community service is something we really focus on teaching our troops," Wheeler said.
The $3 bags from the Boy Scouts are available at the Montana City Store, Mini Basket, Friendly's Sinclair, Cedar Street Conoco, Green Meadow Market and Bob's Valley Market. 
Several local businesses offer a variety of sandbag options. Some of these stores include Rock Hand Hardware, Murdoch's Ranch and Home Supply and Sparrow Enterprises Inc. Businesses like Helena Sand & Gravel will sell individuals sand and bags can be purchased at hardware stores and online.