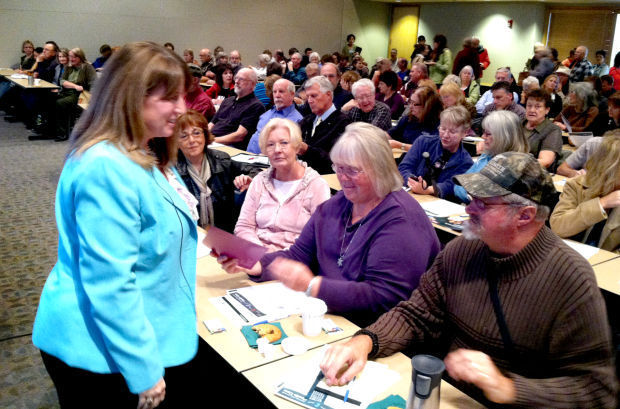 State Auditor Monica Lindeen hadn't even started talking when St. Patrick Hospital staff had to remove a wall and make room for the 250 people who came to learn about Obamacare on Monday.
With major parts of the federal health insurance program starting on Tuesday, Lindeen spent almost an hour answering questions from the audience about how it might affect their lives.
"I promise you, the sun will come up tomorrow," Lindeen joked at the beginning of her remarks. "It's not as bad as some may think."
About 195,000 people in Montana currently lack health insurance, according to State Auditor's Office figures. On Tuesday, federal insurance marketplaces will open to explain their health insurance offerings and enroll people for coverage. But Lindeen said going slow might be a wise move just now.
"If it were me, I'd hold back a few weeks," she said. "Let somebody else go through and take the bumps."
One thing she was sure about – regardless if Congress hits a budget impasse and shuts down much of the federal government on Monday night, the Affordable Care Act and its signup process will go forward. National insurance companies have spent millions of dollars adapting their programs to the new federal rules, and the coverage they offer will be protected by contract for at least a year.
Montana has an advantage over many other states in that it already requires insurance companies to provide a minimum level of services similar to the 10 basic benefits the federal law demands. That means the new coverage plans shouldn't have the kind of sticker-shock seen in other states with lesser thresholds of coverage, Lindeen said.
The new plans will come in metallic levels of quality: platinum, gold, silver and copper. State estimates showed a 25-year-old single person seeking the gold plan's 20-percent co-pay level would see a monthly premium of $245, while a 55-year-old would pay $545. Those same two customers seeking the copper plan's 40 percent co-pay would be charged $175 and $390, respectively.
But anyone who currently has insurance through their employer, their own private plan, Medicare, Veterans Affairs or other programs doesn't have to do anything unless they want to change, Lindeen said.
The individual insurance mandates only charge a penalty to people who decline to get coverage, and have exemptions for those who would have to spend more than 8 percent of their income to buy insurance. American Indians, those with religious objections, and those in prison are also not required to get coverage.
Fraud has been a growing problem around Obamacare, Lindeen warned. Scammers have been calling people at home claiming the new program requires updating personal information, which is just a way to steal identification.
Other con artists have said young adults living at home need new policies, which is also not true. And whole fake marketplaces have sprung up, trying to get a piece of the business.
Lindeen said anyone needing accurate information about Obamacare and Montana's insurance offerings should call 1-800-332-6148 or go online to montanahealthanswers.com.