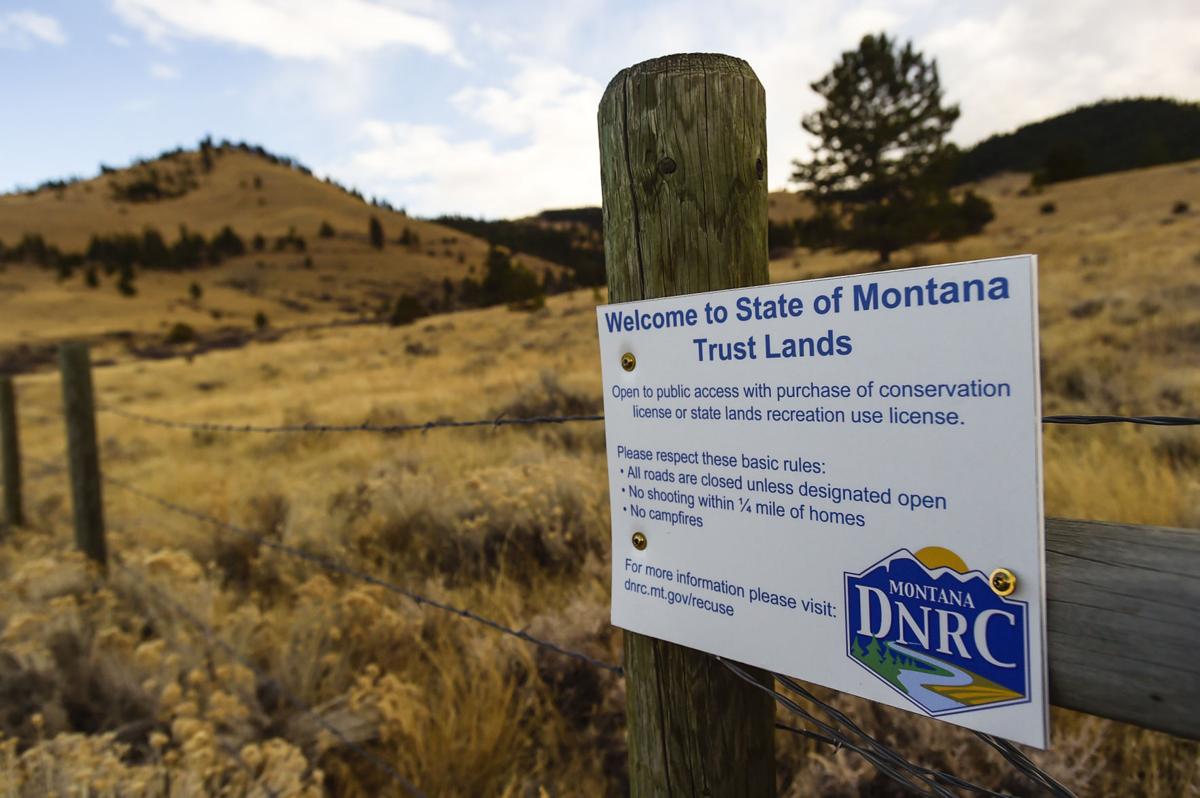 Revenue produced by Montana's state trust lands dipped slightly in the last fiscal year due to fluctuations in commodity prices and weather.
Shawn Thomas, Trust Land Division administrator with the Montana Department of Natural Resources and Conservation recently provided the Fiscal Year 2020 annual report to the Montana State Board of Land Commissioners. The board is made up of Montana's top five statewide elected officials: Gov. Steve Bullock, Superintendent of Public Instruction Elsie Arntzen, Secretary of State Corey Stapleton, state Auditor Matt Rosendale and Attorney General Tim Fox.
The report details revenues produced by agriculture, forestry, mining and real estate from the state's roughly 5.2 million surface and 6.2 million mineral acres. Revenue produced through trust lands primarily benefits K-12 schools, as well as universities, the school for the deaf and blind, the Montana Veterans Home and public buildings. And most of the lands are open to public recreation.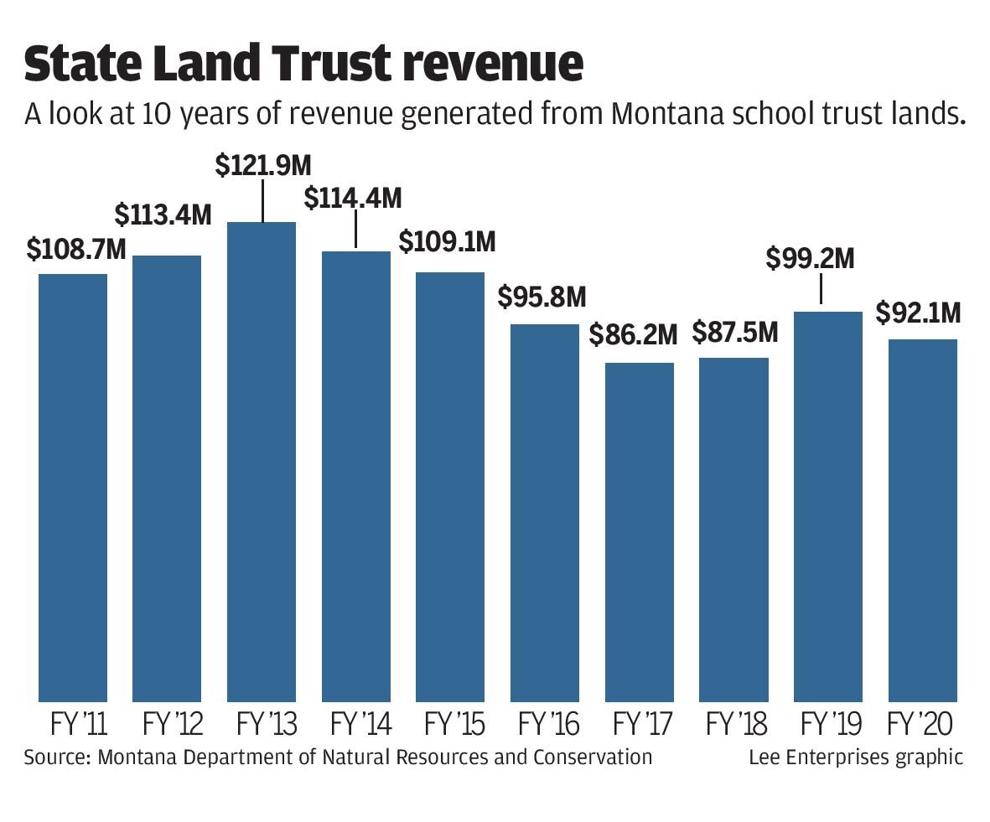 In fiscal year 2020 state trust lands produced roughly $92.1 million in revenue. A portion of that revenue goes directly to funding schools as the beneficiary while another portion of the sum goes to an account generating interest, with the interest also funding schools. In FY20 schools received $41.2 million from state lands – roughly 4.8% of OPI's $864 million budget.
"Montana's Trust Lands provide the first source of funding for Montana students," Arntzen said in a statement. "As Land Board commissioners, we have a responsibility to manage our state trust lands in ways that produce strong funding for our schools and create greater opportunities for Montanans to access their public lands."
Arntzen will be the only returning member of the Land Board next year as Bullock is termed out, Fox termed out and lost in the primary for governor, Rosendale won election to Congress and Stapleton lost a congressional primary bid. Arntzen told the current commissioners that in the future, she would like to see more forecasting from DNRC on anticipated revenues.
"I look forward to working more closely with the governor's office, DNRC and my fellow Land Board commissioners in the coming year to proactively produce strong funding from our trust lands," she said.
The 2020 dip is down $7.1 million from 2019 and below the 10-year average of about $102 million but near the five-year average of about $92 million.
A mix of lower commodity prices including impacts from weather drove some of the depression in DNRC's agricultural sector, which produced about $28.1 million, Thomas told the board.
"Production was good last year but the prices and harvest season was impacted," he said.
With lower demand from brewers, the market for malt barley fell dramatically while weather left a sizable portion of the sugar beet crop in the ground. Cattle prices fared better, although DNRC sees higher revenues from farmed property than for grazing.
Minerals with oil and gas as well as coal royalties produced about $22.4 million. Nearly 1,300 oil and gas leases produced 900,000 barrels of oil and 2.1 million mcf of natural gas, but DNRC has not seen significant new leasing and markets are expected to remain volatile, Thomas said. The average price of a barrel of oil was $43.53 and the price when expanded leasing and production becomes more attractive is at about $60 per barrel, he said.
Coal production on state lands, on the other hand, had a solid year but that is not expected to last. Companies at six leases happened to be mining on the state-owned portion of their mines this year.
"Coal prices are not necessarily better than three or four years ago, but the productivity if you think how a coal mine operates, they're on federal or private coal, they move onto the state and mine a year or two or three and then they move off," he said. "…So we've had a coincidence where there's been a fair amount of coal production on state land and that's likely to taper off in the current fiscal year."
DNRC sold nearly 54 million board feet of timber in the last fiscal year of the 59 million board feet offered, totaling about $10.5 million. The 5 million undersold was largely due to the type of harvest systems necessary for the logging.
"Contractor capacity is lacking in the state and we've been talking a little bit with the wood products industry in increasing those more difficult logging systems in terms of capacity," Thomas said.
The current fiscal year has seen a significant surge in the demand for timber, he continued.
"2020 was a little bit of a down year in terms of forest management, however, '21 saw a raging rebound," Thomas said. "As the coronavirus hit people were sitting around with not much to do. They decided to do a lot of remodeling and building onto their homes and we've seen real estate go crazy this summer."
The last fiscal year saw DNRC's real estate division produce $5.7 million for leasing programs and $11.1 million for land banking sales. The division is seeing some increased interest in renewable energy projects, specifically wind projects, and expects to bring more of those proposals to the board in the future, Thomas said.
Bullock, the lone Democrat on the board, praised DNRC and his fellow board members. The board clashed in 2017 over its role in state conservation easements that ended up before the Montana Supreme Court.
"While I think there was initially some trepidation, I think we all realized this job really is about maximizing the value to the trust and taking care of our state's public lands," he said.
Reporter Tom Kuglin can be reached at 447-4076 @IR_TomKuglin