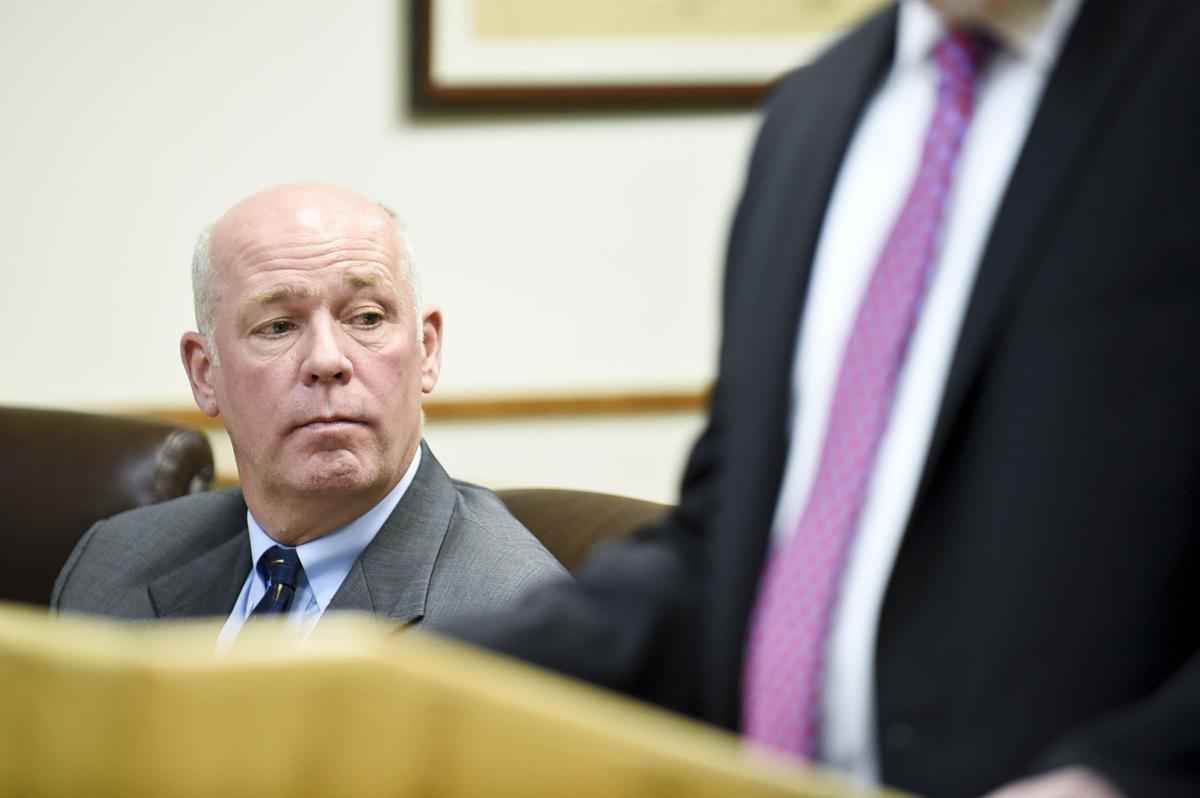 In May, on the eve of Greg Gianforte's special congressional election, the Montana politician "body-slammed" inquiring news reporter Ben Jacobs and began "punching" him, according to Jacobs and other witnesses.
Gianforte won — and took his seat in Congress the week after he pleaded guilty to his crime, bolstered by about $2.4 million in all-but-unrestricted "super PAC" cash.
Gianforte himself had helped seed the laissez-faire political money system that made his victory possible earlier in the decade, having contributed significant funds through his nonprofit Gianforte Family Charitable Trust to several conservative organizations leading legal efforts to dismantle federal campaign finance regulations, a Center for Public Integrity investigation reveals.
The Citizens United decision gave rise to super PACs — political committees that may raise unlimited amounts of corporate cash and spend it on elections like his.
Gianforte, a tech entrepreneur and one of Montana's wealthiest residents, is among a small but wealthy group, including Charles and David Koch and Richard Uihlein, who have quietly bankrolled a long legal assault on the nation's campaign finance laws.
During Montana's special congressional election, Gianforte's campaign raised about $3.5 million, not counting $1.5 million Gianforte loaned his own campaign. His opponent, Rob Quist, raised even more.
But on a parallel track, the House Speaker Paul Ryan-backed Congressional Leadership Fund super PAC single-handedly invested another $2.4 million into Gianforte's special election campaign, with the majority of that money going toward advertisements attacking Quist, who had but a fraction of such super-PAC aid.
Expect the Congressional Leadership Fund, which did not return requests for comment, to be back in 2018, if it sees fit. Other super PACs could certainly rush to Gianforte's aid, too.
Bopp picked as counsel
In a twist, Gianforte's campaign has enlisted the services of the Bopp Law Firm, paying nearly $5,000 for legal services this year. Jim Bopp, the firm's namesake, was a driving legal force behind several key campaign finance rulings this century, including Citizens United.
In an interview, Bopp said one of his associates who lives in Bozeman is aiding Gianforte's campaign. In addition, Gianforte's campaign has so far also spent almost $47,000 for legal services from Foley & Lardner, the law firm where campaign finance deregulation champion Cleta Mitchell practices.
Gianforte's potential congressional opponents are hardly thrilled by these developments.
John Heenan, a lawyer from Billings, who's seeking the Democratic nomination to face Gianforte, says the congressman's approach to campaign money runs counter to his constituents' wishes.
In 2011, Montana's Supreme Court upheld the state's 99-year-old Corrupt Practices Act, which banned corporations from using money to influence state elections — a decision that stems from wealthy "copper kings" buying their way into state office during the 1910s.
But in 2012, the U.S. Supreme Court overturned the Montana court's ruling, much to the chagrin of many Montanans. In response, about three-fourths of Montana voters, as part of a nonbinding, statewide referendum, voiced their disapproval of the Citizens United decision.
Gianforte "has taken zero action to fulfill the direction of Montana voters to overturn (the Citizens United decision) and get 'dark money' out of politics. … People are sick and tired of all this 'dark money,'" Heenan said.
"Dark money" is shorthand for money used for political purposes that can't be traced to a root source. Some politically active 501(c)(4) "social welfare" nonprofits routinely trade in it, but super PACs may use it, too, when accepting contributions from entities that don't disclose their donors.
The pro-Gianforte Congressional Leadership Fund super PAC, for example, has this year raised more than $6 million from the American Action Network, a conservative nonprofit that doesn't volunteer information about its own funders.
The Congressional Leadership Fund has this year also accepted six-figure corporate contributions from Hillwood Development Company, private prison firm GEO Corrections Holdings, tobacco company Reynolds American and oil giants Chevron, Valero and Occidental Petroleum, according to FEC data compiled by the nonpartisan Center for Responsive Politics.
Montana state Rep. Tom Woods of Bozeman, who's also seeking the Democratic nod, argues Gianforte's money-in-politics philosophy is wholly self-serving.
"Gianforte and Trump want to maintain this system because it benefits them. It's a government that's not for regular people," Woods said.
Johnson Amendment
Election aside, the Gianforte Family Charitable Trust has consistently given money to a pair of religious organizations that want the government to loosen restrictions on tax-exempt churches' ability to wade into electoral politics.
This debate is now squarely in Congress' domain: Some Republican lawmakers are angling to kill the Johnson Amendment — the part of the federal tax code that prevents houses of worship from supporting or opposing political candidates — as part of the GOP's current tax reform efforts.
Rep. Debbie Wasserman Schultz, D-Fla., has been fighting against an appropriations rider that would make it harder for the IRS to investigate organizations accused of breaking the rules of the amendment.
"It's a real concern that these nefarious dark money groups, super PACs and the like could essentially launder money through houses of worship and religious organizations," she told the Center for Public Integrity.
That's not how Alliance Defending Freedom sees the matter.
Erik Stanley, the group's senior counsel, said the Johnson Amendment was unconstitutional from the time it was passed and still is. The issue of "dark money" in churches wouldn't apply under the Free Speech Fairness Act, which has been introduced in the House and Senate.
"That bill allows for nonprofits to speak freely if the speech is at no added cost to the organization and is in the ordinary and normal course of the organization's activities," he said.
Alliance Defending Freedom's "Pulpit Freedom Sundays" initiative has for years encouraged religious leaders "to exercise their constitutionally protected freedom to speak truth into every area of life from the pulpit."
Gianforte's family trust gave $50,000 to the Alliance Defending Freedom, and $20,000 to Family Research Council, in 2015, according to tax reports. The Family Research Council argues that the Johnson Amendment's effect is "to suppress pulpit speech" and that it "is almost certainly an unconstitutional restriction on free speech."
Be the first to know
Get local news delivered to your inbox!