Victor School's third-grade art students recently participated in a fun project centered on the animals available for adoption at the Bitter Root Humane Association in Hamilton.
Art Educator Jennifer Ogden said each student visited the BRHA website, chose a dog or cat to portray in clay, learned the animal's name, story, breed, age and temperament then got to work.
"We did some practice drawings of dog and cat faces and then we later worked with clay while their little picture sat nearby for detail," Ogden said.
On the Bitter Root Humane Association website, bitterroothumane.org, there are photos of animals available for adoption. Each animal has a cute photo and a description. For example, "Athena is an 11-year-old Maine Coon mix. She is an inquisitive girl, eager to say hello to visitors and get some scratches. Athena is easily stressed and would be best as part of a one-person family. She'd like help staying groomed."
Ogden said the project got exciting when her students connected with their topic on a deeper level.
"Once the kids knew it was a real animal in their community, it was a game-changer," she said. "They were very interested in the animal, knowing a little bit about them with a brief description and the kids think of the animals as their name. It was something they could sink their teeth into a bit more. They seemed to care about the animals quite a bit, it's nice to see how kids love animals."
The students sculpted the faces of the animals and Ogden fired their projects in the kiln. Then students painted their work. Ogden prepared them for display and took photos of the creations for use by the BRHA.
With students meeting for art once a week, the project took three weeks and during that time some of the animals were adopted.
"The kids whose animals were adopted were very happy for their models and I think we made the day of the BRHA staff when we shared our pictures for their Facebook page," Ogden said. "They said it cheered the volunteers and staff quite a bit."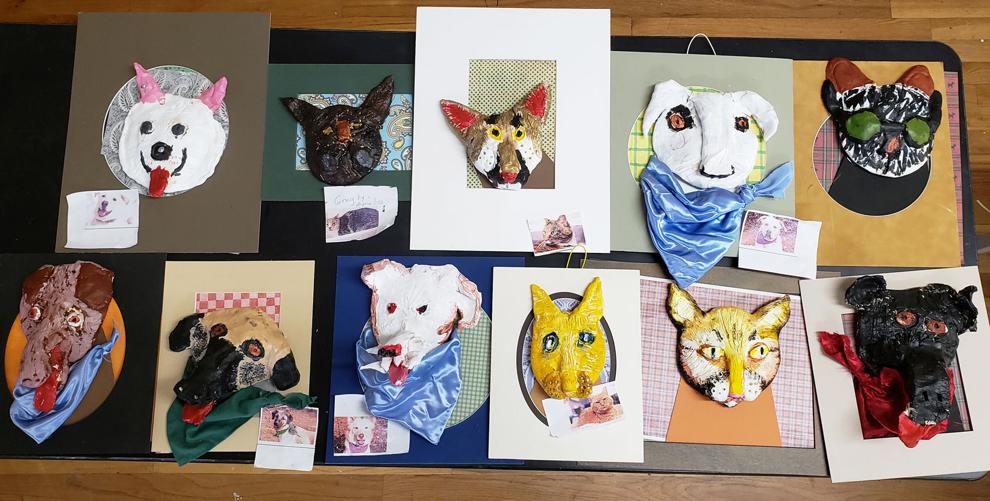 BRHA office manager and volunteer coordinator Chelsea Detweiler, who does the social media and marketing for the nonprofit organization said the art project was a "total surprise."
"When Jennifer emailed me these pictures, I thought they were the cutest things ever," Detweiler said. "I had no idea her students were doing this project and knew immediately I had to show people."
Detweiler said the BRHA staff thought the project was "hilarious and adorable" and they will include it in their newsletter.
"The portraits of the animals are spot-on," Detweiler said. "Some of them are very realistic and some are very stylistic. If I could show the pets their masks I would. I'm not sure they would understand but I love it."
With BRHA transitioning into their new shelter and no cork boards or bulletin boards as a space to showcase the images, Detweiler posted the photos on the BRHA Facebook page.
"This project deserves more recognition," Detweiler said. "I say thank you so much to the students. We love it and want to see more."
The Bitter Root Humane Association in Hamilton is an animal shelter dedicated to serving animals and the Bitterroot Valley community since 1972. Their motto is, "A place to call home before their forever home."
BRHA has just completed their building project and continues to fund raise to pay for their new shelter.
They have two events lined up for this spring and summer; a "2nd Time Around" Jewelry Sale, 9 a.m. to 2 p.m., Saturday, July 31, at the Ravalli County Fairgrounds Floral Building and a "Pint Night for Pets" from 5-9 p.m. on Saturday, August 14, at Fins Tap House in Corvallis.
Donations are always welcome at BRHA, PO Box 57, 262 Fairgrounds Road, Hamilton, MT 59840. For more information on pet services, volunteering, or how to adopt a pet visit online: bitterroothumane.org.
Ogden said she is proud of her students.
"I think they did a great job," she said.