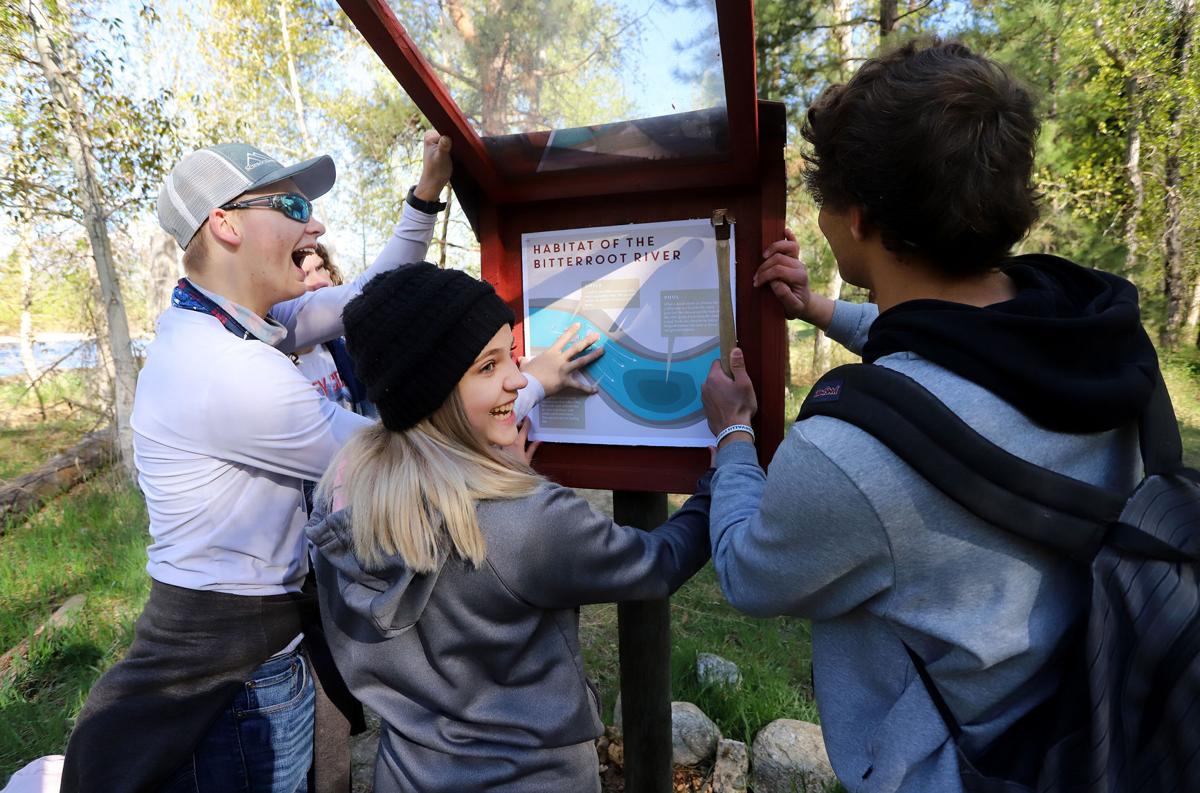 Natural history might not be all exciting when taught from a book.
But giving young people a chance to get out in the woods and see for themselves what it's all about can bring a lifelong appreciation to the natural world.
On a beautiful Tuesday morning along the banks of the Bitterroot River, a small group of Corvallis High School students were busy helping to fill the kiosks they helped build along the popular Teller Trail that starts at the fishing access site at Woodside Crossing.
They couldn't have been happier.
Andrew Mason had just finished tapping in the nails that held an informational poster that explained the river's habitat near a bend in the river where the riffles, runs and pools that are so important to trout and other aquatic life were there for everyone to see.
Tuesday marked the sixth trip the class had made to the trail to work on projects that helped improve habitat, provided education for visitors and offered them hands-on lessons in natural history.
"These are designed in a way that we hope catches peoples' eyes," said Aubree McGinnis. "For kids, there's lots of color that should help make it interesting. The adults who stop to take a look might just learn something."
The 1.5-mile long Teller Trail has faced its own set of challenges over the years since the Teller Refuge and Montana Fish, Wildlife and Parks first opened it several years ago. Located just west of Corvallis, the trail runs along the edge of the 1,200-acre private refuge. It's popular for people looking for a chance to spend a bit of time surrounded by nature.
That popularity hasn't come without challenges that include people wandering past the no trespassing signs, poaching, littering and refusing to keep dogs on a leash and pick up after them.
The partnership with the Corvallis High School's Classroom Without Walls began about three years ago after Corvallis teacher Jeff Kaiser's class took a look at human impacts on wilderness. Kaiser and his students already had a relationship with the refuge through other class projects.
Each year, Kaiser allows the students to decide what their focus is going to be on the trail the class has adopted. This year, the class has mapped the human impacts, aged some of the trees and worked to build awareness of the need to protect the space through the educational kiosks.
Along the way, they've found a lot of joy in learning about it all.
"It's been my favorite class that I've taken in high school," McGinnis said.
The refuge's executive director, Sam Lawry, believes the partnership is making a difference.
"The kids have demonstrated an ownership and the public using the trail recognizes that," Lawry said. "Our goal is to keep this trail open as long as we can, but it all depends on human behavior. I think people respect what these kids are doing here and hopefully that will mean they follow the rules like keeping their dogs on a leash and picking up after them."