Kate Davis' "happiest photo of all time" came on a day when errands almost got in the way.
The Florence photographer had already been down to the eagle nest near her home that afternoon and watched a fledgling bald eagle take its first flight. After a trip to the post office, she returned two hours later to the banks of the Bitterroot with a camera lens nearly as long as her arm.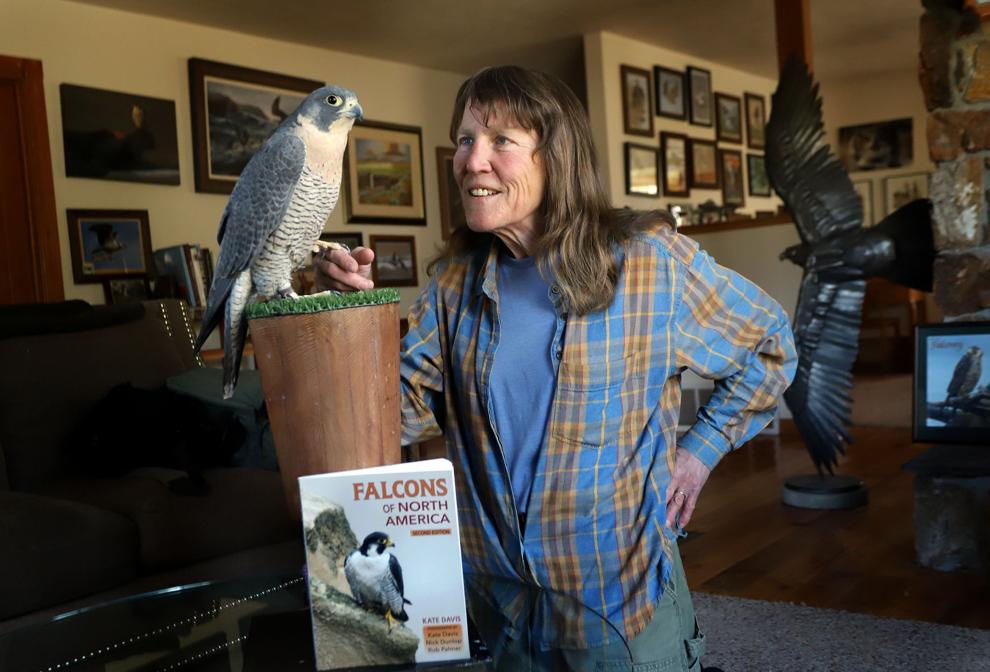 She knew that kestrels had a nest nearby, but had no idea what was to come.
When the young eagle decided to take its second flight, the female kestrel — "all her feathers were just beat up and shredded" — swooped out of nowhere and appeared to touch the eagle's head. It all happened fast and Davis remembers the disappointment of seeing the images on her camera were blurred.
"I thought to myself that nobody had ever seen that before," Davis said.
And then the unbelievable happened.
"And so they go, 'okay, one more time' and right in front of me, she lands on the eagle's head," Davis said in a voice filled with excitement. "The eagle just keeps going. It goes back to the nest and doesn't leave for three days. It was terrified. That bird was freaked out. It's a jungle out there."
The resulting photograph of a kestrel perched atop the young eagle's head — both with their wings outspread — was an instant classic captured by the woman that generations have come to call "The Raptor Lady."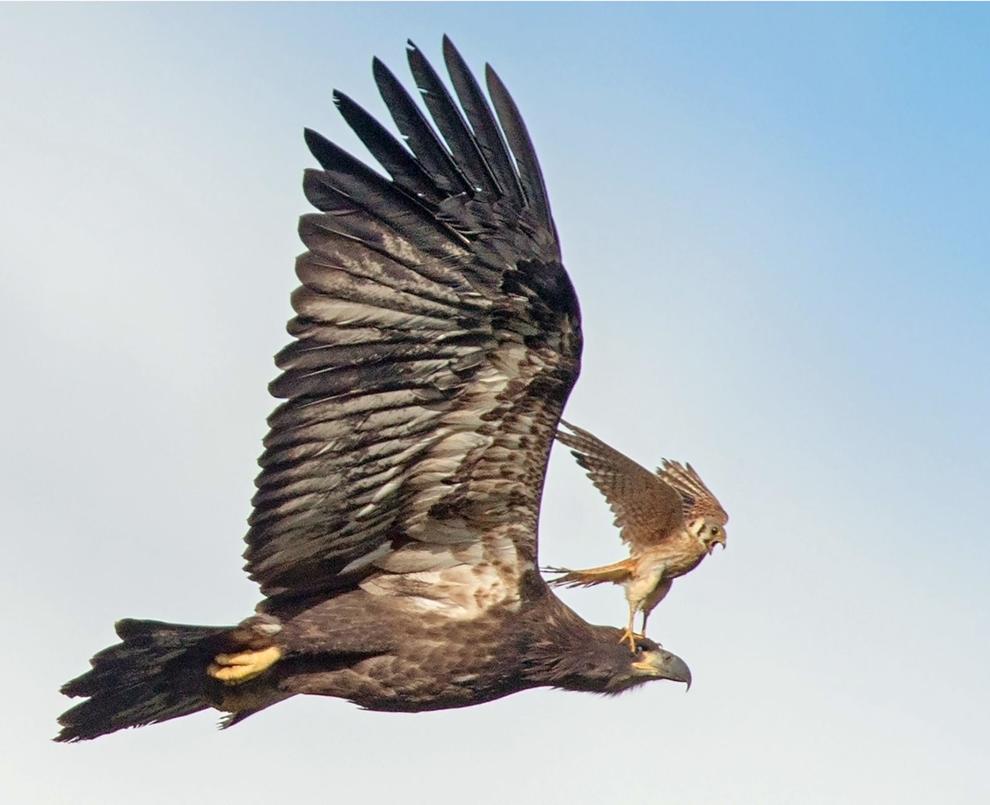 As the founder of the nonprofit, Raptors of the Rockies, Davis has traveled the country to enlighten audiences about the lives of eagles, hawks, falcons and owls for the past 33 years. Over that time, she's shared her awe of raptors with thousands who have each been emboldened to hoot like an owl.
"She is a force of nature," said John Rimel, owner of Missoula's Mountain Press Publishing Company. "I've watched her give her presentation to a lot of groups of both young and old over the years. When you look out over the crowd, she always has them absolutely enthralled."
"Most of us would not be able to make a presentation like that and have them resonate," Rimel said. "It's because Kate lives and breathes falconry and her birds. It is her life … and through that full-time commitment, she's built an incredible network and made a real name for herself in the falconry world as a writer, a researcher and a photographer."
Last week, Rimel published Davis' seventh book; the second edition of "Falcons of North America."
It's been 20 years since Davis pitched her first children's book to Rimel while riding the chairlift at Missoula's Snowbowl Ski Area.
"I had 12 minutes to pitch him this book," Davis said with a smile. "After a while, he wouldn't go up on the chairlift with me, but finally he caved and I got the book."
Before being shuttered in by the pandemic — her last program was Washington Middle School in February — Davis decided it was time to revise the second book that Rimel agreed to publish years ago. She reached out to her two good friends and accomplished photographers, Nick Dunlop and Rob Palmer, to see if they would be interested in providing a new slate of photographs.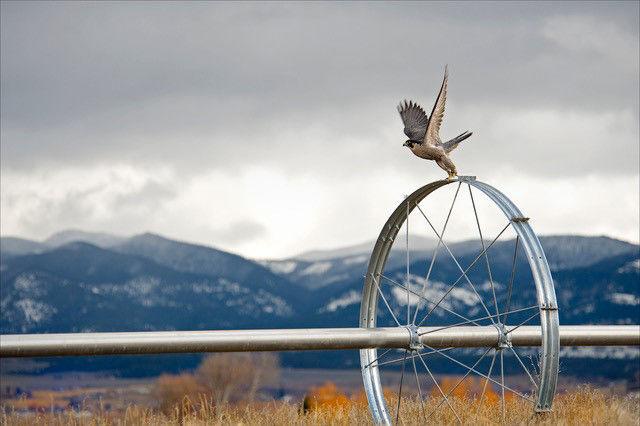 On the 12-year anniversary of the first edition, Davis stacked up new reference materials and cranked up the jazz while a peregrine named Sibley and an Aplomado falcon called Sonora took turns inspiring her at their nearby perches.
"I found that my first book was so out of date," Davis said. "In 2012, they took falcons out of the order with hawks and gave them their own order. They were promoted to the head of the class. They were separated because they are more highly evolved."
Turns out that falcons are closely related to parrots "in ways that aren't really apparent to most," she said.
Just like the time before, Davis wrote chapters on topics that ranged from morphology and physiology to how falcons interact with humankind, and then she passed that work onto experts in the field for their input and editing. She added conservation stories of four different falcons, including the remarkable tale of the recovery of the peregrine.
The chapter on current threats to falcons, unfortunately, doubled in length, but Davis also found a reason for hope in the reactions from children who attend her talks and learn to hoot like an owl.
After one presentation, a second-grade girl wrote Davis a card: "When I go outside, now I look for birds. I love them! It is fun to speak owl."
"By observing falcons going about their lives in the wild, many humans run the risk of becoming addicted falcon fans," Davis wrote. "Perhaps it's envy, and it's certain admiration. Air is the element for a falcon."
"Even with top technological advances in aircraft, humans can never attain the flight skills of a falcon — dropping from the sky at unbelievable speeds, shifting gears with minute wing and tail adjustments, turning on a dime, braking and colliding with their prey in a blast of feathers. Speed. We revere these falcons that bring us joy and a sense of awe, wonder and splendor."
The 250-page second edition of "Falcons of North America" has over 260 photographs.
"It should be no surprise if many people buy this book for the photos alone because they are superb — both stunning and unique," wrote naturalist, author and artist Hans Peeters. "But a glance at the text, which is eminently worth reading, draws a reader further into the raptor's world. The considerable amount of interesting information new to this edition makes it an excellent survey of the biology of North America's falcons, written in a style that transmits the author's passion for the fascinating creatures that they are."
The book is available through Davis' Raptors of the Rockies, Missoula's Mountain Press Publishing Company and soon to be in bookstores.