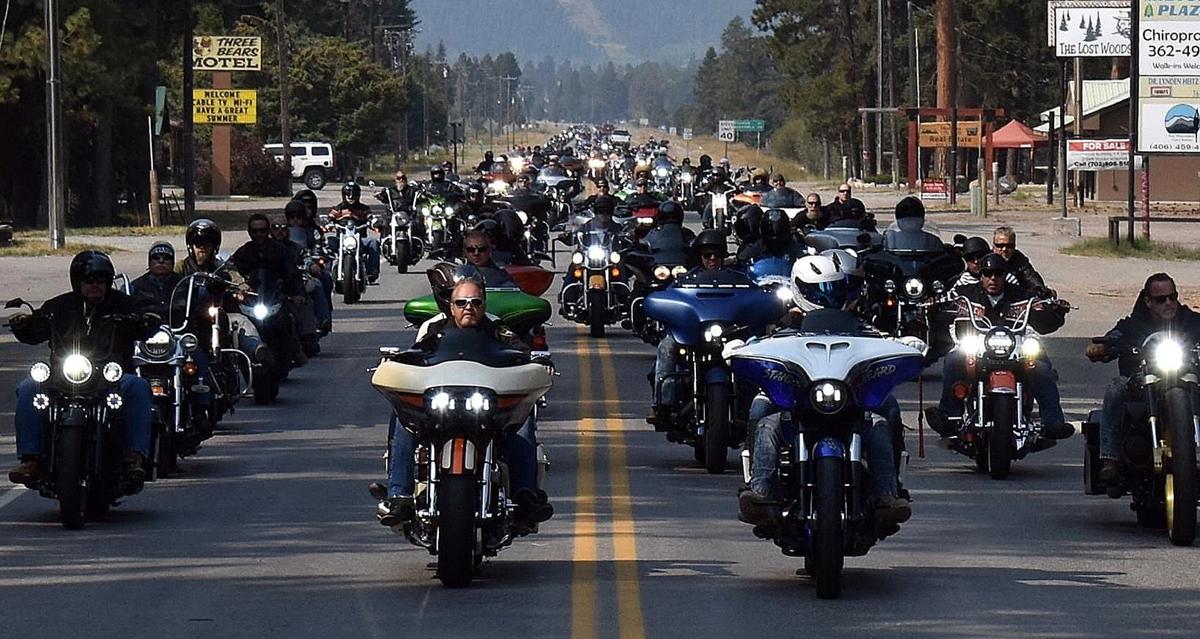 Stevensville's skatepark has been bringing wheels to town since its inception, but never quite this many.
On Saturday, June 12, bikers from around the state are expected to gather at the Stevensville Lewis and Clark Park for the culmination of the COVID Run 2021 Skate Park Invasion hosted by Bikers Against Bullies USA.
That same group offered its first scavenger hunt last year as a way to escape the COVID pandemic by getting outdoors and socially distancing at 65 mph.
"This year it has turned into something much different," said Karl "Doc" Kyer of Stevensville. "With the lifting of mask mandates and social gatherings, we are focusing this year's scavenger hunt on kids in western Montana."
The plan calls for bikers to visit eight skateparks, including ones in Alberton, St. Ignatius, Polson, Lincoln, Stevensville, Hamilton and Darby.
Riders will be awarded raffle tickets for taking a picture at the various stops. They'll earn bonus tickets if they have their picture taken with a skateboarder or one of them actually riding a skateboard.
Along the way, the bikers plan to share their Bikers Against Bullies anti-bullying message as well as giving away swag including T-shirts, stickers and wrist bands. With help from Board of Missoula, the bikers also plan to raffle a skateboard at every skatepark. Raffle tickets are free to all kids. All they need to do is ask for one.
The Brain Injury Alliance of Montana also provided helmets that Kyer said bikers will be giving away to skateboarders who don't have one already.
Most of the raffles at the parks will happen between noon and 3 p.m. The ride will end at Stevensville's Lewis and Clark Park at 4 p.m. with a final skateboard raffle and raffle for the riders.
Kyer said there's no way to predict how many bikers will show up in Stevensville.
The group does another ride in Montana that has attracted as many as 300 riders to small communities. Last year, 150 riders turned out for that event.
"Last year we had about 50 riders for the first scavenger hunt, but that was put together at the last moment in kind of a rush, rush kind of affair," Kyer said. "We only started hanging flyers two weeks before the event last year. This time, we've been hanging flyers for over a month and we've had some airplay on the radio."
"People have been asking for flyers," he said. "It sounds like we are going to get a bigger draw this year."
Bikers Against Bullies USA is a nonprofit group created by bikers — but not limited to bikers — that is committed to creating awareness and educating children and adults on the benefits of living in a society filled with respect for each other.
"We strive to create a society in which our mutual respect will create a new role model for others, and through our actions enable others to have the confidence to emulate this behavior and reiterate its positive message to others," its mission statement reads.
The scavenger hunt is open to everyone, no matter what form of transportation they have.
Registration runs from 9:30 to 11 a.m. at Missoula's Grizzly Harley-Davidson dealership. There will be a block party to cap off the day in Stevensville with food included from UpNSmokin BBQ House. Kids 14 and under can eat for free. There will be a commemorative patch provided to the first 100 who sign up. Music at the block party will be by Redline Entertainment.