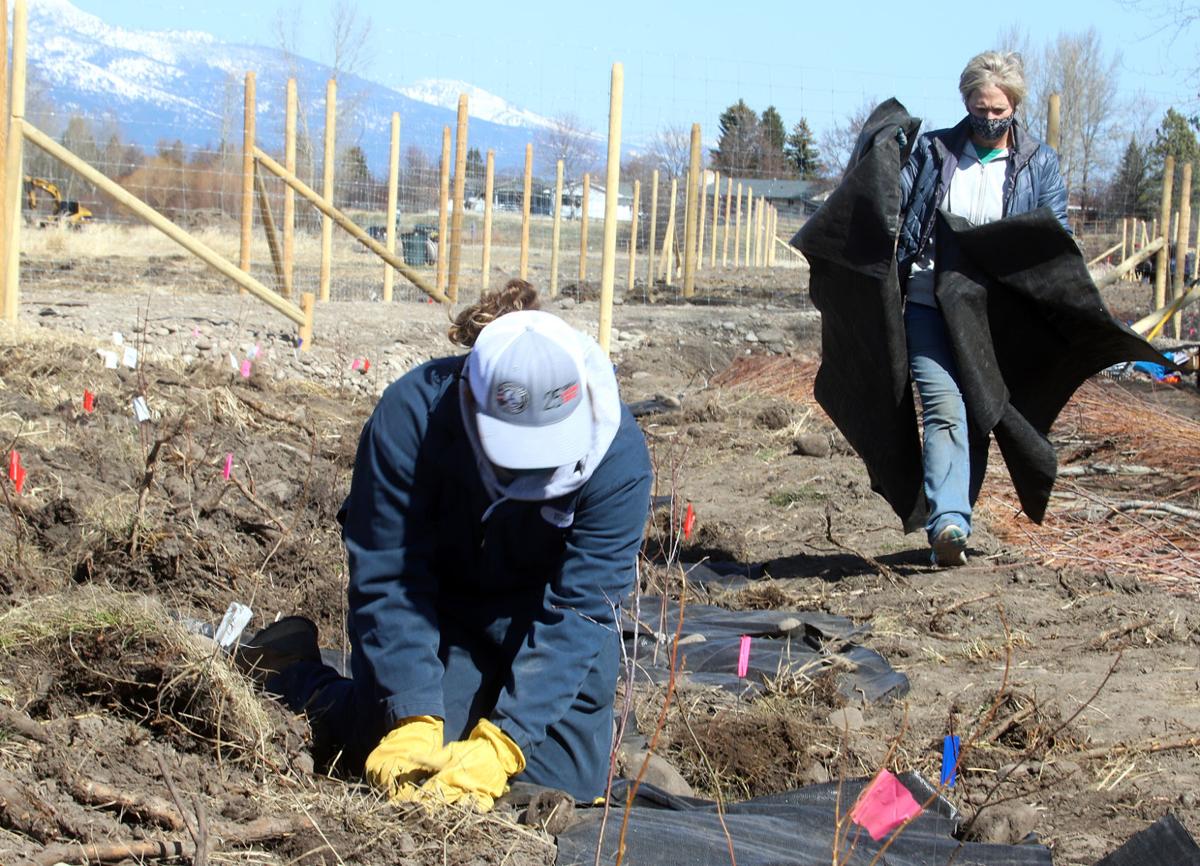 Community volunteers are getting their hands dirty to help protect Hamilton's newest park along the Bitterroot River.
With heavy machinery set to finish its part of creating a 1,500-foot-long living wall that will eventually preserve a large meadow on the Skalkaho Bend Park for future generations, volunteers are now busy planting the willows, dogwood, cottonwood, aspen and serviceberry whose roots will stop the river from wandering too far east.
"It's been great to see this come together," said Bitter Root Water Forum executive director Heather Barber. "We already have over 1,000 volunteer hours invested in this project."
While some of those volunteers are the veterans of other stream restoration projects completed earlier by the forum, Barber said there are also new faces.
"We've seen some new folks to the water forum on this project," Barber said. "They love this park and they want to be involved in preserving it."
The Bitter Water Forum is a Hamilton-based nonprofit focused on watershed conservation. It partnered with the City of Hamilton and Bitter Root Land Trust on the "Roots Against Erosion" project that looks to preserve a large meadow from eroding while creating new riparian habitat along the Bitterroot River.
The bank along the long stretch of the river that borders the meadow is nearly void of vegetation.
Over the last decade or so, Barber said the river has moved east five to 10 feet a year as the bank erodes under high water.
The $200,000 project involves excavating a shallow swale parallel to the river and planting the area with native woody riparian plants. The project area is enclosed with temporary wildlife fencing that will protect the new plants until they get established.
About 97% of the plantings are willows, which put down strong and resilient root webs. Willow was considered the optimal species for the project because they don't typically get much taller than 10 feet, which should help preserve the amazing view of the Bitterroot Mountains.
The footprint of the project is about 1.5 acres or about 2% of the total parkland.
Members of the water forum have been reaching out to the community to explain the purpose and goals of the work that's underway. It's planning future field trips with local educators and organizations, including Hamilton middle school, Hamilton Envirothon and B.E.A.R.
"We're excited to use this project as a learning site for our community as a whole," said Katie Vennie, the forum's communications and outreach manager. "Though river migration is a natural process, when the riparian vegetation, like willows and cottonwoods, is no longer there, the river can erode much more than is natural."
The educational opportunities will focus on looking at healthy riparian vegetation zones, nature walks and wildlife monitoring. Since the restoration project benefits will not be seen for years, it will also be important to have people willing to collect data that can be used as a benchmark for changes at the park over time.
Community organizations have been willing to do what they can to help. The O'Hara Commons Sustainability Center rented their pickup truck to the water forum when 4,500 willow cuttings were gathered for the project.
"O'Hara is delighted to have the truck share as a community resource to serve this restoration project for a piece of land that we tremendously value for our community of humans, flora and fauna," said the center's executive director, Samantha O'Byrne. "O'Hara is extremely happy that our shared resource program has been helpful for the greater good of this project."
On a recent morning, Corvallis volunteer Linda Whittington worked alongside Big Sky Watershed Corps Program member, Ellie Devos, to carefully place squares of weed mat around newly planted sprigs of several different varieties of native plants.
For Whittington, it was her first visit to Skalkaho Bend.
"I enjoy gardening and planting things," she said as she worked a stem through a hole in the weed mat. "I was looking for something to do. I talked with Kyle at the Bitter Root Land Trust and here I am. I think this is awesome."
Devos said the weed mat will hopefully give the new planting some protection from the thick crop of invasive reed canary grass that covers the ground.
"Once these get established, they should do well," Devos said.
Devos is interested in restoration projects that protect water.
"Using vegetation is a good approach," she said. "It can address so many issues at the same time without having to be invasive. I really like being part of this."