It's not every day that an Olympian athlete runs in a race in Hamilton but it happened on Saturday, Aug 6.
Former Olympian and professional runner Bernard Lagat ran the 5K race of the 2022 Robert's Run. The event had 939 participants, with over 600 in-person runners and walkers in Hamilton.
Race Organizer Doug Martin said the official count of 939 participants was nationwide and included virtual options.
"We've grown for sure," he said. "Plus, we've hit all five of our goals."
The goals of Robert's Run are to honor the memory of Robert Leonardi, honor the Leonardi and Yoakum families, raise money for the Play Like Robert Foundation, grow a high-quality road race and have a family-friendly event.
"Our race ambassador Bernard Lagat gave our race legitimacy," Martin said. "Our infrastructure investments have paid off, giving us a better environment and we are gaining traction in our running community as a real race. It is a real race."
At the runner's clinic on Friday, Lagat addressed Robert's Run participants advising runners to "always do your best" and "don't limit your opportunities." He also asked parents to "check to see if you want it more than your child."
On Saturday, Legat started the 10K and 1-mile races and ran in the 5K wearing bib #2.
Martin said he is thankful to the Robert's Run committee and community volunteers.
"I am blown away by the community support," he said. "Our incident command this year had state, local, city, county first responders, the stores downtown giving discounts and companies donating. I wish people could see what I see — it is always somebody stepping up."
On Saturday in Hamilton, the 10K timed race started at 7 a.m. with clouds continuing their way east and blue sky above the start on Freeze Lane. The 50 or so runners loosely lined up and heard an encouraging word from Legat.
When Phil Leonardi started the race with a starting gun the runners headed south through the arch and across the timing mat.
The top five male runners across the 10K finish line were Carson Jessop (34:16.5), Zach Miller (34:54.2), Chris Jessop (39:38.3), Ryan Tellock (40:39.0) and James Peacock (42:14.0). The top five female runners were Elizabeth Cornelius (47:40.2), Alyssa Meinhold (49:05.1), Hailey Powell (49:17.2), Sierra Berry (49:18.9) and Amy Hammill (49:40.6).
Carson Jessop said the course was great but "the hill sucked."
"Running on the trail was cool," he said. "It was a great event. It was my first time running here. I just graduated from MSU-B and ran for them."
He said he enjoyed the runner's clinic and Legat's words of wisdom.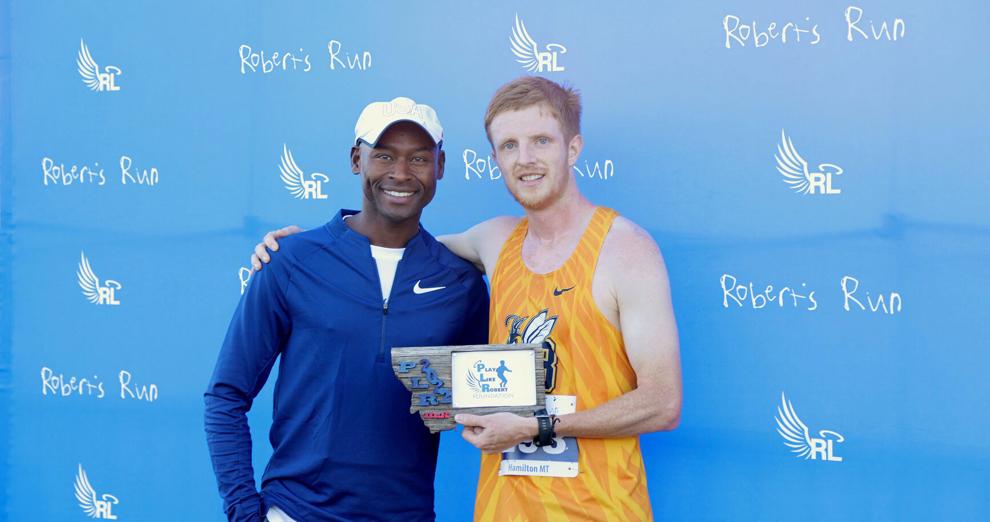 "He spoke truth — put in the work consistently, day in and day out, no days off," Jessop said.
Stevensville resident John Craft, 74, usually a participant in marathons, iron man competitions and triathlon events said Robert's Run was "great."
"There were lots of water stations, aid stations and it was well organized," Craft said. "It was an excellent course."
Legat ran the 5K wearing bib #2 as bib #1 is always worn by Meryn Leonardi, Robert's sister.
The top five males of the 5K were Lane Cole (16:08.4), Brinson Wyche (16:21.1), Grant Martin (16:26.1), Colin Shaules (16:32.8) and Trajn Swalstad (17:21.1). The 5K top five females were Jen Brown (20:15.0), Annalise Lewis (20:39.7), Brandi Williamson (20:56.1), Ashley Palacio (21:23.1), McKinley Murray (22:11.0).
Brown is a runner on vacation from Santa Barbara, California, visiting with family in Hamilton.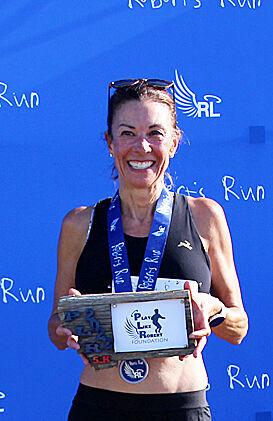 "I turned 50 this year so I'm a master's runner," Brown said. "I thought the flat start of this race was perfect for weeding out a crowd. The only issue for me was I didn't realize we were going on a trail, it was a surprise. I plan to come back next year and will know what to do. This was nice and shady with perfect weather."
Third place female finisher Brandi Williamson said she's proud to have improved her time from last year.
"I ran last year so knew the course," Williamson said. "We like to come to this race to remember Robert. My kids run it and love the carnival afterward. It's a whole family thing, the race is great. Having Bernard here was amazing."
Williamson said that 21 years ago in 2001, as a high school junior, she met Bernard Legat, just after he ran in the Olympics. At that time she asked in to sign her running shoe. He did. She brought it to the runner's clinic on Friday, showed it to him and took an updated photo.
For the 1-mile, the top five males were Nic Wilson (7:05.6), Kyle Pearce (7:15.4), Blaine Jensen (7:49.0), T. Trogdon (7:39.4) and B. Cole (7:53.7). For the 1-mile, the top five females were Lila Dufresne (3:31.9), Maleah Pearce (7:45.2), Allisun Jensen (8:27.7), Ruth Della Silva (9:11.8) and Whitney Wyche (9:21.8).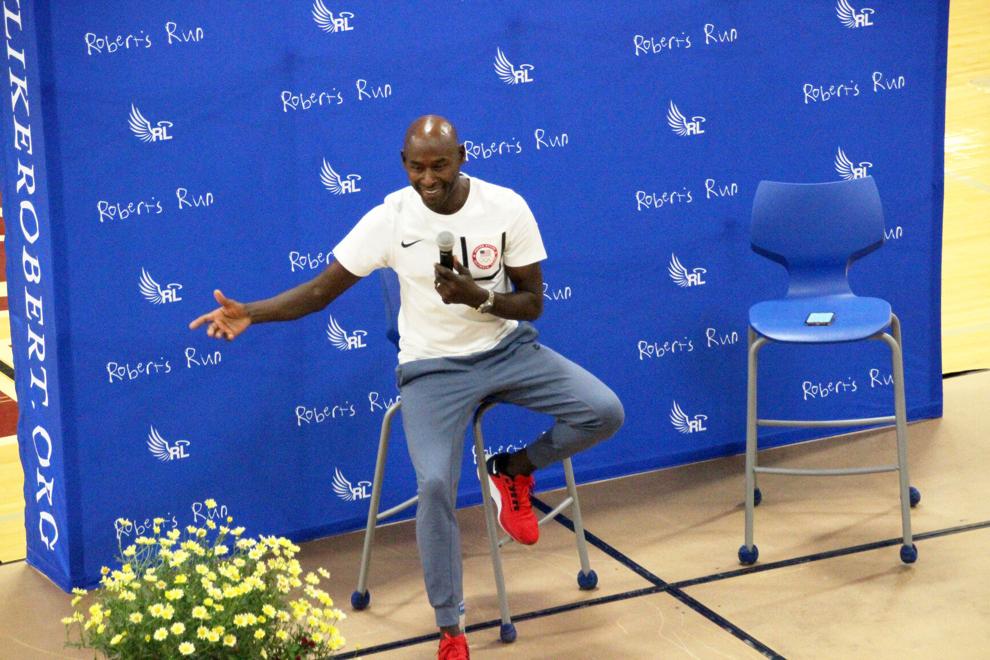 Virtual options included running 10K, 5K, 1-mile, or "Playing Like Robert" with options to fish, camp, swim, hike, garden, read, cook, build, golf, bike, travel, or play — being active for a good cause.
After the races, Legat said Robert's Run was "fantastic."
"I love the community," Legat said. "I love that the community comes to a positive race environment, it is awesome. It is for the community to come and celebrate Robert's life and it is neat to see the close-knit community."
Robert's mom Alice Leonardi ran in the 5K and called the event a success.
"This year it has, once again, exceeded our expectations," she said. "Our numbers have increased exponentially, we have improved the infrastructure with barricades, the new start and finish archways, and the 150 feet Robert's Run banner or ribbon. It is in his handwriting which is even more special when you see it as you're coming in."
New additions also include a signature photo area for runners and their families to take photos.
She said the festival for kids is her favorite aspect.
"I love it when the kids are walking around doing face painting, bubbles and games for free," she said. "Robert and Meryn loved to play little carnival games wherever we went, whether it was at the [Daly] Mansion or the fair. This race has exceeded everything, there are over 100 volunteers.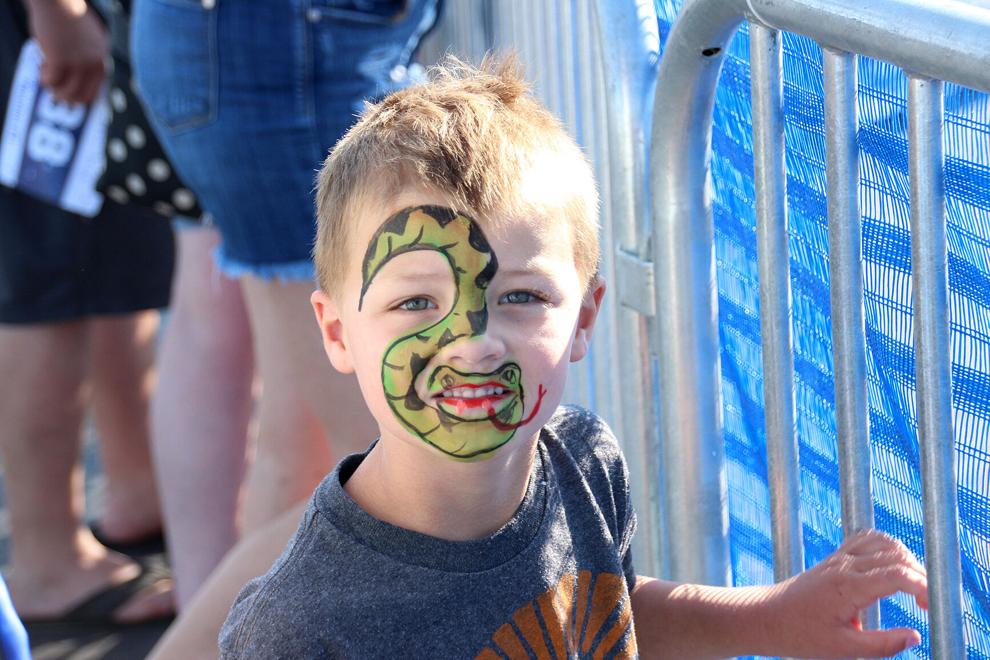 "I enjoyed running the course," she said. "My favorite part is running Robert's trail along Big Corral Road, it's just fabulous."
The Robert A. Leonardi — RAL Trail serves as a safe pedestrian and bicycle connector between Golf Course and Big Corral roads.
Robert's sister Meryn Leonardi is usually a volleyball player but runs with the Corvallis cross country team each summer.
She has run in Robert's Run every year and always wears bib #1.
"I feel special that Legat wore number two this year," she said. "We have so many participants this year it is crazy. I just stared at the numbers [as people registered] all week. It's so great to have community support."
Robert's father Phil Leonardi said the organization and the growth of Robert's Run are "stunning."
"It is great to see people come out on a beautiful day and exhibit the principle of trying," he said. "Having Bernard Lagat coming to be with us just makes you want to do more."